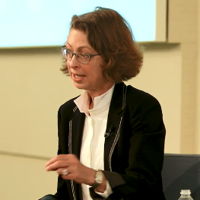 CEO Abby Johnson founds Fidelity Digital Asset Services for enterprise quality custody and trading with pledge for more 'investing and experimenting'.
3 hours ago by Brooke Southall
Fidelity Investments may have blown it once when it stood back for a decade-plus to see if that whole ETF thing was real.
But Abigail P. Johnson, chairman and CEO of Fidelity Investments isn't about to let that sort of once-in-a-generation shift go by ...