Laura Levesque says OCIOs sell fiduciary services yet still build portfolios using proprietary products.
Brooke's Note: Forget ESG. It always seemed a little gimmicky, and too conundrum-freighted if hard moral choices have to be made -- like coal for freezing Europeans versus the Earth overheating. See: BlackRock to curb ESG 'social justice' proposals with its voting power this proxy season and embrace big oil, claiming Ukraine war, Russian embargo demand climate goals reset If you're BlackRock, why not look to the RIA business model that never stops growing and conveniently never sacrifices profit margins. Keep people's money growing, keep out of trouble, and do it with a culture that fits the bill. Larry Fink is starting with big low-hanging fruit -- like corporate portfolios where its hard for corporations even to trust their own managers. But of course if BlackRock can make it there, it may try to take its act downmarket over time -- first as competition to TAMPs but later to RIAs themselves. It's all taking place under the hot new acronym -- OCIO -- which may or may not be a huge advance on a TAMP's service. It's a leapfrogging however of perception in what those letters might mean.
Larry Fink has a new thrust to his plan for BlackRock dominance -- to sell absolutely everything in one giant fiduciary bundle that is laden with BlackRock products and comes branded as "OCIO" or "whole portfolio advisor."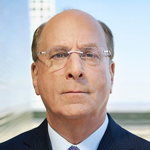 The CEO of the $7-trillion asset manager expressed maximum ardor for a stream of needle-jarring client wins in 2021-2022 by selling a willingness to take the reins -- and the fiduciary liability -- for giant swaths of assets as an outsourced chief investment officer (OCIO).
"The dialogues in OCIO have never been greater," he said on the quarterly call. "And I'm very excited about these opportunities."
The company listed $200-billion-plus of OCIO assets at the end of 2021 and $400-billion-plus in the summer 2022 call. The jump was explained by giant wins of AIG, General Dynamics and British Air.
Win, win, win
AIG announced that BlackRock would manage $150 billion of its assets in March -- $60 billion of AIG's global investment portfolio, and $90 billion of its life insurance and pension portfolio.
General Dynamics hired BlackRock earlier this month to manage $14 billion of its $15 billion in pension assets, according to P&I.
British Air handed over its $30.5 billion pension plan to BlackRock in June
"No organization can bring the resources, the scale, the Aladdin technology, the completeness of investment platform than we can. I think the conversations we're having are because of that," Fink said on the call.
The concept of an OCIO goes all the way back to 1970 but has risen roughly in proportion to costs and fears about doing fiduciary investing in-house, according to Laura Levesque, a Cerulli analyst who follows institutional investing.
Those concerns are hitting a zenith currently, because BlackRock can do it cheaper and better, Fink explains.
"I would say that dialogue is becoming more robust than any time in our history," he says.
"...And we are showing more and more clients the benefits that what we can provide to them. And I think this is we are going to see an acceleration of OCIO mandates because we can provide our services cheaper than in-house."
Unique advantage
As clients conclude that OCIO services are a better value than bring the process in-house, BlackRock is in a good position to make solid revenues because of what the portfolios hold, Levesque says.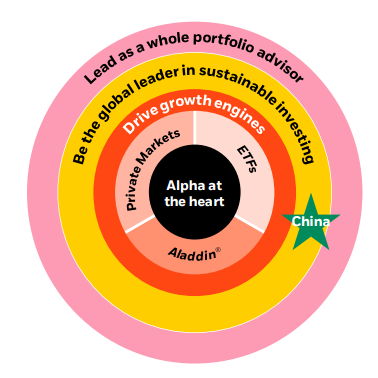 "A lot of them are proprietary products," she says.
Indeed, Fink stresses that BlackRock can funnel every kind of cash and investment product into these big portfolio cakes it bakes.
"We can provide, as a fiduciary to their needs, a more systematic approach, using the investment technology, [and] the breadth of our investment scale across all products ...from cash to alternatives."
[It] gives us a very unique advantage, and we see this as a real huge opportunity for us," he said on the call.
Hot market
BlackRock is hardly the only firm pursuing the OCIO opportunity up and down market.
Virtually all TAMPs are offering some version of OCIOs, which are very similar in offerings but with a more hands-on approach. They can include OCIO managers interacting directly with investors or advisors to educate or close sales.
Yet Fink says BlackRock may have the scale and oneness to win against smaller, more fragmented organizations.
"We're not a multi-boutique organization," he said on the call.
"The uniqueness of our platform [is] having one culture that interconnects areas of active investing, index investing, investment technology, [and] having the ability to provide alternatives, whether that may be some decarbonization investments across the board to other sites to private credit."
He adds: "Let's be clear, you cannot underscore [enough] the need for one BlackRock and culture to make this work. Then you overlay our technology, overlay the completeness of our investment platform. It's a pretty compelling story."
---
Related Moves
August 10, 2021 – 11:46 PM
---
---
---
FAA
This has been going on for a very long time and, in this case, makes sense for both BR and the sponsor in many cases- much lower costs (investing, operational etc.). However, and this is important, the plan sponsor never obviates their fiduciary responsibility nor liability...they are always on the hook.