Cathie Wood has proven impervious to monumental setbacks.
Brooke's Note: When somebody sells you "transparency," ask questions. It's a little like trust. Once somebody brings it up, it's at least a minor red flag. That is why I dug into this latest Cathie Wood misery after seeing -- and mostly ignoring -- hundreds, or thousands, of ARK articles. Those breathless pieces amounted to little more than morbid fascination about the company, person and branded portfolios that are mostly on the tip of the hype-stock seal's nose. Full disclosure: This article contains some of that fascination. But its also tries to unravel how selling a jargon sandwich of ESG, transparency, passive investing and ARKness can turn into a downturn.
The ARK Transparency ETF (CTRU) will cease to exist under murky and unfortunate circumstances.
The $12-million exchange traded fund administered from St. Petersburg, Fla. is closing July 26 after a short rocky existence marked by minimal asset inflows and a maximally forgettable lifetime track record.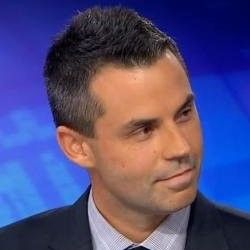 Though the ETF closing is "another bummer" for ARK and its famous founder, Cathie Wood, it may not be their undoing, despite adding salt to festering wounds.
ARK's funds grew to more than $60 billion, collectively, by February 2021, but they had tumbled to $16 billion by the end of this past April, Forbes writes.
BlackRock now frequently opens and shuts ETFs, which "removed the stigma" of failed experiments, says Bloomberg Intelligence (BI) ETF analyst Eric Balchunas. BI delivers research largely to users of Bloomberg Terminals.
Its manager, ARK Investment Management, claims it is not shutting down the ETF so much as it's getting shut down by a third party.
Plug pulled
The passive ETF is managed to match the Transparency Index, which is comprised of the 100 most transparent global companies as vetted by Transparency Global.
That nine-employee Folly Beach, S.C.-based firm pulled the plug on supplying the index data after July, according to a filing. No new vendor will pick up the slack, it adds.
That explanation seems radically unlikely at face value, according to Balchunas.
"That doesn't pass any sniff test," he says. "If the ETF was successful, they would never close it down."
You might think.
Yet Transparency Global may be encountering its own headwinds.
It was only co-founded in Oct. 2020 by Rainford Knight, a former University of Miami finance professor. His LinkedIn page says his tenure with Transparency Global ended last month. The other co-founder is Paul Pagnato, co-chairman of Cresset Asset Management. He is based in Folly Beach. See: PagnatoKarp learns going it alone has its limits, jumps into the arms of another serial buyer, Cresset, after declaring its independence from HighTower only four years ago
The company's president is Joe Lanza who was director of education at Barron's from 2017 to 2021.
The company lists no phone number or email on its website. LinkedIn messages sent to Lanza, Rainford and Pagnato for comment have yet to be returned.
Cratering funds
The Transparency fund was unsuccessful by industry standards but even more so by ARK's own standards. It lost about a third of the original investors' money in eight months and holds a scant $12 million.
The ETF was up in intraday trading early today (July 20) at $13.37, a 2.39%, or 31-cent, gain. But it's just off its June, 52-week low of $11.83. It hit a 52-week high of $20.43 in intraday trading last December.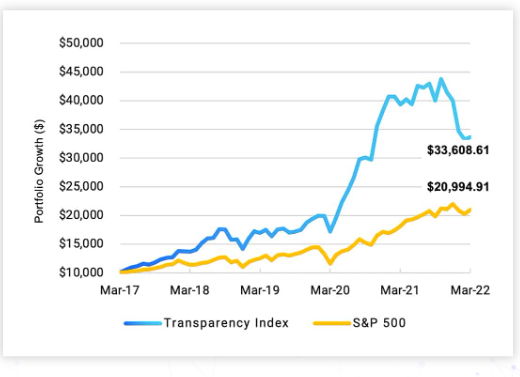 Launched in December 2021 after ARK funds had already begun to crater, it stood out both for being passively managed among active management products -- and for being an ESG-style offering. Despite being passive it charges a 55-basis-point fee.
ARK's founder, CIO, and CEO, Cathie Wood, was quoted in ETF Trends promotion of Dec. 8 about what she believed "transparency" connotes and why she trusted Transparency Global to winnow out firms with those qualities
"Transparency implies openness, communication, accountability, and trust, and should be a cornerstone of modern society and business. Given our own belief in the value of transparency, we were impressed by the methodology developed by Transparency, LLC to determine the most transparent companies in the world and we are excited to bring this truly innovative fund to the market!"
"The bloom was off the [ARK] rose when this (CRTU ETF) was launched," Balchunas says.
Transparency was also an issue.
ARK defines "transparent" companies in a novel way; it singled out firms with "higher consumer satisfaction, fewer financial crimes and fewer environmental violations while offering long-term growth potential to investors."
Financial advisors typically know transparency to be clarity in pricing, financial information and management practices.
The Transparency Global Index flat out excludes companies in ESG doghouse industries like: alcohol, , chemical, confectionery, fossil fuel, transportation, gambling, metals and minerals, oil and natural gas and tobacco
sight unseen -- regardless of how transparent they are about their practices, according to its website.
Failed experiments
One holding that brought down the ETF was Teladoc Health Inc. (TDOC) shares. It also torpedoed returns in other ARK funds. The stock traded as high as $285 last year before plummeting to about $41 today. It promises whole-person virtual medical care. It also Tesla as one of its major holdings -- the company ARK bet heavily on in its Innovation fund to success.
Wood's funds have -- despite legendary losses in the wake of legendary gains -- done a good job of retaining assets overall, Balchunas adds.
Her Ark Innovation ETF (ARKK) still has $9-billion of assets despite being down about 55% this year. Shares are up 5.57%, or $2.35, at $48.35 in intraday trading today (July 20). The fund is off its 52-week low of $35.10, but well below its 52-week high of $126.32.
Wood launched her most recent fund in March 2021, near the peak of Wood's popularity, according to Bloomberg. The ARK Space Exploration & Innovation ETF (ARKX)--the first ETF in nearly two years-- was an immediate hit and attracted more than $500 million in new assets in just a week.
The ETF is up 1.85%, or 26 cents, at $14.30 in today's intraday trading, trending close to its 52-week low of $13. It hit a high of $20.33 last August.
Wood told Yahoo Finance last month that she is contemplating a new Ark Invest ETF that will blend assets in private and public markets.
It remains to be seen how she will structure it, since private assets are notoriously opaque.
---
---