Joel Bruckenstein says T3 did not ease out of its COVID cold storage. The 2022 event was the largest in its 16 years.
Brooke's Note: It is always possible for technology to go obsolete. That's what makes it so exciting. In that vein, I propose that Joel Bruckenstein tweak his Technology Tools for Today (T3) conference and brand it "D3." I won't ask for a fee for my branding advice, which reflects the metamorphosis unfolding at the T3 event -- namely the nexus of change shifting from "technology" to "data." So, maybe the long-form version of D3 can be Data, Data, Data-- not unlike how real estate experts say 'location, location, location' with constructive (if nauseating) redundancy. D3 is also a clever inversion of 3-D, which encompasses the three-dimensional Metaverse. Virtual reality is what we'll all be discussing in 2025 but without the burden of a brand that can't be repurposed or another annoying suggestion like this one.
After two years of postponements, protocols and Zoom, Joel Bruckenstein's annual Technology Tools for Today (T3) conference more than picked up where it left off in the wake of the COVID19 lockdown.
And, it hasn't missed a beat, keeping up with an RIA-supporting software business that never stopped zooming ahead.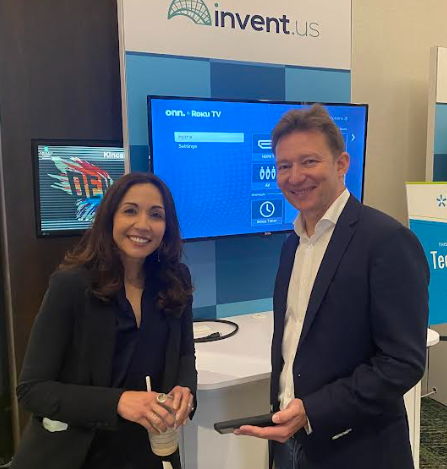 The T3 producer and guru lured nearly 1,000 advisors, tech executives, consultants, bankers, podcasters and bloggers to Denton, Texas, for a big exhale and some exhilaration that life goes on.
"It's great to be back now that Covid is over," Bruckenstein declared from the main stage, to open the event. "We have a record number of exhibitors and attendees making this the biggest T3 event in the 16 years of the conference."
Along with all the people and products came a raft of news from companies that paid T3 the ultimate compliment by timing announcements at least in part to the gathering.
Dialing for deals
SMArtX got a $30 million investment from Morningstar in their Series D round -- along with $30 billion-plus in AUM along with it. See: Morningstar buys a $30-million stake in SMArtX, gets two board seats -- and a puzzle piece to launch direct indexing later this year -- in the bargain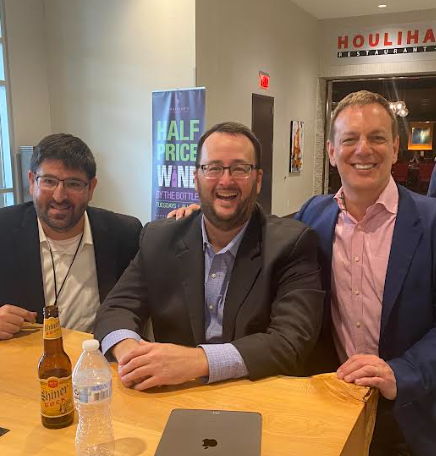 Orion announced its data deal with Amazon Redshift as a means of moving past API. See: Orion Advisor Services moves to let RIAs eat real-time 'cake' rather than API 'recipes' with help from Amazon's AWS and a determined Carson Group
To support the move, Eric Clarke is reactivating Park City, Utah FUSE hackathon event, which is so authentically hack-ish that often local law enforcement gets alerted.
Both the Orion and Morningstar announcements deal with the strange fact that in 2022 the RIA business still operates in a T+1 trading environment and with constrained architecture -- but that it needn't stay that way.
Also, FMG Suite rebranded itself as FMG to quite a strong, positive reaction, and marketing automation platform Snappy Kraken purchased Advisor Websites.
TDA soft landing
On the people front, T3 reeled in cast-out TD Ameritrade execs whom Schwab displaced, intentionally or otherwise.. Veo integration all-star, Marcel Tsai left Schwab to go to Apex and champion the third-party technology integration strategy there.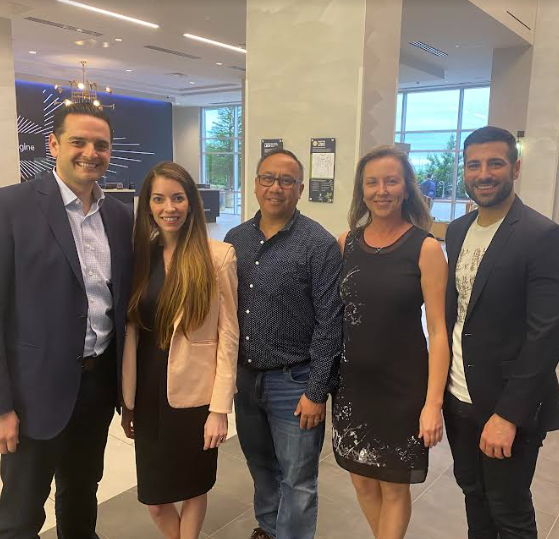 Greg Menefee joined marketing guru Kristin Petrick at Orion; George Tamer left for Advisor Engine and Kate Healy is now repping for the Foundation for Financial Planning.
Meanwhile, Craig Citron and Rob Deguzman are joining former TDA colleagues running the RIA custody business at Goldman Sachs, along what seemed like dozens more. See: Goldman Sachs RIA custodian delayed indefinitely, as 'technical details' bedevil launch date
The TDA advisor technology legacy is still alive and well in the wealth tech space, just not at Schwab.
The good news for advisors is that these revolutionary refugees continue to innovate. Many TDA "alumni" photo opportunities popped up on social media throughout the week.
Tech trend
Common themes at T3 this year were all about "personalization at scale."
The macro-trend--to move away from investment management, to financial planning, and then even further to customize the advice and client experience advisors deliver for their clients--is gaining steam.
If you are an advisor still defaulting to model portfolios and simple financial plans, your days are numbered, so warned almost every technology guru from the main stage.
Changing the game
Along these lines, new technologies leveraging the latest software development approaches were front and center in driving the latest innovation in advisor technology platforms. These include microservices, cloud-native apps, advanced data management and Atomic Design.
Black Diamond founder Reed Colley dazzled the crowd with his abundance theme and how Summit will change the game for advisor tech. See: Reed Colley exits beta swinging with a $20-million raise and $20 billion of client AUA based on a plan to give RIAs their own operating systems
Similarly, returning entrepreneur Oleg Tishkevich and his cloud-native INVENT platform is pioneering a new concept in technology integration and development. See: Oleg Tishkevich signs Envestnet to a contract with a company he started during an Envestnet non-compete -- and four years after selling Finance Logix to it for $32 million
By providing "digital ecosystems" as a service, INVENT's cloud native platform no longer need APIs for integration to add virtually any third party application.
As a result, T3 was showcasing a real-time power shift from traditional custodians trying to control the advisor desk top through tech-plus-custody bundles, to now giving way to customizable third-party wealth platforms that accomodate an immutable fact of RIA life -- multiple custodians.
A clear example of this was Schwab's Kartik Srinivasan who spent his valuable stage time primarily lauding his firm's integrations with Envestnet, Orion, Morningstar and SS&C Black Diamond and brought their execs to the stage.
Grabbing the spotlight
Trish Haskins from Fidelity invited two advisors to the stage to join her and highlight the Fidelity third-party Integration Exchange.
She also gave shout-outs to two AI vendors emerging from Fidelity Labs: Catchlight, an AI-driven lead scoring system, and Saifr, an advanced regulatory technology.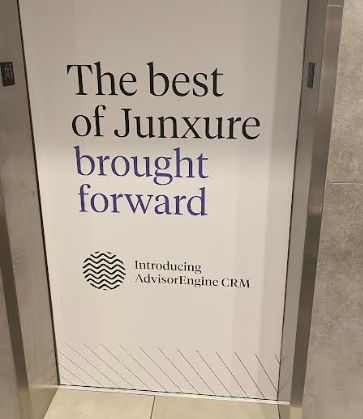 Typically, the big custodians take down the top sponsorships and go so far to cement their hegemony by branding the cocktail napkins.
But what made this year's T3 conference stand out even more is that AdvisorEngine (AE), owned by asset manager Franklin Templeton did just that.
AE relaunched Junxure CRM and "wrapped" everything inside the Embassy Suites Hotel with the Advisor Engine logo and tagline – all the way from the lobby to the elevators we all rode up and down all week. Junxure made a literal elevator pitch.
At the same time, AE also took down the most expensive piece of real estate at T3 – the opening keynote.
CEO Rich Cancro was omnipresent with whiskey and craft beer tastings in their uber-sized booth, controlling the attendee flow throughout the massive exhibit hall. (No one was complaining.)
Yes, while we were sleeping through a 2-year pandemic, the game has changed.
Embracing digital
Other emerging themes at T3 focused on changing work environments post-COVID and how advisor adoption of technology actually accelerated during the pandemic.
Just about every keynote presentation had some data that documented the increased usage of tech by advisors, including e-signature, account opening, video meetings and SaaS platforms.
"For the first time, we saw that a majority of advisors finally embraced a digital strategy," Fidelity's Haskins noted.
The last major theme playing out at T3 was the continued expansion of features to add more value and simplify the advisor tech stack.
Panoramix, a performance reporting and billing platform introduced Panoramix Pro, an advanced platform to bring in composites for GIPS compliance, trading and rebalancing and goals planning.
While a niche player in the smaller advisor segment, Panoramix is a great example of how a focused solution provider can expand and move into adjacent markets based on feature modifications instead of expensive and hard to integrate acquisitions.
Further, small firms like Panoramix delight clients through their nimbleness, according to Bob Veres, co-author of the annual T3 + Inside Information technology survey, as Panoramix garnered the study's highest score in user satisfaction for the 4th year in a row.
Broadening diversity
Despite the industry hype, there was not a single mention of crypto currency, digital assets or any exhibitor hawking robo-advisor services. Yes, the game has definitely changed.
What hasn't changed, however is that just like the wealth management industry it supports, the advisor technology community also is in need of diversification to bring in more people of color, gender and lifestyle.
To bring a fine point to it, Bruckenstein invited former InvestmentNews Publisher Suzanne Siracuse, who now consults eponymously, to lead a panel that included Franklin Templeton CEO Jenny Johnson.
Johnson says small business owners typically just don't know their "blind spots" and pushed awareness as the key to making change, which includes her own not-small shop.
One key line of panel discussion surrounded internship programs and mentorships to build the pipeline of under-represented groups in wealth management.
Networking runs wild
As part of the record number of exhibitors this year, the T3 exhibit hall was packed to the edges with over 100 tech vendors.
This buzzing central hall was busy from the moment it opened and is the hallmark of what makes T3 different.
"Unlike other conferences, T3 is all about the Exhibit Hall," noted Bruckenstein in his opening remarks about one of the event's key sources ofn revenue and places where networking runs wild.
Along with that "engage with solution providers" theme were the plethora of vendor hospitality opportunities that also defines T3 from other industry events.
Attendees had multiple options to choose from for lunches, dinners and evening cocktails.
As always, the lobby bar at T3 was ten deep every night into the late hours as deals were done, new friends were made and everyone celebrated being together again after such a long absence.
Well done, and thank you, Joel!
To learn more about what went on at the 2022 T3 Conference, check out the many tweets on the #T32022 hashtag on Twitter.
---
Timothy D. Welsh, CFP® is President, CEO and founder of Nexus Strategy, LLC, a leading consulting firm to the wealth management industry and can be reached at tim@nexus-strategy.com or on Twitter @NexusStrategy.
---
Mentioned in this article:
---
---
---
Marie Swift
Great recap, Tim. You really captured the essence of T3 this year. Thank you!