Brad Shepard: The strength of the Orion platform comes from all the ways its brands link together to create an end-to-end experience for advisors.
Orion Advisor Solutions hired a three-person 'New Horizons' team in April to bring its expanded roster of disparate units to market in a unified way. Now that trio is down to two after Brad Shepard submitted his resignation earlier this week.
The Omaha, Neb., firm comprised of newcomers Brinker Capital and HiddenLevers and the legacy Orion Advisor Solutions will not replace Shepard as chief strategy officer but praised the Nashville resident's work during the nine-month span.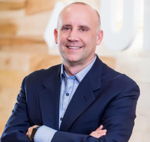 "Brad's contributions to Orion during his tenure were significant, and we will miss having him here," says Orion CEO Eric Clarke.
"At this time, he won't be directly replaced. We've got an incredibly talented leadership team that is well positioned to continue to serve our advisors with leading-edge tech and investment management expertise.
"I've never been this excited about leveraging our team + tech to help our advisors connect with clients and grow their business," Clarke added.
Shepard didn't respond to a LinkedIn message.
Engaging clients
Orion announced hiring Steve DeAngelis as chief revenue officer (CRO); Shepard as chief strategy officer (CSO) and Kristin Petrick as chief marketing officer (CMO) on April 22.
Petrick is now listed as head of communications and events. DeAngelis, formerly of FS Investments and Goldman Sachs, has retained his CRO position.
"The strength of the Orion platform comes from all the ways its brands link together to create an end-to-end experience for advisors," Shepard said in that release.
"I look forward to showing the advisor community how these solutions will engage clients and help grow their businesses."
Innovative thinking
Orion acquired $42-billion, 1,000-employee Brinker in the summer of 2020, and it closed on its purchase of HiddenLevers in April, 2021. See: Eric Clarke moves lightning fast to close HiddenLevers deal -- saying its hidden virtues in taming the 'investor problem' make it an ASAP matter
Shepard's previous job was as head of innovation at WisdomTree Asset Management, which acquired his firm, Kredible, in 2017. It was a startup aimed at creating online presence. From 1998 to 2006, Shepard had stints at Arthur Andersen, Ernst&Young and Capgemini doing management consulting.
"Shepard played an integral role in developing WisdomTree's leading solutions, models, and ESG offerings," Orion's release reads.
"As CSO, Shepard will bring innovative thinking to Orion's go-to-market strategy to build stronger connections between users of Orion's technology and TAMP offerings. He will also serve as chair of Orion's product committee and join the firm's executive and growth committees."
Most recently Orion acquired BasisCode -- a data-related company that could take its four-dimensional strategic complexity to the fifth dimension that Yodlee represents at Orion's big rival, Envestnet. See: Orion buys BasisCode to tame its own data tiger including HiddenLevers and the roiling IT trove of 2,200 RIAs with $1.7 trillion AUA
---
---
Mentioned in this article:
---
---
---