Reggie Tucker: 'Getting on board with Lorenzo is about as riskless as it comes.'
Lorenzo Esparza is hiring better to get much bigger and now has his 47th staffer, Reggie Tucker, on board to prove the point. His ADV counted just 13 staffers as recently as April.
The 47 year-old CEO of Manhattan West Asset Management nabbed the 46 year-old managing director at $21.5-billion Orange County Employees Retirement System (OCERS).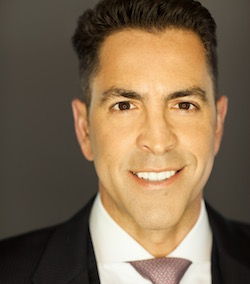 He hopes to transplant Tucker's deep private equity roots into the loam of his 2016 startup. See; Lorenzo Esparza leaves JP Morgan in LA to start Manhattan West with tutelage from Schwab
"An investor of Reggie's caliber and background joining Manhattan West signifies a true inflection point for the firm," said Esparza in a release.
The point of inflection is to the big leagues of investing. The Manhattan West RIA unabashedly sees itself foremost as a cold-blooded, full-bore investor in the hottest deals.
"We're not the RIA that sells to another RIA," Esparza says. "We want to be the next TPG or Apollo."
TPG manages more than $100 billion in private equity from San Francisco and Apollo manages more than $400 billion of private equity from New York City.
For now, Manhattan West is a small RIA shop with about $300 million of AUM but it also has the makings of a young unicorn in its additional $500 million in venture and real estate funds, the company says.
'It' factor
The management of those assets commands the kind of premium fees -- from 300-basis-points to 500-basis-points -- necessary to pay for top investing talent. Manhattan West has additional tax services and CFO services that generate professional fees.
Esparza is hiring dozens of people near-term with a talent-grab fury of a gold prospector who sees nuggets gleaming in the shallow depths across miles and miles of a virgin stream.
He is offering hires, including Tucker, the opportunity to earn equity in the firm as an incentive to come aboard, work hard and stick around. But Tucker's stature marks a threshold.
"[Tucker] wanted to prove he could [succeed in venture capital] as a lead manager," he says in an interview -- something he expects to happen.
"There's an 'it' factor," he adds. "He's a super incredibly skilled, great education, sweetheart of a guy, very cerebral, thoughtful and a unique character. That makes him fit in. We got nothing but extremely good feedback."
Middle-market deals
What Esparza sees is a rapidly emerging Los Angeles market of startup companies hungry for -- and worthy of -- VC or private equity backing with no firm yet holding command over the market.
"The deal flow is real," Tucker says of the market opportunity. "Having spent a lot of time in New York ... it's a different ecosystem.. A lot of the flow originates right here in LA."
Not only does Esparza claim to have a local advantage in placing deals, but many of the hot firms seeking capital are born of Hollywood's media and entertainment culture.
Esparza is a former Paramount executive with entertainment bonafides.
He also knows middle market deals. His last stop before breaking away to form his own RIA was JPMorgan Securities, the rebranded remains of the old, high-powered Bear Stearns franchise.
Esparza has already procured 13,000-square-feet of class A-plus office space in Century City near where his old JPMorgan office was situated.
His first office is in more humble space in Manhattan Beach, Calif. See: Some RIAs are gearing up to reopen in bigger, better offices-- some at 'Covid' rates--to go face-to-face with clients with one big caveat: vaccinations mandatory
Larger destiny
Though some of his alts funds get capital from his own RIA investors, he gets even more from outsiders, in particular, single-family offices.
Asked about the potential conflicts of placing Manhattan West client assets in proprietary Manhattan West funds, Esparza says he largely rejects the notion that open architecture is inherently better.
"I like the idea of leaning [as a wealth manager] into your own [investment management] strategies," he says.
He adds: "JPMorgan got in trouble for selling proprietary funds – We disclose the heck out of everything… we don't see it as a bad thing, we see it as a good thing."
What he finds disingenuous is the notion that advisors are going to put assets with the "best managers" given that managers are only deemed best in retrospect after establishing a track record of five years or more.
Though Manhattan West is still modest in assets managed, it is in firm command of a larger destiny not far down the road, according to Tucker.
"Upside opportunity is much higher and downside is very low," he says.
"Lorenzo has been able to build something phenomenal over the years. If there is someone who can accomplish a significant buildout,... getting on board with Lorenzo is about as riskless as it comes."
Writing a small check
Tucker emphasizes, however, that he is risking a fairly certain advancement to a chief investment officer role in exchange for hiring on with Esparza. He had an interest both internmally and externally in his old job, after decades of playing in the big leagues.
He spent the past two years at OCERS after migrating west from the $270-billion New York State Common Retirement Fund (NYCRF) and the $50-billion State of Connecticut Retirement Plans and Trust Funds (CRPTF).
Tucker professes his big asset pools could be an albatross for his investing efforts.
"The small off-the-radar investments were typically overesubscribed," he says. "You need direct access. It's a big part of what I've done."
Esparza agrees. "A $300-million fund is too small to be on JP Morgan's platform.
"We have a niche to scoop up high-quality deals that JP Morgan can't even look at because they are too small. They are managing billions of dollars, they can't place that small of a check," he says.
Esparza poached Tucker as his 10th dedicated venture capital hire with a narrow purpose of investing for his new "opportunities and growth" fund with a broader goal of having all the key talent and connections in a small market set to get bigger.
Doing justice
Manhattan West manages private equity on the low end of the middle market, venture capital (i.e. growth companies), multi-family and industrial real estate investments and private debt. See: JP Morgan breakaway RIA Manhattan West makes unusual hires with ambitious plan to lend to people that banks tend to shun
"AUM is something that a 'traditional' RIA would care about," Esparza explains. "Not Manhattan West. We consider other KPIs [key performance indicators] that are ultimately driving our revenue."
MAnhattan West declined to disclose other KPIs.
The Manhattan West SEC ADV filed on April 27th discloses it has 13 employees and manages $204 million.
"Truth be told, we never liked being labeled an RIA. Frankly, we feel it puts us in a box and represents only one element of what we're building," he wrote in a recent column.
"It doesn't quite do us justice."
---
---