Brendan Powers: Six percent of [RIAs] are outsourcing to asset allocation model portfolios ... [but] another 17% are using asset allocation models as a starting point.
Brooke's Note: Morningstar is an easy mark. The Chicago company, with its fund tracker hat on, is a messenger to kill for delivering news that seems too mean, too friendly or too conflicted at times. See: Will Bond King's plebeian returns in 2016 encourage a thawing of cold war with Morningstar? But it's largely unmatched research capability is a resource we'd be less as an industry without. It brings sunlight where there is very little and it's gamely upping its research into model portfolios, even now taking a crack at 'hypothetical' ones. Morningstar is likely to make the model portfolios better and vice-versa.
With Wall Street juicing demand, Morningstar is rating more model portfolios, but there's a catch -- star-ratings that stoke mutual fund sales are nowhere to be found.
The Chicago investment tracker now rates 139 models, up from 76, on a five-tier scale from gold to negative. It attributes the less visual and stimulating system to the two-star nature of data quality endemic to the model portfolio category.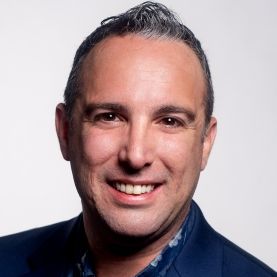 "We're seeing lots of signs of increasing demand for model portfolios from advisors, and after a year of covering the separate-account versions, we realized to really get the broadest reach we'd have to also cover the more hypothetical ones," says Jason Kephart, a senior Morningstar strategist.
"Our value add is in evaluating the skill of the people building the portfolios and the portfolio construction process," he adds.
As of Mar. 1, Morningstar received data on almost 1,500 model portfolios -- a 50% year-over-year increase, according to the firm.
The Chicago tracker awarded its gold rating to just two models, BlackRock's Target Allocation model, which Morningstar tracks through an SMA, and Vanguard's Core portfolio, which it tracks purely as a theoretical model.
RIAs join trend
Industry giants like Merrill Lynch and UBS make up the bulk of growing interest in the ratings. Models managed solely at an advisor's discretion fueled the big increase.
They get added to those models vendors administer through separately managed accounts (SMAs).
That said, almost one-in-five RIAs have also begun to use models, says Brendan Powers, associate director for product development at Boston consultancy Cerulli Associates.
"Just 6% of [RIAs] are outsourcing to asset allocation model portfolios. Another 17% are using asset allocation models as a starting point, then making some kind of adjustment on a client-by-client basis," he explains.
Stars crossed off
The model portfolio market near doubled in size over the past 12 months to 1,500 discrete portfolios sold by a mix of TAMPs and asset managers, including BlackRock, SEI Investments, and Vanguard, which offer subscriptions to 51, 47 and 44 models, respectively.
Overall, some $2.1 trillion is managed through model portfolios, according to Cerulli.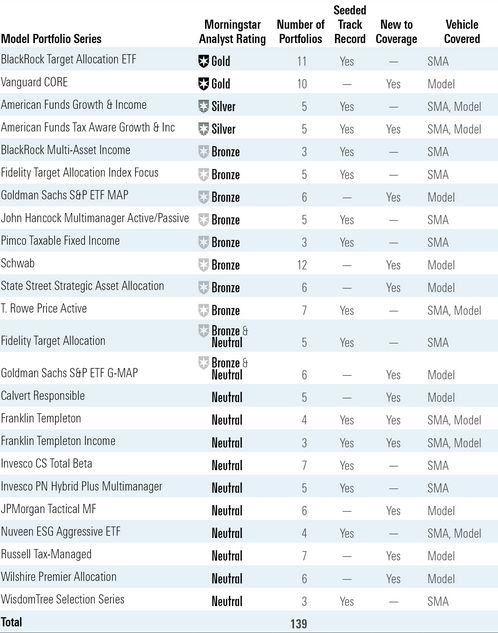 Morningstar's most widely known benchmark ranks mutual funds with one to five stars, primarily based on their past performance. See: How Morningstar got in the last word after The Wall Street Journal dropped a year-in-the-making investigative piece on the fund tracker's head.
In contrast, the research vendor has opted to rate model portfolios using qualitative forward looking analysis that crunches a fund's investment merits, based on an analyst's judgement. See: Morningstar explains its new forward-looking rating system -- and tosses in some hot fund picks for good measure.
"We've not moved to do star ratings for models because of the challenges with data quality. With models, you need to ask more questions," Kephart explains.
"Every US equity fund that falls in the large mutual fund category is reported. We have the entire universe. We're never going to have that with a voluntarily reported database," he adds.
Fudging data
Indeed, providing detailed analysis on model portfolio performance is difficult, particularly on a vendor-wide basis, because models do not manage assets, but rather offer advisors access to investment templates.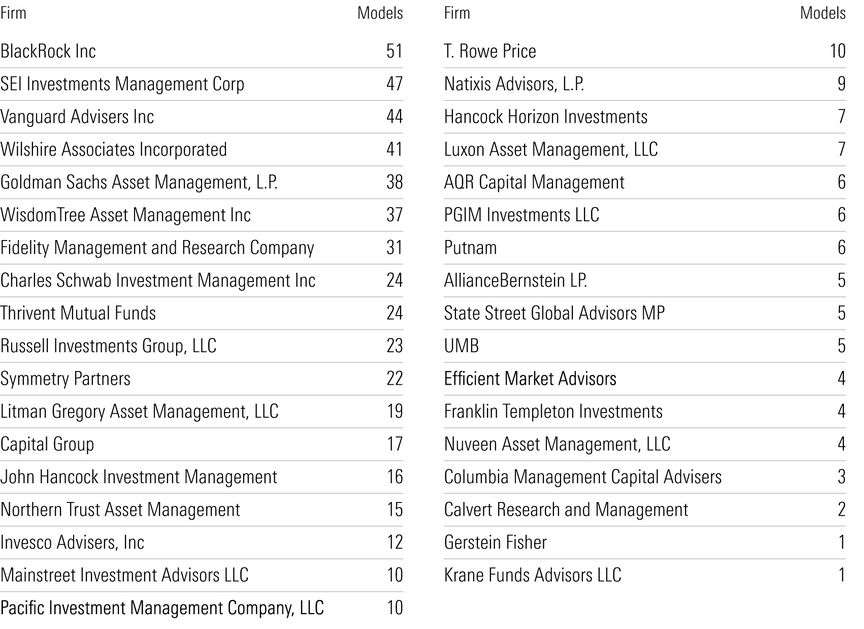 Firms can also fudge data by reporting only their successful models, Kephart continues.
"There's no dollars invested you can point to ... [there's] a potential for back-tested returns, because there's no track-record ... [and] it's really hard to get asset [tallies] and flows," he says.
Morningstar first started using forward-looking analyst ratings alongside its star ratings in 2011. It began covering model portfolios in March 2019.
Growing concern
Powers puts the growth of model portfolios down to two key factors, namely they allow a level outsourcing without giving up control, and they free-up advisors to manage their practice.
"They let advisors retain discretion over their client portfolios, but advisors also get to benefit from the investment management skills of top firms like BlackRock," he explains.
"Advisors [then] have more time to go build their business, manage their practice and attract new clients," he adds.
Nor is it only advisors that stand to benefit.
BlackRock, which manages almost $9 trillion in client assets has previously described model portfolios as "crucial" to its growth strategy, Bloomberg reports.
Indeed, last year the company recorded an average of roughly $1 billion dollars per month in net new inflows to its model portfolio business.
---
Related Moves
February 28, 2020 – 11:09 PM
---
---
---
Mentioned in this article:
---
---
---
Brian Murphy
April 10, 2021 — 12:12 AM
If Morningstar as a company thinks evaluating model portfolios has to be more qualitative than evaluating funds, then they're doing it wrong! First, you don't just judge what someone sends in as a history of model portfolio returns. You judge a history you retrieve over time...ie) model provider signs up on 1/1 and you get ongoing changes to the models as they occur; say 3/28, then 4/15. If the model submitters can't provide you with real time updates, they aren't included in the ranking. Period. Then you judge the modelers on a number of characteristics - and maybe even bucket them into style camps. I see no reason why one has to have the entire fund (or model portfolio) universe in order to evaluate either...so the statement that - We've not moved to do star ratings for models because of the challenges with data quality. With models, you need to ask more questions," Kephart explains. "Every US equity fund that falls in the large mutual fund category is reported. We have the entire universe. We're never going to have that with a voluntarily reported database," he adds. - is just wrong. You don't need to ask ANY questions of the modelers; just let the model portfolios themselves suggest the quality! And you don't need the whole universe against which to evaluate the quality of a model portfolio strategy. So this all begs the question - what exactly is the agenda of Morningstar when it comes to evaluating model portfolios? Are they charging a fee for those submitting models (like they do for mutual fund companies themselves?)