Matthew Audette: We remain focused... This focus led to our highest quarter of organic growth in our history.
LPL Financial is ready to add $100 billion of assets from three pending deals, but it also just recorded an organic growth record and tipped from being predominantly a brokerage to more of an "advisory" company.
The Fort Mill, N.C., firm grew advisory and brokerage assets 43% year-over-year to $958 billion, while advisory assets alone increased 54% year-over-year to $497 billion.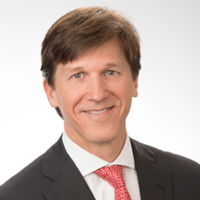 As such, its advisory assets [fee-earning] as a percentage of total assets increased to 51.8%, up from 48.1% a year ago during the first quarter ending Mar. 31.
Wall Street rewarded its the success, sending shares of LPL Financial Holdings Inc. (LPLA) to a 52-week high of $155.50 in regular trading before closing up $2.26, or 1.48% at $154.88. On the day, the NASDAQ closed down.
The trend continued into the after-hours session with shares up $1.12 or 0.72% to $156. That's about $100 higher than the current 52-week low of $57.35.
But LPL CFO Matt Audette let Wall Street know that his company has more growth all but baked in for the immediate future.
"We also looking forward to onboarding three of our largest partners this year - BMO, M&T and Waddell & Reed – which collectively represent over $100 billion of assets to our platform," he said.
Organic Growth
Total organic net new assets were $29 billion for the quarter and $71 billion over the previous 12 months, which included near $12 billion that came aboard in March from BMO Harris Financial Advisors.
BMO recruited assets were $15.2 billion, of which $11.8 billion transitioned to LPL. See: Dan Arnold finally plays LPL's RIA custody card hiring five senior RIA recruiters caught in Schwab-TD Ameritrade post-merger 'churn,' signaling possible direct challenge to the industry leader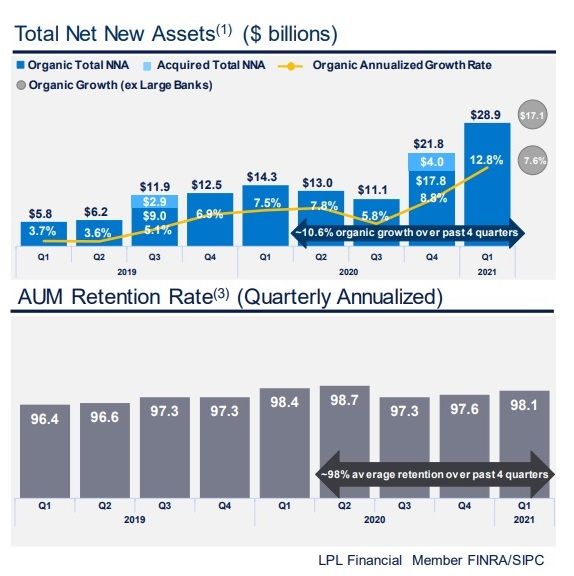 LPL's organic net new advisory assets were $23 billion, and its organic net new brokerage assets were $6 billion, for the three months.
Recruited assets were $24 billion, contributing to a trailing twelve-month total of $56 billion, up 56% year-over-year.
Advisor count was 17,672, up 385 for the quarter and 909 year-over-year. LPL serves as custodian to 450 independent RIA firms.
Staying focused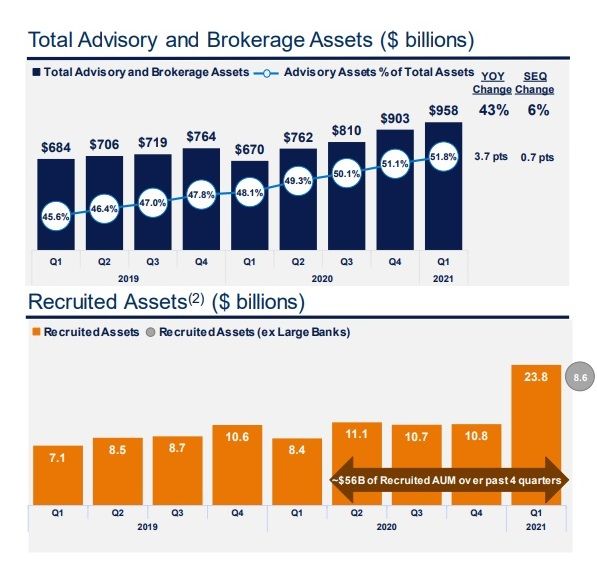 LPL attributes it success to staying true to its business-to-business service model on behalf of financial advisors. See: After a decade of 'hybrid' RIA mish-mash, LPL Financial has a double-barreled '100%' RIA plan that is presumed to include 'Schwabitrade' style asset custody and a 'Dynasty' style premium back office offer
"We remained focused on our mission of taking care of our advisors, so they can take of their clients," said Dan Arnold, President and CEO.
That said, LPL is also showing it can be an outsourcer, too. See: How LPL Financial is executing a big RIA-like pivot through the acquisition of Blaze Portfolio, founded by an Advent Software breakaway engineering troupe
Its business solutions subscriptions increased to near 1,700, up about 300 from Dec. 31 and about 1,000 from march 30, 2020.
Its annualized revenue from business solutions nearly doubled to $19 million, up by about $9 million during the year.
---
---
Jeff Spears
LPL has the best of both worlds for top advisors. Solutions that require big investment and a competitive advisor payout. I have to admit I didn't see this coming. Warehouses and large RIA firms should take notice.
---