Natalie Wolfsen: 'Absolutely, Assetmark is evolving.'
Brooke's Note: AssetMark has long had what seemed to outsiders to be an RIA executive management Dream Team. The anchors were Charles Goldman, Michael Kim and Natalie Wolfsen, who joined the firm in 2014 following Myra Rothfeld's departure. Ex-TDA RIA software star Mukesh Mehta was added in 2017. Yet the firm has been almost dogmatically devoted to the independent broker-dealer channel, which surely is its bread and butter. That's despite an RIA growth rate of 50% in 2020, with revenues rising from 10% to 15% of the overall pie. Goldman's departure was preceded last Spring by the exit of one chairwoman and the addition of another higher-ranking female executive from Assetmark's controlling shareholder, Huatai Securities Co., Ltd. That happened just as AssetMark made MoneyGuidePro (MGP) a planning hub -- ironically, to be more competitive with Envestnet, which owns MGP. Now MGP's day in the sun has been eclipsed by AssetMark's $145 million splurge on Voyant. What Charles Goldman accomplished during his eight years is mighty impressive -- ballooning assets from about $20 billion to more like $75 billion and making sure the IPO clicked. But Wolfsen sees an opportunity for AssetMark to take its act to a bigger, multi-channel stage, with broader capabilities and greater critical mass. The RIA Dream Team may yet dust off its collective Rolodex and unleash its affinity to its IBD sister channel.
With a new CEO, a new chairwoman and a shiny, new, $145 million software heart, AssetMark (AMK) is making a move to close a gaping void caused by the Schwab-TD Ameritrade merger.
CEO Charles Goldman's departure and Natalie Wolfsen's appointment in February to the top spot of the $74.5-billion investing outsourcer made headlines.
But it follows the largest, but little publicized, move by its majority stakeholder Huatai Securities Co., Ltd. -- installing its chief financial officer Xiaoning Jiao, 50, as Goldman's boss, effective last April 21.
"AssetMark is back," says Will Trout, director of the Wealth Management for Javelin Strategy & Research in Houston, Texas.. "They've made some key hires and seem liberated under Natalie's leadership. I can't wait to see what comes next.
The seeming suddenness of Goldman's departure form the c-suite and board was sped up at the last minute when it was decided the news should get out ahead of an event scheduled the following week for AssetMark's largest clients, says Wolfsen. See: AssetMark suddenly parts ways with president/CEO Charles Goldman; protégé Natalie Wolfsen named CEO; Michael Kim president
"Absolutely, Assetmark is evolving," Wolfsen says. "With all the RIA custody consolidation, RIAs have needs that are emerging. We want to extend to RIAs."
The RIA industry articles and tweets about lengthening wait times for custody service are based on reality, she adds. That makes RIAs far more open to the services of a TAMP than they were in the past. That's especially true because AssetMark is set to accept a bigger portion of the technology load.
"Many advisors have built their whole business around eMoney or MoneyGuidePro," she says. "We want to be a master integrator."
Achieving efficiencies
AssetMark's purchase of Voyant was a masterstroke, says Trout.
"The Voyant deal is really a corker," he says.
"The Austin, Texas planning firm controls a goodly share of the independent advisor market in the UK and has been making inroads with Canadian banks as well. And just as Voyant starts to make inroads in the US, AssetMark snaps them up."
AssetMark had tried for years to buy a software planning firm and waited to get the one it wanted, Wolfsen says. "It was always on the list."
Trout says the acquisition comes in the nick of time.
"I think now the focus of the RIA will shift from trying to monetize advice to achieving practice management efficiencies through automation to achieve scale and by extension, delivering a digital experience that resonates with a younger client set," he says.
"Voyant helps in that regard, but its not a silver bullet, especially since Envestnet is not standing still."
Beta testing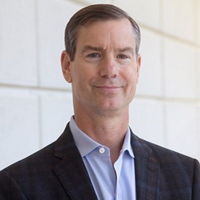 "What we noticed was that RIAs have specific needs" relative to IBD reps, Wolfsen says. "RIAs have trading needs and practice management and other business needs."
AssetMark is already beta testing a trading platform that gives RIAs the ability to put their stamp on model portfolios.
Wolfsen reminds that AssetMark is, in fact, an RIA custodian with $53.9 billion of trust assets, but her firm isn't necessarily seeking to hold assets in custody.
"I view it more on the service end. We can serve at a [high] level at all sizes of firm."
But in addition to meeting the needs of RIAs, Wolfsen will need to satisfy here new boss, Jiao, who she expresses admiration for.
"She's impressive," Wolfsen says. "She brings a lot of good questions and insights."
New launch
Separately, the company today (Mar. 10) announced the launch of AssetMark Institutional, a "fully-assembled holistic solution" geared to RIAs.
It provides registered investment advisors "with a comprehensive set of products, operational support, technology, and community resources to support their growth, efficiency, and scale in today's new regulatory, competitive, and virtualized landscape."
"The growth of hybrid RIAs and independent RIAs over the last 10 years has outpaced other channels in both adviser headcount and to $53.9 billion adviser managed asset growth," said Wolfsen, in a statement.
"AssetMark Institutional is designed for these growth-minded RIAs whose continued success depends on embracing the rapid change that's impacting our industry.
"This means gaining access to the right service, resources, tools, and capabilities that allow RIAs to focus more time on serving clients and less time managing the technology, operational demands, and other critical resources they need to run their businesses."
A previous version of this article said AssetMark had $22 billion of trust assets in custody. It's been updated to $53.9 billion.
---
---
Mentioned in this article:
---
---
---