David Booth continues to follow the Vanguard lead with price cuts and ETF conversions at DFA.
The king of cheap and a pretender to the throne are kicking competitors while they're down with sweeping mutual fund and ETF fee cuts in a very Black Friday day that's redefining the meaning of "cut to the bone."
Vanguard Group, the largest mutual fund and second largest ETF seller, and Dimensional Fund Advisors, the eighth-largest fund company, chose the same day to announce 67 separate fee cuts, including a drop to nine basis points for Vanguard's ESG U.S. Stock ETF.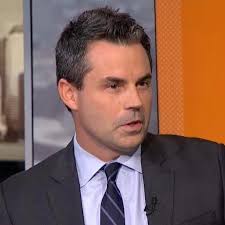 Malvern, Pa.-based Vanguard reported reducing expense ratios today (Dec. 17) for 17 fund shares, including nine fixed-income ETFs, while Austin, Texas-based DFA made cuts to 50 funds, including three ETFs.
"Vanguard has banked so much goodwill by constantly cutting when nobody asked for it," says Bloomberg Intelligence ETF analyst Eric Balchunas. "They are in such a position of trust."
That trust largely explains why the $8.4 billion manager only seems to add more assets every year -- regardless of other factors. See: Vanguard makes mockery of 'digital' myth by reporting $1.3 trillion after its new mobile app's panned debut -- then makes Tara Bunch a director
Dramatic cuts
The company, which manages $653 billion of AUM, is also beginning to establish trust in investors that it'll cut fees. It also made cuts in 2015, 2017, 2019 and 2020.
Adding an extra dose of gloom for competitors, Vanguard is beginning to cut fees to the bone in what analysts call VFZs or Vanguard-Free-Zones, according to Balchunas.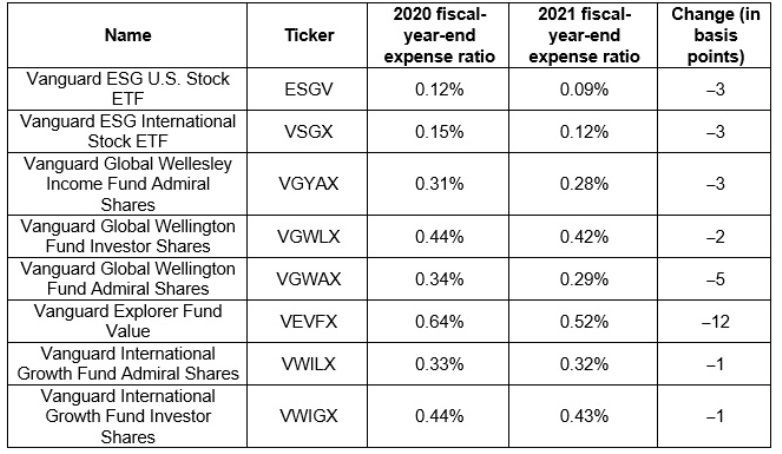 Vanguard equity- and balanced-mutual-fund and ETF expense ratio changes (Source: Vanguard)
That's where fatter margins are possible because Vanguard has been slow to jump into that category. (For now, crypto funds remain an example.)
In one of the most dramatic fee cuts, Vanguard took Vanguard ESG U.S. Stock ETF (ESGV) from 12 basis points to nine basis points -- making it the cheapest ESG ETF on Earth from a known brand name.
There are only a few areas where Vanguard doesn't compete so competitors can still get a decent price margin. ESG is one, but a cut to 9 basis points significant, analysts say.
| | |
| --- | --- |
| Vanguard ETF fixed income ratio changes (Source: Vanguard) | |
"They did that to ESG, and they do that wherever they go," Balchunas says. "ESG didn't take hold until [vendors] got down to 20 basis points. Once you go below 20 bps, good things happen. It's so clear."
The deepest of the new cuts came in nine Vanguard bond ETFs where fees dropped 20% from five basis points to four for eight of the funds.
Industry analysts say true rock bottom is 2 basis points, and they're at four, raising a question whether Vanguard will continue going lower.
State Street Global Advisors lowered its expense ratio on three corporate bond ETFs to 0.04% from 0.07% just two weeks ago -- suggesting potential cause and effect, said Balchunas, citing Barron's and Bloomberg articles about the price cuts.
It's highly unlikely, he adds, considering that the Vanguard cuts have come at least as regularly as Christmas for decades.
"This is just what they do," Balchunas says.
Savings
This is the first round of price cuts in the 2021-22 fiscal time period and investors saved an estimated $18.9 million as a result, the company said in a release.
Vanguard operates under a unique, investor-owned structure in which U.S. fund shareholders own the Vanguard funds, which in turn own Vanguard.
"This structure enables the firm to return value to shareholders through lower costs and reinvesting to improve capabilities, technology, and client experience," the company said.
---
Related Moves
---
December 4, 2020 – 2:56 AM
---
November 12, 2020 – 4:43 AM
---
---
---