Walt Bettinger: Investors [opened] over a million new brokerage accounts for the fourth consecutive quarter.
Brooke's Note: You'd think after all the success of Robinhood that Schwab and Fidelity would be a little nervous. I doubt it. It's been anything but a zero sum game. If anything, it appears that the big legacy discount brokers are getting spillover from the smaller speed demon. It's hard to grasp, in fact, how much success Schwab -- like Fidelity and Vanguard -- is having to the point where Wall Street is noticing after about a decade of indifference. In addition, I'd imagine that Walt Bettinger is getting some better night's sleep as the TDA deal, USAA deal, headquarters move to Texas and office shutdowns from Covid-19 all move toward the rearview mirror. He also isn't having the SEC or Massachusetts look him over with a microscope like Robinhood. And unlike Robinhood's Vlad Tenev, Bettinger has 13,000 RIAs doing more than half the work for his company, attracting and growing assets and keeping them from walking out the door.
Charles Schwab Corp.'s share price blew past $80 for the first time on today's earnings news, yet the firm's 13,000 RIA clients did the heaviest lifting to lure net new assets to the firm.
The Westlake, Texas company's shares have climbed about 33% year-to-date from $59, marked by nearly $1-trillion growth in assets.
Schwab RIAs -- which include TD Ameritrade's -- set a record—confirmed by Schwab—of $81 billion in net new assets for the three months ended Sept. 30. RIA assets in custody now total $3.476 trillion.
RIAs drubbed Schwab Investor Services' net new assets, which were $57.9 billion for the same three month stretch. Total Investor Services assets stand at $4.138 trillion.
Those asset increases came in a sub-optimal time of uncertainty about inflation and economic growth that left the S&P 500 average all but flat for the summer stretch, explained Bettinger in a release.
"Investors [opened] over a million new brokerage accounts for the fourth consecutive quarter – bringing year-to-date new brokerage accounts to 6 million," he said.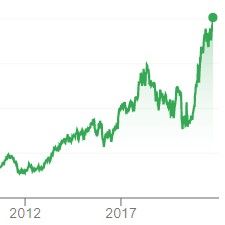 "We generated core net new assets of $139 billion in the quarter, pushing asset gathering for the first nine months of the year to $396 billion, representing an 8% annualized organic growth rate."
Schwab has also been boosted inorganically in the fuller year. The S&P 500 is up nearly 21% year to date.
Strong numbers
Market capitalization just passed $150 billion for the first time, up from about $16 billion when Schwab CEO Walter Bettinger took the reins in 2008.
Total client assets ended September at $7.61 trillion, up from $6.69 trillion at year-end 2020. Net income for the nine months ended Sept. 30 was $4.3 billion, compared with $2.2 billion for the year-earlier period.
Better yet from Schwab's standpoint, may of its high-margin products got traction. Its 44% pre-tax profit margin – 49.6% on an adjusted basis – was its highest quarterly level since late 2019.
Schwab's margins will be affected by its labor expense, which will jump when the firm puts into effect a 5% raise increase across the board. See: Citing 100% increase in net new assets, Charles Schwab Corp. will give staff 5% 'special' pay raise that leaves one HR analyst doing a double-take
It reported a 21% increase in mortgage originations and 66% growth in asset-based loan balances on a year-over-year basis. Schwab managed ETFs grew to a record $251.6 billion in assets, up 49% year-to-date.
Despite "zeroing" its trading commissions, Schwab's trading revenues soared to $964 million or five-fold what it reported a year ago—another bright spot.
Schwab bought TDA's beloved thinkorswim trade desk and TDA was never shy about -- Robinhood-style -- collecting payment for order flow. See: Robinhood's retort to SEC's threat to outlaw kickbacks from order flow is to in-source the trading operation and take more of the bid-ask spread.
The company's financial results include TD Ameritrade from Oct. 6, 2020 forward.
Hidden force
RIAs are independent advisors that manage fee-based portfolios to a fiduciary standard typically for higher net worth investors. See: What exactly is an RIA?
These advisors register directly with the SEC -- as opposed to becoming registered broker-dealer reps-- and are a huge hidden force behind Schwab's growth.

RIAs benefit from Schwab as the mostly private-labeled asset keeper and Schwab keeps asset acquisition costs down to a minimum by having RIAs as self-sufficient entrepreneurial entities.
RIA's earned mention in the Schwab earnings release for the investment the company made in the "digital onboarding experience for new accounts."
That include "integrated funding, end-client editing capabilities and detailed status tracking, among other improvements."
Schwab's competition in RIA custody is arguably reduced after buying its fiestiest competitor in TD Ameritrade but its competition on the retail side of the ledger seems to only increase.
Not only are Vanguard Group and Fidelity Investments operating at a similar scale and brand respect but upstart brands like SoFi and Robinhood are coming fast and furious.
Schwab and Bettinger have hard decisons ahead regarding whether to dive into cryptocurrency like Fidelity, Robinhood and SoFi. See: Charles Schwab & Co. is a budding cryptocurrency convert and will enter the market in a big, 'disruptive' way, says its CEO--but not before the SEC says it barks or quacks
There are still potential landmines for Schwab as it navigates the process of integrating TDA's IT system into its own.
---
---
---