Bob Armour: We will now go back to serving our clients by putting their wealth front and center and will stop being distracted by inaccurate and paranoid tweets.
Brooke's Note: I've been there. When a rival-in-theory does something you feel is wrong, the perceived injustice magnifies the emotions. But the underlying issues may not be misplaced paranoia. They could be out to get you. Or not. M1 did not offer a response to Wealthfront allegations until after we published our article on Jan. 20. They had second thoughts after seeing the article and gave us one that advanced the story (see below). That is quite normal. Yet it's not without risk. In this case, Wealthfront had kept some powder dry, which it then fired (again, see below) after M1 unloosed its cannons. The good news is that we now know what exactly happened and where the bigger tensions may lie -- model portfolios. We know they are a big thing in the RIA world. But it turns out they may have a big place in the robo-advice world, too. The difference may be split between DIY Robinhood stuff and the more classic robo approach of outsourcing virtually everything to a robot. M1 is a robo-model portfolios leader. Wealthfront might be a party crasher.
After a day to think about it, M1 chief marketing officer Bob Armour lashed back at rival Wealthfront for asserting his company had acted unethically, calling it "a gross misrepresentation and a lie."
Now, in response to Armour's defense, Wealthfront claims to possess video evidence that proves an intended deception.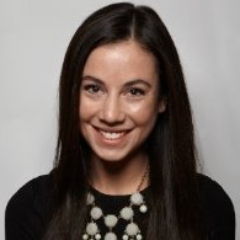 "We record all customer development sessions and ... when the M1 employee was asked who their employer was, they replied that they 'work as a creative director at a marketing agency,'" says company spokeswoman, Kate Wauck, via email.
"That was certainly an up-front lie."
M1 declined to comment further beyond its Jan. 21 statement.
The allegations exploded when Dan Slate, a senior product manager at Wealthfront, posted a Jan. 13 tweet alleging M1's misconduct.
CEO Andy Rachleff followed by retweeting the allegation, claiming M1 sent one of its own staff into a customer research session without disclosing ties to their firm.
When RIABiz reached out to the two robo-advisory firms, Wealthfront responded but M1 declined to engage on the specifics of the allegation. See: Wealthfront calls out M1 Finance for alleged pretexting.
No lying
Then, the day following publication, Jan. 21, the Chicago firm sent RIABiz an email with its version of events.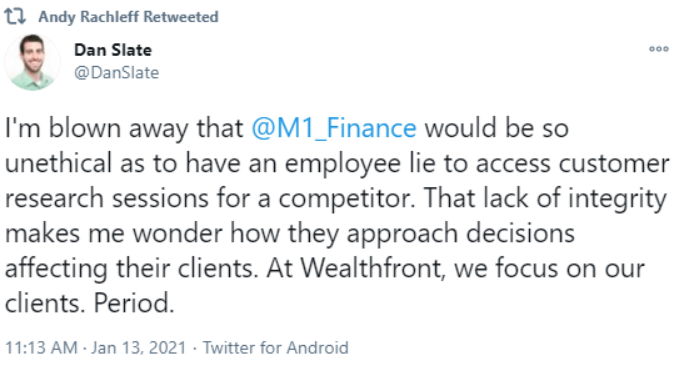 "An M1 employee has an account with Wealthfront. [It] proactively invited her to attend a product discussion," it said.
"She accepted and attended. Due to SEC know-your-client regulations, Wealthfront knew she worked at M1; she listed it on her Wealthfront brokerage account," Armour explains.
"During the call, they asked her what other platforms she uses. She said M1, and the conversation from that point on was primarily about M1 features. At no point did she lie. In fact, the only lie is Wealthfront's tweet."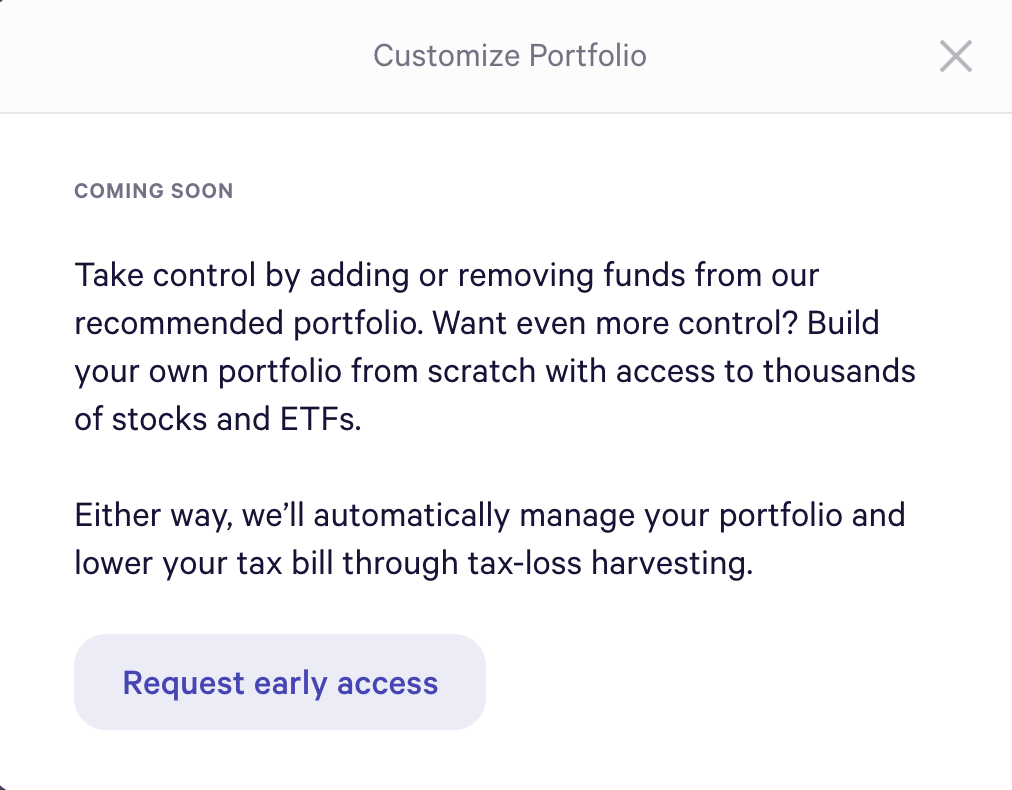 Wealthfront and M1 both risk paying too much attention to sibling rivalry, especially as RIAs catch up in terms of digital capabilities, says Will Trout, director of wealth management at Pleasanton, Calif., consultancy, Javelin Strategy & Research. via email.
"The battle is between digital advisors and incumbents, not between two flavors of the same ice cream." he adds.
Wealthfront and M1 both told RIABiz that they have no intention of engaging in further distractions.
"Let's get back to work, stop these shenanigans and focus on our clients," says Wauck.
"We will now go back to serving our clients by putting their wealth front and center and will stop being distracted by inaccurate and paranoid tweets," Armour writes.
Converging models
The two firms are expressing mutual distrust and hostility at a time when their business models are beginning to converge.
Wealthfront has always fully outsourced portfolio management to an algorithm that takes into account a customer's risk profile.
In contrast, M1 pursued a retail model portfolio platform where consumers largely self-direct assets to a choice of 80 model portfolios, with an option to build their own using fractional shares.
Clients can add new assets and M1 automatically rebalances the accounts to match the portfolio they select or design. Without fresh investment, investors must opt to rebalance themselves.
At the heart of the dispute may be that their distinctive models are converging as model portfolios explode in popularity. See: How Vanguard, BlackRock and State Street -- which manage RIA trillions of AUM for a pittance -- may artfully make the bill come due by beating active managers at their own game
M1 is apparently a boat on that rising tide. Wealthfront's administered assets grew 9.5% in nine months while M1's assets ballooned 50% in five months.
In a January email, Wealthfront invited clients to request "early access" to a nascent self-directed portfolio construction tool.
The "coming soon" service widens Wealthfront's portfolio customization options, and lets clients build portfolios "from scratch," according to the invite, in what seems strikingly similar to M1's service.
The two firms already compete on banking services -- a channel that is becoming overcrowded and less profitable.
Wealthfront provides clients with direct paycheck deposit, bill payment, and automated savings facilities, as well as a Visa debit card.
M1 offers an interest-yielding cash account, bank transfers, and lending. See: Wealthfront's tapping of Sheila Bair and Tom Curry signals likely push to gain a bank charter.
Past is prologue
Wealthfront has tangled with M1 before.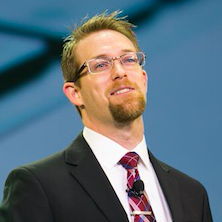 In fact, Wealthfront's feud with M1 began in Dec. 2017 after M1 ditched the 25- to 40-basis-point fees it charged clients to use its software.
"The future of finance is free," M1 founder and CEO Brian Barnes said in a linked release. "What Robinhood created for the modern trader, M1 is now doing for the modern investor."
Barnes, just 25 when he founded M1, dumped fees in favor of [Robinhood-like] selling order flow on client trades to market makers and lending non-invested client funds to banks.
"It's a desperate move from a late entrant," Rachleff told Business Insider in Jan. 2018.
Desperate, but effective. M1's asset inflows leapt to $1 million daily within weeks and the number of net new accounts opened at M1 rose by a factor of 10.
Asset jousting
Armour also makes no bones about M1's market positioning.
"We've built an investing experience that is far superior to Wealthfront's offering, in much less time, with about a tenth of the amount of venture capital," he boasts.
M1's administered assets topped $1 billion in Feb. 2020, $2 billion in September and $3 billion this January.
M1 raised $98.2 million in VC funds in the six years since its founding, or 48% of the $204.5 million Wealthfront raised in its first nine years.
Tortious conduct
Wealthfront may also welcome the attention its MI feud has garnered -- at least in one sense, according to Bill Winterberg, founder of FPPad.com.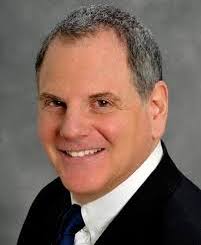 "By posting this accusation about M1 publicly on Twitter, Wealthfront aims to be compared directly with the features and functionality of M1 in the marketplace," he says, via email.
Wealthfront might have legal leverage, too.
Its claim -- if true -- carries "a whiff of indiscretion and possibly tortious conduct, depending upon who knew what when, and whether the M1 employee acted on her own or ... at the direction of the company," says Bill Singer, attorney and writer of the Broke and Broker blog, via email.
"That's a lot of ifs, buts, and maybes, but that's often what prompts lawsuits."
It feels like a stretch, says Trout.
"Industrial espionage is one of the world's oldest practices," he says.
"[But] it doesn't feel like M1 did much wrong."
M1 rejects Wealthfront's allegation, and states that the robo-advisor had ample opportunity and all the data needed for accurate vetting.
Walking the line
The nature of corporate espionage ranges from a competitor loitering near a rival's trade show booth in search of gossip, to full-blown espionage, including wire-tapping or falsely posing as an employee, according to experts and legal references.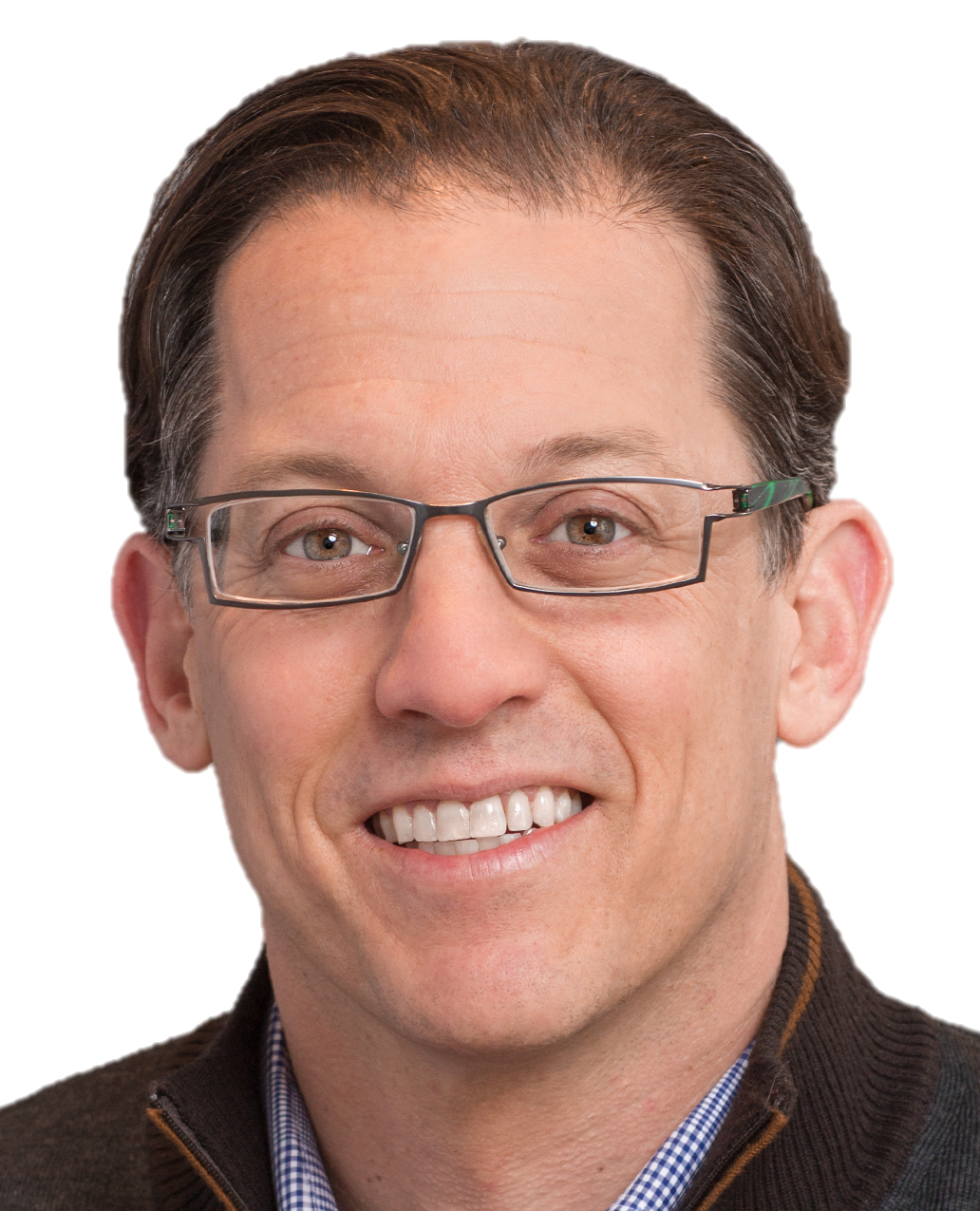 A thin boundary also stands between legal and illegal methods of gathering inside information about a competitor.
The Economic Espionage Act of 1996 spelled out for the first time what constitutes the corporate theft of information. The crime is punishable by stiff fines and up to 20 years in prison.
The key determinant is whether the information in question constitutes a "trade secret."
The law contains a lengthy definition of a trade secret, but it generally involves all forms of financial, business, scientific, technical, economic or engineering information.
It also includes pretexting -- inventing a scenario to convince someone to divulge information they should not divulge.
When it pertains to financial data, pretexting is a federal offense under the Gramm-Leach-Bliley Act.
How the law might apply to marketing, or product information is less clear.
If an M1 employee did not disclose their employer, "assuming Wealthfront screened invited attendees," then "Wealthfront could pursue a civil case against the employee under pretexting actions," says Winterberg.
---
Related Moves
August 14, 2021 – 2:20 AM
---
December 31, 2020 – 4:37 AM
---
---
---
Mentioned in this article:
Wealthfront
Portfolio Management System
Top Executive: Andy Rachleff
---
---
---