Daniel Slate: I'm blown away that M1 Finance would be so unethical as to have an employee lie to access customer research sessions for a competitor.
Brooke's Note: We are all looking for signs -- obvious and not so obvious -- of important changes and comings-of-age in the RIA business. When a spat bursts out on social media, it registers as one of those indiscernible signs in plain sight. Wealthfront is only about a decade old and has been part of an unusually high percentage of these encounters. Personally, I'm in favor -- on balance -- of firms erring on the side of showing bursts of emotion and doing it publicly. It brings issues to the surface that otherwise only get reported in a book 20 years later. It can inject us all with a dose of cortisol, and it gives us a window into companies and the souls of people who work at them. Wealthfront's culture emanates from its co-founder, Andy Rachleff, who is colorful and sometimes cantankerous. But what I've grown to appreciate about him is that he is equal-opportunity in expressing a little disgust, even as he tries to democratize investing and banking and create solidarity inside his company.
A Wealthfront manager exploded at upstart M1 Finance on social media, revealing a long-running rift involving allegations the Chicago upstart is using unethical means to cadge product and marketing information.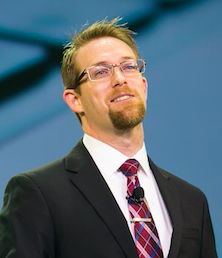 "Most fintechs have a combination of a fierce competitive spirit combined with camaraderie towards each other and do not stoop to lying to gain an edge," says Wealthfront spokeswoman Kate Wauck, via email when asked about the company's support of the action.
"We've never seen anyone in our space behave this way," she adds.
The feud was sparked by a purported effort by an M1 employee to crash a customer research session. The allegations burst into view on Twitter when a senior product manager at Wealthfront lambasted the effort.
"I'm blown away that M1 Finance would be so unethical as to have an employee lie to access customer research sessions for a competitor," wrote Daniel Slate, senior director of product, on Jan 13 in a Tweet.
Wealthfront CEO Andy Rachleff retweeted Slate's allegation, and Wealthfront backed Slate in a Jan. 15 email, slamming M1 as "stoop[ing] to lying to gain an edge."
Chicago-based M1 "respectfully" declined to comment on the assertion and "prefers not to comment at all" on the subject, a company spokeswoman said.
The level of outrage expressed by the robo-advisor may be excessive compared to the alleged transgression, says Lex Sokolin global fintech co-head at New York City blockchain software company, ConsenSys, via email.
"To suggest that competitor research practices are somehow translating into unethical customer decision practices is a reach."
Thin line
Corporate espionage can run the gamut, from hanging around a competitor's trade show booth to pick up gossip to outright espionage, like computer hacking, wiretapping or posing as an employee, according to experts and legal references.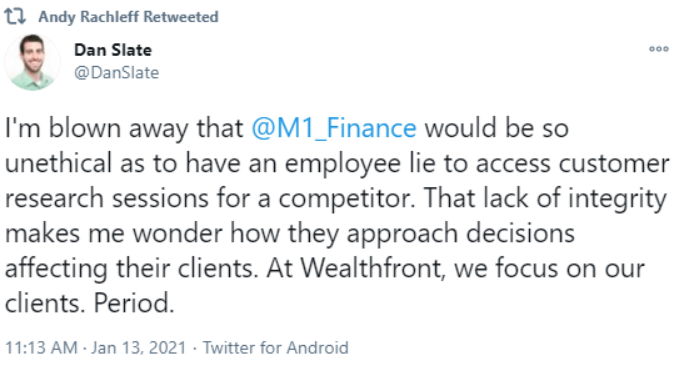 One thing is certain, a thin line exists between legal and illegal methods to gather inside information on a competitor.
The Economic Espionage Act of 1996 spelled out for the first time what constitutes the corporate theft of information. The crime is punishable by stiff fines and up to 20 years in prison.
The key determinant is whether the information in question constitutes a "trade secret."
The law contains a lengthy definition of a trade secret, but it generally involves all forms of financial, business, scientific, technical, economic or engineering information.
Yet one industry executive says petty corporate espionage is a game played pretty much universally.
"Everybody in the world mystery shops ... the chance M1 actively lied is minimal. I just don't understand why you'd beat up on somebody smaller," says the financial technology executive, who asked to remain anonymous to comment candidly.
Wauck suggests the incident went beyond that and may not be the first.
"The most recent episode involved an M1 employee lying about their employer to get into a customer research session where we discussed our future product roadmap to get feedback from clients," she said.
Beyond window shopping
Wealthfront wouldn't lob baseless claims in a public forum, says Bill Winterberg, founder of FPPad.com, via email.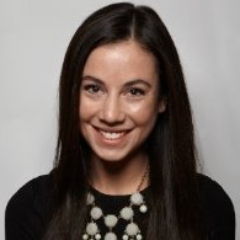 "If they're doubling down on it … it's very likely true," he said.
If an M1 employee did not disclose their employer, "assuming Wealthfront screened invited attendees," then "Wealthfront could pursue a civil case against the employee under pretexting actions," he adds.
Pretexting involves inventing a scenario to convince someone to divulge information they should not divulge. Pretexters will impersonate a client, or employee, usually over the phone, according to legal references.
Pretexting for financial data is a federal offense under the Gramm-Leach-Bliley Act. How the law might apply to marketing, or product information is less clear.
Wealthfront insists M1's actions went past mystery shopping because it accessed an insider discussion of bold-stroke plans. See: Wealthfront busts through $20 billion mark with its 'break things but make it happen' approach, but it's bedeviled by details when it comes to customers.
"Dan was expressing his frustration over employees from M1 twice now lying about their employer to get information about how we've built current products and our future product roadmap," says Wauck.
But M1's chief marketing officer, Bob Armour, says that M1 -- a self-directed trading service -- doesn't compete directly with Wealthfront -- a robo-advisor.
"At a very high level, we do see ourselves as going after different niches ... It's a little like hiring a contractor versus going to Home Depot to do a project yourself," he says, via email.
M1 -- more like Robinhood -- leaves portfolio management to its clients' discretion.
Competitive concerns
In part, Wealthfront's tweet may be motivated by the fact that it's now looking over its shoulder at increasingly popular self-directed investing services like M1, says Sokolin.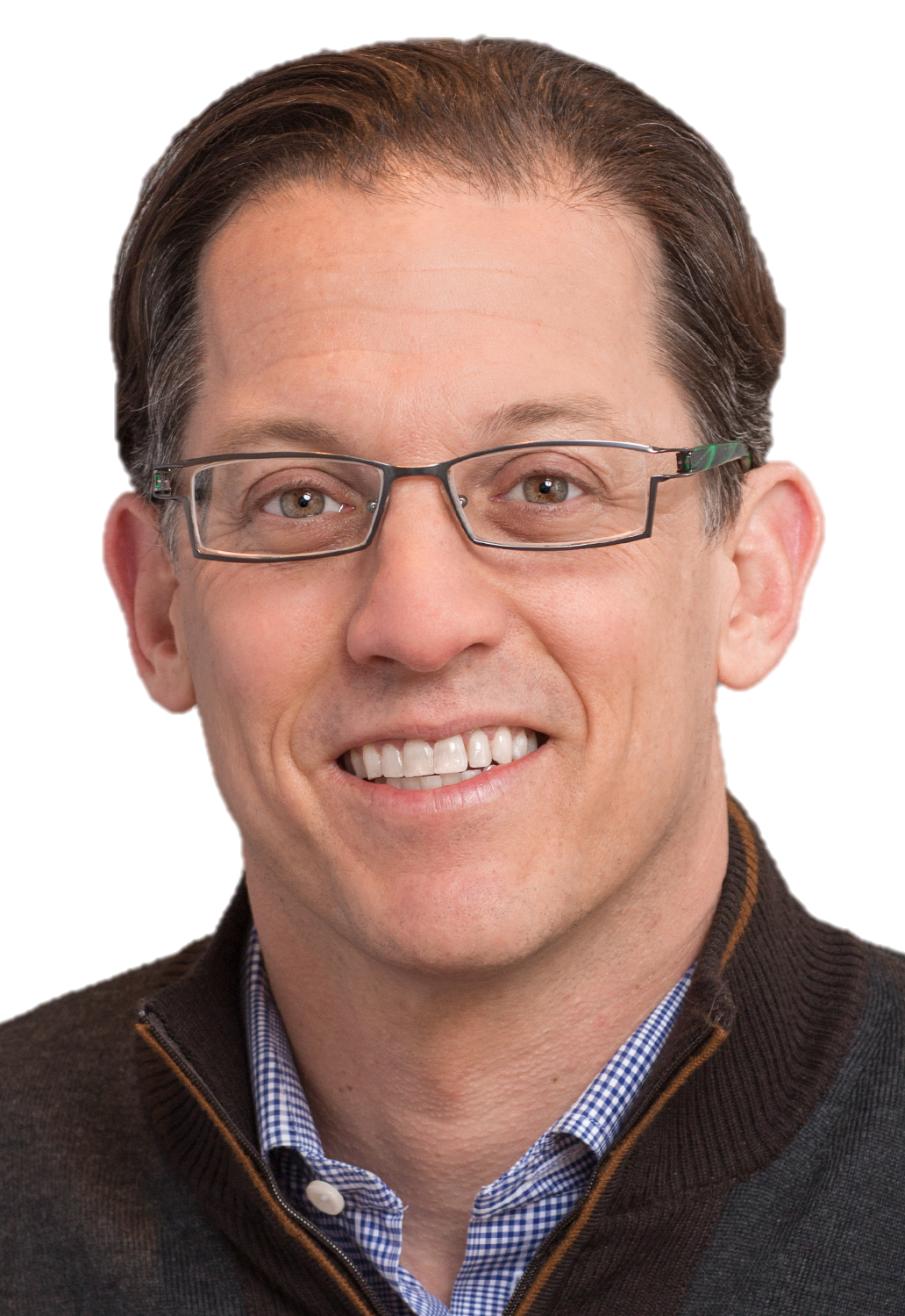 "Wealthfront has a history of trying to call out competitors to get attention for itself … [and] M1 is undercutting Wealthfront on fees across the board, from asset allocation, to cash accounts," Sokolin says.
Wealthfront may -- at a high level -- be aware that M1's client assets surged over the past 12 months and that M1 calls Wealthfront a "peer" in written references.
M1's administered assets topped $1 billion in Feb. 2020; $2 billion in September; and $3 billion this January -- growth it lauds as "faster, and achieved with far less funding than any of fintech peers, like Wealthfront."
Founded in 2008, Wealthfront administers $23 billion in client assets, according to the firm.
This sum includes cash deposits somewhere in the region of $7 billion, sources state.
Indeed, the two firms may be on a collision course in selling banking services, where each one competes. See: Wealthfront adds staggering $1 billion to its robo-bank in 'less than a month', but critics say it's treading the line, again, on possible conflicts of interest
Bricks and bats
Robo firms are known to have accounts at competitor firms and mystery shopping is standard, according to one industry executive.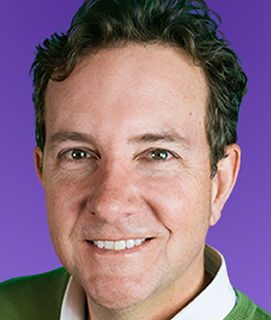 But Wealthfront seems ultra-prone to public rebukes of its competitors big and small.
In a blistering 2015 blog post, Wealthfront slammed Charles Schwab Corp. for "gotcha pricing," a greedy approach and an "almost criminal" ADV, because of the excessive allocation of client portfolio's assets to its captive Schwab Bank. See: Schwab tells the SEC its robo-advisor has a 30 basis-point fee and big-time cash allocations held by Schwab Bank.
A war of words also erupted the same year between Wealthfront and robo-advisor Betterment over fees and company worldviews, experts said at the time.
It started innocently enough when Wealthfront Inc. chief executive Adam Nash announced that his firm was lowering its minimum account balance requirement from $5,000 to $500 in a Tuesday blog entry entitled It's time to kill the monthly fee for small accounts.
In both cases, Wealthfront's damnation ended in praise for its competitors. .
But this time appears to be different.
The process for selecting attendees at in-person research sessions involves a preliminary email discussing potential products, which firms follow up with an invite for a small number of clients.
An M1 employee made the cut, by allegedly failing to disclose their employer. As such, Slate's tweet is justified, Wauck explains.
Shifting value proposition
That said, there's no upside to airing dirty laundry in public, counters Winterberg.
"Is there any benefit by the airing of grievances via Twitter?" he asks. "In my opinion, no."
Yet Wealthfront is particularly sensitive to its trade secrets. It has previously -- and going back several years -- asked industry observers as well as staff at rival robo-advisors to close Wealthfront accounts, alleging pretexting, multiple sources state.
Wealthfront is also steadily morphing into a neo-bank on the lines of firms like SoFi.
Since its initial Feb. 2019 banking launch, the robo-advisor has added direct paycheck deposit, bill payment and automated savings facilities, as well as a Visa debit card. See: Wealthfront drops old mission statement, declares war on institutions and emphasizes banking future.
At present Wealthfront relies on Hackensack, N.J.-based Total Bank Solutions as its banking outsourcer, but its recent appointment of two top banking regulators signals a potential application for a bank charter. See: Wealthfront's unlikely tapping of Sheila Bair and Tom Curry signals likely push to gain a bank charter, analysts say.
Facing off
M1, which competes with Wealthfront for banking customers, provides clients with an interest-yielding cash account, bank transfers, and a lending service.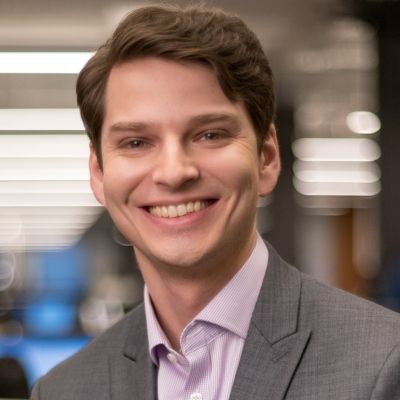 M1 differs from Wealthfront, because it prioritizes banking and brokerage services over asset allocation and financial planning, Sokolin explains.
"[It's] going after a slightly different, more self directed segment. But that seems to still be bothering Wealthfront," he says.
Like Betterment, Wealthfront automatically invests its clients in a set of automated portfolios, tailored to their appetite for risk.
M1 offers clients a choice of 80 model portfolios and the option to build their own, inclusive of fractional shares.
Clients can then trade on these accounts, but as they add new assets, M1 automatically rebalances the accounts to match the portfolio they select or design.
VC darlings
Founded in 2015, M1 has raised $98.2 million over five funding rounds. In an Oct. 2020 Series C round, it raised $45 million.
Wealthfront has raised $204.5 million over six rounds, the last in Jan. 2018. Robo rival Betterment raised $275 million, over six, the last in Jul. 2017. See: No sooner does hedge fund take big Wealthfront stake than the robo pivots toward becoming one.
Robinhood tops the lot, having raised $2.2 billon over 18 rounds, the last a $460 million Series G round in Sept. 2020.
Robinhood, the most popular self-directed trading application, administers somewhere between $20 billion and $65 billion. See: Robinhood allegedly implied a fiduciary duty to novice investors in the marketing of its 'game-like' trading app.
M1 also grew its asset base at a clip of 50% in the last five months, almost three times Betterment's 18% in six to $26 billion in AUM, and over 12 times Wealthfront's 9.5% in 9.
That said, robo-advisors -- launched ahead of the Robinhood-revolution -- may now belatedly take off, says Will Trout, director of wealth management at Pleasanton, Calif.-based consultancy, Javelin Strategy & Research.
"We're emerging from the Valley of Death in terms of the robo-advisors," he says, via email. See: Second Betterment exec departs as new CEO Sarah Levy orients to her first month on the job and is confronted by personnel matters
---
Related Moves
August 14, 2021 – 2:20 AM
---
December 31, 2020 – 4:37 AM
---
---
---
Mentioned in this article:
Wealthfront
Portfolio Management System
Top Executive: Andy Rachleff
---
---
---