USAA is delivering on its promise to be a fount of referrals for Schwab -- to the benefit of both.
Brooke's Note: USAA is getting paid well -- with minimal distraction -- for referring assets and accounts hand-over-fist to Schwab. It gets 15 basis points annually for 24 months with virtually no overhead. It's a pure revenue source. But Schwab has a chance to do much better. Right off the bat it is winning 200 new accounts per business day from USAA's nearly 13 million members. Yes, it bought USAA's brokerage unit for $1.6 billion, and yes, it pays a referral fee for follow-on accounts. But in the land of reality, these accounts are coming cheap and have a huge upside. The USAA deal might all seem like nothing after doing the $26 billion purchase of TD Ameritrade, which is expected to shave $2 billion in annual expenses annually. But it's a good deal, and a good sign. Both deals reflect the leverage of being big in a time of shrinking profit margins in the investment business. They also show that Schwab may be able to grow inorganically for a while.
The Charles Schwab Corp. is seeing early dividends from its exclusive USAA referral deal, netting 6,000 new accounts in five weeks.
That's from a base of 11.9 million insurance customers who did not have an investment account through their San Antonio carrier when it sold the brokerage unit.
The referrals come on top of the 1.1 million USAA accounts and $80 billion in assets Schwab got right off the bat through its $1.6 billion purchase of USAA's brokerage division, May. 26. See: See: Charles Schwab Corp. shaves $200 million off USAA deal price.
As it stands, the purchase price comes out to just over $1,450 per account, a relative bargain compared to Morgan Stanley's purchase of E*Trade. After Victory Capital shows the way, Schwab antes up $1.8 billion to buy USAA's 'wealth management' and brokerage business -- and an exclusive crack (except for Victory) at the wallets of 13 million members.
The New York wirehouse spent $13 billion to acquire E-Trade earlier this year, or $2,500 per account for its 5.2 million customers.
Schwab agreed to pay $26 billion for TD Ameritrade, the equivalent of around $2,167 per customer, according to MarketWatch.
Schwab CEO Walter Bettinger sees the referral deal as the key to the relationship, according to the firm's July 21 summer update. He called the early results of the referral program "promising."
Under terms of the agreement, USAA gets 15 basis points per year for two years for each referral on all assets, including ones that come from the referral's broader household.
Initial accounts tend to be small. On a $5,000 account, it would pay $75 per year or $150 total. In the referral agreement, it mentions that those accounts may be referred to an RIA using Schwab as custodian and that USAA gets paid regardless of how the assets get invested -- or not. Schwab is not obligated to return the favor by referring investors to USAA for insurance services.
The average USAA account investment transferred at closing was $73,000.
Buy low, sell high
The client acquisition game is increasingly what separates winners from losers in the broker-dealer business.
Schwab is mostly just leveraging sunk costs into capacity and offerings to attract the referrals from USAA that the San Antonio insurer failed to reap itself.
Schwab typically offers $500 for a new account of $100,000 or more, while Merrill Edge, an online discount brokerage, offers $600 for accounts over $200,000. J.P. Morgan's You Invest will pay $200 for accounts over $25,000, according to MarketWatch.
Based on a market cap of $44.03 billion ($33.95 a share as of Aug. 4), Schwab's accounts are worth about $3,150 each, which suggests Schwab may be able to buy low and sell higher.
The 1,000 to 1,200 USAA referrals per week bump up by 2.5% to 2.9% Schwab's average monthly tally for net new brokerage accounts, which ranges around 167,000. Schwab declined to disclose how big those accounts are on average when they first open.
Still, the USAA referrals, so far, represent a drop in the bucket compared with Schwab's 14.1 million active brokerage accounts as of June 30. That number represents an 18% year-over-year gain--if the 1.1 million USAA accounts are counted, according to the update.
Exponential effect
But the initial assets gathered portend a greater haul down the road, says Greg O'Gara, senior research analyst for Boston consultancy the Aite Group, via email.
"It goes beyond the clients they're onboarding ... [because] with client referrals there is an exponential effect on new business."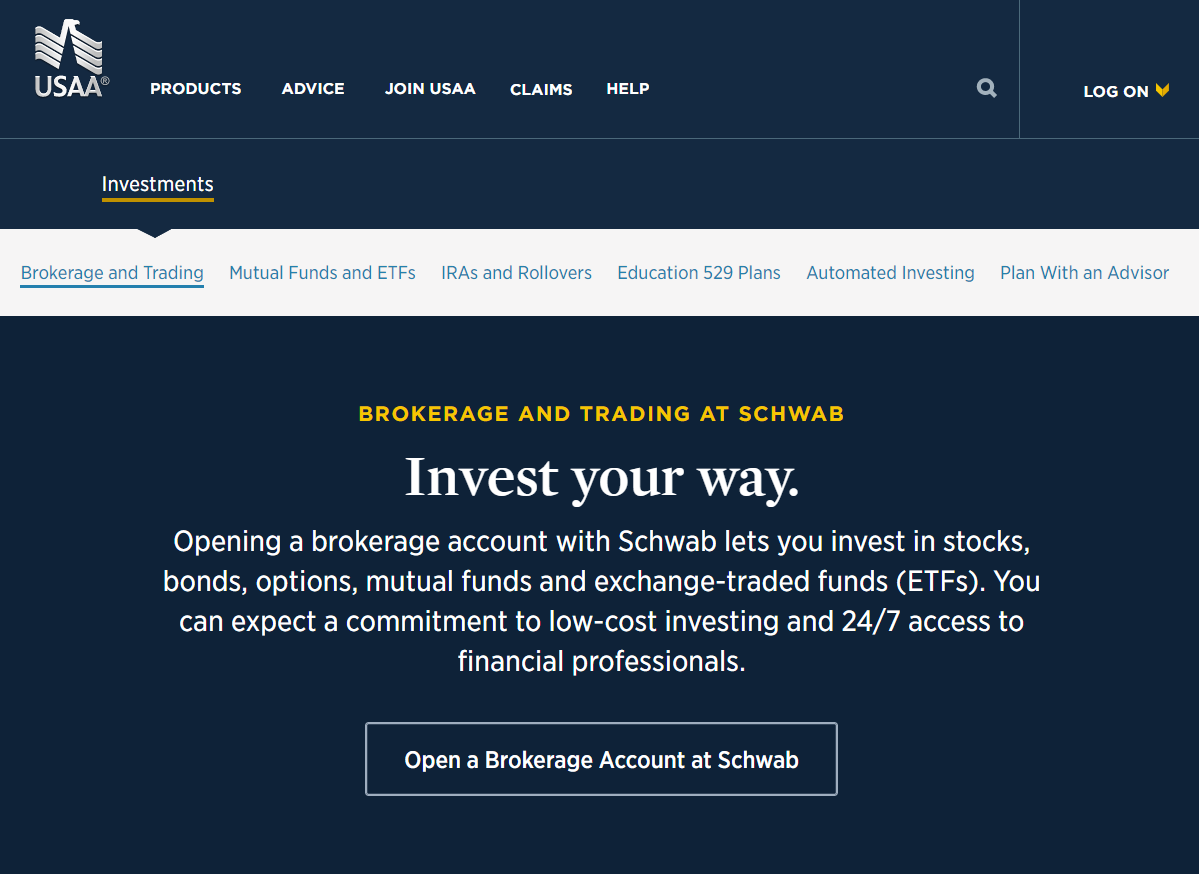 Schwab declined to reveal how many of these new USAA-referred accounts were self-directed investment accounts, or how many were new Schwab managed accounts.
"Organic growth has always been the most valued but also most challenging way to scale client relationships ... [and] a new client can mean $10,000 in new annual revenue."
That means the USAA referrals, so far, could already be generating as much $60 million each year.
Moreover, should Schwab convince just a fifth of USAA's 13 million banking and insurance users to start investing, it would boost its overall client count by a whopping 17%.
Some 400 USAA staff also moved to Schwab when the deal closed, and they continue to take primary responsibility for managing USAA referred investment accounts, says Greenley, via email.
"They are critical to the success of this acquisition."
No surprises
The Schwab preference to USAA members over using their beloved brand for brokerage makes perfect sense, says Scott Smith, director for advice relationships at Boston consultancy Cerulli Associates, via email.
"USAA was in this business for years but never achieved the scale to make wealth management a core element of their business … [but Schwab has] the potential for greater client acquisition," he says.
It launched its brokerage in 1980 and only built it to 1.1 million customers in 40 years. Adding 1,000 referrals a week, Schwab would need about 21 years to add that number, not accounting for shrinkage.
USAA's tight association with quality insurance may actually have hurt its ability to sell investments -- even to its own, Smith adds.
"Prospective investors tend to pigeonhole brands to a certain extent and [USAA] members ... associated the firm with insurance and banking [so] they may not have given much consideration to wealth management," says Smith.
Schwab is convinced its deal with USAA contains latent promise, according to Greenley.
"With less than 10% of the 13 million -- and growing -- member base currently utilizing investment services, we are excited about the opportunity," he says.
"This ongoing referral arrangement [with USAA] will supplement our strong business momentum and enable us to make the most of this special win-win-win opportunity."
The referral agreement ensures USAA members interested in obtaining financial advice or using an investment account will be referred to Schwab through "warm leads" -- a mix of digital and live connections.
Our fair share
Schwab has been busy on the M&A front over the last twelve months, and in the past two, it has closed three out of four outstanding deals. See: With Schwab in Motif mode, Jon Stein tells Bloomberg Betterment's ETF view is shifting, talks 'revolution,' but declines through spokesman to confirm any imminent shift to direct indexing.
It wrapped up its purchase of the USAA Investment Management Company in late May. On June 24, it finalized its take-over of direct-indexer and ESG software firm, Motif. Then, on July 1, Schwab completed its acquisition of fixed-income manager Wasmer, Schroeder & Co.
Only the TD Ameritrade acquisition remains pending, although it is expected to close soon, barring any unforeseen hiccups. See: Walt Bettinger expects 'hundreds' of Charles Schwab Corp. staff tasked with wiring TD Ameritrade merger to soon soar to 'thousands' of Schwab and TD workers.
---
---
---
Robert A. Cohen
August 9, 2020 — 12:03 AM
Schwab is a growing, gutsy company!
Brian Murphy
IMO, this article just points out that the industry as a whole is close to its apex. Buying customers (whether through acquisitions or referral agreements) is typically a later stage phenomenon that suggests little in the way of real innovation going on in the sector. Yet, we still have millions of American families that don't have access to personalized comprehensive financial planning, budgeting, credit tools - and no way to make sense of their financial lives. Hmmm... Make hay while the sun shines, industry - when night comes it's going to be a long one.