Wealthfront CEO Andy Rachleff oversaw the insertion of leverage, hence risk into portfolios, which has been unrewarding in this market.
Critics are again calling out Wealthfront for including a risk parity fund in its asset allocations for a subset of robo-investors. That portfolio of $1-billion-plus fell 43% in 25 days from Feb. 21 to Mar.18 in the sharp COVID-19 market selloff.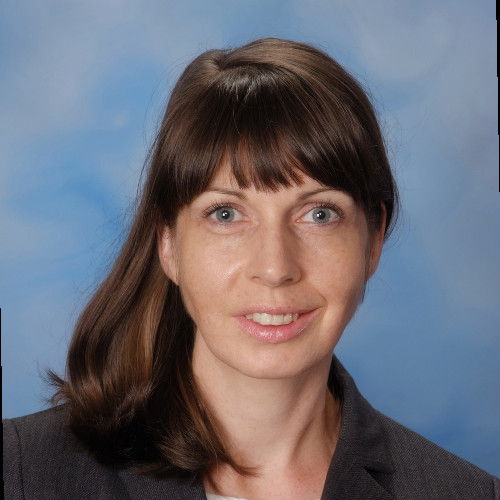 The plunge came at a time when markets in general were plummeting. But the fund still stood out because 10* similar funds and four industry benchmarks did better by an average of 22.4%, according to Summit, N.J. research firm Markov Processes International.
Wealthfront has not replied to two requests for comment.
Things are improving for its risk parity fund (WFRPX) as markets recover from the global Covid-19 pandemic crash. But it still lagged those 10 competitors by an average 10.7%, as of Apr. 28.
Such scrutiny may seem nitpicky, but in the realm of robo risk parity funds, Wealthfront was on peer probation after the fund's rough start.
The Silicon Valley-styled robo-advisor drew criticism for mixing in an active fund with indexes. The fund used a high fee structure -- 0.5%, now reduced to 0.25% -- amid early signs it wasn't managed well based on relatively low returns.
Media reports claimed it press-ganged investors into it.
Wealthfront responded by making adjustments. For instance, it currently allocates 20% of a client's cash into risk parity if they have more than $100,000 in investable assets at the firm, a default that clients can opt-out of.
Yet it stuck with its plan to build a hedge-fund style strategy into some investor portfolios -- a seeming no-brainer in a tireless bull market because it simply made good returns even better.
Active plumage
It seemed to make especially good sense given the competitive landscape. Wealthfront has long been locked in larger battle for robo-advisor market share, primarily with Betterment, but also with Schwab, Vanguard, Fidelity and other firms infringing on the low-margin segment.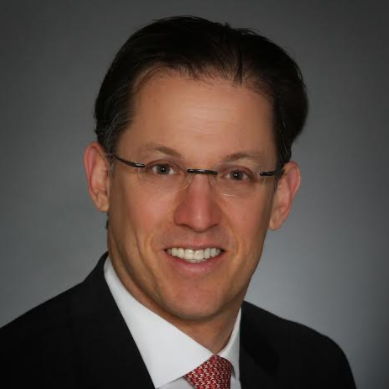 Wealthfront was also seeking a way to add value -- hence crate a rationale for charging a premium price, according to Will Trout, senior analyst for Celent.
"Differentiation has been the name of the game for some time in the robo-advisory realm, as firms realized that a basic market-tracking approach could command little pricing power," he says. "We've seen digital advice firms broaden their propositions to include more risky investments solutions, as well as plain vanilla banking services."
This strategy, to use active management as a straw to stir the dull drink of index fund allocations, had the potential to give it an edge in the lookalike world of ETF-managing robo-advisors.
Wealthfront introduced risk parity at about the time (2018) that Tiger Global Management bought a big stake in the firm. In addition to doing such private equity investing, Tiger is better known for hedge fund management. See: With hedge fund help, Andy Rachleff buys Wealthfront $75 million of time and swaps out 'robo-advisor' moniker he reviles for his own coinage.
Dice rolling
Like many hedge fund-style strategies, risk parity funds use leverage -- producing extra upside returns but creating exposure to a clobbering on the downside, too.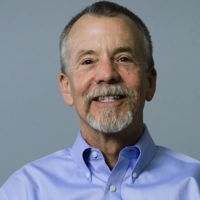 They "give you the probability of the favorites with potentially the larger payoff of the long-shot," a Wealthfront blog entry explains optimistically.
Risk parity loosely encompasses modern portfolio theory, the philosophical opposite of traditional asset picking, originally expounded by noted economist Harry Markowitz.
Markowitz's thesis suggests that by combining multiple asset classes into a single portfolio, investors can get better performance with less risk than a simple analysis suggests.
But no active management can ever attain more returns without taking on more risk, says Scott MacKillop, CEO of Denver asset manager, First Ascent, via email.
"The major problem with these strategies is not really their performance, it's their unpredictability. You pay a high fee to roll the dice, and you can never be entirely sure what result you're going to get."
In the mincer
Indeed, when the dice roll badly, the critics -- even small competitors -- gripe.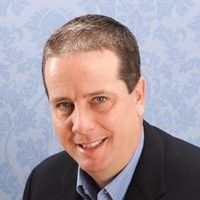 For instance, an Apr. 24 tweet from Chicago robo-advisor M1Finance minced no words over the performance of Wealthfront's risk parity fund and how clients are increasingly likely to feel taken for a product-pushing ride.
"A 60% stock, 40% bond portfolio is down 5.9% year-to-date … so you pay 0.25% [to Wealthfront] to buy their 0.25% fund, so you can get 12.9% [at the time of the Tweet] underperformance? Sounds like a deal. Wait, what?!"
Some wondered whether it was telling that it happened in late Feb. 2018, a month after Tiger's investment.
It can, in short, appear self-serving in a Wall Street kind of way, says an executive at one robo-advisor, speaking anonymously.
"They're happy to collect additional revenue by introducing a conflict ... They're recommending clients that are paying them an advisory fee into funds which they are also making money on," the source insists.
That said, at 25 basis points, Wealthfront isn't exactly raking in Wall Street style profits.
Nor is this recent slump the first time risk parity's performance has given tape watchers heartburn.
An investor with $100,000 at Wealthfront who was automatically enrolled when the fund launched on Jan. 26, 2018 would have seen $20,000 -- 20% of their capital -- dwindle 17.6% to $16,480 by Dec. 21 2018 -- a fall the fund would not recover from until Jun. 21 2019.
Fraught decision
The fund's performance prior to the Covid crash mirrored the S&P 500, although risk parity is supposed to more closely match the relative stability of the bond market.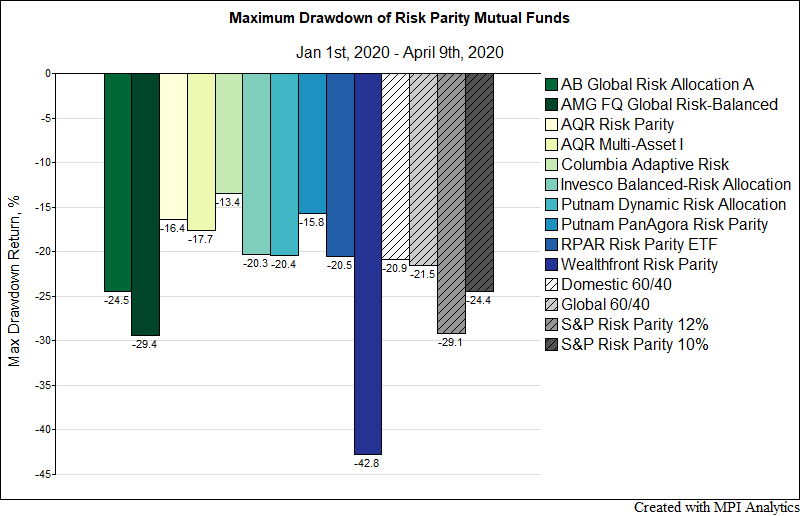 Wealthfront's fund yielded returns of 13.2% between its launch and its Feb. 21, 2019 zenith; the S&P rose 14% between those dates.
But Wealthfront's decision to delve into risk parity, rather than simply park its clients in stocks and bonds, was a fraught decision, says MacKillop.
"[Designers] might get lucky and [the funds] work well, or they might suffer the ultimate fate of those who are arrogant enough to believe they can fully capture the dynamics of the financial markets in a model."
There is a problem between what people think they're buying and what the product really is, says Matt Brown, president and chief operating officer of Parsippany, N.J.-based index portfolio manager, MSR Indices.
"The general public just look at [risk parity funds] and say, 'oh, they call this thing all weather' ... [but] that got exposed without a doubt. Parity is not, in fact, all weather. [That] is a myth."
Something off
Wealthfront's risk parity underperformance may be explainable as more than bad luck, says Megan Woods, Markov's director of research, via email.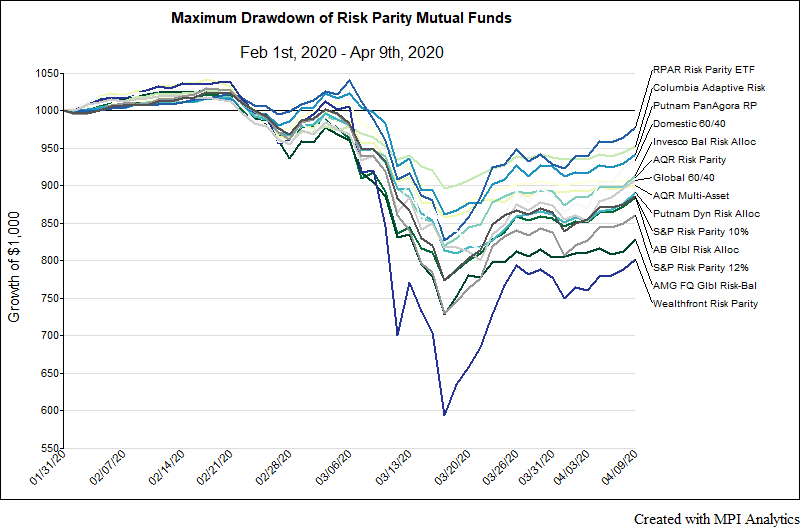 "Something looks to have been off. Our best guess is their measurement and/or estimating of market volatility was suboptimal or incorrect," she explains.
Woods authored Markov's recent risk parity mutual fund report, which lists Wealthfront's Risk Parity Fund as an "outlier."
The next worst performer in Markov's report was the AMG FQ Global Risk Balanced Fund (MMAFX), which fell 30% off yearly highs, and was itself an outlier.
The report's best performer was Columbia Threadneedle's Adaptive Risk (CRAAX), which bottomed out at 13.5% off its year-to-date high.
Do the REIT thing
Rather than adhere to the standard 60/40 equities-to-bonds ratio followed by most advisors, risk parity divides client investments into three or four classes-- model depending -- namely equities, bonds, commodities and treasury inflation-protection securities (TIPS), although TIPS are often left out.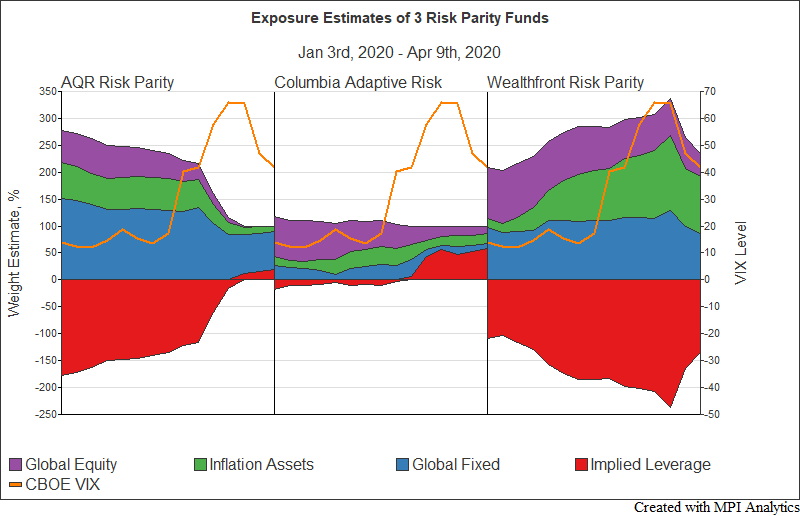 The funds then use debt to increase exposure to these asset classes to target a particular volatility benchmark, say 20%, roughly doubling the value of invested assets.
Then, in times of particular volatility, quantitative analysts expect a drawdown of roughly double the target.
But Wealthfront's fund targets 12% volatility and ought to have had a maximum drawdown of roughly 24%. But it differs in that it adds real estate investment trusts (REIT) into the mix. Some industry observers believe this made Wealthfront particularly vulnerable to the COVID-19 downturn.
"Significant REIT exposure and slow deallocation could have contributed to relative underperformance and the depth of maximum drawdown," says Woods.
"The more you deviate from the index ... the more likely you're going to be in the position Wealthfront's in right now," says Brown, whose firm developed the S&P risk parity benchmark alongside the New York indexer.
"[They] did an analysis on REITs and said, 'You know, REITs are going to give us healthy performance relative to the benchmark.' ... [Then Wealthfront] had the opposite of a happy accident."
Risky couture
But the stark truth behind supposedly 'all weather' risk parity products is that the emperor has clothes, but they don't stop him from getting wet, says MacKillop.
"Risk may be shifted, reallocated, or disguised, but it is never eliminated, [and] while the philosophy behind risk parity is to reduce equity-market risk, the first quarter exposed risks that were hidden, but embedded in some of these products."
Although some risk parity funds weathered the COVID-19 storm better than others, the bond market, based on the Vanguard Total Bond Market Index, outperformed all ten funds and four indices in the Markov study.
The Vanguard index hit a year-to-date high of $11.63 on Mar. 6, fell 6.6% to $10.87 on Mar. 18, and has since recovered to $11.49, just 1.2% off yearly highs.
Survival
Robo-advisors have largely drifted into an alternate reality since their early promise as standalone firms.
The small technology firms have been seemingly swallowed up by large corporations -- think SigFig and UBS -- struggled for years, like Ellevest, to reach their first $1 billion of AUM, or hit the wall, like Motif Investing. See: After much acclaim but not enough profits, Motif shutters.
Wealthfront is one of just two independent robo-advisors to top the $20 billion mark in managed assets, alongside New York City-based arch-rival Betterment.
Wealthfront now manages $21 billion, although roughly $6 billion of Wealthfront's client assets are held in cash accounts that were launched in Feb. 2019. See: Wealthfront adds staggering $1 billion to its robo-bank in 'less than a month', but critics say it's treading the line, again, on possible conflicts of interest
Betterment, with $22 billion under management, launched its own savings account in July 2019, and followed up on Apr. 24, 2020 with a new cash account service. See: Jon Stein told how Betterment is investing heavily in banking but mindful of 'frothiness'.
---
The Markov report analyzes nine funds as well as four benchmarks, not including Wealthfront's Risk Parity Fund. This article rounds the number up to 10 funds with the inclusion of the Milliman Managed Risk Parity Moderate Index. Without this addition, Wealthfront continues to lag the average performance of the nine funds by 10.1%.
---
Related Moves
August 14, 2021 – 2:20 AM
---
December 31, 2020 – 4:37 AM
---
---
---
Mentioned in this article:
Wealthfront
Portfolio Management System
Top Executive: Andy Rachleff
---
---
---
Kevin OBrien
"The more you deviate from the index ... the more likely you're going to be in the position Wealthfront's in right now," says Brown, whose firm developed the S&P risk parity benchmark alongside the New York indexer.
---