News, Vision & Voice for the Advisory Community
Fidelity CEO Abby Johnson tells 45,000 staff to stay home, if possible; Schwab CEO Walt Bettinger says it's neither practical nor technologically feasible for most of his 19,000 staff to telecommute
March 16, 2020 — 4:09 PM by By Lisa Shidler
Brooke's Note: We are all lost in a crisis of this unusual stripe and magnitude. Expect, therefore, different people -- even different CEOs -- to make radically diverging choices. The news hook of this story is Walt Bettinger, for now, is making his employees work -- at work. It might seem brazen but his choices are stark. Schwab's ability to provide its signature service levels with telecommuters is severely hampered. Cutting back on service seems pretty out of the question when the stock market is having one of its worst days in years. Many people (like me) would rather die than sit on hold for three hours to talk to their broker. And there is a non-bunk school of thought that questions total withdrawal and economic shutdown. But COVID-19 can kill and having people working together in big call centers -- or interacting in branches -- carries dangers. Danger is everywhere. TD Ameritrade has expanded its work-from-home program with some caveats. Pershing and Fidelity are urging most of their staff to work from home.  Technology is apparently a big issue here. Employees at financial firms do most work on computers and phones -- both of which they have at home. Bettinger suggests in his memo to employees that Schwab does not yet have the technology to securely bridge that last mile. That makes Schwab's choices even starker.
Fierce rivals Walter Bettinger and Abby Johnson are -- for now -- taking radically different approaches to how they manage the social distancing of staff members as cases of coronavirus rise in the United States. 
The respective CEOs of The Charles Schwab Corp. and Fidelity Investments made their moves at the end of last week. Bettinger opted to make most of his 19,000 staff work out of Schwab offices. Johnson told 45,000 employees to work from home if possible. 
Pershing is encouraging some staff work from home and it is doing a "deep cleaning" of an office where one employee contracted COVID-19, also known as the coronavirus.  Employees who work on that floor at the Pershing Plaza office in Jersey City have been told to work from home until March 23.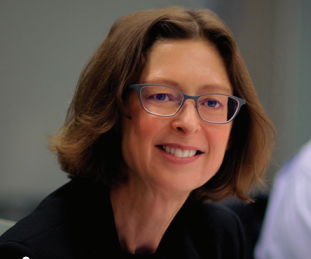 "We are conducting a deep cleaning of the impacted floor as well as all high-touch surfaces in the building," the company said in a statement. 
Todd Gibbons, CEO of BNY Mellon, the parent company of Pershing LLC, sent out a message last week urging employees to work from home when possible. 
"…the executive committee and I agreed to advance that agenda and push toward having the majority of our global staff work remotely. In fact, our goal, which we intend to ramp up very quickly is to have only employees who are deemed "essential in-office" personnel onsite." 
Schwab spokesman Rob Farmer has not replied to four emails seeking comment. But sources passed on a companywide email to RIABiz that was written by Bettinger to employees.
So far, Fidelity has not provided Johnson's email, but other publications reported that she wrote Fidelity wanted to do its part to fight the virus. 
The Centers for Disease Control and Prevention (CDC) recommends establishing "policies and practices, such as flexible worksites (e.g., telecommuting) and flexible work hours (e.g., staggered shifts), to increase the physical distance among employees." See: The CDC Has Less Power Than You Think, and Likes it That Way
"For employees who are able to telework, supervisors should encourage employees to telework instead of coming into the workplace until symptoms are completely resolved. Ensure that you have the information technology and infrastructure needed to support multiple employees who may be able to work from home," it states. 
Walking a tightrope
In his email, Bettinger said his hands are tied. Schwab technology doesn't permit staffers to work from home without "significant" drop-offs in service levels.
"The reality is we do not have the ability to send everyone home due to both technical and practical capabilities without creating the potential for significant interruptions in our ability to be there for our clients," he said in the company-wide email.  
In a twist, COVID-19 may actually compel some Schwab telecommuters to begin working at the office, Bettinger writes in the email. It's trading around $31 today -- despite tremendously positive recent results.
"Not surprisingly, our clients have turned to us for help in this environment and we've been there to support them," says Peter Crawford, chief financial officer of Schwab in a March 13 statement posted on Schwab's website. "The $45.3 billion in core net new assets brought to Schwab during the first two months of 2020 represents the strongest start to any year in our history."
In a twist, COVID-19 may actually compel some Schwab telecommuters to begin working at the office, Bettinger writes in the email.
"Because of our business needs, the potential need for other colleagues to work from home, and our remote access capacity, some employees who currently telecommute, may be required to work on-site as we manage our remote access capacity." 
A Schwab staffer says colleagues are concerned whether leadership is making the right call under such an unusual threat.
"This could be a real nightmare for them if employees start contracting COVID because they don't like people working from home. We're in unprecedented times and shouldn't be operating under the same policy as we would in any normal circumstance."
Bettinger admits that he is walking a tightrope between staff safety and client service levels.
"First we must maintain a safe and healthy work environment for you. Second, and at the same time, we must be there for our clients, who are also trying to navigate these very challenging times and who now need us more than ever."
Schwab serves 12.5 million active brokerage accounts, 1.7 million corporate retirement plan participants, 1.4 million banking accounts, and $3.86 trillion in client assets as of February 29, 2020. 
One Schwab staffer, who asked to remain anonymous because they weren't authorized to speak publicly, says Bettinger's decision may be driven less by technology concerns, including data security and privacy, than business concerns -- based on the reactions of some of its largest competitors.
"They [Schwab] don't have the resiliency systems built as well as BNY Mellon or Fidelity," the staffer writes by email.
"It's ridiculous because people can work via their phones on email without dialing into the VPN (virtual private network) and that's what BNY and Fidelity told their employees to do." 
In Bettinger's email, he did not discuss reducing travel. 
"Some of our jobs simply cannot be done from home. And there are technical limitations on the remote access infrastructure that we cannot change over-night."  
Default culture
Bettinger is doing his very best under trying circumstances, says Joel Bruckenstein, founder of the T3 conference. "I think every conscious firm, and I count Schwab among them, is trying to do the right thing. I feel certain that they have consulted experts to assess risk and are following their advice."
The Schwab staffer has doubts about whether Schwab is following expert advice or simply defaulting to its historical instincts.
"It's also a cultural thing here. Schwab hates people working from home. Always has." 
In an email forwarded to RIABiz, the company states that it is willing to make adjustments going forward. "As we go forward, we will continue to face potential exposure risk in our facilities and we will continue to adjust our responses as we learn more about the virus." 
There's no question that, given the number of employees at Schwab and all of the financial firms, staffers will certainly contract the virus, Bruckenstein says. 
"That in and of itself is no cause for alarm. Ditto for the other major firms. I am not an expert on infectious diseases. However, if everyone is taking precautions and following the advice of experts, I am not going to second guess Schwab," Bruckenstein adds.
In the email, Bettinger said, he pointed out the firm isn't able to let staffers work from home but is trying to make changes but it's not easy. 
"Teams are working hard as they can right now to expand our capacity. However, we need to be thoughtful about how and where our employees do their work. In that light, we are asking everyone to be flexible on behalf of our colleagues and our clients" 
But Schwab leaves the door open a crack for sticking to the home office.
"If you are seeking a new telecommuting agreement, please discuss the need with your manager," he wrote in the email.
Virus hotbeds
Fidelity's Johnson sent an email Thursday telling the company's 45,000 employees worldwide that those who could work from home should do so. She also put restrictions on business travel.
She told staffers that she wanted her firm to do its part to slow the virus.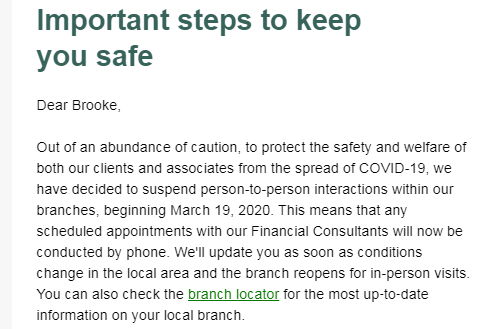 A Fidelity spokesperson was asked if the company had any suspected cases and has yet to respond. Boston is a hot-spot right now for the virus.
As of Mar. 15, at least 29 confirmed and presumptive positive cases of COVID-19 have been reported among Boston residents, according to the city's municipal website.  
New York State and specifically New York City, an international financial center, has confirmed 100 additional coronavirus cases statewide, bringing the total to 524 new cases in nine counties, according to the governor's office.  New York City has 213 cases. Of those 59 are new. 
In San Francisco, home to Schwab Corp., nine new coronavirus cases were reported on Sunday, bringing the total to 37 confirmed cases, according to the city's health department and station KRON. 
At least 1,872 people in 47 states have tested positive for coronavirus, according to The New York Times. At least 41 people nationwide have died.
Morgan Stanley, headquartered in New York City, Wells Fargo, headquartered in San Francisco and RBC, headquartered in Toronto, have all reported cases among employees. 
JPMorgan Chase & Co (JPM.N) has asked all managers globally to allow employees who can effectively work from home to begin doing so to help with social distancing as the coronavirus pandemic spreads, according to a memo seen by Reuters.
"Effective immediately, we are asking all managers globally to allow employees to work from home to the extent feasible," the memo said.
Financial pressure
Tellingly, Bettinger acknowledges in his email that Schwab is going through "record levels of client interaction right now," causing delays in customer service. 
"We recognize that means at times we may not be able to pick up your phone call as quickly as usual. Please know our dedicated client teams are working incredibly hard to be available to you, as quickly as possible. We appreciate your patience if you do experience longer-than-usual wait times," it states.
In an email to clients, Johnson revealed that some offices may not be open. She said, right now centers are opened with enhanced cleaning routines, but urged investors to consider phone appointments and cautioned that offices may need to close.
"As we continue to monitor the situation, we may temporarily transition all client service to digital channels and phone," the email said. 
Fidelity, Schwab and TD Ameritrade are operating in a challenging financial environment due to the pressures created by zero-commission business models. Schwab and TD have the added burden of their merger, including convincing the Department of Justice (DoJ) the new company won't be anti-competitive. 
Fidelity, which is privately owned, has also escaped the punishing stock market. But Schwab and TD haven't been so lucky. TD (AMTD) which traded as high as $56 in the past year, has lost roughly half its market value. It's currently down 17% in today's trading to around $28. 
TD Ameritrade will cut back on customer contacts as of March 19, it reported on Monday afternoon.
Schwab (SCHW) has seen a similar drop from its 52-week high of  $51.65; it's trading around $31 today -- despite tremendously positive recent results.
"Not surprisingly, our clients have turned to us for help in this environment and we've been there to support them," says Peter Crawford, chief financial officer of Schwab in a March 13 statement posted on Schwab's website. "The $45.3 billion in core net new assets brought to Schwab during the first two months of 2020 represents the strongest start to any year in our history."
---
---
---
Share your thoughts and opinions with the author or other readers.
Jesse Livermore said:
March 16, 2020 — 6:51 PM
Concerned Schwab employee said:
March 17, 2020 — 1:54 AM
Stunned said:
March 17, 2020 — 5:38 AM
Nick Vandalay said:
March 17, 2020 — 1:50 PM
Another Schwab Worker said:
March 17, 2020 — 3:00 PM
Glen Mathison said:
March 17, 2020 — 4:20 PM
Observer said:
March 17, 2020 — 7:18 PM
Disappointed in Schwab said:
March 17, 2020 — 8:40 PM
Concerned in Denver said:
March 17, 2020 — 8:41 PM
SchwabStaffer said:
March 18, 2020 — 1:16 AM
So Disappointed said:
March 18, 2020 — 1:48 AM
SchwabTech said:
March 18, 2020 — 2:40 AM
Schwab is SO behind said:
March 18, 2020 — 12:31 PM
SchwabResilient said:
March 18, 2020 — 1:00 PM
Schwab Employee said:
March 18, 2020 — 1:39 PM
I Work At Schwab said:
March 18, 2020 — 2:16 PM
JayBro said:
March 18, 2020 — 2:28 PM
Concerned Schwab employee said:
March 18, 2020 — 3:35 PM
Schwab Employee #1230953124750... said:
March 18, 2020 — 3:56 PM
Disgraceful said:
March 18, 2020 — 4:24 PM
Concerned person said:
March 18, 2020 — 4:27 PM
FRANC said:
March 18, 2020 — 5:06 PM
Disgraceful said:
March 18, 2020 — 5:28 PM
Stewart Coughlin said:
March 18, 2020 — 5:33 PM
Another Schwab employee said:
March 18, 2020 — 5:44 PM
SchwabResilient said:
March 18, 2020 — 6:54 PM
In the Trenches at Schwab said:
March 18, 2020 — 8:09 PM
Stephen Pushor said:
March 18, 2020 — 10:11 PM
Greg Scanlon said:
March 19, 2020 — 12:10 AM
Jesse Livermore said:
March 19, 2020 — 12:32 AM
Jesse Livermore said:
March 19, 2020 — 12:35 AM
Call Center Worker said:
March 19, 2020 — 2:40 AM
ConcernedSchwab said:
March 19, 2020 — 5:18 AM
Concerned Schwabbie said:
March 20, 2020 — 11:06 AM
Screwed said:
March 24, 2020 — 2:13 AM
BernieM said:
March 24, 2020 — 5:28 AM
Shwitshow said:
March 26, 2020 — 12:46 AM
Lisa Shidler said:
March 26, 2020 — 1:33 AM
Still Screwed said:
March 26, 2020 — 10:40 AM
ExSchwabbie said:
March 27, 2020 — 4:56 AM
Incredulous said:
April 1, 2020 — 8:30 PM
---
---