Fidelity Institutional looks like a big TAMP after Mike Durbin removes last internal walls between products and advisors after 'meteoric' 2019 leap; two Fido RIA sales legends depart amid the shift
Rich Policastro and Tom Valverde are out after Fidelity Custody & Clearing assets leap to $2.6 trillion AUA, restructuring gets the credit -- and so restructuring gets extended.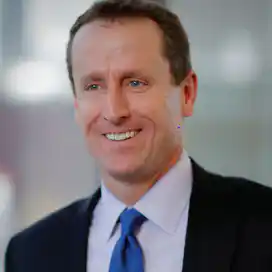 Mike Durbin: '[The growth of FCCS] has been meteoric [thanks to removing internal walls] so now we're widening that [wall-less approach] out.'
---
---
Mentioned in this article:
Fidelity
Asset Custodian
Top Executive: Sanjiv Mirchandani
---
---
---
Concerned CS officer
This announcement from Schwab suggests that their business continuity plans are bogus documents, since most of the scenarios include remote work and when the activation is necessary, they can't handle that. I am curious to see the liability that would arise if someone is contaminated at work and later dies because of the virus. There is a limit on how much messages can be framed as "doing what is right for our clients", when human lives are involved.