Reed Colley: 'We want to do it collaboratively and quickly.'
Brooke's Note: All that was missing was the black turtleneck. The founder of Black Diamond, now co-founder of Summit Wealth Systems, emanated drive and purpose on stage reminiscent of the late Apple founder who had Acts 2 and 3. Colley was listed as the Mystery Guest on the T3 agenda. He did not disappoint the intriguing teaser.
Reed Colley is back -- and not with a whimper.
The 43 year-old entrepreneur from San Francisco sold Black Diamond to Advent Software back in June of 2011 for $73 million then bolted in 2013. See: Advent to buy Black Diamond for $73 million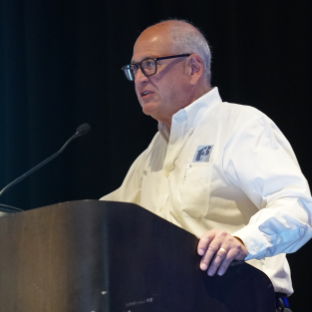 But after staying all but completely under the radar for seven years, Colley returned to the T-3 Conference in San Diego, speaking with RIA and technical fluency that makes it seem he never left. The one obvious change is the beard he sports and a more mature, surer-footed speaking style.
What brought him back to RIAs was an opportunity created by a void left by incumbent software makers.
"They hadn't innovated the way I hoped," Colley said in a follow-up interview. He made the point that virtually all the all the bigger players are now owned by by large public companies or outside investors -- hence stalled innovation.
The new firm, Summit Wealth Systems, is going after RIAs and it has already recruited Black Diamond veteran, Bob Conchiglia.
Summit was co-founded in April with Anthony Sperling, who left Advent in 2015. The two former colleagues cooked up the idea of Summit over a beer at Farley's, the bar at Cavallo Point, a resort that sits under the Golden Gate Bridge on the Sausalito side of the Bay. It was a halfway point for Sperling of San Anselmo and Colley of San Francisco.
They wrote the first lines of code in November and took on five pilot clients in January. See: Advent's parent buys Salentica to bolster Black Diamond CRM The company has 20 employees and Colley himself is a key writer of the code, according to Conchiglia.
Colley clearly relishes the chance to have a blank slate for the first time since 2003 and to take on a different challenge this time around from what he used to call "performance reporting." At the time, it was an Advent killer.
"Reporting has changed," he says. "That blows my mind but it's changed. It's not: How do my large caps compare to last quarter or last year.? It's, 'Am I going to be okay?'"
Top billing
Colley doesn't believe an app is really addressing that concern well or simply. "I see so many clients using Excel and it's not compliant," he says. "I'm not sure it needs to be that complicated."
Though much of Summit Wealth Systems is still on the drawing board, Colley's says he'll release a product -- mobile forward but not mobile first -- by the third quarter of 2020.
"We want to do it collaboratively and quickly," he says.
Colley cites four one-word aspects of his "geek" venture: serverless, microservices, atomic design and single tenancy.
Yet Colley made clear that one thing has not changed.
Black Diamond's coming out was at a very humble T3 in Hollywood, Fla., in the mid-aughts, which he drove to from his Jacksonville home.
This time it's T3 again, but a flight down the California coast, the top billing at a major industry affair and a packed room eager to hear his tale.
The T3 Advisor Conference in San Diego focuses on practice management and technology for independent and hybrid financial advisors.
The event opened at the Marriott Marquis San Diego Marina in San Diego on Feb. 17 and runs through Feb. 20.
​
---
---
Mentioned in this article:
SS&C Advent
Portfolio Management System
Top Executive: Robert Roley
---
---
---
Pete Giza
February 19, 2020 — 8:24 PM
Congratulations to Reed and the Summit team for stepping up innovation in our industry. Native cloud, micro-services, lambda, SOA... However you want to spin it, Platform as a Service (PaaS) is here to stay in wealthtech / riatech. If you're not embracing it you're about to get tromped and shut out of near term opportunity. It's not just about performance scaling. It's about service, delivery platform, client and product scale. There is a short list of startups and even shorter list of existing companies that have a true PaaS architectural model. I'm happy to say we're included in that list especially alongside the likes of Summit. Pete Pete Giza | CPO AdvisorPeak
---