Fidelity's Mike Durbin unleashes FMAX as 'Schwabitrade' takes life, but if they build it, will leery advisors buy into it?
The Fidelity Institutional head is betting RIAs will go for the 'killer app,' a one-vendor, one-fee bundle that will free time and mindspace by having the eMoney plan implement itself as a collection of products.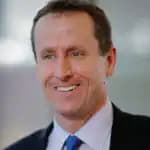 Mike Durbin keeps executing on Abby Johnson's directive for removing unconstructive internal borders.
---
---
---