Ron Bullis is an accidental fintech entrepreneur whose do-it-yourself RIA software took on a life of its own.
Ron Bullis's story sounds familiar. He was frustrated for 10 years at a big insurance company and left to start his own RIA. But that's where his story takes a dramatic shift.
Bullis, 39, funded his firm initially from friends, family and his personal savings.
But he quickly discovered that leaving Northwestern Mutual to launch an RIA in Grand Rapids, Mich., created its own headaches.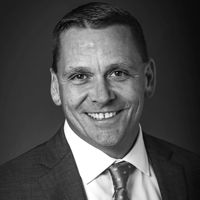 He had escaped the oppression of a corporate sales organization only to be caught in technology hell. But he found a way to break free.
Eschewing APIs, he built his own software bundle that allows him to sell financial planning subscriptions for as low as $100 a month. His firm has already surpassed $400,000 in annual planning subscription revenues using the B2C model.
But Bullis didn't stop there.
He's rolling out the pilot version of B2B version of LifeWorks Advisors in January, charging 15 basis points on AUM and targeting younger, small, growth-focused breakaway advisors like himself. See: Sequoia Capital bet and won big on FutureAdvisor; now it's wagering $14.5 million on Vise and its 'extreme value proposition' for RIAs
"We were spending tons of hours to figure out technology," he says of his own breakaway transition.
"We've got a unique opportunity to envision a technology platform to take what the best robo-advisor platforms are doing, but we're making it advisor centric.
"We know advisors want to help clients make decisions. The best technology is in the robo space and it was designed to take the advisor out of the picture."
His RIA has no-minimums and he's gathered $100 million in AUM in three years.
Scaling software
Marty Bicknell, founder and CEO of Mariner Wealth Advisors, thinks the program is so appealing, even in its early stages, he's investing $1.8 million for a 12% stake in the startup. That makes Lifeworks already worth $15 million. The investment is in the holding company that contains both the RIA as well as the fintech.
Fragmented and uncooperative providers foiled many a well-intentioned effort to go downmarket, but Bullis is on to something, Bicknell says.
"It's not a secret that the RIA industry is extremely fragmented," he adds.
"Our advisors have to log into three to five platforms to serve one client. Trying to build a one-house for all of that and bring it all together so advisors share more efficiently and that time it takes to do that is obviously shorter."
Bicknell with $28 billion in AUM, has a history of trying -- without a big success yet -- to find a way to build an advice business around small investors and small advisors to go with his more classical model. See: High profile 'United Capital' RIA exits Goldman Sachs San Francisco office -- and boom -- lands with Marty Bicknell at Mariner Wealth Advisors
Recently he announced a collaboration with Dynasty Financial for one such foray. See: With an eye to cast-aside prospects, Marty Bicknell and Shirl Penney combine to launch 1099 platform with ambitions to surpass Mariner Wealth as soon as 2025
Previously, he'd launched FirstPoint. See: Marty Bicknell jumps into the mass market with no 'robo-advisors' and a missionary zeal
And, he was an early owner in the Betterment RIA custody unit. See: Fidelity and Betterment sign a deal with Steve Lockshin and Marty Bicknell as groomsmen at the altar
Bullis' software includes automated digital onboarding, credit card processing, automated clearing house (ACH) and document signing - many of the capabilities that the typical RIA doesn't have available online for its clients to sign-up anytime.
The Overland Park, Kansas-based Bicknell is on Lifeworks's board of directors. His senior vice president of operations, Kenny Pointer, is also joining the board to provide insight and advice on how to scale Lifeworks Advisors.
Pitching businesses
Bullis along with friends and family and his business partners have invested about $1.5 million but he needed Bicknell's investment to shape the software into a product for advisors.
Bicknell made his investment at ScratchWorks' third annual contest, which mimics a Shark Tank-like program in the RIA arena-allowing entrepreneurs to pitch their own businesses and gain investors.
This is the third year for ScratchWorks, a Shark Tank-like program that allows entrepreneurs to pitch their own businesses. See: Marty Bicknell-led Shark Tank-style contest chooses to back super-ambitious RIA-automation startup, but his $25-billion RIA'll keep Orion for now
He is taking the funding from Bicknell and using part of it to develop planning tools in hopes to launch that early next year. He says the new tools will allow investors to weave in crucial pieces of information like Roth conversions into the broader life plan.
"There is the ability to enter financial planning information. We're planning to take real-time data and plug it into someone's financial planning scenario. We won't be printing out a 40-page document. We want you to engage in planning," he says.
Not for everyone
But Bicknell is the first to say Bullis has tough days ahead.
"With early-stage technology, he's got a lot of work ahead of him. The strategy looks great."
Bicknell would be open to using the technology at Mariner but he'll wait for it to mature, he says
Bullis's first objective is to make sure advisors don't fumble a sales process at the one-inch line.
"We're trying to speed up the onboarding process. Our onboarding is somewhat similar to the turbo-tax approach," he says.
Investors will answer questions, and each question will have an outcome. For instance, there will be insurance questions and if the person answers "no," then there are protocols and notices sent to the advisor to follow up.
The rollout to RIAs was postponed due to COVID, he says but he's hopeful to have advisors start onboarding new advisors for testing in the first quarter of 2021.
"We're taking a very limited number. We have to win the client experience. I want to make sure the clients' experience with Lifeworks is amazing."
He also says the models available will be very basic at first. He wants to start small.
"It's not everything to everybody. If somebody wants an ESG portfolio, we're not doing that. If someone wants all Vanguard. We're not doing that.
"We're not going out with 1,000 model portfolios to create confusion and chaos. If we rush out there and try to put 100 advisors on the platform, it would be challenging."
---
Mentioned in this article:
Mariner Wealth Advisors
RIA Welcoming Breakaways, RIA Serving Endowments/Foundations, Advisory Firm
Top Executive: Marty Bicknell
---
---
---
Brian Patrick Murphy
November 21, 2020 — 7:25 AM
Good for him! This is the direction financial advice is headed, though I'd have recommended he stay focused on the B2C path a bit longer. Getting the product right for the consumer is a different animal than crafting a platform for advisors. But kudos to Mr. Bullis for recognizing the opportunity and ramping to a decent level - and pulling in further investment to move his vision forward.
---