Derek Bruton: Keith and I agreed that our RIA and BD would benefit from additional outside capital to pursue our M&A growth strategy for that business.
Brooke's Note: In the RIA business there is a giant built-in safety net for all of us -- high demand and low supply of people who can speak the language of this exploding RIA category. That net for RIA linguists comes with pillows if you have established a name for yourself as an executive at a well-known firm. But make no mistake. That soft landing is followed by a hard challenge. Once you start climbing up the ladder again, it's all work in a competitive business, and all those eyes are on you. So it is gutsy for Derek Bruton to take on this challenge -- and for Keith Gregg to go his own way again. Let's hope they exploit the niches they perceive and turn people's faith in them into a net gain for the RIA industry.
Former LPL Financial senior executive Derek Bruton now heads his own independent broker-dealer, after Kingswood Holdings bankrolled and spun off two subunits of Keith Gregg's start-up, Chalice Wealth Partners (CWP).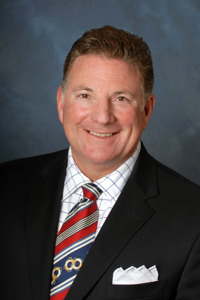 In late December, London-based Kingswood acquired an 85% stake in the brokerage and RIA arms of the San Diego-based outsourcer, and appointed Bruton, formerly Chalice president, as its new CEO.
Part of the marriage involved an amicable divorce.
Chalice founder Gregg, who brought Bruton aboard, remains CEO of the San Diego entity, now solely a services outsourcer for RIAs and IBDs. See: Two ex-LPL talents join Derek Bruton and Keith Gregg's Chalice start-up.
Kingswood did not respond to a request for comment, or reveal the extent to which it will make M&A funds available to Bruton.
But Kingswood certainly expects to gain from the appointment of one-time LPL hotshot Bruton, who it hopes will prove a catalyst for attracting cash-starved but capable clusters of IBD reps and good quality IBD executives.
For its part, Kingswood could use fresh growth capital to hoover them up. See: With fresh eyes or false expectations, Kingswood Holdings sets sights on US.
Our man
Bruton is the man for the job, says Kingswood CEO Gary Wilder, in a release.
Bruton held prominent executive positions at Schwab, Merrill Lynch and TD Ameritrade. He spent just under seven years at Boston-based LPL as managing director for independent advisor services. During that time, he grew revenues by just over $1 billion. See: At the $50 billion mark, Derek Bruton discusses how LPL's hybrid unit became 'wildly successful'.
But there is risk in putting such a high-voltage, big-enterprise, big-name like Bruton atop the low-voltage holding of little-known Kingswood, says a skeptic who asked not to be named.
It's asking too much of a former rockstar who has been out of the big game for a while, the source says.
Bruton's Post-LPL career has consisted of shorter stints at smaller enterprises and just under two years at old-line broker-dealer Oppenheimer & Co. See: Derek Bruton joins forces with Ray Lucia Jr. in San Diego to execute national RIA hybrid plan.
The difference now is that Bruton has the chance to leverage his personal brand in a brokerage realm he knows -- and where he is known, says Louis Diamond, principal of Diamond Consulting in New York, via email.
"The [Chalice] brand doesn't really carry much weight, but Derek's name and reputation [does] ... [It's] a building block for future deals and an 'acqui-hire' to grab someone entrenched in the IBD industry."
Chalice gives Bruton good cards to play, Wilder adds in a release. "The advantages of this new West Coast hub [CCP and CWA] are that it is immediately earnings accretive ... [with] a strong management team that has significant experience in roll-up and consolidation strategies."
Under Bruton's watch CWA and CCP's assets under management grew 28%, although once market appreciation of 21% is stripped out -- using the S&P 500 as a benchmark -- between Bruton's appointment and CWA and CCP's separation from its parent, he oversaw a 7% rise in AUM, equating to approximately $63 million in net new assets. See: What is the story with Derek Bruton's sudden LPL departure?
Swing again
Of course, for this latest move, Bruton had to leave behind the man he admits handed him a lifeline to reboot his career.
Gregg is on his third attempt to bring a subscription-driven software and services outsourcer to market. Innovation Equity Partners, where he also served as CEO, failed to raise sufficient capital. See: How a clique of industry vets plan to revive the swooning IBD space -- and why industry watchers don't like their chances
"A lack of buy-in" led to his parting from Aequitas Capital Management, fortunately, long before the firm became a byword for a Ponzi scheme in 2018. See: The unbelievable series of missteps that sent Aequitas, its RIA clients and their investors, reeling.
Gregg founded CWP in 2017, and appointed Bruton in May 2018 as president of its IBD and RIA. He will have no day-to-day involvement with the erstwhile Chalice RIA and IBD. See: Two ex-LPL talents join Derek Bruton and Keith Gregg's Chalice start-up.
It was an amicable, but necessary split, says Bruton, via LinkedIn.
"Keith and I agreed that our RIA and BD would benefit from additional outside capital to pursue [M&A] ... [and] separating our broker-dealer and RIA from CWP provided the most expedient path forward to attract fresh equity capital."
No hard feelings, not least because the brokerage was only ancillary in a business model that hews more to a Dynasty Financial concept, says Gregg. "[CWP] will continue to expand our reach beyond any proprietary distribution."
Bruton's enterprise will remain a customer of Gregg's outsourcer, CFN, a fact Bruton attributes to his "confidence" in the firm's "vision". See: How a clique of industry vets plan to revive the swooning IBD space -- and why industry watchers don't like their chances.
Other clients of the now independent Chalice outsourcer, aside from CCP and CWA, include Kingswood itself, Aurora Private Wealth, The Investment Center, the Institute for Portfolio Alternatives, and The Advisor Group.
Win-win
Prior to the split, CWP's overall revenues surged from $4.5 million in 2017 to $14 million today, according to Gregg.
Chalice's initial venture capital investors also gain, despite the fact that that their $4.6 million in Series A funding exceeds the $4 million sum Kingswood spent on the RIA, Chalice Wealth Advisors (CWA), and the IBD, Chalice Capital Partners (CCP).
These VC backers retain a stake in Gregg's outsourcer, CWP.
Bruton, Gregg, and CWP chief compliance officer, Mohamed 'Mike' Alsoraimi retain a 15% stake in the Chalice offshoot.
Splitting off a high-conflict adjunct business is good for everyone, says Gregg.
"The BD and RIA ... represented the smallest revenue margins, and [stoked] perceived conflicts of interest to the marketplace-at-large," he adds.
"My investors have the benefit of a financial technology valuation and expanded distribution with the strategic disposition, removal of any perceived conflicts and a mutually beneficial partnership with Kingswood."
Numbers game
Kingswood's $4 million acquisition of CWA and CCP is only its second foray into the US market. Its first was the May 2019 purchase of a stake in IBD-holding company, Manhattan Harbor. See: Kingswood Holdings sets sights on US advisors.
Kingswood exclusively targets firms with revenues between $5 million and $50 million, a strategy that can make a small amount of capital go a long way.
"Smaller IBDs and hybrid RIAs are generally poorly capitalized … [but] the independent advisor model remains very attractive, especially if affiliated with better capitalized holding compan[ies]," the company says in a release.
The Chalice purchase means Kingswood competes with other small roll-ups like Atria Wealth Solutions, not where LPL, Cetera and Advisor Group live, says Diamond.
"This deal helps prove out that Kingswood is serious about being in the US ... [and] Derek is well known, [but] it took HighTower recruiting a number of top-ranked wirehouse teams to make a splash," he explains. "Who knows what can happen, but [Kingswood] would really need to increase the size and frequency of their deal making [to go upmarket] ... they have a long ways to go."
But penny stock buyers are upping their bids.
When RIABiz first covered Kingswood's US foray in June 2019, the firm had a market capitalization of $18.4 million, and traded at just $0.12. Today these figures have more than doubled, to $42.3 million, and $0.26. See: Derek Bruton joins Keith Gregg as Chalice Wealth Partners makes urgent Dynasty-lite bid.
The British firm has raised a fresh £80 million ($104 million, at today's rates) in growth capital, through a convertible preference share agreement with London-based alternatives vendor, Pollen Street Capital. The firm now holds two board seats at the London Stock Exchange, AIM-listed firm.
But playing in the big leagues of IBD M&A demands billions of dollars, not millions.
Managing assets
Cetera Financial Network, for instance, was bought by Genstar Capital for $1.7 billion, or 425 times the purchase price of Chalice. See: Genstar's $1.7 billion purchase of ugly duckling Cetera.
Yet if Kingswood has a mantra, it's that down-at-heel IBDs are a treasure hiding in plain sight, available at dollar store prices, and full of untapped sales talent in the legions of regional reps they employ.
There's a market for this approach, says Diamond. "There are a number of private equity firms, IBD networks, standalone IBDs, and even individual advisors looking to buy IBDs so this [deal] does help to cement Kingswood as a possible option for those seeking to monetize their broker-dealer or gain some additional scale."
CWA manages approximately $160 million in assets, as of Oct., according to the firm's ADV, leaving approximately $1 billion under the auspices of CCP.
Currently, Chalice manages $1.15 billion, and Kingswood approximately $2.7 billion.
---
Related Moves
---
January 6, 2022 – 6:21 PM
---
---
Mentioned in this article:
---
---
---