Dermot O'Mahony: Anyone who tells you that they can predict, with 100% accuracy, how a particular account will perform in 15 year's time is either a charlatan or a time traveller.
Brooke's Note: This is a revolution of the best kind -- no blood or beheadings. As the importance of keeping track of investments gives ground to keeping on track for financial goals, the owners of the software that does the latter are not being eaten alive by planning software owners. They are simply merging. Or in the case of Morningstar and others, they are building better planning capabilities to add to investment capabilities. It keeps the planning and portfolio accounting software makers relevant and its does the same for financial advisors who go with the flow and introduce more planning into their investment-based practices. This article talks about players late and early to awaken to this necessity but truly it remains early for everybody. A surprisingly small percentage of advisors (Orion says maybe as few as 30%) really engage in the arduous process of making financial plans and sticking to them. It's a green field opportunity and portfolio accounting players are paying big green to be part of it.
Better late than never, Morningstar has jumped on the financial planning bandwagon, six months after portfolio management rival Envestnet and three after Orion Advisor Solutions--and SS&C looks set to follow suit.
(And those firms followed Fidelity's acquisition of eMoney and Northwestern Mutual's purchase of Leanvest.)
Windsor, Conn.-based SS&C will announce "a number of planning related capabilities" at its annual client conference in Orlando, according to the firm; Morningstar announced the launch of its own in-house planning software, Goal Bridge, on Sept. 9.
Goal Bridge tools up the Chicago research, analytics, and software vendor with a capability to compete with the "lite" planning kit now owned by cross-town competitor Envestnet and Omaha, Neb.-based Orion -- albeit for IBD reps, not RIAs for the foreseeable future.
It also saved a fortune by cooking up a solution at home, says Morningstar's Senior Vice President Global Head of Software Dermot O'Mahony, via email.
Play for less pay
"Envestnet paid $500 million to MoneyGuidePro to obtain their, admittedly, far more comprehensive planning capability and user base. We built this simple goal-planning capability for significantly less."
Morningstar declined to reveal how much it spent developing Goal Bridge, or how many staff worked on the project. But its reports to the SEC show the firm's software development costs climbed by $1.1 million in the first six months of 2019 to $27.3 million.
Financial planning is increasingly seen by such software vendors as a means of aligning their value proposition with the meta-shift in the RIA business away from investment management toward financial advice as asset management fees continue to wither toward zero.
Planning software has been around forever, but the majority of advisors don't own any and have found it time-consuming and agonizing to use. Morningstar, Envestnet-owned Tamarac and others hope to change that by making it part of the core portfolio accounting system.
In fact portfolio management software makers are almost morphing into planning firms, says Joel Bruckenstein, founder of the T3 Conferences, via email.
"They're evolving from portfolio management software firms, into wealth management platforms, or trying to," he explains. "It's a growing part of the value proposition … because advisors want reporting tied to goals, not benchmarks like the S&P."
Here comes Black Diamond
Expect Windsor, Conn.-based SS&C to jump on the bandwagon soon enough by improving integrations with outsiders and beefing up "native" abilities, says Steve Leivent, senior vice president for Black Diamond & Advent Outsourcing Services at SS&C, via email.
"We'll combine some native planning capabilities with support for deep integrations ... even where we have a competitive, native capability," he explains.
No doubt Black Diamond and Advent, with $1 trillion plus of assets administered by RIAs, feels conspicuous by the absence of planning software, according to Scott Smith, research director at Boston-based consultancy Cerulli.
"Going to the dance stag when everybody else has a partner seems a bit odd."
The first announcement linked to planning expected to come out of the SS&C conference "Deliver" -- between Sept. 17 and 19 -- is the integration of SS&C-owned portfolio management software and Black Diamond's Relationship Timeline, which combines client dialogue tracking and goal setting with a number of other tools.
These include CRM software (Salentica, and RedTail), a TAMP (SMArtX), household analysis (Asset-Map), risk management (Riskalyze and LifeYield) and a dedicated planning tool (RightCapital).
It's evidence of the shift in how advisors sell themselves to the end-client, says NYC-based RightCapital co-founder and CEO, Shuang Chen, in a linked release.
"By integrating with the Relationship Timeline feature, advisors can easily highlight the achievement of an investor's short- or long-term financial goals."
The frugal path
In March, Envestnet splurged $500 million to snap up MoneyGuidePro, and is pressing on with its "lite" offering, "Blocks." See: It took years to woo Bob Curtis to sell MoneyGuidePro but what Envestnet gets for its patience seem plenty worth it -- for both.
In July, Orion gobbled up NYC's no-frills planning vendor, Advizr, for $50 million. See: Eric Clarke pays about $50 million for 'monopoly piece' Advizr as Orion sheds some of its 'API utopia' image to shred mega-competitors
But Morningstar, which only got its advisor software into the cloud a couple of years ago, didn't want "planning software" per se.
Making it more self-directed was always the plan, says Morningstar's director of product management, Jason Stipp, via email.
"[It's] a natural extension of our existing strengths [and] building it ourselves means we can craft one intuitive workflow ... from goal setting, to portfolio construction, to proposal."
Working intellectual property into it definitely played a part, says Bruckenstein.
"The obvious one is that the cost of acquiring a financial planning solution is expensive."
Sales strategy
Initially, Goal Bridge is purely for B-D reps, using its Advisor Workstation enterprise software. RIAs that use Advisor Workstation, however, can avail of the Goal Bridge on request.
Nor will Goal Bridge be tied directly into Morningstar's performance reporting software, or Morningstar's $58 billion 401(k) managed accounts business.
The reason for the focus on B-Ds over RIAs is that the RIA market has its planning leaders already; the B-D market does not, explains O'Mahony.
Simplicity is what reps want, he says, citing Cerulli data.
"RIA planning tools can be too much for a significant group of B-D reps [and] three percent of advisors consider the planning process too time consuming and tedious. Even RIAs sometimes just need to offer some simple advice around a retirement plan … [where] a full plan is overkill."
There's a market, but it's no blue ocean, says Bruckenstein.
"Morningstar has identified a need ... [and] a [B-D] market that has low financial planning penetration.But they're [not] the only firm targeting [them]."
"MoneyGuidePro (Honeyguide), eMoney (Foundational Planning), Advicent (Profiles) and others are all targeting reps who are not real planners," he explains.
Morningstar declined to disclose the price of Goal Bridge, beyond saying it would be "competitive" with what its competitors charge.
It also declined to reveal how many of the broker-dealer reps currently using Advisor Workstation already use other financial planning software and how many are planning virgins.
But key to Orion's purchase of Advizr was the fact only 30% of Orion clients have financial plans tied to their investment portfolios -- a 70% abstention rate. See: Eric Clarke pays about $50 million for 'monopoly piece' Advizr as Orion sheds some of its 'API utopia' image to shred mega-competitors.
"[Morningstar] assumes that matches market penetration as a whole," says O'Mahony, who refers to Cerulli data suggesting 49.6% of the advisory market offers financial planning.
"But there's a difference between those who have access to planning software and those who use planning software on a regular basis," he adds.
Whose market?
Excluding the wirehouses, but including independent broker-dealers, Morningstar's software is the most widely used out of the "big-five" portfolio management products geared to independents in the United States.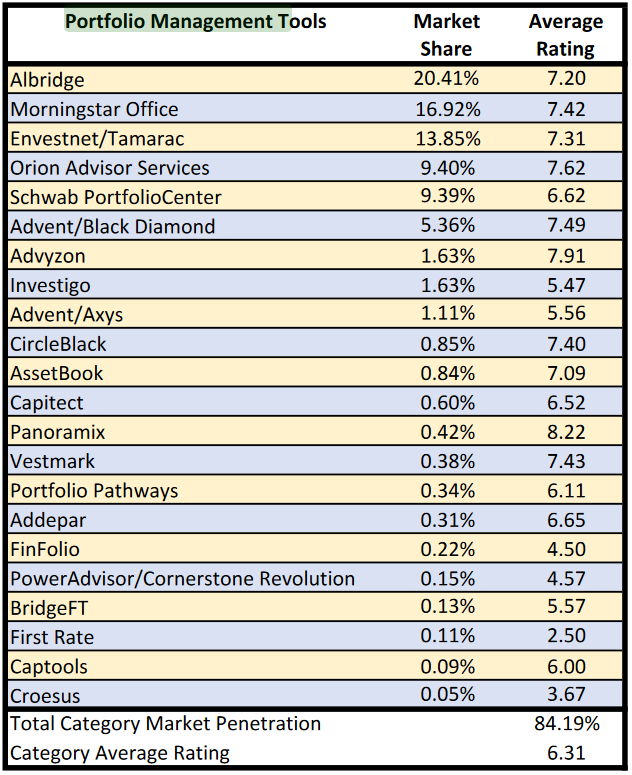 The firm has a marketshare of close to 17% according to T3 Data.
Some 185,000 individual users at 170 firms run Morningstar's Advisor Workstation, the equivalent software for broker-dealers, .
In the United States and United Kingdom combined, around 5,500 independent advisory practices use Morningstar's RIA-focused software, Morningstar Office.
In the United States alone, Orion serves 2,000 RIAs, Tamarac 1,000, Black Diamond 1,700 and at last count Schwab Portfolio Center serves 2,100. A further 800 were already Envestnet users prior to the firm's February purchase of the product from Schwab. See: Schwab Advisor Services tosses its PortfolioCenter platform to Envestnet, in what amounts to a 'defensive' deal for both, insiders say.
In terms of marketshare, the Envestnet-owned pair of Tamarac and Portfolio Center account for 13.85% and 9.39%, respectively; Orion has 9.4% marketshare and Black Diamond has 5.36%.
Including the wirehouses, however, New Jersey vendor Albridge leads the table of portfolio management software firms in terms of marketshare, with 20.41%.
Prognostication
Morningstar refuses to rule out eventually developing Goal Bridge for its RIA clients -- or as client-facing format for the sizeable number (1.4 million) of plan participants in its managed accounts service.
Since the underlying code for each of these offerings is built on the same chassis, this reveals one way that the firm could choose to develop Goal Bridge in the future.
It's the obvious move, says Smith. "It'd be short sighted not to."
In fact, should Morningstar eventually roll-out Goal Bridge to RIAs, its users of Morningstar data and portfolio management stand to benefit most, O'Mahony explains.
"[It's] integrated with our investment planning workflow and current proposal generation user interface [so] one stop shopping for the advisor."
But "no date has been set" for when, if ever, Goal Bridge will get its tie-in with Morningstar Office, the firm's RIA software, according to ThinkAdvisor sources.
It's not exciting, but step-by-step makes sense, says Smith.
"You're doomed to failure if you roll something out, and everyone hates it. So you put your toe in the water and make it an iterative process."
No tortoises allowed
But O'Mahony bristles at the idea that his employer is some kind of tortoise trying to convince the market it knows how to play the software hare.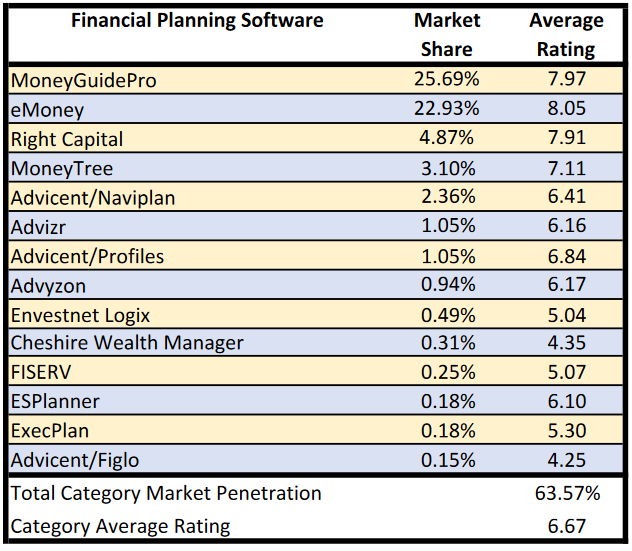 He also emphasizes that performance reporting is a drop in the ocean in comparison to the firm's research and analytics business.
"Given the recent announcement of simplified goal-based offerings by the other planning firms ... [Morningstar is] pretty much up-to-date rather than lagging," he adds. "We're on the leading edge."
The timing of launch, however, tells its own story, says Bruckenstein.
"[Morningstar] didn't know in 2016 that Orion and Envestnet would be heavily invested ... circumstances might have accelerated [the firm's] work."
Goal Bridge is about far more than playing catch-up, O'Mahony counters.
"It's competitive, given its deep integration with our … data and analytics. Not many firms have both the investment and planning intellectual property to build [this]," he insists.
Under the hood, Goal Bridge breaks a client's financial plan down to 12 separate goals, such as retirement or travel and allows advisors to develop future investing strategies down to the individualized portfolio.
The software also taps into, and automatically adapts to, Morningstar's capital markets assumptions and its wider research. Plans automatically become wedded to customized asset allocation strategies.
A time and a place for everything
Planning is increasingly seen as a lucrative way for portfolio management incumbents to boost their value proposition and integration with the major planning firms continues unabated. Indeed, RightCapital recently integrated with the smaller portfolio management vendor FinFolio, as of Aug. 14.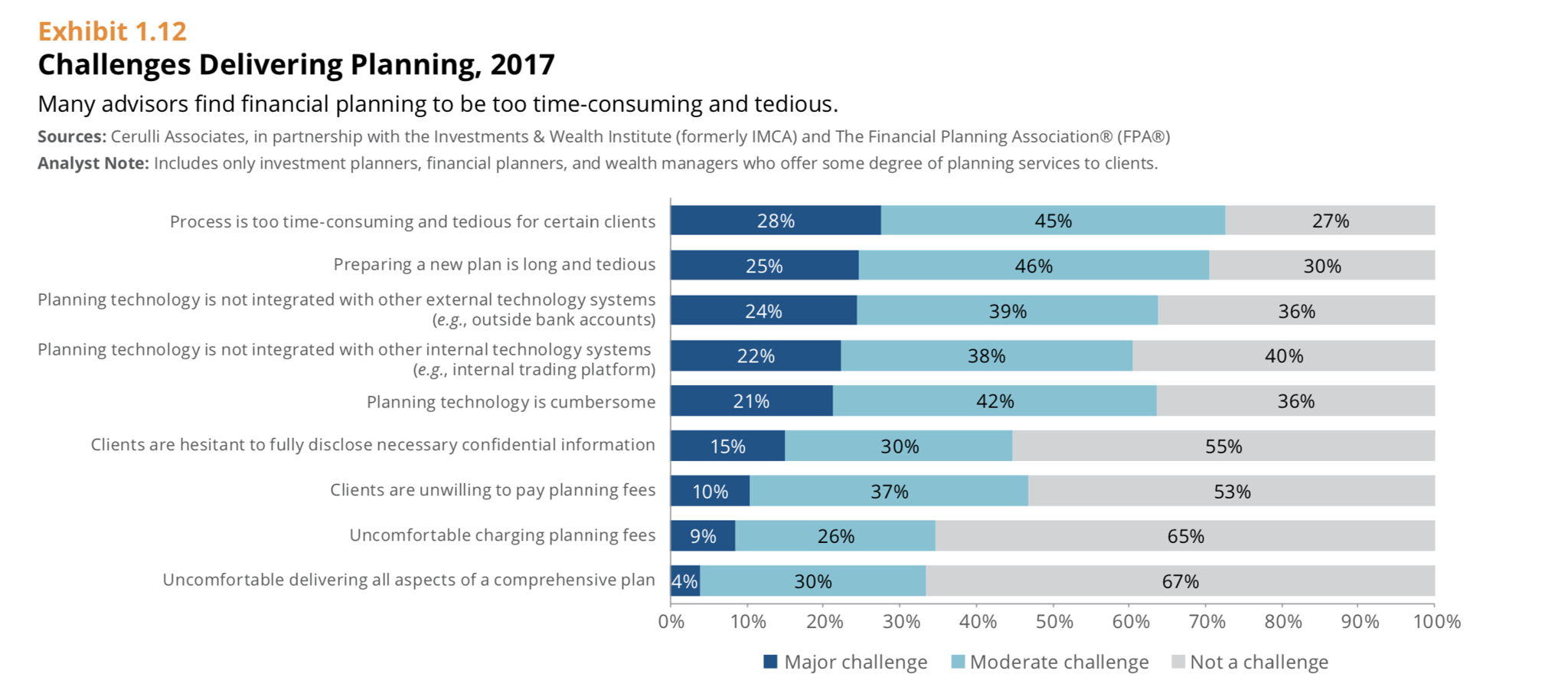 Each of the portfolio management "big-five" has already connected their software with the market leading planning software vendors, including MoneyGuidePro, which has 25.69% marketshare; eMoney (22.93%); and RightCapital (4.87%).
But Morningstar won't attempt to make a "full" financial planning tool to rival such firms.
"Goal Bridge does not replace the need for one of the more complex products when the client does need a full plan," O'Mahony explains.
Nicholas Olesen, director of private wealth and partner at $1 billion AUM Orion client Kathmere Capital Management, says both "lite" and deep have their place -- even within a single RIA. The King of Prussia, Pa., RIA will break away from LPL on Oct. 1
"[Advizr] is a fantastic tool and we'll probably start using it for some of our clients ... Orion was very smart [to buy it]."
Threading the needle
Goal Bridge is part of a wider project at Morningstar to ramp up the capabilities of its offering for broker-dealers by improving the connections between its portfolio management and portfolio reporting software, its 401(k) business, its TAMP and its primary data and research services.
This wider revamp began after Morningstar -- late to the party -- bit the bullet and moved its software to the cloud in Nov. 2017.
Goal Bridge's development started earlier, however, just before the Department of Labor announced the now junked fiduciary rule in April 2016. A full product team was in place by mid-2017. See: Eric Clarke pays about $50 million for 'monopoly piece' Advizr.
As part of the product's further development, Morningstar also intends to roll-out behavioural intelligence components in the next six to 12 months. Socially responsible investment preference analysis is an already live early example.
"[Additionally] we're looking at healthcare goals and some third parties we might partner with," says Stipp. "We'll [also] extend [Goal Bridge] out and connect it to a client-portal ... [with] goal progress and monitoring the next frontier."
---
---
Mentioned in this article:
MoneyGuidePro
Financial Planning Software
Top Executive: Bob Curtis
---
---
---