Andy Rachleff: We raised our [rates] at the same moment Marcus and Ally "needed" to lower theirs.
Brooke's Note: What is the meaning of $1 billion of investor/depositor cash if you are a robo-advisor? Quite a lot. Not long ago it was a news event when robo-advisors were able to attract their first $1 billion. The largest ones, now about a decade old, are still no larger than about $10- to 15-billion. So I assumed that Wealthfront leadership might have experienced minor elation when it not only grabbed $1 billion in 30 days but did so without having to write millions of lines of code. It cobbled together a bank offering, put out cheap advertising and watched the cash roll in. That is enough to produce endorphins in any robo-competitor and the primary affect of such dopamine on the recipient is to make them want more. Wealthfront wasted no time making its move by dangling an even more awesome banking rate -- even as traditional players in the rate game stood pat or tut-tutted the move. Then the Fed lowered rates on overnight lending and Wealthfront hastily retreated. Since then, Wealthfront has posted a blog that may suggest how it feels about its foray into banking: 7 Questions Your Bank Definitely Doesn't Want You to Ask
Andy Rachleff boasted about putting other banks and robos to shame with an eye-popping offer of 2.57% interest on cash accounts, but quickly retreated into the fine print after the Fed cut interest rates.
Since the Wealthfront co-founder and CEO attracted $1 billion in assets to his robo-advisory in an eye blink, he's shaved 25 basis points on cash accounts, dropping them to 2.32%--not the worst rate, but no longer the best, either. Wealthfront adds staggering $1 billion to its robo-bank in 'less than a month', but critics say it's treading the line, again, on possible conflicts of interest
Rachleff followed a trend set by Ally Bank, Marcus by Goldman Sachs and other online banks, but did them one better.
He bumped his firm's rate by six basis points (bps) on June 26 to a hyper-competitive 2.57%. The increase came just 29 days after he cranked up rates by 22 bps in late May. See: Wealthfront adds staggering $1 billion to its robo-bank in 'less than a month', but critics say it's treading the line, again, on possible conflicts of interest
At the time, it was the highest interest rate on cash accounts in the nation, not only exceeding Marcus, but also leaving traditional commercial banks in the dust.
But that was before the policy making Federal Open Market Committee dropped rates for overnight lending on July 31. It now ranges between 2% and 2.25%. The 25 basis point cut is the first in a decade.
Taking a haircut
Anticipating Fed action, Goldman and Ally Financial cut rates on June 28, citing "market conditions." Both shaved off 10 bps to 2.15% and 2.1%, respectively.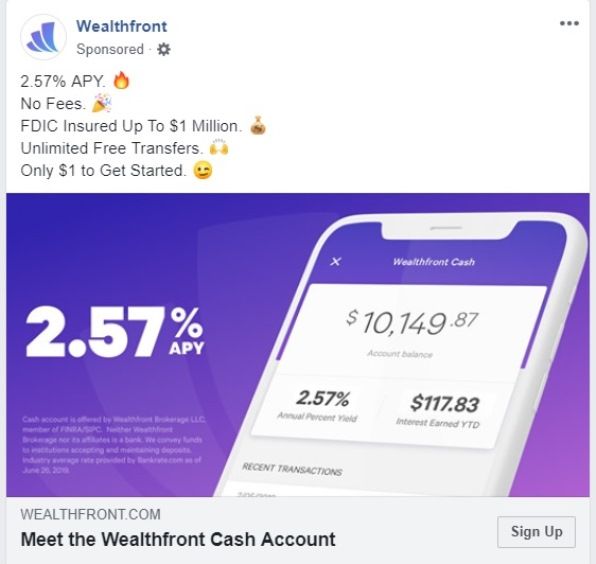 Instead of heeding their caution, however, Rachleff came out swinging.
"Wealthfront's repeated increases are not an accident, fluke, or temporary gimmick," he said. "This is how we built this part of our business to function."
In a July 1 blog post on the firm's website, Wealthfront's chief suggested the other bank cuts were a case of profit-taking at depositors' expense.
"They are testing to learn whether or not they can get away with lowering their [rates]," says Rachleff "There simply are no 'market conditions' that necessitate lowering rates on savings accounts."
Indeed, for every 10 bps Ally cuts its savings rate, for instance, correlative earnings climb by 3%, says Vincent Caintic, managing director for Little Rock, Ark. investment bank, Stephens Inc, in the Wall Street Journal. "It's meaningful."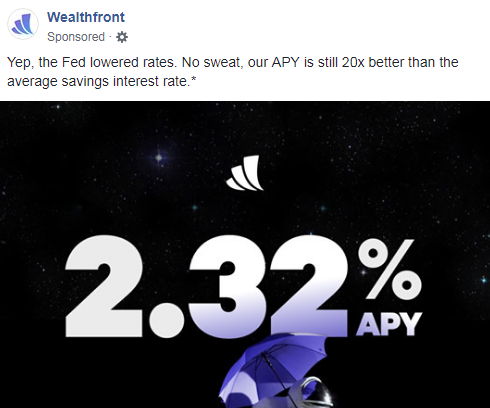 "Banks could offer 2.57%, but they don't because they take that money for their own revenue. We're simply passing all of the value on to the client," Wealthfront spokesperson Kate Wauck told RIABiz, via email.
"We are not subsidizing our rate in any way," she adds.
Bravado fades
Many analysts, however, were skeptical of Wealthfront's claims to be making money.
Wealthfront was paying an estimated $25.7 million yearly on $1 billion in cash assets, not counting the additional cost of compounding, according to back-of-the-envelop calculations.
What's more, Wealthfront had to eat an estimated 0.07% overhang on its excess cash because the Fed Funds Rate--the rate banks charge to lend money in the overnight market--was 2.5% at the time. If Wealthfront's rate seemed untenable then, it was even more so after the Fed cut.
On Aug 2, the investment app lowered the interest rate on its high-yield account from an industry-leading 2.57% to 2.32%, moving in step with other fintech companies.
Not surprisingly, out went the bravado when Wealthfront's market leading rate tumbled.
Betterment one-upped WealthFront on FDIC-insured savings accounts with a 2.69% teaser rate in mid-July, before hastily rolling it back after the Fed's action.
It's at 2.41% now--a 28 bps cut in step with the central bank, although it still tops rival Wealthfront by 11 bps, according to published reports. Betterment disclosed in an email that further Fed action could impact rates again.
Fed watchers are predicting the central bank will cut rates at least two more times this year after nine straight increases between 2015 and 2018.
Treasury yields could very easily plunge, and Wealthfront will have to be clever to avoid subsidizing every customer to the tune of 40 bps, says Karén Chaltikian, principal of NYC algorithm-trader and RIA, Wealth Technologies, on LinkedIn.
"Presumably, they will have to re-index. And presumably, most people will be okay with that, if [it's] explained where this 'high yield' is coming from," he says.
Wooing clients
Until the Fed action, Fintechs had been one-upping each other for bragging rights to the highest rates to attract mass affluent investors.
The goal was to take advantage of rich cross-selling opportunities for investment products. Using teaser rates also drives down the cost of wooing new clients, according to John Crittenden, chief strategy officer of New York-based artificial intelligence RIA, Pefin, on LinkedIn.
Wealthfront currently pays as much as $300 per customer, according to Morningstar Data.
"That's the game [they're] playing, short term," says Crittenden. "It's about opening new accounts to show growth to secure the next round of funding."
The downside to the interest rate game, however, is easy-come, easy go, says Sankaet Pathak, CEO of San Francisco banking technology firm, SynapseFI, on LinkedIn.
"As soon as your highest interest product is not highest anymore, it's very likely those customers leave ... If they perceive you as a commoditized financial instrument, cross selling is hard, if not impossible."
Method in madness
But it's not like Wealthfront is raising rates to rake in profits, says Salisbury. "Wealthfront's core business isn't making dollars off deposits. They can throw down the gauntlet here," he explains.
Lex Sokolin, global co-head for financial technology at New York-based blockchain software firm ConsenSys, sees the method in Rachleff's madness.
"Even if the revenue dissolves longer term ... 40 bps on an average $10,000 in cash is $40 -- something any financial institution would gladly pay to acquire a customer. The money comes from venture capital pockets, which will finance this price war for a few years longer," he adds.
Rachleff says Wealthfront is "prohibited by our regulators from paying more than we earn, so there is a limit."
Wealthfront's interest rate strategy could backfire, says Sean Slotterback, founder of New York portfolio management firm, Decipher Finance, on LinkedIn.
"Maybe I'm missing the Silicon Valley meaning of trust but ... people know what a teaser rate is, and I think trust is built by delivering on [a] rate for a period, and clearly communicating when, why and how it changes going forward."
The quest for assets turned into a mania when Robinhood, the millennnial investing app, plunged into the traditional banking market in Dec. 2018 with high-interest checking and savings accounts. It allegedly included false assurances the deposits were insured.
"Robinhood sought to disrupt a highly regulated industry with the '​move fast and break things' startup playbook, only to learn that the rules are there for a reason, and that breaking them has consequences," BusinessInsider reported.
As it turns out, the money was in neither a checking nor savings account. Rather it was deposited in a brokerage account. As such, they weren'​t FDIC insured against losses.
Robinhood did not respond to RIABiz's request for comment, but it challenges BusinessInsider's version of events, calling it "sensationalized" and "filled with inaccuracies."
The jury is out
In contrast, Wealthfront launched its FDIC-​insured high-​yield savings accounts in February, following not only banks but fellow robo-advisors.
Irvine, Calif.-based micro-investing robo, Acorns, jumped into the banking fray in Nov. 2018; Redwood City's Personal Capital launched its own competing service on this past June.
The jury is still out on FinTech's race into traditional bank services, but all the ingredients are there--if a few high-flyers drive rates higher--for some players to take a hard fall. In fact, the money-market pie is growing so fast, it may become too hard to resist.
Money market assets rose for the 12th week in a row and broke back above the $​3.​25 trillion level for the first time since January 2010, according Money Fund Intelligence.
Cash is literally pouring in. Money market fund assets have grown by $​209.​6 billion, or 6.​9%, since April 17, according to the Investment Company Institute (ICI), which tracks the market.
The unanswered question is how the new found "banks" are deploying their assets and whether bad money will ultimately drive out the good.
An economic downturn, or shifting interest rates could be all it takes to send them on a roller coaster ride.
---
---
Mentioned in this article:
Wealthfront
Portfolio Management System
Top Executive: Andy Rachleff
---
---
---