Amit Zavery spent 24 years at Oracle before Google. He changes the complexion of Broadridge.
Brooke's Note: A million answers come to mind for an RIABiz editor's question: Just how hot is the wealth management business? This article provides as good an answer as any. A company -- Broadridge -- may have an inside lane to becoming one of a handful of 'cloud' companies serving RIA businesses after landing Google's cloud platform head for its board, where he'll expend preciously scarce time on its behalf.
Tim Gokey has scored a coup that may reflect both its cumulus business model and its skyrocketing share price.
The president and CEO of Broadridge Financial Services, Inc. in New York has snared Google Cloud's head of platform, Amit Zavery, for a seat on his board. He'll share his expertise on developing Broadridge's cloud and making acquisitions to expand its bread-and-butter data services.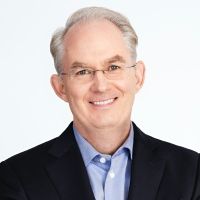 The appointment comes like a bolt out of the blue for data and analytics company and adds a breath of fresh air to the board.
Without Zavery, the average age of board members is roughly 63. Zavery will bring that number down significantly. He is the youngest board member by 12 years.
Broadridge raised eyebrows by luring Zavery from a tier one player. But the company declined to characterize the mutual attraction -- or how the two found each other.
Zavery used superlatives to describe Broadridge's market power and its potential to dominate the automation of processes wealth managers use to provide financial advice.
"Broadridge is uniquely positioned at the center of the global financial services industry and known for innovating in the most complex areas to enable industry-wide technology advancements," Zavery said in a statement.
"It's an honor to... take part in the important work Broadridge does as it supports clients in managing technology transitions and enacting forward-looking transformation."
No Sweetheart deal
He did not make the decision to join the Broadridge board because of some sweetheart board compensation. Zavery will make considerably less than than the average for an S&P 500 company director.
A board member at an S&P company typically makes $250,000 annually, while companies, like Comcast, pay directors as much as $415,000. Some pay even more: Salesforce pays directors $530,000 annually, and at 21st Century Fox pays board members up to $2.5 million.
In contrast, Broadridge pays its directors between $160,000 and $185,000 according to Glassdoor.
Zavery's compensation, which is publicly stated in the firm's proxy statement, includes an annual cash retainer ($75,000), fees for meetings ($1,500 in person, $750 telephonic) and a pile of stock and stock options.
No doubt Broadridge is hot where it counts -- investor returns.
Its shares closed at $131.06 on Tuesday (July 9), just off its 52-week high of $138.24. That's nearly triple where it was in July of 2014, when Broadridge shares were at $40. The company's reinvention drove its market capitalization to $15.3 billion as of July 8. It launched its IPO in 2007.
Broadridge in recent years has made no secret that it's vying for a dominant data position in wealth management and recently acquired a fiduciary business from Morningstar. See: Morningstar makes tough choice in shedding a 'fiduciary' division -- perhaps to avoid a conflict
Chasing Amazon's cloud
Only last year, Google poached Zavery to head the cloud "platform" as part of belated efforts to catch up to Amazon and Microsoft in the cloud.
Before that, Zavery, a 24-year Oracle veteran, oversaw 4,500 engineers dedicated to Oracle's cloud business. He was the highest ranking executive in the firm's cloud division prior to his exit.
Though Zavery is billed as Google Cloud's head of platform, the larger "cloud" at the Mounatin View, Calif.-based giant consists of: G Suite, Google Cloud Platform, AI tools, Chrome for Enterprise, and much more. Zavery reports to Google Cloud CEO Thomas Kurian who oversees the broader division.
Zavery received his bachelor's degree in electrical and computer engineering from the University of Texas at Austin. He also holds a master's degree in information networking from Carnegie Mellon University.
His appointment also follows the company's assertion in the annual report that it is adding a third pillar--wealth management--to its data analytics business. Broadridge added a wirehouse to its clientele last year- the company declined to name the Wall Street firm.
"Five years ago that was 5% or 10% of the overall client-base. We're seeing significant growth," said Broadridge former financial technology and solutions executive Gavin Little-Gill in a 2018 RiABiz article. See: Quick hits: Broadridge broadens to UHNW market with sneaky-success
Broadridge has always focused on mutual funds, ETFs, retirement providers and other more traditional classifications of asset managers, but BIMS has historically been used by hedge funds.
Broadridge is expanding into the wealth management cloud because it sees a giant void in the marketplace.
"The folks we're talking to just aren't fully supported by the solutions they have in the marketplace today. Long story short, we're investing aggressively and looking to grow this segment in the next 3- to 5-years," Little-Gill added.
As part of its strategy to woo high-end clients looking for a "single throat to choke," Broadridge doubled the development team of Broadridge Investment Management Solutions, its asset management reporting software, in the past 18 months, and ordered a total reboot of its software, with a "buy, build, or partner," but get it done attitude, he added.
---
Mentioned in this article:
---
---
---