Eric Clarke bought FTJ FundChoice just 15 months ago. With Advizr woven in, he sees his firm 'future-proofed,' for now.
Brooke's Note: Eric Clarke continues to walk the impossible thin red line where mega-success lives in the RIA business in 2019. The Orion CEO knows that advisors and end clients want to do business with a company with an independent, non-corporate attitude. Those same advisors and clients, however, demand that they get the best technology at the best price, and they want to buy it from a winner that will future-proof both them and itself. See: Eric Clarke makes seven big Orion hires that reflect the big check it wrote to Bain & Co. -- including a 'poach' from his brother, ToddClarke is playing a nimble game in paying for Advizr, maybe, 10% of what Envestnet paid for MoneyGuidePro. I joined Oisin Breen's interview with him, Kelly Waltrich and Hussain Zaidi. When I asked whether he felt he was getting something more despite paying so much less, it was a two-word answer: "We do." Not everybody agrees, but that hardly matters in a free enterprise system. RIAs and other entities that buy Orion software -- and its investment portfolios -- will have the final say. What's for sure is that Orion has reached a zero-sum game, where its gains may become some other software or investment company's losses. They are in many businesses in bigger and bigger ways. That's why this article tackles the issue of whether Orion's API "utopia" is now Paradise Lost. Or whether Clarke, when the dust settles, will have created a better, more future-proofed, utopia where advisors really do planning and onboard clients in the most Amazonian terms. Thank you to Tim Welsh for delving into that thorny topic with us.
Eric Clarke is making his biggest gamble yet by steering Orion Advisor Solutions further out of its performance-reporting lane with the purchase of financial planning software firm Advizr.
This move remolds Clarke's Omaha, Neb., firm into a more direct competitor to long-time partners like eMoney, Advicent and MoneyGuidePro, which sell planning software to Orion's RIA clients.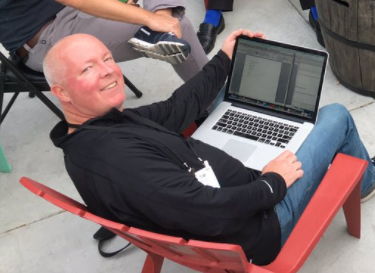 Orion bought Advizr for about $50 million up from its last capital raise in the low $20-millions, says a source who asked not to be named.
That's a bargain in absolute terms when compared to the $500 million that Envestnet spent on MoneyGuidePro (MGP), or the $250 million Fidelity paid for eMoney. See: It took years to woo Bob Curtis to sell MoneyGuidePro but what Envestnet gets for its patience seem plenty worth it -- for both
But the source adds that Advizr still has minimal (about $3 million) revenues, whereas MGP and eMoney are cash cows.
Such a price may indicate the premium Orion was prepared to pay for the strategic promise of Advizr's technology, and the new vertical markets it opens up.
"We absolutely see the need to better align our technology with the shift taking place in our industry from being investment-centric, historically, to a fiduciary minded planning-centric approach," Clarke says. "Advizr's technology accomplishes this for us and opens up a host of new integration partner opportunities that we are excited to explore."
Orion plans to start giving away the planning software to all its licensees as soon as Sept. 2019, rebranded as Orion Planning, "powered by Advizr."
The larger rollout of Advizr as a proposal generator for Orion Portfolio Solutions, formerly FTJ FundChoice, will happen around November -- a speed Clarke attributes to using a common "stack" of SQL and .Net. See: Orion's Eric Clarke tests new strategy to combat Envestnet's Jud Bergman in a Game of Thrones style clash for keys to RIA and IBD kingdoms
Immediate boost
The deal to buy the New York City planning start-up closed on July 10. It immediately boosts Orion's assets under administration by 14%, from $800 billion to $913 billion, as well as its client-count, up 50%, from 1,800 to 2,700.
Advizr's 31 staff will continue to operate in the firm's Manhattan base. Their addition brings Orion's overall headcount to 797. The terms of the deal were not disclosed.
But if Clarke's concern was once how well his firm matches up with performance reporting firms like Tamarac, Black Diamond and Morningstar Office, then the Advizr deal -- and Orion's recent corporate rebranding as an all-in-one software firm and TAMP -- evinces a grander vision, and reveals what he fears the most.
Personal Capital, Vanguard Personal Advisors Services (VPAS), and Schwab's fully-manned 30- basis-point RIA are all existential threats.
Personal Capital recently announced it topped $10 billion in AUM, and it's acquiring new clients largely on the back of a free planning tool.
VPAS is a $130 billion juggernaut, and Schwab's Intelligent Portfolios just announced adding $1 billion in new assets, bringing its overall total to $41 billion, since it introduced subscription-based pricing in March.
Orion's RIAs are potentially vulnerable to losing the next generation of investors to a superior client experience from largely automated RIAs, says Clarke.
"[For] our advisors the very best way to future proof their business is to make sure their technology and client experience is on par with [firms] like Personal Capital," he explains.
"Investors will pay more for advice, as long as the experience isn't less."
"Spot on," says Alois Pirker, research director at Boston-based consultancy the Aite Group, via email.
"Many of the recent acquisitions, such as Fidelity of eMoney [in 2015], Envestnet of MoneyGuidePro [in Mar. 2019], and now Orion of Advizr have been motivated [by] that."
Clarke denies, however, that he's merely following in the footsteps of rival software vendors--Envestnet, in particular.
Duck hunting
Maybe, but if it walks like a duck, and talks like a duck, it's likely to quack, says Joel Bruckenstein, founder of the T3 Conferences, via email. "[The purchase of Advizr] is, at least partially, in response to the Envestnet purchase of MoneyGuidePro."
"Since MoneyGuidePro is owned by a firm Orion sees as a competitor, they do not want to rely on [it] alone," he adds.
Moreover, although Orion is backed by Boston-based private-equity firm TA Associates Management, it's a major gamble to take on industry leaders -- namely Envestnet and Fidelity -- on their own big-boy terms.
But Hussain Zaidi, Advizr's co-founder and CEO, sees no risk in the move. Zaidi will now take up the role of president of Orion's Financial Planning Solutions.
"If you were sitting where I was sitting, you wouldn't be viewing this as a gamble," he says.
Both Chicago-based Envestnet, and Boston-based Fidelity anted up hundreds of millions of dollars to buy MoneyGuidePro and eMoney. They moved into planning to shift their business models away from investments sold in a vacuum to investing based on established financial plans.
In Xanadu did Kubla Khan...
In Orion's case, however, Clarke is also risking the possible loss of an advisor software paradise, says Tim Welsh, principal of Nexus Strategy in Larkspur, Calif., via email.
"Maybe it's the end of the FUSE hackathon utopia and the beginning of technology warfare as we know it. It's sad because we all rallied around [Orion], with competitors sitting next to each other in a Utah garage, [but] It's not [Clarke's] fault. Now the stakes are too high, thanks to Envestnet."
"[Envestnet took] the pieces off the monopoly board [so paradise is] collateral damage. Ultimately, you need to own the code," Welsh adds.
But Clarke pushes back against both the idea that he's shadowing Envestnet, or that the north star aspect of his vision--namely assuring that a maximum number of advisor end-clients get a full-on fiduciary experience--has changed.
"I really see this as FUSE 2.0," Clarke responds. "We are remaining open architecture, supporting integrations that help our independent fiduciary advisors."
The needle is fast moving towards what Personal Capital and Schwab are doing for advice -- namely foregrounding planning and client experience. That means RIAs need a way to compete -- Orion will provide it, he says.
Currently, only 30% of Orion clients have financial plans tied to their investment portfolios -- a 70% abstention rate.
By bringing the rate of plan use closer to 100%, Clarke sees his RIA clients growing so much -- and advisor use of the FTJ TAMP increasing in turn -- that the software more than pays for itself, even if he gives it away.
"The next level requires planning and an incredible user interface to keep pace with the Personal Capital's of the world," he explains. "Advizr has just that -- an Apple-like client experience."
Orion for sale?
Evoking a looming "threat" from Silicon Valley is overstated and may be a red herring to distract from more immediate competitive concerns, according to Oleg Tishkevich, founder of Seattle-based financial-cloud consultancy Invent.Us, and the former CEO of Envestnet-owned planning firm FinanceLogix, via email.
"Amazon [is also] thinking about offering a checking account through a partnership without actually becoming a bank, [but] I do not see Amazon putting advisors out of business."
Another Orion doubter said that it may be nearing a time when its owner TA Associates will want to sell.
Clarke rejects the notion that his firm's majority owner is taking its foot off the gas. "It's been four-plus years with TA and [their backing of the Advizr purchase] speaks volumes about their plans in this business," he says.
As a result of the Advizr purchase, Orion will now be able to offer planning to the RIAs that buy software and TAMP services.
Nor will Orion be shy about it, says Clarke. "We'd love to invite [eMoney and MoneyGuidePro users] to do a demo … we're expecting to see great results."
Opportunity beckons, says Kelly Waltrich, Orion's chief marketing officer, who Clarke poached from her perch as eMoney's head of marketing and communications in January of 2018. "This is going to be a success."
Waltrich was at eMoney from 2013 to late 2017. Fidelity bought eMoney in early 2015.
Yet Waltrich denies that the Advizr deal is part of a plan to take MoneyGuidePro and eMoney marketshare.
"We have a very good relationship with MoneyGuidePro and eMoney," she says. "I have a very good relationship. Our goal is really not to take clients from [them.]"
Waltrich was a reassuring presence in making such a big move into her old bailiwick, Clarke says.
Many Orion RIAs may choose to dump such costly licenses from competitors over time, though Orion will continue to help with integrations and many advisors like having multiple planning systems, Clarke adds.
Current Advizr clients with no Orion ties will, however, continue to pay for the software, unless they start using other Orion services.
Planning partnerships
Orion also gains cross-sell and cross-pollination opportunities with Advizr's unique clientele.
The planning firm has cultivated a sizable direct-to-employee financial-planning business in partnership with Linconshire, Il.-based outsourcer Alight Solutions, which counts a number of Fortune 500 firms as clients, and administers upwards of $50 billion in assets.
"We're already having that discussion on where to bring in Orion and vice-versa," Zaidi says. "Our workplace retirement plan... there's an opportunity to cross-sell our services."
Advizr serves 1,000 advisors and 500,000 employees have access to the planning software currently, he adds.
Advizr's largest client to-date is the Oaks, Penn.-based mega-TAMP SEI. The Advizr deal now makes Orion an official vendor to the firm. See: SEI targets the 60% of its book that are planning virgins with Advizr's 'lite' planning software -- an MRI on held-away assets and way to boost SEI products sales
"That was really appealing to us -- to get outside our niche," says Clarke.
Cross-selling is icing on the cake, says Bruckenstein. "The strength is the ability to promote client engagement and client experience."
Planning lite? Not quite
Clarke denounces the views of some advisors that Advizr is 'planning lite,' and believes his new purchase can go head-to-head with eMoney, Advicent and MoneyGuidePro.
He also says that the parallels with Envestnet and MoneyGuidePro break down in the details. Advizr will not be a standalone company either in brand or mindset.
MoneyGuidePro is just another "add-on feature advisors pay more for" at Envestnet, Clarke explains. "Advizr is going to be part of our core."
Comparing the decades-old super-players like MoneyGuidePro, Advicent and eMoney with Advizr is necessarily a philosophical debate, says Dan Seivert, CEO of ECHELON Partners in Manhattan Beach, Calif., via email.
"Some say the financial planning solution that takes 20- to 30-minutes to launch via Advizr is meaningfully inferior in setup and output versus the three-hour-plus set-up required of MGP and eMoney," he says.
"The contrarians to that view say 80% of the valuable inputs can be collected in that shorter period of time and it results in more people doing planning and taking those people out of the category of no planning at all."
It's a deep blending of capabilities, Bruckenstein agrees. "Eventually, the Advizr [planning] portal will be the Orion portal as well."
Yet RIA board gunslinger Lori Hardwick, until recently president at software vendor AI Labs, as well as a former Envestnet executive, puts the kibbosh on the idea that Orion's going to leap ahead of rivals.
"I highly doubt MoneyGuidePro will remain stand-alone for much longer," she opines. "I [also] don't see any unique value proposition Orion would be able to serve up … [that] gives it an edge over Envestnet and MoneyGuidePro."
Breakfast club
Until its purchase by Orion, Advizr was backed by $10.6 million of venture capital, hacked together from a slew of investors including investment from Steve Lockshin, founder of Los Angeles-based RIA, AdvicePeriod, which manages over $1 billion. Lockshin is the wealth technology Midas.
The firm was co-founded in 2013 by Zaidi, and two business school classmates, Mustapha Baassiri and Jorge Alvarez.
Indeed, it was Lockshin, Clarke says, who drew his attention to Advizr over a breakfast in Southern California with Clarke.
"He said: You really need to look at Advizr."
Clarke's hunt for a planning firm began last September, as Orion rolled out an integration with Boston-based analytics firm FinMason, the Five Minute Financial Plan. See: What's a FinMason and how did it find favor with Orion as a lite and heavy?
"That was the beginning of us realizing we've got an issue … [and now] Advizr's techology is a gigantic step forward," he says.
But the road to Advizr was bumpier than he'd anticipated.
For all that planning found a convert in Clarke, the software on the market didn't.
"Some planning technology made us feel less confident after doing a plan," he says. Advizr plans get updated daily as market data flows in.
Now, once Advizr and Orion are fully joined-up, Orion RIAs will be able to go toe-to-toe with Schwab, Vanguard, or Personal Capital's planning capabilities, he explains. "We want to make sure our advisors don't fall behind."
---
---
Mentioned in this article:
Advizr Inc.
Financial Planning Software
Top Executive: Hussain Zaidi
---
---
---
---