Charles Schwab & Co. may skip out of San Francisco entirely with Google, Facebook and Salesforce driving rents and talent costs sky high
Chuck Schwab sounded off by blaming taxes but then admitted free-market forces may push the headquarters back toward Colorado and Texas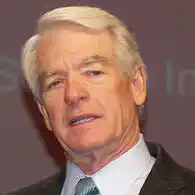 Chuck Schwab: I'm not sure [we'll stay] … we'll continue looking at that as a possibility.
---
---
---
Diane Portuesi
I never knew they are based in San Francisco. Now that I do I may find it necessary to change investment companies...
Smith
Against San Francisco? Why on Earth?
Mike
November 29, 2019 — 7:46 AM
Google has been sinking a lot of money into their campuses around Omaha lately. Nebraska and Nebraska Omaha have first rate innovative tech classes, largely funded by google. Pair this with the tax incentives, Midwest work ethic, cheaper licensed staff of TD already in place. Omaha's TD Ameritrade Headquarters, with their state of the art green campus may be just the thing Schwab is looking for.