Lisa Dolly, "dyed-in-the-wool Pershing" declined to explain her departure -- even in the press release.
Brooke's Note: Often enough I hear people ponder the question of why Pershing hasn't had the same impact on RIA custody that it did on the clearing business. Here is that company truly dedicated to living in the shadows and specializing in being a back office support firm. It has done pretty well. But it handles maybe five percent of the 30,000 RIAs out there. Because Pershing keeps largely quiet as a media policy and buries its numbers amid the billions and trillions of its parent, BNY Mellon, we've never really gotten to the nub of its inability to take flight as a custodian. But where us journalists failed, new BNY Mellon Charlie Scharf is beginning to fill the void. First we learned that BNY Mellon was underfeeding Pershing all these years and that Scharf finally coughed up $50 million to give the unit a badly needed boost. Now we are seeing a movement of people. (Two days ago we saw Lucille Mayer pop up at Apex.) This winter we saw the emergence of Christina Townsend. Now we see the rise of Jim Crowley. Each people movement has its own explanation. But Pershing and BNY Mellon point to one common denominator for all of them -- that they are upgrades. Pershing is a good and vital part of the RIA ecosphere. Mark Tibergien is all he's cracked up to be. But Pershing has underachieved its potential, it seems, to the detriment of RIAs. Maybe this is another sign that painful but positive change is occurring before our eyes. That said, one 'lifer' is replacing another 'lifer,' an anomaly that seems unique to Pershing -- for better and worse.
Lisa Dolly is resigning as Pershing CEO after a 30-year career with the company. Her jarring departure after a short, three-year tenure in the executive suite comes out of the blue -- seemingly. See: Why Pershing's CEO pick of Lisa Dolly looks uninspired, and why that look may be deceiving
She is the second high-profile woman to leave after landing a lofty spot at the Jersey City, N.J.-based clearing giant. Chief operating officer Lori Hardwick left in 2017 after just one year.
Dolly, the first woman to head the 600-employee BNY Mellon unit, lasted a touch over three years as CEO and offered no reason publicly for leaving. Her chief operating officer, Jim Crowley, takes the reins on July 1.
Todd Gibbons, vice chairman and CEO of clearing, markets and client management at BNY Mellon of New York, said in a statement Dolly made the decision out of a "desire to do something different after over 30 years at one firm."
"What bothers me is that from an optics perspective it looks like women don't have the staying power," Hardwick told RIABiz. Hardwick was poached from Envestnet in early 2016 but left to head a startup, Advisor Innovation Labs. See: Lori Hardwick resigns from COO job at Pershing in 'completely unexpected' move
"Normally, I'd say that Pershing's insular, inward-focused culture is largely responsible for the numerous transplants that this host has rejected to use a strained biological metaphor," says one former Pershing staffer. "This would certainly explain Lori's departure, which seems to fit the standard timetable of those who have tried and failed to affect change at Pershing. See: Completing matriarchal coup, Pershing raids Envestnet's top drawer to grab Lori Hardwick, whom many thought unpoachable
"Lisa, however, was dyed-in-the-wool Pershing: as far as I know she's only ever been at Pershing. So her short tenure in the top job is relatively unusual in that regard and probably reflects either a personal decision on her part or some lack of confidence from BNY's leadership."
Off script
Sources on- and off-the-record -- and in and out of Pershing -- agree that Dolly made the decision on her own to leave the clearing and custody unit, which largely serves IBDs and RIAs.
But it's murkier from there because it doesn't follow a script that people are quick to attribute to the company. (Pershing is that rare large company in the financial world that purely plays a back office role in financial advising and transactions. Fairly or unfairly, its culture is known to have an industrial, hence masculine, edge to it.)
No part of Dolly's time at Pershing was a failure and her tenure was right at the average for the position, says Mark Tibergien, CEO of Pershing Advisor Solutions.
"Lisa is leaving entirely of her own volition," he says. "She is a real light for the firm, for the business. A lot of us will miss her, and she's the epitome of diversity."
That said, Dolly undoubtedly was affected by the departure of Brian Shea in 2017 who she worked closely with and who had been her unofficial mentor for most of her career, Hardwick says.
"I always thought she'd be a lifer," Hardwick says. "But she was really close to Brian Shea, and after he left, a whole new regime came in. It's almost like being with a new firm." See: BNY Mellon goes on a wild poaching bender as it sets sights on playing a very 2019 game of digital catch-up
Shea's departure coincides with the hire of BNY Mellon's new CEO, Charles Scharf who came aboard in 2017. See: BNY Mellon's new CEO is an RIA fan, and Pershing Advisor Solutions made a big personnel move to reflect it
Dolly was the fourth Pershing CEO in Tibergien's 12-year tenure, a position filled previously by: Rich Bruckner, Brian Shea and Ron DiCicco.
Hardwick called Dolly a bright light and said she appreciated her abilities and "no-drama" demeanor during her time in Jersey City.
"She's very level-headed and very intelligent quick study," she says. "And she really looks after the people around her at the firm.. She really made the company a priority."
Tibergien adds that Dolly made a big mark on Pershing's destiny by connecting it more closely to its parent.
"Under Lisa, Pershing has become a meaningful part of the bank and that's a pretty good legacy to leave behind."
Orderly transition
Dolly was with the firm for 30 years and served as chief operating officer job before moving up the ranks to CEO.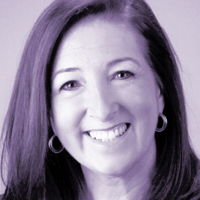 In its press release on the matter, Pershing alluded to her three-decade tenure as a factor in her decision to leave.
"We respect Lisa's desire do something different after over 30 years at one firm, and we are grateful to her for her leadership and many contributions," said Gibbons in the statement. See: Pershing CEO Lisa Dolly flaunts size and software at INSITE 2018
That said, Gibbons was quick to add that Dolly's replacement has lasted longer at the firm and knows more about clients, systems and operations than Dolly or anyone else.
"A Pershing veteran of more than 35 years, Jim brings to the role unrivaled knowledge of our clients, systems and operations. This is an exciting time for Pershing as the company continues its investment to accelerate growth in the wealth management and financial advisory industry."
Tibergien is also high on Crowley, who joined Pershing after giving it a go in professional golf.
"He's also popular and charismatic and closer to [Pershing] RIA clients than anybody other than me."
Crowley will get help from Dolly, who will serve as chairman through year end.
"She will act as an advisor to Crowley, assist in onboarding significant new business, and will continue to work with many of Pershing's most significant client relationships," the Pershing release states.
"Dolly will continue to represent Pershing and BNY Mellon within the financial services industry throughout this period."
That includes the firm's annual INSITE conference that will be held June 12-14 in Phoenix, Ariz. for the first time this year. Dolly, Crowley and Scharf are all listed as speakers.
---
---
Mentioned in this article:
---
---
---