Bill Capuzzi: We're entering a wealth management pricing war … [and] firms are realizing legacy custodians can't deliver … [what] they need to remain profitable.
Brooke's Note: Finally we have an electric new era in RIA custody and clearing. Here come players like Apex, DriveWealth, E*Trade and Interactive Brokers (an RIABiz custody profile of IB is in the works that is very interesting) with a very technology-forward mindset. But it's a little like Tesla coming along and trying to take on Ford and Chevy -- never mind Toyota and BMW. It's hard to enter a scale business where technology is only part of the quadratic equation -- and maybe not the most telling variable. But as this latest article on Apex shows, inevitable setbacks and hurdles are not discouraging the advance. And what is interesting is how readily Apex seems to lure talent, yet again, from big players like Pershing (with ownership as one inducement). It inclined us to give it all a new look to see if (ex-Pershing) Bill Capuzzi can do better than an embattled Elon Musk.
As Apex enters its seventh year, its claim to start-up stardom is wearing thin, but the potential size of its target market and the continuing trend toward digital assets are outweighing recent setbacks--evidenced by yet another big Pershing poach.
CEO Bill Capuzzi is soldiering on following the loss last October of zero-fee discount broker, Robinhood, it's largest client. The parting lacked sweet sorrow. Robinhood dissed Apex's software as it headed out the door after developing its own in-house clearing software.
Wealthfront, which manages $13.5 billion, ditched the custodian in May 2017. See: Wealthfront adds staggering $1 billion to its robo-bank in two months, but critics say it's treading the line, again, on possible conflicts of interest.
If Apex continues to lose its top clients, it risks being seen as a technology-forward custodian that successful firms outgrow, an industry observer says.
But these weren't losses, Capuzzi counters.
Apex gave these firms a leg-up, without which they couldn't have gone solo, making their departures proof of a happy childhood, he says. "We don't worry about it." See: Wealthfront nixes Apex Clearing and explains it as step in ridding 'semi-manual processes and disjointed systems'.
Indeed, Apex can live without the revenues, says a source close to the company. "Apex had anticipated this decision for a while, and was planning for it ..."
Chasing tradition
Even so, the setbacks have called into question a key part of the Apex story--the rise of the robo-advisor. The trend is expected to grow, but still lacks believers.
"Robo-assets are insignificant in the scheme of the financial world. The money is in being the custodian for non-robo assets," says a source, who prefers to remain anonymous in order to speak freely, See: How many RIAs are there? No, seriously, how many?
Capuzzi appears to get it. He plans to extend the reach of his Dallas, Texas-based firm beyond robos.
Apex is now chasing banks, traditional RIAs and financial technology firms that are searching for ultra-cheap, fast clearing services, but with the promise that it is all watched over by some very familiar faces.
Lucille Mayer, the latest Pershing poach, acknowledges that humans will always be necessary, but says automation is fast becoming a prerequisite. Mayer joins Apex as the new chief operating officer. She was long a top overseer of Pershing's attempts to modernize. See: Apex Clearing adds Ron Fiske to its Pershing mafia as it plays bigger for emerging asset class -- RIA digital.
Her outlook is backed by a 2017 PriceWaterhouseCoopers report that predicted global assets under management (AUM) will almost double in size by 2025, from $84.9 trillion in 2016 to $111.2 trillion by 2020, and then $145.4 trillion by 2025.
"About $200 billion was invested on robo-platforms in 2017. That will grow to $16 trillion, representing 11% of global assets, [by 2025]," she says.
Apex's other recent star hire, chief marketing officer, Hannah Grove, affirms that Apex has the goods to sell. "Conventional custody and clearing isn't very exciting, but Apex [has] ... a great story to tell," she says, via email.
"We have an edge," Capuzzi claims.
He says traditional and digital firms are all, in essence, becoming digital, and Apex's software will dictate where assets reside, See: Betterment (and RBC) rush to exploit a fissure that opened between Dimensional Fund Advisors and the asset custodians who serve its 3,000-plus RIAs.
Tech smarts
Indeed, ever since Apex rose from the ashes of Penson Worldwide in 2012, Capuzzi's firm has built its brand on taking control of the technical issues. It had niftier, faster APIs for firms to use that, for instance, cut account opening times to seconds. See: With robo-advisors on the rise, robo custodian Apex is rising with them, a diamond mined from the rubble of the Penson Worldwide debacle.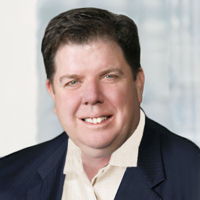 This was enough to capture Betterment, which manages $16.3 billion; Stash Investments ($700 million); Ally Financial Group's robo, Ally Invest ($4.7 billion); as well as tiny start-ups, like the robo-hedgefund Titan Invest ($25 million). See: As the 'finance Snapchat,' Stash rakes in another $40 million of VC funding as it onboards at rate of 1,000 new 'HENRY' investors every business day.
Capuzzi says the prototypical RIA that custodies with Apex has "billions in assets under management ... [wants] efficiencies and ... a specific solution to optimize small accounts [sub $250,000]."
Whether that advantage still exists is a matter of debate among industry observers.
"The reason Apex was able to get early robos was tied to ... well-formed APIs ... [and] disruptive companies with no assets [got] some love from Apex," the source adds.
"Now that the big guys have some APIs, it's likely that the banks et al. might just stay put."
Muscling in
BNY Mellon's Pershing is still the 800-pound gorilla in the clearing market. The most recent RIA figure for Pershing Advisor Solutions is $615 billion, as of March 2018; the last count from Apex was $30 billion, from Nov. 2017, which presumably included Robinhood. See: The old trick of new math Pershing used to make its RIA assets in custody soar from $200 billion to $615 billion in one year
Apex has been able to market against the industry Goliath by positioning itself as more nimble and more technologically advanced. But Pershing's not sitting back, says Christina Townsend, director and head of platform strategy for the Jersey City, N.J.-based custodian, via email.
"With several high profile digital advisor clients and three deeply integrated vendors, as well as our own proprietary digital advice offering, we are committed," she explains.
She points to the growing adoption by Pershing RIAs of capabilities like e-signature -- up 100% in 12 months; and API development -- up by eight to a total of 22 RIAs. See: BNY Mellon's new CEO is an RIA fan, and Pershing Advisor Solutions made a big personnel move to reflect it.
But Gregg O'Gara, senior research analyst for Boston-based consultancy the Aite Group, thinks Apex's technology still has an edge because it has invested heavily in areas neglected by other firms, according to a report he authored, titled "RIA Custody: Technology, Innovation, and Strategic Direction."
The report explored the technology and platform development by key custodial providers Fidelity, BNY Mellon Pershing, Royal Bank of Canada, and TD Ameritrade and contrasted them with upstarts, including Apex Clearing, DriveWealth and Folio Investing.
Of Apex, the report stated, it's APIs are top-notch; its ACATs processing is super-fast; and its services are highly customizable. See: Quovo is developing an ACATS rooter process with Apex Clearing as first to sign on
No Fear
Capuzzi doesn't fear the industry giants. He believes market trends, notably the race to zero, will marginalize them as they hold tight to legacy retail and wholesale clients -- as the storm of change approaches from the West.
"We're entering a wealth management pricing war … [and] firms are realizing legacy custodians can't deliver … [what] they need to remain profitable," he says.
"Many of the big custodians [also] have embedded conflicts of interest -- sometimes competing head-to-head for retail investors … We don't compete with [advisors]," he adds.
Apex is a custodian, a clearing firm and a broker-dealer. Part of its appeal -- at least for robo-advisors whose ultra-thin margins mean every penny has to count -- has long been its willingness to undercut bigger players like Fidelity. See: Thoughts on 'robo-advisors' served cold, compliments of Kitces and Waymire.
Pershing mafia
The company's new executive line-up suggests it has no problem attracting top talent, despite its setbacks.
Grove was Merrill Lynch's CMO between 1999 and 2005. She held the same title at alternatives vendor iCapital.
Before that she was with Fidelity, where she worked in a product management role; and she helped found Financial Advisor Magazine's Private Wealth magazine. Her mandate, according to a release, includes marketing, [media] insights, and digital strategy.
Mayer joined Apex to return to her start-up roots, as well as dodge a slow retirement. But she has also seen enough behind the curtain to believe she will win with Apex longer term.
"Quite honestly I'm excited and energized by the [Apex] model," she says.
Mayer joined Pershing in 1991, twelve years before it became a BNY subsidiary, back when it was just "a small firm with a unique culture."
Now, Mayer is responsible for overseeing Apex's operations, legal and compliance systems, and keeping its product development and technology teams in sync.
"Since the beginning, Apex has been at the vanguard of digital wealth, and that remains the case," Mayer explains.
Notably, Mayer's hire also adds to the Pershing mafia in the Apex C-suite.
Capuzzi himself was a Pershing director between 1999 and 2006. In 2017, he appointed Ron Fiske, who held a similar role between 2000 and 2008, as his head of retail.. See: Apex Clearing adds Ron Fiske to its Pershing mafia as it plays bigger for emerging asset class -- RIA digital.
According to Apex's BrokerCheck report, Mayer joins Capuzzi and chief financial officer William Brennan as a new minority shareholders in the firm. Grove, chief technology officer Chris Fesler and chief people officer Raluca Marrin, have no equity stakes.
---
---
---
---