Dan Arnold: I want to highlight our ongoing efforts to transform our culture.
Brooke's Note: Dan Arnold needs to be an expert juggler. As CEO of a public company shareholders come first but the customer comes first, too, and that is the financial advisor, and, oh yeah the investor comes first because FINRA and the SEC say it's so. When the LPL CEO took over, he had a fourth challenge that only touched on all that -- finding a way to make the IBD model not only sustainable. He had to make no-brand broker-dealing back into a hot growth business. It seems to be happening ahead of schedule if the share surge is any indication. The two tailwinds are the DOL rule's dissolution and a hot stock market. But the bigger thing for LPL is playing on a natural advantage -- lots and lots of human beings who know how to talk to investors. The trick then is to keep them competitive and feeling relevant. Arnold's embrace of new software, better recruiting methods, new (lower) ETF prices and a new attitude (in part by firing the old attitude) seems to be working. It also seems to be postponing the day we might have imagined would bring the extinction of the independent broker-dealer model.
Dan Arnold unloaded a pile of good news on Wall Street. The analysts heard loud and clear--LPL Financial shares (LPLA) had one of the best days in the company's history -- rising by $9.51 to $83.60 on Friday (May 3) -- adding nearly $1 billion to market capitalization to just under $7 billion.
Shares are holding their own today (May 6) amid a sharp selloff fueled by President Trump's threat to impose new tariffs on China. LPLA was trading at $83.09, down 51 cents or 0.61% at mid-morning. The Nasdaq, on which it trades, is off just over 1%.
Analysts currently have a consensus price target on the stock of $83.43, with a range between $70 and $95 a share. The 52-week range is $52.03 and $85.00.
The LPL president and CEO spoke to analysts on Friday in a webcast. The good news: Earnings per share increased 77% year-over-year to $1.79 and net income increased 66% year-over-year to $155 million.
Those earnings mean that even after the micro-burst in share price, the stock still sports a modest price-to-earnings ratio of less than 15.
Analysts, who joined the call hoping to be reassured the good times would keep rolling, heard what they wanted.
Earnings have room to run. Better yet, the embattled independent broker-dealer business model is pulling a Lazarus act by leveraging the power of 16,000 advisors to make investment managers absorb fee compression.
"In partnership with sponsors, later this year, we plan to reduce transaction charges on select ETFs from $9 to $5, which will provide advisors with simpler and lower advisory pricing for their clients," Arnold said. "Financially, this offering will be roughly neutral for us, as we earn sponsor revenue from ETF manufacturers in place of transaction revenue."
Winning the battle
LPL has yet to disclose which ETF manufacturers will pay up to get its prime shelf space to replace the revenue loss of the planned 40% price chop.
Another concern for Wall Street is whether an IBD can still win new assets in the cutthroat battles for reps -- both against fellow broker-dealers and RIA custodians.
LPL hit the wall a couple years ago and cleaned house in its recruiting ranks -- including bidding farewell to long-time recruiting overseer, Bill Morrissey. See: As era ends, Bill Morrissey steps down to make way for younger exec who leaves job as UBS's digital guru
But again, Arnold delivered more of a "hell-yes" than a "yes" with hard performance results. He also outlined LPL's winning process that should continue to improve.
"We had a little over $7 billion in recruited AUM in the first quarter," he said. "And, if you actually look back over the trailing 12 months, we had a little over $30 billion in recruited AUM. It's the first time we've ever had that."
What Arnold relates is that his earlier eyebrow-raising claim that a process built on fat checks and gumshoe sales could be 'digitized' under Morrissey replacement, Rich Steinmeier. See: LPL Financial hires new 'digital' head of recruiting -- IBM exec Scott Posner -- after the old school approach was leaking oil
"And so I think you begin to sort of peel that back and go, hey, what's happening there, why do you think you're having success there?" he said.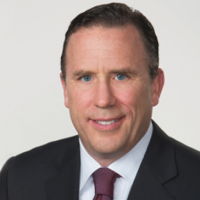 There's a couple of things, whether it be new sales processes and structures, new ways of which to use data and digital to better target the marketplace for opportunities," he said.
Cash incentives
Part of the restructuring in recruiting involves allocating cash incentives where they work best. "We aligned our transition assistance with financial returns," Arnold said.
Meanwhile, Arnold says his firm's ability to retain brokers is improved by a new approach to service.
"We're working to transform our service model by moving from a traditional call center to a customer care approach," he says.
He adds: "I want to highlight our ongoing efforts to transform our culture, which is instrumental to executing our strategy."
One analyst wanted to know how LPL is faring in earning revenues as an asset manager itself -- an area of bleeding. " I was just wondering what was driving the slowdown? And what sort of actions could you take to re-ccelerate that growth?" the analyst asked.
"First of all, we believe the centrally managed solutions deliver meaningful value for our advisors and their clients," he replied.
"We've increased the investment in that area over the last couple of years, and you've seen actually movement from outflows to inflows on our centrally managed platform, which is certainly encouraging.
"In fact, in the last year, centrally managed platforms made up about 30% of our net new assets in advisory, which Q1 actually wasn't far off from that overall... level of performance."
IFP exposure
Analyst, Bill Katz of CitiGroup, dragged Arnold back to hard facts. He wanted to know about the potential debacle of having tens of billions of dollars in IFP AUM walk out the door. See: LPL Financial pulls pricing lever after Bill Hamm moves to yank $12 billion and 500 advisors off the IBD's line
"Where are we in terms of the IFP exposure?" Katz asked.
Arnold framed the answer by suggesting the glass is over half full. "We'll end up retaining roughly two-thirds of the assets," Arnold said.
"If you look at the assets that IFP started with, it was about $12 billion of brokerage and advisory assets on our platform. Roughly, retaining two-thirds of those is $8 billion that will stay on our platform means roughly $4 billion will transition off.
"About $0.5 billion of that left in Q1, which means the remaining $3.5 billion will come out in Q2, probably more specifically in the May and June periods of time.
"If you look at that through slightly different metrics, perhaps on an advisor basis, we retained a little more than 50% of the advisors, which would suggest we retained on balance the more productive advisors," he explained.
"So we think, all-in, that's a pretty good outcome."

---
---
Mentioned in this article:
---
---
---