Tim Buckley is consistent about wanting to steer the Vanguard ship amid the shoals of financial advice and past the company's cultural encumbrances that veer to investor self-direction.
Brooke's Note: When it comes to the Vanguard relationship with the RIA market, it's long been a case of don't-ask, don't-tell. For decades RIAs and the $6-trillion fund giant have been great partners who only grew closer as passive investing took greater hold. But Vanguard tolerated RIAs more than it courted them. In fact it mostly just tolerated the whole idea of anybody being part of the Vanguard/investor compact other than itself and the investor. In the context of history, it makes some sense. After all, stockbrokers predominated in Vanguard's early decades. And RIAs -- still a bit of a herd of cats today -- were very much the rag-tag army of Tim Welsh description. It was all more than a patrician company of Jack Bogle nobility could stomach. Times change and Vanguard has a big, Vanguard-branded RIA and it is a big RIA custodian of those $130 billion of RIA assets. Now the Malvern, Pa. megalodon says it's poised to extend those internal capabilities externally -- something it did briefly and half-heartedly in the late 1990s to 2003. This time new CEO Tim Buckley's implicit promise is that the effort will be more wholehearted, with better service and better software than before. But can Vanguard just flip this switch? The industry hopes so. It might be the best hope, short-term, that the Big Four RIA custodians could become the Big Five.
As its cross-sell oasis runs dry, the Vanguard Group is ready to open the gates of its $130 billion Vanguard Personal Advisors Services (VPAS) to the barbarians--independent RIAs that were cast out of the castle nearly two decades ago.
The move could occur as soon as 2021, but critics say the empire will need more than cheap funds to strike back--it will have to prove it has the technology chops to compete with rivals, before RIAs will hoist the banners of its custody business.
"Hubris will be the biggest risk ... 'We're Vanguard, we got this,'" quips Steve Lockshin, CEO of $3 billion AUM, Los Angeles RIA, AdvicePeriod, and a notable financial technology investor, via email.
Vanguard got in front by being cheap, but now everyone's cheap, so it needs a grip on distribution, which is easier said than done, he adds.
Vanguard spokesman Freddy Martino says, via email, that the fund giant is "in the beginning stages of building out those [VPAS] capabilities in order to help advisors."
Signaling the move
Vanguard signaled plans to edge into the RIA custody business last July by eliminating commissions on 1,720 ETFs--including those sold by competitors like Schwab, State Street Global Advisors, BlackRock and 97 others.
The move squarely targeted the big three custody firms, and positioned Vanguard as the Amazon, or Walmart, of the financial services industry. See: Vanguard Group Makes Big Move on RIA Custody by Ending Commissions on 1,700 ETFs in Bid to Become Walmart of Financial Services
In a series of email conversations last week, Vanguard confirmed that it is adapting VPAS for the RIA market.
RIABiz contacted Charles Schwab & Co., TD Ameritrade, Pershing Advisor Solutions, BlackRock and Fidelity Investments for comment. BlackRock and Schwab have yet to reply; Pershing expressed an interest, but has not yet returned comment; both TD and Fidelity provided short statements.
TD spokesman Joseph Giannone said by email that his company, which does not have its own ETFs, lives by a guiding philosophy in serving RIAs.
"We're in the business of helping RIAs grow -- and then we stay out of their way."
Fidelity does a lot more than just offer a robo/human mash-up, says a Fidelity spokesperson, via email. "It's just one piece of … the overall value we offer ... as the largest clearing and custody provider in the market."
Advisors in cross-hairs
Vanguard abandoned RIA custody in 2003, and referred its existing RIA clients with a combined $10 billion to TD Waterhouse. At the time, Vanguard cited two reasons for dropping the business--the increasingly complex demands of advisors and a desire to focus on its "core strength" of asset management.
One RIA caught up in that 2003 transition said that Vanguard offered him another reason for its discomfort with RIAs -- their determination to do extra trades related to tax-loss harvesting.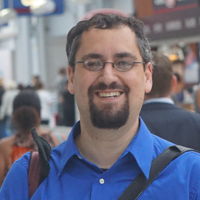 "We opened many accounts at Vanguard and considered Vanguard to be a major custodian," he said. "Vanguard decided to eliminate working directly with RIA's. We were extremely distraught by their action.
"We asked if Vanguard would consider only the continuation of sending us the transaction information for our clients' accounts and we would leave the accounts with them. They refused and we ultimately had to move all of these accounts to Fidelity.
"I know one reason for the eradication of the RIA relationship was the practice of tax loss harvesting. Many of our accounts were using dollar cost averaging using monthly purchases.
"Near the end of the year we sold off underwater individual purchases and replaced them with one (or a combination) of Vanguard's other index funds.
"This practice, which is standard in wealth management firms, was intensely disliked by Vanguard," he said.
The irony is the diaspora Vanguard turned aside nearly two decades ago has since grown into a horde with $4.3 trillion in managed assets.
But if Vanguard builds it, critics are skeptical RIAs will return. Yes, it has cheap funds, but it needs to prove itself as a top-tier software platform, they say. Vanguard also risks thinking its size and capabilities in asset management will paper over other issues, observers add.
Other analysts say Vanguard is building a white elephant that "won't cut the mustard" because its technology is shoddy and won't help advisors "one bit." It's clutching at straws, late to the game and increasingly desperate, they say.
Indeed, trying to sell VPAS to advisors could prove a costly mistake, says Lex Sokolin, financial technology analyst and the co-founder of robo AdvisorEngine, via email.
"Whether Vanguard can do a compelling enough job is highly uncertain. The correct move would have been to buy a player with sufficient scale and a technology core," he adds.
Complex demands
That said, there is widespread agreement if Vanguard manages to pull a rabbit out if its hat and reinvent itself as a modern custodian, then its $5.6 trillion AUM heft guarantees it will give rivals a hell of a fight.
It makes sense for Vanguard to conscript RIAs with their long tree ladders, says Michael Kitces, founder of the Bozeman, Mont.-based XY Planning Network, and author of the popular Nerd's Eye View Blog, via email.
While VPAS has grown from $17 billion in March of 2015 to $130 billion of AUM today, easy in-house conversions are likely drying up. "The low hanging fruit has already been picked, so [Vanguard's] hoping advisors will help to re-accelerate the growth," he explains. See: Vanguard's asset machine wobbles under Abby Johnson's withering pricing assault, but Fidelity's new cost-cutting front aimed at advisors is proving more lethal for BlackRock
(It's all relative. Vanguard still hogged 50% of all fund inflows in the first quarter of 2019.) See:Vanguard shows it doesn't need lowest fees to dominate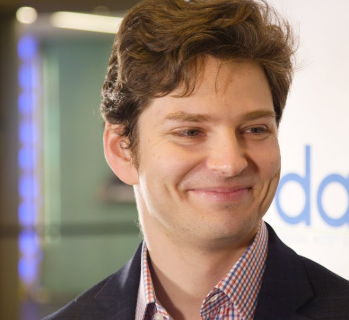 Martino declined to reveal what added capabilities his firm will roll out, but the groundwork is already laid, since Vanguard is its own RIA custodian for VPAS -- see its brochure.
Kitces says it should start by becoming a big, trusted custody vault for all.
"Vanguard has to go 'full custody competitor' to have a chance; but that's still a very hard change to get many, or any advisors to make," he says.
Whether Vanguard goes all-in, as Kitces suggests, remains to be seen, but it intends to ramp up how much it spends on advisors, according to CEO Tim Buckley.
"Expect us to invest more and more in advice," Buckley told Business Insider earlier this month. "If we can help lower the cost of advice, we'll do that. If it's not direct, we'll do it through advisors," he said.
Yet such white knight shtick hides an uncomfortable truth: Namely Vanguard knows little about the third-party advisor business -- even though tens of thousands of them use Vanguard funds to build their portfolios, says a source, who prefers to remain anonymous in order to speak candidly.
"Vanguard's been trying to figure out their advisor strategy for years," the source states. "[But it] has no advisor strategy beyond trying to get advisors of all stripes, from RIAs, BDs and wirehouses to use [its] funds."
Model move or little choice?
Kitces' assertion that Vanguard must be bold gets no argument from Greg O'Gara, senior research analyst for Boston-based consultancy the Aite Group.
What Vanguard can do as custodian that the big-four can't is sell the full menu of Vanguard funds and ETFs dirt cheap and still make money, he says.
If Vanguard makes a strong move ... It's not a great dynamic for custodians ... [and] it gives [Vanguard] another opportunity to continue the low-cost conversation," he explains.
"Advisors have had very little traction in trying to get lower-cost funds, e.g. clean shares, onto custodial platforms; it disrupts custodial economics."
Clean funds are versions of current funds with commissions stripped out. The sole fee remaining is levied by the fund manager, which means brokerages lose out on income. This effectively breaks the pay-for-play distribution model that began to replace 12b-1 fees when ETFs came on the scene in the 1990s.
This standard model sees brokerages negotiate flat-fee distribution agreements with asset managers for shelf space, and most no-transaction-fee ETF systems stock only those willing to pay-up.
If VPAS for advisors gains traction and RIAs start going straight to a Vanguard platform, then the mutual fund giant can out-compete every custodian on price by running portfolios heavy on Vanguard funds.
Now is the time for Vanguard to go for the jugular, says Sokolin.
It's won so much for so long because its mutual-like structure meant it had no profit motive, so it could scale massively and undercut rivals, but this advantage is evaporating, he explains.
"Vanguard needs advisors and consumers to choose it, but as the choice becomes increasingly bundled into wealth platforms, they may see a chance of losing ground ..."
The VPAS move defends against the Fidelitys and BlackRocks of the world, he adds.
Early warning
Kitces first predicted this Vanguard "platform" move last summer, and the XY Planning Network he co-founded mirrors -- minus custody -- the kind of service many think Vanguard wants to bring to market. A "membership" organization with 937 members, XYPN charges a flat $5,000 annual fee in exchange for software, practice management and compliance and marketing support.
In addition to custody, VPAS has a stack of both conventional and automation software for planning, model portfolios, rebalancing and customer relationship management.
Often incorrectly branded a robo-advisor, VPAS uses a mix of automated asset allocation and human-led financial planning delivered by CFPs in call-centers. Once dubbed the Personal Capital killer, VPAS also competes for market share with Schwab Intelligent Portfolios, Merrill Edge, Fidelity's AMP and Betterment, among others. Personal Capital has blossomed along with VPAS.
But unlike its clear potential economic leverage as custodian, Vanguard's technology stack may be merely mediocre -- or worse -- which makes rolling it out externally a brand risk, Kitces says.
"If Vanguard builds 'the platform' -- and no one knows exactly what [it] will be -- it's not clear anyone will come ... My worry is the technology won't cut the mustard, and that most advisors ... don't realize [it] wasn't actually the secret to Vanguard's success.
Tit for tat...
Vanguard's saber-rattling comes late but should set off alarms beyond custodians, says Will Trout, senior analyst at Celent, via email. He named Envestnet, Orion and Riskalyze as firms whose spider senses will be tingling.
"Longer-term everyone in the platform game should be worried," he adds.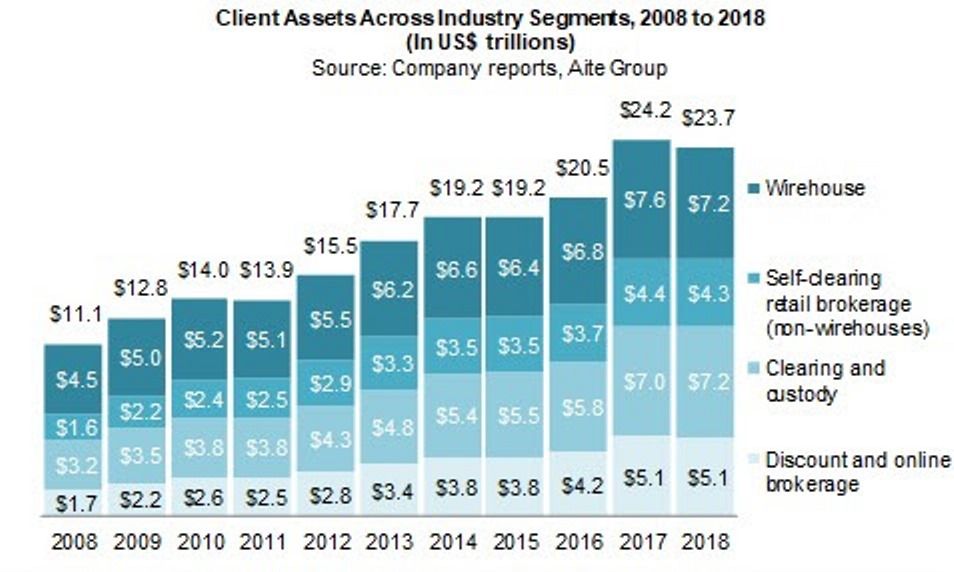 ---
"The best way to get the RIA custodians to change their business model is to change it for them by doing it yourself at scale and then compel them to match it," says Kitches.
Vanguard certainly has enough power to make custodians think twice, and it won't shy away from wielding it, says O'Gara.
Vanguard's heft is threatening to all players but the custodians without their own asset management arm have an added peril, he explains. "[Those that do] are in a better position to compete because they have more leverage over pricing and margins."
Indeed, if Vanguard goes all-in and makes a return to custody, its June no-commission platform move could turn out to be a haymaker landed by the tortoise against the hares, says Kitces.
It could quite easily make custody a bolt-on to a basis-point product like VPAS, and if it does, it can squeeze rivals, he explains. "[This] could be very disruptive to existing RIA custodians that are still hugely reliant on cash spreads to make the bulk of their profits."
Caveat emptor
Where Vanguard is lacking is quality technology; on that score it has much to prove.
---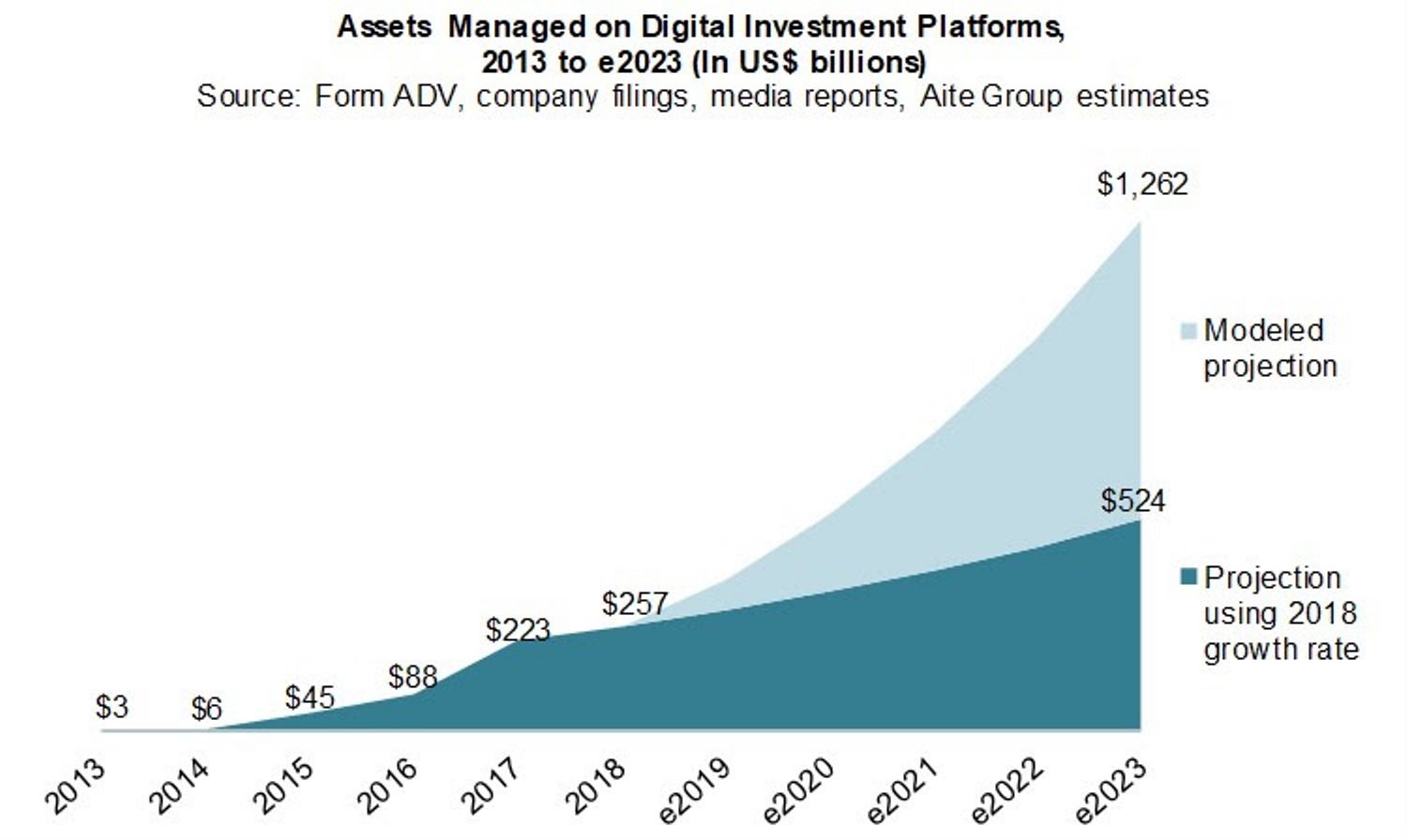 ---
"Selling VPAS technology is, to me, just the second iteration of a robo-advisor-for-advisors technology model that's already largely failed," Kitces says. "[It] doesn't exactly have a reputation for technological innovation; and even VPAS isn't a technology innovation.
"It's got some technology … [but] it's a human advisor business built on the back of Vanguard's 40-year brand." See: Vanguard set to launch geek-spirited think tank in heart of Philly as its 'robo' (that really isn't) hits $47 billion of AUM
Vanguard knows its technology is lagging, but the tide is changing, and it's starting to look outside for solutions, says Trout, who cites Vanguard's use of Yodlee as an example. "Keep in mind that Vanguard is not, nor does it aspire to be a technology shop like Fidelity."
But if Vanguard sells VPAS as a robo-themed mass-market technology platform, it will spend the next 24 months building a white elephant, Kitces shoots back.
"The problem isn't technology, it's getting the clients, and Vanguard's technology doesn't solve that … If advisors are demanding Vanguard's technology (Note: Martino suggests they are), it's only because they mistakenly believe the technology is key to client acquisition," he explains.
"If advisors don't have a pipeline to get mass affluent clients in volume in the first place, the Vanguard technology won't help them one bit."
---
---
Mentioned in this article:
Kitces.com
Consulting Firm
Top Executive: Michael Kitces
---
---
---
George Papadopoulos
I still remember how Vanguard abandoned the RIAs back then! These things sting...even after all these years! Will I trust Vanguard's tech and customer service with my own clients? Hell no! For the record: Been using primarily Vanguard ETFs at custodian TD Ameeitrade and intend to continue...for the foreseeable future. I disagree with Rick about this. Time will tell...as it always does.
Eric Sandrib
Just to be clear, the "Assets Managed by Digital Investment Platforms" graph is only referring to direct-to-consumer digital investment platforms. Thus, VPAS for advisors, Betterment for advisors, etc... would not be included in that estimate.
T Lutton
Vanguard has so many shortcomings in its technology and available information that it seems difficult to believe they can meet the needs of RIAs. Vanguard's weakness is their IT function which has not improved significantly for years. Fortunately their fund performance ,customer service and low costs have been very positive for Vanguard.
Rick Ferri
Vanguard will have no problems signing up RIAs for their custodial platform. Why? Because their clients will demand it. Any adviser who has reasonably educated clients know that those clients already have Vanguard accounts.
Rick Ferri
To clarify, RIA will continue to use Schwab, Fido, TD as their primary custodian. Vanguard will be added as a secondary custodian for new clients who are already at Vanguard and don't want to leave, and existing clients who have more money at Vanguard and want to keep it there. I agree with others the Vanguard's platform is likely to have weaknesses.
---