Ed Higham: It's not despite the employee-model, it's because of it. They see this as another channel.
LPL Financial Holdings Inc. can no longer be called a pure independent broker-dealer. Watch out Wall Street.
The largest of the independent broker-dealers just took a bold step toward making the full-service broker-dealer model a solid option for wirehouse breakaways.
The San Diego-based LPL hit the ground running -- or at least trotting -- after inking a deal to buy Allen & Company, which employs about 30 advisors and serves more than $3 billion of client assets.
The 87 year-old firm lists $988 million of AUM on its ADV. LPL declined to disclose the price but revealed the formula as being seven times "post-synergy" EBITDA, which is net earnings before subtracting interest expenses, taxes, depreciation and amortization. The deal is expected to create substantial synergies by putting a front and back office on LPL and reaping its economies of scale.
'Employee model'
"This is LPL's initial foray into the employee model, and that was one of the strategic considerations," says Ed Higham, managing director of Silver Lane Advisors, which advised the merger. Raymond James owns Silver Lane. See: Raymond James bids to be the Goldman Sachs of RIA M&A through acquistion Silver Lane -- and it might just work
"It's not despite the employee-model, it's because of it. They see this as another channel."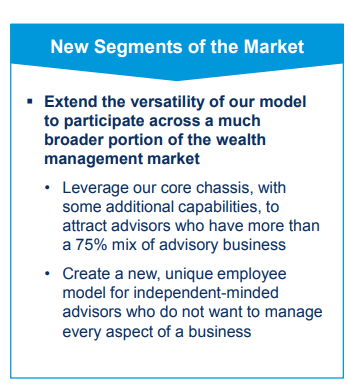 Indeed, LPL confirmed it is entering the employee channel by sending a slide show for investors that includes mention of adding the employee channel. (See second bullet point of LPL graphic.)
"We've not traditionally participated in the employee channel in the marketplace, but our thinking here has evolved," a spokesman adds. "The key, though, is that we want to preserve the principles of independence and wrap employee services around it."
Louis Diamond, principal of Diamond Consultants in New York, calls the deal "smart."
"The trend is primarily toward independence but at the end of the day, it's not for everyone," he says.
Allen is based in Lakeland, Fla. (about an hour from Tampa) and has its own broker-dealer that clears through Wells Fargo's First Clearing. LPL will bring aboard Allen & Company advisors and staff as employees and maintain Allen & Company's operations and brand. Allen client assets will migrate to LPL custody and clearing from Wells.
That said, LPL can likely take the DNA from this local acquisition and clone it more broadly, Diamond says.
"LPL thinks on a national scale so it's likely the blueprint or template to deploy in other markets," he explains. "For LPL, $3 billion of assets is nothing so clearly there's a strategic angle." See: LPL Financial shares zoom to all-time high of $77, after new CEO lets brokers sell like hell, and RIA custody and OSJ contracts achieve new balance
Nod to strategy
Dan Arnold, LPL Financial president and CEO mentions strategy in his press release remarks.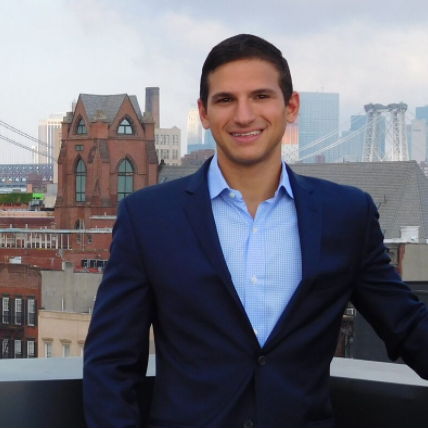 "We are focused on M&A opportunities that align with us strategically, operationally and financially, and Allen & Company is a great fit on all fronts," he said.
Being a captive broker-dealer living under an independent broker-dealer is fine by Ralph Allen, chairman of Allen & Co., which is looking to modernize and ease into more fulsome fee-based investing.
"We are excited to use the strength of LPL's advisory and centrally managed platforms, open-architecture product offering and integrated clearing capabilities," he said in the release.
The purchase agreement was signed on May 17, and the deal is anticipated to close by the end of 2019.
The purchase agreement provides for an initial purchase price and a potential contingent payment based on the portion of Allen & Company's client assets that are merged onto LPL's platform above a specified threshold.
"We look forward to working with Allen & Company on the next phase of their growth, leveraging LPL's capabilities and platform," Arnold says.
Allen could use LPL's muscle as the basis of a hybrid RIA roll-up, Diamond says.
"Before everyone was a 1099 contractor so they didn't really have a way to acquire RIAs," he adds. "They would kill it, I think."
On his webcast with analysts on May 22, Arnold supported ther notion that LPL is ready to out-roll the RIA roll-ups.
"I would look to what we've seen with the aggregators in the RIA space as a concept where you can show a different value proposition and potentially win share and we think we can do it more robustly."
The Allen deal was announced after the stock market closed today (May 21). LPL Financial, which trades on the Nasdaq under the symbol (LPLA) closed at $83.82, up $2.06, or 2.52%, topping the Nasdaq's overall 1.08% gain.
Shares have ranged from $52.03 to $85.00 over the past 52 weeks. LPL has about 16,000 advisers using its platform and more than $675 billion in client assets.
---
---
Mentioned in this article:
---
---
---
Jesse Livermore
Dear Intrepid, Perhaps it's your timorous view of your own future that causes you comment in such a way about the " 20 something year old kid who has never... ". Remember the kids get it all. We all die and pass our legacy onto the next generation of which he is a formidable example of. Exams don't create or guarantee intelligence, business savvy, passion, innovation, etc. In fact they may even stymie by being steeped in the quagmire of yesterday's thinking. Not to say wisdom doesn't abound with age but youth and vigor trained and nurtured by sagely teachers is a powerful force for change. Read your history and start with Alexander the Great another 20 something who did little note than conquer the world by age 28. JLL
Intrepid
Why does this publication constantly portray that 20 something year old kid who has never passed a securities exam and is apparently just a headhunter as though he was some recognized industry economist? $$$ maybe?
Michael Clayton
Intrepid - Please take it back to Advisor Hub and keep your quarreling confined to Ron Edde and other IBD basement bush leaguers. Not welcome here. Thx -Readers at large
---