Sallie Krawcheck: All this nonsense about lattes and shoes is shifting the attention -- and thus the blame -- for the underlying systemic money challenges women face, to the women themselves.
Brooke's Note: One investor at a time. The advisor invited to the fancy wedding. Blissful, silver-haired couples retired to awe-inspiring views. Wall Street has tried every way to sell its services. The latest theme isn't about outcomes. It's about living the journey. Ameriprise advocates taking the child to Costa Rica because she's only 10 once. TD Ameritrade has the metrosexual man in the black beard with a never an ugly word like "budget" or "save." It was hard not to think Sallie Krawcheck's fist-shaking rant on Fastcompany.com was taking its cues from Madison Avenue: Enable spending under the guise of something nobler. In this case, it's about encouraging women to buy hot, caffeinated milkshakes to get stoked to take on a mansplaining world. I recall when advisors told people to invest young because every dollar makes a difference. Not that that was ever much fun.
Sallie Krawcheck founded an RIA with an implicit message: Women know more about how to invest money for women than any mansplaining man.
She hoisted the banner, again, in a new column on Fastcompany.com that ends with the exhortation: "Ladies, buy the f***ing latte, because I'm going to need you caffeinated when we do this thing." (We'll explain the connection between lattes and women in a minute.)
The only problem is Krawcheck, CEO and cofounder of Ellevest, a digital financial adviser for women launched in 2016, has not only failed to validate the concept behind her firm, she moved away from it in a major pivot last March.
Instead of her high-minded goal at launch to make investing "approachable and achievable for all women," she's morphed her firm into Schwab RIA that caters to high-net-worth female investors. See: Sallie Krawcheck raises fresh $33 million but only after her 'get-your-hand-off-my-leg' venture becomes Schwab RIA with classic fees and minimums and a warrants-for-AUM program.
As a result, the 82-employee NYC firm, backed by $77-million in private capital, has pulled in just $283 million in client assets, or about the AUM of a typical five-person RIA.
Now about that latte.
Mansplaining
Krawcheck's column was in response to a tweet by J.P. Morgan Chase Bank that suggested millennials could have it all if they economized on things like coffee, cab fares and dining out. But what really got her going was a new book titled, "The Latte Factor." It was written by "two self-styled experts on women and money–both middle-aged males," she sneered.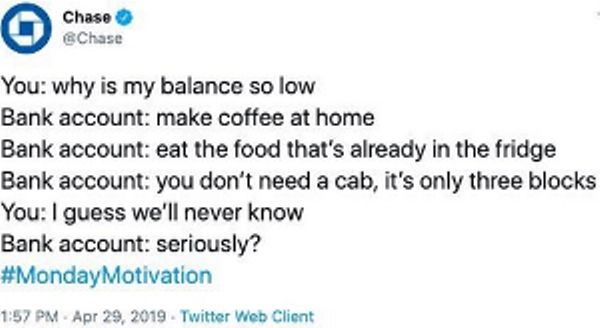 The book -- call it the parable of the latte -- features an "older male barista patiently and carefully mansplaining to a young woman about money ... The crux of this advice is the oft-used trope: 'Don't buy your daily latte ... instead invest the money and become rich,'" she summarized.
Chase played off the advice in its tweet, and sparked a backlash that Krawcheck characterized as "immediate and scathing." You may recall, the bank has been chastised for high fees and its $25 billion bailout during the 2008 financial crisis was not exactly the result of prudent investing.
Chase, she wrote, deleted the tweet, although RIABiz found it. (See left; click to enlarge).
The point, Krawcheck continues, is that the issue isn't about lattes. "It's never been about the lattes ... it's about changing the narrative ... demanding a fairer playing field ... [and] holding the companies at which we work accountable," writes the former CEO of Merrill Lynch Wealth Management and US Trust, and Citi Wealth Management.
"As Gloria Steinem has said, 'We will not solve the feminization of power until we solve the masculinity of wealth'," she adds.
Krawcheck, tore into "a long tradition of personal financial advice for women packaged into simplified, bite-sized nuggets that boil down to giving up frivolous expenses, starting with the fancy coffee."
Men waste money on ribeye steaks, six-packs, and martinis without judgement from society, she adds.
Shame inducing
"The challenge is that women keep the majority of their money in cash, thus [miss] out on the potential to earn the higher returns," she says, via email. "The issue is advice that doesn't make sense and that can be shame-inducing."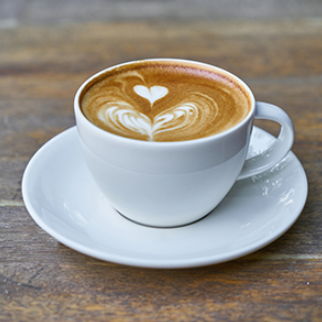 "All this nonsense about lattes and shoes is shifting the attention -- and thus the blame -- for the underlying systemic money challenges women face, to the women themselves," she writes. See: How Donald Trump jolted Sallie Krawcheck out of sexism denial, maybe, and the startlingly retro remedies she prescribes for young women
"To drive home the point that money is male, the symbol of Wall Street is a bull. A big, snorting, anatomically notable, powerful bull."
But while the bulls and bears are locked in a permanent battle for supremacy, if Krawcheck has her way, the fearless girl will soon have the animal spirits to make a killing in the market.
In the meantime, Krawcheck is sailing on a sea of VC money provided by the likes of Melinda Gates, Venus Williams; Mellody Hobson, co-founder of Ariel Investments; Theresia Gouw, leader of Aspect Ventures; Sonja Perkins, founder of Broadway Angels and Andrea Jung, former CEO of Avon Products Inc.
Now, that's one group of investors that can drink their lattes and have them, too, while she's filling the gap in asset gathering--and revenues--by charging 90-basis-points on a $1-million-minimum account and 25 basis points on a robo offering.
Incidentially, making lattes at home can save about $1000 per year, according to Spoonuniversity.com.
---
Black Diamond surges past $1 trillion high-water mark
---
Black Diamond just leaped above the $1 trillion in assets mark, a 20% increase that narrows its gap with portfolio management top dog Tamarac to $200 billion.
Of the 200 new clients the Jacksonville, Fla.-firm has bagged in the last 12 months, 65 have signed on the dotted line since January, meaning the firm has added an average of 13 clients to its books each month, the bulk of which are RIAs.
The performance reporting software arm of Windsor, Conn.-based software conglomerate SS&C Technologies spent much of 2018 rolling out a series of software upgrades -- most notably to its rebalancing system. Its growth is "directly tied" to the revamp, according to the firm.
The latest haul still falls short of Q2 2018, its most successful quarter, when the firm brought in $57 billion and 82 new clients.
But Black Diamond's recent gains also bring to $3 trillion the cumulative assets under SS&C's purview through three portfolio management software companies, Black Diamond, APX, and Axys.
Market dominance
APX, Axys and Black Diamond are part of a group of software companies that have cornered a huge swathe of the RIA market, alongside Omaha, Neb.-based Orion Advisor Technology and Seattle-based and Envestnet-owned Tamarac;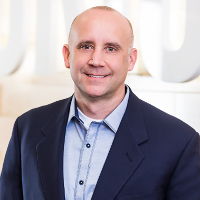 Together, they control approximately 37% of the addressable market of 17,000 RIAs.
Black Diamond has over 1,400 clients, most of which are RIAs, but its users also include IBDs, family offices and foundations. A combined total of 2,000 firms with $2 trillion under their management use APX and Axys.
Tamarac has over 1,000 RIAs on its books, managing $1.2 trillion; more than 40% of RIAs managing more than $1 billion (each) use its software. Orion administers $800 billion -- up 45% or $250 billion since Jan. 2018. It has over 1,740 RIAs on board.
The neck-in-neck race is a huge spur, says Eric Clarke, Orion Advisor Solutions' CEO, via email.
"Having them as competitors to our offering at Orion has certainly made us better," he says.
No butterflies here
Clarke was recently made the face and brand of a stack of companies, including a TAMP, as part of move to challenge Envestnet by selling everything RIAs need through one vendor -- a path Chicago-based Envestnet has, itself, long pursued.
But it's not a strategy for Black Diamond, says Steve Leivent, senior vice president for Black Diamond and Advent outsourcing services for SS&C, via email.
"We watch what our competitors are doing but they don't drive our investment decisions," he explains.
"[We will] continue to invest and innovate in our strengths, such as user experience; and to add new capabilities where they make sense, like our new rebalancer, but [work] to maintain an open ecosystem."
Instead of trying to be all things to all people, Black Diamond's strategy is to add services to its software through integration, rather than in-house development. Indeed, as of May 13. the firm has added yet another partner, after it integrated with New York City's CRM vendor Wealthbox.
"We aim to provide the best overall wealth platform ... [and] this means building alliances ... that can extend our solutions", says Robert Roley, general manager of SS&C Advent, in a release.
"Our commitment [is] to being an open platform ... [and] a complete business hub for advisors," he says.
Black Diamond can also point to such partnerships. Its tie-up with West Palm Beach, Fla.-based micro-TAMP SMArtX is a case in point.
Since SMArtX became an exclusive vendor for SS&C, its assets under management surged $954 billion -- a 657% jump -- thanks to the Black Diamond faithful. See: The exclusive deal SMArtX cinched with Black Diamond is yielding Tiffany results, and now SmartX is hiring to keep up.
---
HighTower RIA hits up $4.5B Greenwich RIA for talent
---
David Zoll and Sarah Pifer just picked up their nine figure business and jumped from a firm built on the back of ex-Merrill Lynch talent to one founded by a Bear Sterns alum -- then a war of words erupted.
A lack of resources, and a glass ceiling were reasons for their leap, they said.
Poppycock, countered Bob Matthews, CEO of Greenwich Conn.-based RIA and broker-dealer Fieldpoint Private -- Zoll and Pifer's last employer -- via email.
The firm's growing like gangbusters, he says. "Large checks have always helped advisors rationalize their departures, but one advisor's stagnation is hard to explain in a year when [Zoll's] fellow advisors grew by double digits on average."
Zoll and Pifer spent seven years at Fieldpoint, then in April the duo joined HighTower RIA Treasury Partners in New York City.
Fieldpoint manages $4.5 billion, up from $3.7 billion 12 months ago according to the firm. Its breakaway and founding in 2008 was a sensation that earned it a full feature in Fortune magazine called: The Millionaire Boy's Bank.
Richard Saperstein's Treasury manages $10.4 billion. Treasury gets its name from the principal's side business of managing bonds -- a huge boost to the firm's giant AUM.
Zoll and Pifer's move meant an instant 4% growth bump in assets for Treasury. The firm had $8 billion under its management in 2018, a sum which grew 20% to $10 billion* prior to their coming aboard.
Don't count your chickens, Matthews growls.
"These are exciting times at Fieldpoint ... [whereas] Hightower [is] David's third firm in the last ten, [and it] sold to a private-equity firm and is now reinventing its model to focus on M&A in the RIA space."
But their arrival has nothing to do with Hightower; its new CEO, Bob Oros' appointment; or any change of strategy at the NYC roll-up, since he took the reins, says Treasury's founder and chief investment officer, Saperstein, via email. Treasury is a HighTower affiliate.
Zoll, now a managing director and partner at Treasury, made his start at EF Hutton in 1983, and since then he has spent time at UBS Wealth Management, Barclays, and Fieldpoint. Pifer, associate director at Treasury, got her head as an analyst at Lehmann in 2008, and first worked with Zoll at Barclays.
Two to tango
This, as Matthews notes, is the second time that Zoll and Pifer, then Kechejian, have jumped into greener pastures.
The pair moved from Barclays Wealth to Fieldpoint Private in Jun. 2012. But Zoll has eyed Saperstein's firm admiringly for years, thanks to a relationship forged at UBS, where he spent 18 years.
Steven Feit, who manages Treasury's private wealth, corporate cash and corporate retirement services, according to his LinkedIn profile, spent 12 years at UBS between 2000 and 2012 -- his time at the wirehouse overlapped with Zoll's between 2000 and 2007. Since he joined Treasury in 2012, Feit consistently praised it in conversations with Zoll.
Both Fieldpoint and Treasury specialize in serving high-net-worth and ultra-high-net-worth clients, although Fieldpoint's MO is to be an all-in-one banking, and investment firm; whereas Treasury outsources a number of services, including tax advice, estate planning and insurance. See: Bank founded by ex-Merrill chiefs spurs RIA arm to $3 billion after hiring a former Citi chief as CEO.
Knowing what kind of firm Treasury was ahead of joining it "piqued" Zoll's interest, and "caused [he and Pifer] to make the move," he explains, via email.
But the real draw is the fact that duo's business was stagnating and its growth was stifled, owing to tight purse strings, says Zoll. See: Why some RIAs are jumping through hoops to custody assets with JPMorgan.
"We'd hit a glass ceiling at our prior firm. Though we had opportunities to grow our business, we were unable to get the resources we needed to take on more clients and still provide personalized service to our existing clients," he explains.
Absolute bunkum, snaps Matthews. "David was a prime recipient [of support], although two of his largest clients recently moved their business away from him ... [and] providing additional resources to our advisors ought to be based on their growth as balanced against any business losses."
Facts are facts, and Treasury's more than stepped up to the plate with the needed resources, says Zoll, who estimates 97% of his client assets will move with him. "[It] has the infrastructure and platform we need to scale our business … since joining, Sarah [Pifer] and I have been able to add staff, and we're looking at some new technologies to support our client service."
No hard feelings though, he adds. "I enjoyed my seven years at Fieldpoint and wish the firm well in its future endeavors."
---
A significant amount of Treasury Partners' business is corporate cash management, which, according to the firm, causes its AUM to fluctuate significantly. As a result, it rarely updates its public pronouncements on AUM, and a figure of $8 billion has been doing the rounds for several years. Now, after a large asset haul in the last 12 months, Saperstein is "comfortable saying $10 billion", according to a spokesperson.
---
---
---
Jeff Spears
Sallie should be mad - I'm mad too! But I hope she can pivot her anger and the admiration of her colleagues at ALL of the firms she ran and parlay that into further AUM and client growth
Jesse Morehouse
Question Did the Fieldpoint jumpers make the move to TP/HighTower pre or post broker protocol switcheroo?
Oisin Breen
Hi Jesse, Thanks for the question, it was pre the switcheroo. Thought about including a wee line on it, but it wasn't quite on the nose of the narrative, and these 'shorts' have a propensity to start nudging you in the ribs with a 'go on... add more detail...'