Josh Brown: The majority of conferences are staged by journalistic enterprises, custodian brokerages, professional organizations, asset management firms or software companies. This is going to have a program created by advisors
Brooke's Note: I don't know for sure whether RIA event mania is a supply-side or demand-driven economy. The supply keeps going up, but whether it drives demand or vice-versa, I don't know. What I do know is that producing a confab is a royal pain in the neck. The big pain is the daunting task of entertaining -- for two days! -- advisors with high expectations, who traveled, spent and allotted valuable time to attend. But it's also a big upfront financial outlay. In the midst of that panic and confusion steps forth a convenient and lucrative solution. Vendors are willing to fill up some of those hours for you and take much of the financial burden off your shoulders! Two birds, one stone, advisors none the wiser. Now comes Wealth/Stack. Josh Brown, known for his sneer and irreverence toward Wall Street, is embarking as a partner in this new event. We'll see what it turns out to be. When I talked to Josh he said he enjoys the process so much that getting paid is secondary. His partner Informa-owned Inside ETFs certainly is not in that camp. It's an event company. We'll see where this interesting experiment lands -- especially with pay-for-speaking slots.
"The Reformed Broker" is taking the stage in Scottsdale, Ariz., in late summer, and Josh Brown and Barry Ritholtz vow to keep sponsors from tainting their content like they do in so many other forums seeking to tap a near bottomless demand for RIA-focused events.
The New York City super bloggers are the draw and curators of an event owned by Inside ETFs, the event arm of Informa PLC, a pivot for the British event firm that hawks products to advisors to use for portfolio building.
Brown is not Wealth/Stack's architect. Instead, the idea was pitched to him by Inside ETFs. But make no mistake, this is a Ritholtz show, with Inside ETF's support, says Brown.
"[Inside ETFs] came to us with an idea to do something about financial advice and practice management tools, which is deliberately different than a fund conference," he explains.
"I don't like the characterization that Inside ETFs is 'using' me. We've partnered up because my people like being involved in curating the content for events like these and their people know how to organize and run them."
It's all about who's in the driving seat, not who books the trip, says Michael Kitces, via email, who runs his own signature conference annually for planners in his XY Planning Network.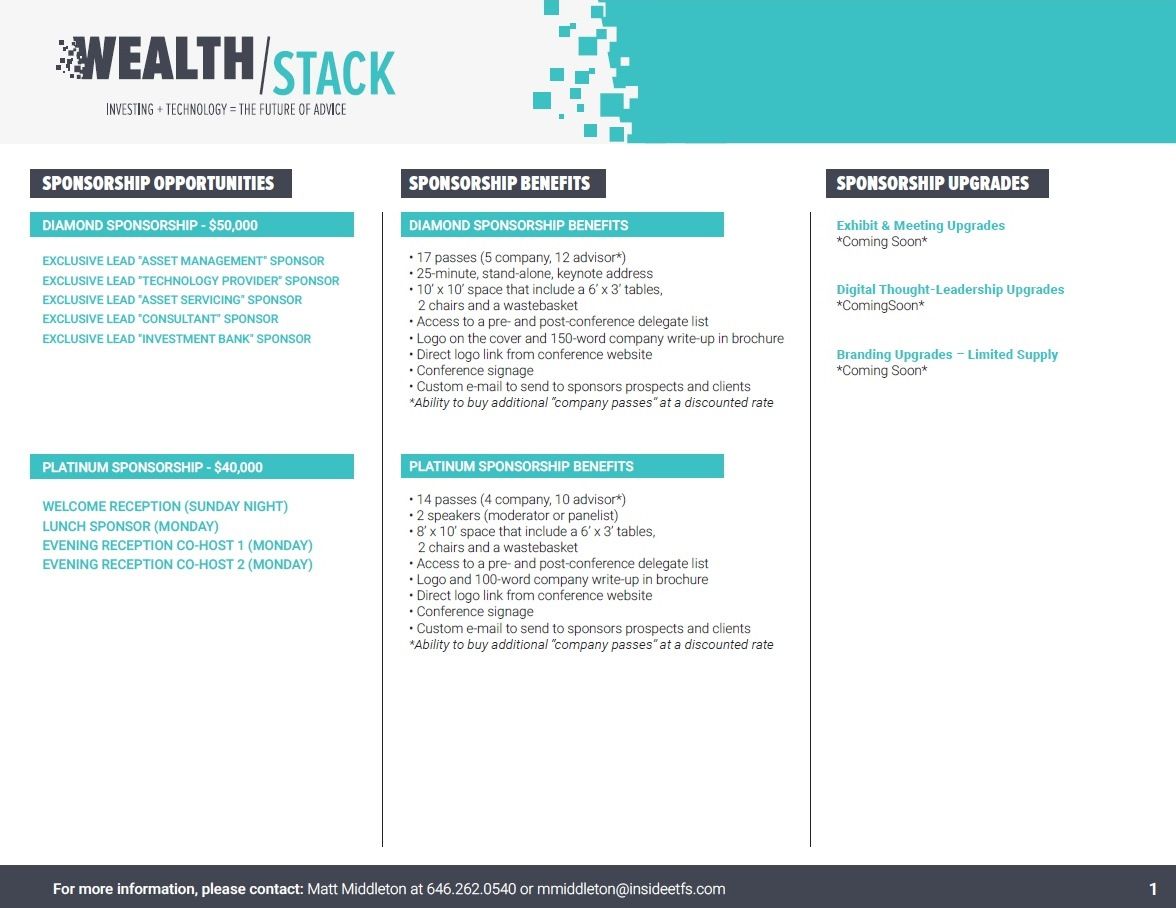 "[No conference] is literally built by and for advisors. Advisors aren't in the conference business," he explains. "What determines 'by and for advisors' is who sets the agenda, which appears to be advisors, and who the agenda is for, which [again] appears to be advisors; not who provides the event infrastructure," he says.
It's unlikely Inside ETFs will turn Wealth/Stack into an exercise in sponsor-driven product pushing, because it's realized that such practices are increasingly unsustainable, says Joseph Anthony, president for financial services at Philadelphia PR firm GregoryFCA, via email.
"Too many events have seen the balance thrown off as sponsors, exhibitors and vendors begin to significantly outnumber the desired target market," he explains.
"Inside ETFs, in particular, recognized this and pivoted significantly ... with the hope that it will pay off with more advisor interest in future years. Because of that, [they've] had technology firms like Orion exhibiting for the first time."
Despite Anthony's analysis, the initial promotional material for Wealth/Stack reveals sponsors retain a significant influence, according to a copy obtained by RIABiz.
The top "diamond" sponsorship package costs $50,000, and guarantees a 25-minute stand-alone keynote address; access to the delegate list and the ability to directly market to prospects, via email.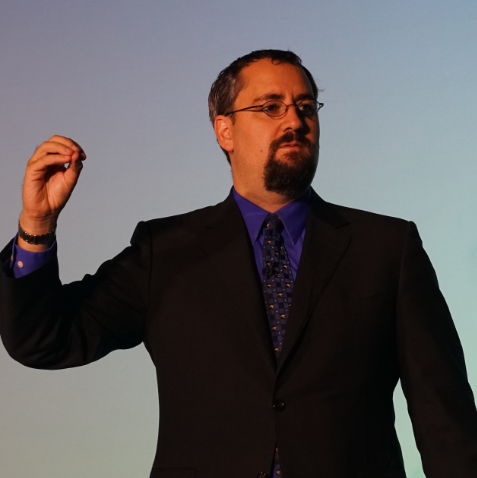 The "platinum" package guarantees 2 speakers, as moderator or panelist; and the same access. The cheapest sponsorship, at $12,500, provides access to the delegate list, but no speakers, or marketing option.
Wealth/Stack is not pay-to-play, though sponsors can pay to speak and participate as moderators or panelists, Brown says through Informa's PR team.
"Wealth/Stack is not to a pay-to-play event, but like most conferences, will have sponsorship opportunities in addition to opportunities to speak and contribute that are not sponsorship-related. We are looking forward to an innovative event that will be of great value to advisors."
Conference collision
But Brown's conference will have at least one strike against it right out of the box. Through a planning oversight, it will overlap with Kitces' signature conference, XYPN Live 2019 in St. Louis from Sept. 8 to Sept.11.
Wealth/Stack will be held between Sept. 8 and Sept. 10 in the Scottsdale Plaza Resort, in Scottsdale, Ariz.
The conflict is an "unfortunate" turn of events, Kitces says.
"The worst problem with Wealth/Stack is simply that it conflicts head-to-head with the FinTech event we run ... So while there are very few conferences in the space, and room for more, I wouldn't have advocated putting two of the only events that do exist head-to-head."
It's doubly disappointing for Wealth/Stack, since the plan was to have Michael very much involved, says Brown, who is at pains to emphasize this clash is an organizational mistake. "I'd have had Michael speak as a keynote, if we weren't overlapping," he says.
"He's the most well informed advisor in the industry, and we'll not be overlapping [again.]"
Created by advisors
Though RIA-related events litter the calendar, they have left the door wide open by leaving RIAs out of program creation, says Brown. His own RIA manages $840 million in assets, and he boasts a million-strong social media following. See: Reformed Broker RIA makes hire to turn his $825-million-AUM firm into a blog incubator with a not-unneeded feminine touch
"The majority of conferences are staged by journalistic enterprises, custodian brokerages, professional organizations, asset management firms or software companies," he says. "This is going to have a program created by advisors ... [and] we think there's a big appetite in the RIA community for peer-to-peer learning and sharing."
Indeed, InvestmentNews, acquired last August by by London-based Vitesse Media PLC, an events focused company, just dramatically expanded its events footprint.
The firm, which has since changed its name to Bonhill Group, just paid $10.6 million for The Last Word, owner of Portfolio Advisor and Expert Investor, and host of a combined 86 live events in 2018. See: How InvestmentNews may become nucleus of U.S.-based roll-up if UK investment banker succeeds with 'wild swim' across Atlantic to purchase it
There's definitely demand for RIA events, but revenues are always a consideration, says Joel Bruckenstein, founder and principal of the T3 conferences, the current top-dog of financial technology events, via email.
"There's always innovation going on [in this space], and money management firms have [the] budgets for conference promotions," he says.
Sponsor pressure
By cutting Brown and Ritholtz in on its revenues, Inside ETFs can can hit a home run, but only if they "ignore the pressure from sponsors," says Anthony.
"[Advisors are] tired of watching financial technology product issuers, or economists from asset managers expound. The market's hungry for something new, [and] advisors want to be at the center of the show."
"[If It can] capitalize on the resonance that Ritholtz Wealth -- particularly Josh and Barry -- have with other advisors [and] if they can wrangle a significant audience, sponsors will pay up for access," Anthony says.
Brown and Inside ETFs both declined to disclose how much sponsors or attendees will pay for the event. Inside ETFs expects as many as 500 to attend.
But if a recent ETF event is any indication, advisors paid $395 and vendor packages started around $4,995, according to a Last Word price list. Sources say that a Josh Brown-packaged event may even command more.
But the event will be worth the cost of admission, he explains.
Wealth/Stack will "showcase some of the technologies and methods that advisors are using to run efficient practices and stay abreast of the newest developments ... skew[ing] more toward investment and money management oriented content."
"[Wealth/Stack will] explore the intersection of technology, investment management, and portfolio construction with the advisor at the heart of it," he adds.
Tech tools
Conferences that focus very specifically on the tools advisors use are in short supply, says Kitces. "For actual advisor tech, there really isn't much."
At present, the most prominent are T3; Kitces' XYPN Live and its fin-tech competition for start-ups and the Source Media-organized In|Vest conference.
Brown is eyeing a wide focus. His event will include "software, products, services, ideas, techniques addressing portfolio management, performance reporting, account opening, CRM, security selection, communicating with coworkers or clients, compliance, planning etc etc.," he says.
Wealth/Stack also promises to address the head-nodding tedium of spending seven hours listening to one speaker after another, however insightful they may be.
To do so, Brown plans to switch up event formats to keep the audience's attention.
He plans, for example, to mix traditional key-note speakers with more left-of-field events, including reverse panels, where panelists grill the audience in a shout-out Q&A.
It will come, says Brown. "We haven't released a draft agenda yet, so there isn't any information about the program out there yet. We'll be announcing speakers, events etc throughout the spring.
"We've lots of ideas, and we're working on them, but nothing I can discuss yet because it's still early ... we want to put the strongest program on the stage that we possibly can so people go home saying they've learned new things, met new people and want to come back."
The real deal?
The idea that Wealth/Stack is going to blow the top off financial technology conferences by being by-and-for advisors is somewhat overstated, says conference rival Bruckenstein. See: T3, held in two-cow town, churns out big news -- much of it about Apprise Labs, RightCapital debuts-- as industry shifts to planning from portfolio management.
Brown's not wrong to say most conferences aren't advisor-driven, but T3 is, and has been for years, Bruckenstein explains. "I was an advisor and so was my former partner when we started T3."
But even Bruckenstein's T3 suffers from sponsor domination, says Anthony. "If you ask sponsors and exhibitors at T3 ... they'd all want to have a larger advisor presence at their event[s] [and the] same goes for InsideETFs [and] Morningstar," he explains.
"Morningstar has strong representation from advisors, but the ratio of people there as promoters of products [and] services is higher than ever … There's no doubt useful content for advisers being delivered, but the balance has been thrown off."
The pairing of Brown and Inside ETFs therefore gives Wealth/Stack the best of both worlds, says Swolfs. "Josh and team are obviously great at providing unique insight and content … [and] Wealth/Stack will take a measured approach to sponsored content."
"We will see soon how different [Wealth/Stack] is," says Bruckenstein. "I respect the firm[s], and I wish them well.
---
Related Moves
January 12, 2022 – 3:13 AM
---
---
---
Mentioned in this article:
Kitces.com
Consulting Firm
Top Executive: Michael Kitces
---
---
---
Don Friedman
As the COO of <a href="http://ETF.com" rel="nofollow">ETF.com</a>, I was tasked with creating and running Inside ETFs (I hired John Swolfs) from 2007 - 2014. For the last 5 years I've been running a company (JV Events Group) which produces events for allocators ONLY (i.e. financial advisors, family offices, etc.). Additionally, we've invested in every asset class for any event we've produced. We are the definition of putting our money where our mouth is. For those interested in learning more you can visit <a href="http://www.JVEventsGroup.com" rel="nofollow">www.JVEventsGroup.com</a>
Jesse Livermore
"Through a planning oversight..." :D
Confused
Why would an advisor pay $20-50k to stand on a stage and lecture other financial advisors as to what they're doing wrong? This event comes off as the most ego-driven spectacle I've ever witnessed.
Don Friedman
LOL. I can't speak for their event, but I think their model is that the product manufacturers pay the freight to speak on stage, not the advisors. Don't quote me on that, but that would be my guess. If you're right though, I agree with you.
Realist
Scheduling this event opposite the Kitces conference (a mainstay) shows either the blind arrogance of Josh Brown, or his complete ineptitude.
Don Friedman
I always enjoy being in Arizona in early September when it's 110 degrees...
Sun Devil
Yeah but you'll be inside an air-conditioned conference room listening to Downtown Brown brag about himself on stage for an hour.
Bob
March 27, 2019 — 11:39 PM
Ritholtz is a complete fraud and Josh Brown is a poor man's version of the Fyre Fest guy
Jesse Livermore
March 28, 2019 — 11:41 PM
Brown .vs. Kitces. I'm shorting Brown. Could be another 1929 for me :) JLL
Chuck
That's a no-brainer Jesse. How's Joshy gonna go on stage and spin the fact that you can go on Schwab and pay $300/yr and get the same thing he & his minions are charging 1.5% for?