Bob Edmonds and Bob Curtis proudly teaming up sent tremors through the competorati.
Brooke's Note: Graham Thomas ventured to Denton, Texas so you wouldn't have to -- or if you did, to compare notes. These T3 events come fast and furiously, but so does the pace of change. That means things are typically popping and the Interstate 35 version of the conference, north of Dallas, was no different. Remember when the arms race in RIA software involved investment-performance reporting and accounting? Black Diamond, Orion and Tamarac were the protagonists in the land grab. But now the scene shifts to financial planning, where value was supposed to be added in the first place. Right now, the news is less about winners and losers and more about new contestants at the starting line, like Apprise and Right Capital. They're joined by old players like Advicent and MoneyGuidePro, which are raising their games.
The annual T3 Advisor Conference didn't have the distraction of bright lights and big city attractions this year at the Denton Convention Center in Denton, Texas, (pop. 136,000), so industry hotshots like Kunal Kapoor, Edmond Walters, Adam Antoniades and Oleg Tishkevich brought their own fireworks.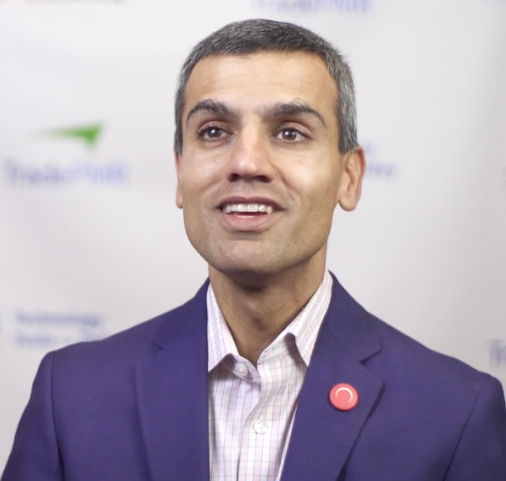 For trend spotters, the overarching topic of conversation was the shift from portfolio management to financial planning. Other topics included the debate over active vs. passive portfolio management and the role of big data.
Things got granular when the conversation shifted to new technology rollouts, like Apprise and Right Capital. Cetera hawked its new software called Decipher, and Tishkevich presented his latest venture, Invent.us. New software products included AI driven InterGen Data and NaviPlan's retirement assessment software.
"I love this conference, since there is nothing like it," said Brian Hamburger, CEO of The Hamburger Law Firm and Market Counsel. "You see people really interacting, the vendors, executives. from BDs to advisors, shameless selling; its like a carnival."
Produced by Joel Bruckenstein, the conference focuses on practice management and technology for independent and hybrid financial advisors.
Software meets data
Bruckenstein provided an overview in a wide-ranging interview with Morningstar CEO Kapoor. Call it RIA software guru meets RIA data magnate.
Kapoor recalled that "advisors didn't want to talk about robos, but in a world of automation it's a fact of life."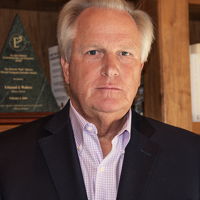 It was a warm-up to his suggestion that being a passive gatherer of data missed an opportunity to monetize a potential treasure trove. He could imagine a "world where you and client charge for access to that data, aggregated at the office level," he said.
Morningstar is the owner of a great data trove of held-away RIA accounts through its recent acquisition, ByAllAccounts. See: Why Morningstar's purchase of ByAllAccounts might be a bigger deal than its paltry $28-million price tag shows
Ownership of data is a hot button issue, maybe the single most potentially transformative of the advisor/client relationship. It will bear watching.
"The concerns I have are the data-in-motion, integration partners and who is responsible?" said Bruckenstein. "How do you know that the data is still safe?"
Kapoor countered by explaining: "As we integrate more fully, the weakness shifts to smaller partners."
"It's onerous for a startup. The way it can work is picking our partners. 'Coopetition' is a fact of life. Encourage advisors to not just buy the service, but what's behind that."
Bruckenstein then asked "What are you seeing that no one is thinking about?"
Kapoor answered: "HSAs [health savings accounts] are going to be much bigger. In five- to 10-years, they are the next 401(k), and we are starting a new HSA Database around that. Consolidation is big. Asset manager, advisor – think back to the '90s; many of the pragmatic private equity firms made their names in asset management are back doing tech and advisory."
Coming out party
Also much hyped was the coming out party for Edmond Walters' new venture, Apprise Labs, that will sell a tax and estate planning tool.
In addition to MoneyGuidepro's Bob Curtis, Walters is teaming with Jud Bergman, CEO of Envestnet. Bergman is making no bones that he covets the firm's data for pre-filling and cash-flow needs. Apprise has an interface that bring in elements of Walters' other venture, AdvisorStream, for client education.
Walters relied on his experience as an advisor before crafting the software. "I have seen it all, and when the spouse and next gen stay with the advisor, it's because they are a lifestyle planner - there for the family, not the portfolio," he said.
Michael Kitces, partner at Pinnacle Wealth and publisher of The Nerds Eye Blog noted: "I am writing an article right now that talks about the lack of planning in the high-end space, and this directly addresses that."
Walters' tech influence was also apparent on Cetera's new software called Decipher, a new facial and recognition program, with a psychometric test. Walters pushed it during his time on the board.
Big opportunity
Presented by President Adam Antoniades, the tool utilizes a series of vignettes that cover 12 life-events that align with planning. It plots your personality on a chart, describing your focus on future (possibility), past (certainty) and present (probability).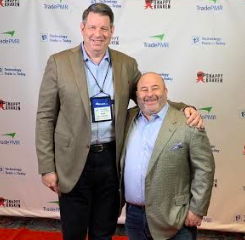 Antoniades related a story about remodeling his home for the third time in five years – lamenting that "every dollar going in is not coming out when I sell it. But Decipher captures for advisors how I think, and how my wife thinks."
Now advisors know what to talk about, and maybe more valuable, what not to discuss, he said.
Antoniodes was asked by RIABiz about Ron Carson's recent comments bashing broker-dealers, despite the fact that Carson Group affiliates have some commission business with Cetera. See: Edelman and Carson mark end of era as 'last holdouts' to dump FINRA, but are they jumping from frying pan into fire of SEC scrutiny?
"Everyone wants to talk BDs and RIAs, but it's a regulatory framework, the '33, '34, '40 Acts. But that's not what we do; we deliver advice. We don't care how, we just want to provide the best advice we can, and there are times when you use different tools," he says.
"Ron sees the big opportunity, which is the law of abundance, and he is spreading his wings as far as he can. He's going to try to eat other aggregators' lunch, but we go to market in many different ways.
"Does he put headlines out there? Yes. But we at Cetera don't want to be boxed in. We think we are in that world with Ron, Fidelity and a lot of other competitors," Antoniodes says.
Tapping the cloud
Tishkevich, founder of FinanceLogix which was bought by Envestnet in 2015, started the conference off with a presentation on his second venture called Invent.us.
Realizing broker dealers can't get to the cloud with all their encumbrances, he aims to bring the cloud to them. Oleg's new consultancy utilizes a new technology called "cloud native."
"Twenty percent of developer's time spent on customizing and maintaining APIs, and that's just becoming more-and-more challenging. Entrepreneurs want to be different – how do you create a system to satisfy not just the majority, but the absolute?"
The first BD client is already signed, Tishkevich says. The company is planning an April beta release with 14,000 users.
Tech trends
InvestmentNews Associate Publisher Mark Bruno presented the results of IN's latest technology study. It found that the average practice has eight employees, 320 million in AUM and $2.4 million in revenue.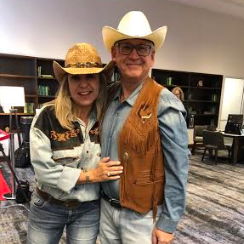 Technology spending has seen a marked uptick from $65,000 in 2013 (spending not investing) to $101,000 in 2017. "So tech is being prioritized at a higher level," he said.
The lack of financial planning software ( the adoption rate dropped from 94% to 63%?) clearly showed not all firms are moving quickly to fees and planning, according to another tech study presented by Bruckstein and Bob Veres. It examined how specific companies are performing for advisors, with more of an effort to include wirehouse advisors this year.
Most telling was the category "most valuable tech." CRM was first, followed by financial planning and portfolio management software, with Veres pointing out: "That would have been reversed five years ago."
Advyzon, Redtail and Trade PMR showed excellent ratings in their categories, while Morningstar placed high across several categories.
Bruckenstein chided the audience for the 5.6% penetration for cyber security software, stating: "Maybe you didn't get the memo, but cyber security is a threat."
Active vs. passive
Dave Lubnik of YCharts provided an interesting presentation focusing on the active/passive debate that upset some of the popular notions on indexing.
"Its almost mind-boggling, that over the last 19 years, across the five major asset classes (US equity, Intl equit, Smid, Fixed, EM), the average annual return for the active basket beat its passive benchmark.
"Survivorship bias here, perhaps, we looked at 25 largest AUM funds within an asset class that has existed for more than 20 years, and the manager tenure for at least 10 years.
"Everything you hear is going passive, but this demonstrates that if you pick the basket of the largest, that has historically outperformed, with lower volatility and lower draw down, it goes to show there is still alpha out there, if you are willing to dig into the data."
Stealing the show
Others interesting technologies were represented such as InterGen Data. It uses AI to predict upcoming client life events and how much of an impact they will have.
TD Ameritrade upped their cyber security with CleverDome, and NaviPlan launched a new client snapshot with income as the only data point. It generates a surprisingly detailed retirement assessment that includes living, leisure and healthcare expenses, solving for the inevitable question: "OK how did you come up with that?"
Advicent CEO Angela Pecoraro also noted these tools are provided at no additional cost to existing users.
Advicent literally stole the show on Thursday night with a closing night after-party featuring Vanilla Ice. The show took many of the attendee's back to their youth. InterGen Data CEO Robert Kirk showed off some nimble dance moves.
You could say they partied until... the cows came home?
Graham Thomas sells advertising for RIABiz making his many positive mentions of firms herein affected by a conflict of interest. They are in no way an endorsement of those products or a solicitation for advertising.
---
Mentioned in this article:
---
---
---