Laura Levesque: Fee pressures are considerable but defined contribution plans may pick up the slack.
Brooke's Note: One sure sign of fee compression is the expansion of acronym use. Top of that list is OCIO, which provided the investments business a rare shelter from the storm of assets running down the drain. Now just as outsourced chief investment officers are becoming known to mainstream B2B watchers as the little engine of asset-gathering that could, the hype train may need to do more to stay on track. The better news is that the value proposition still strikes a chord and can be improved -- even if it's a hard-to-define category; and harder-to-take acronyms invite their own skepticism.
For the past few years, "outsourced chief investment officers" were the category of advice that defied gravity, but 2020 may be the year they come back to earth, according to a new report from Cerulli Associates.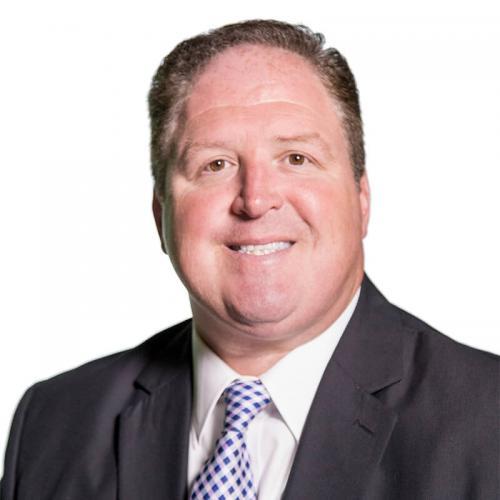 The Boston-based consultancy claims that the $1.4 trillion OCIO market -- a happy, hyped middle-ground between inflexible TAMP services and hands-off consultancies -- hit its post-froth stage before most people even knew it existed, according to the late Nov. report.
Simply put, the heady days of 20% growth are over, unless service providers get over the land grab mentality. They'll need to cut prices, get better at selling and make the product better by making it less about asset management and more about advice, the report states.
In recent years, OCIO assets under management (AUM) surged by as much as 20% year-over-year. But in 2018 this figure fell to 7.8%.
Too many cooks
The big squeeze has finally arrived, says Cerulli senior analyst Laura Levesque, via email.
"Fee pressures are considerable … [and] asset owners are becoming aware of the number of OCIO providers and the ancillary services available. They're now more likely to scrutinize the fees they're paying."
In other words, these specialized outsourced gurus -- ironically -- must trade on breadth-over-depth and at a bargain-basement prices.
Over the next four years, Cerulli expects growth will continue to slow, to about 6.2%, putting 2023 OCIO AUM at $1.9 trillion. This is a downgrade on previous Cerulli estimates of 8.1% annual growth.
The OCIO market is currently dominated by heavyweights like Mercer, Russell Investments and Aon Hewitt. But RIA outsourcing giants like SEI Investments have also shown considerable prowess getting its slice of the pie.
That said, the "unprecedented" growth SEI noted as recently as March may be a thing of the past, according to Cerulli. See: Oisin's Bits: SEI is killing it in the Mercer/Russell realm.
Buzzed to death
OCIO services became a buzzword in recent years and more than a trillion dollars has flowed into the market. But because OCIO has such a malleable meaning, the line is blurred between net new assets and semantically reconstituted buckets of assets that were there all along.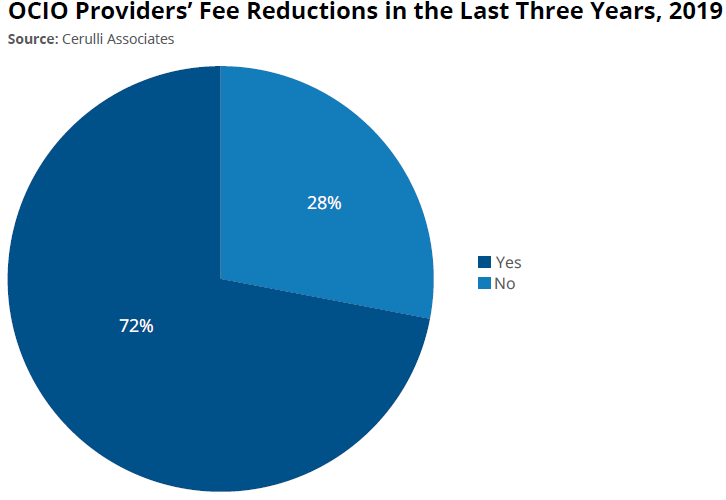 The hitherto growing allure of OCIOs is that they avoided pitfalls of off-the-rack TAMPs and hyper-customized -- but unaccountable-- consultants.
Where a consultant lets an RIA do all the driving and a TAMP takes on all aspects of a firm's asset management, an OCIO is more of a set-and-forget arrangement.
Generally OCIOs claim to manage each firm's investments on a case-by-case basis, meaning firms retain a strong say over what strategies are employed and how assets are allocated.
Yet OCIO can also encompass manager-of-manager programs, funds-of-funds and former CIOs overseeing model portfolios.
Beside being a cost-cutting replacement for a CIO, or a budget alternative for smaller firms, OCIOs also flog themselves as on-call sources for extra advice, as well as a connection to different investment opportunities.
Contrary to their name, however, OCIOs do not necessarily replace CIOs. Often they just help chief investment officers.
Fees vary widely too, ranging from 0.1% to 1% of managed assets. Some of the vendors that operate asset management arms have come under fire for profiting by allocating client assets to in-house products.
More with less
But OCIO providers can rise again. They'll just need to get outside the wheel-house of investment analysis and management, and include "new practices" for performance reporting, and the leveraging of relationships with search consultants, the report states.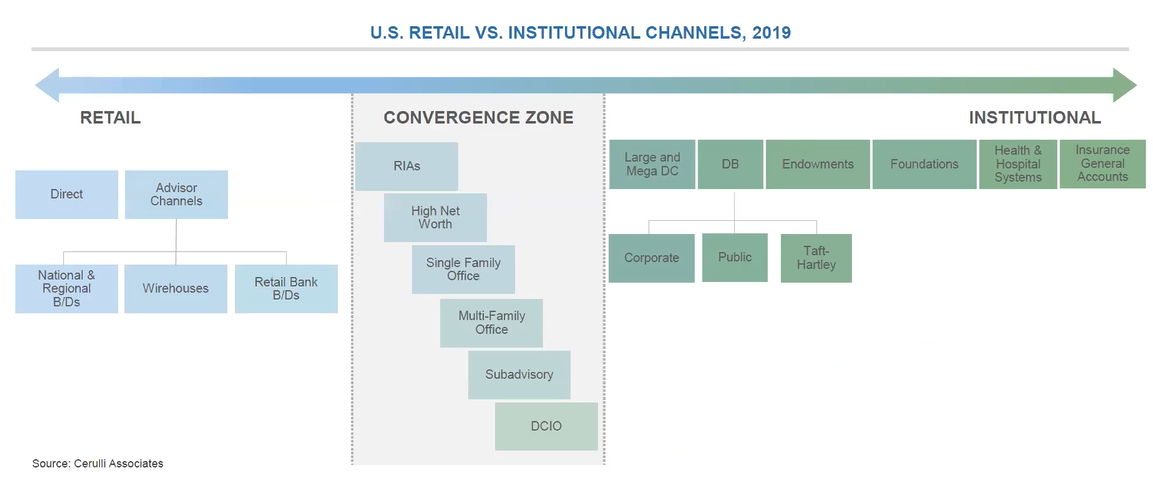 They may also have to consider overseas expansion, because the US market might not be big enough to sustain them, according to the report.
"OCIO provider's fees have benefited from a historical lack of awareness of the OCIO model ... and few providers," the report states.
But the fact that clients are aware they have many options has put downward pressure on fees. Asset owners acknowledge "the selection process must include comparison, evaluation and due diligence."
But it's not all diversify or die, says Levesque.
"While the main adopter of OCIO in the US -- corporate defined-benefit plans -- are growing AUM at a slower pace, there are many emerging client types that are likely to continue with double-digit growth in the near future, including defined-contribution plans."
"While we don't expect to see annual AUM growth rates of 20% that we saw three or four years ago, high single-digit growth is still higher than the overall expected institutional growth rates," she adds.
A sigh of relief?
Ultra-high-net-worth practices, with family offices are the most likely to use an OCIO.
RIAs are typically not big users of classic OCIO vendors. More specialized providers like St. Petersburg, Fla.-based Dynasty Financial Partners prevail.

Dynasty, New York City roll-up HighTower Advisors and Miami TAMP and UMA vendor SMArtX have all added OCIO capabilities over the years. See: The exclusive deal SMArtX cinched with Black Diamond is yielding Tiffany results, and now SmartX is hiring to keep up.
In fact, the time and energy needed for general OCIO vendors to take on the TAMPs in the wider RIA sphere just wouldn't be worth it, Levesque explains.
"The effort, resources, and expertise they would need to invest in to reach out to this additional client type would unlikely be worth the additional AUM."
Squeezed again
Because of their manager research engines, OCIOs are able to buy more exotic investments. They are big adopters (70% of the industry) of the newer products asset managers have launched to diversify, in particular ESG funds and thematic investment products.
Additionally, 77% of asset managers -- once they made inroads into the market -- posted consistent growth in OCIO sales, according to Cerulli.
But such growth comes at the cost of having to swallow yet another fee-compression pill, says Levesque.
"One way OCIO providers prove their value to their clients is to negotiate investment management fees of the underlying asset managers on the client's behalf."
Cerulli suggests that only niche RIAs will be interested in OCIOs, but lower OCIO fees will eventually lead to increasing large RIA interest, Frank Wilkinson, managing director for marketing at SEI's Institutional Group, told RIABiz in March.
"[OCIOs] provide a better overall governance structure [that] allows [for] an increased focus on [the] more strategic aspects of their role as a fiduciary, such as asset allocation."
"Some OCIOs are [also] able to negotiate better fees with managers because of the buying power of their cumulative assets under management."
---
---
Mentioned in this article:
---
---
---