Ken Fisher: The 91% portion of the firm that's growing more than makes up for the declines cited in media.
Brooke's Note: The now infamous Tiburon CEO Summit of 2019 ended exactly a month ago on October 9th, the one where Ken Fisher spoke at some length about "genitalia" and Alex Chalekian blew a whistle at high volume on his lewd remarks. The incident quickly morphed into the the RIA business's #MeToo moment as media outlets from the New York Times to the Washington Post to RIABiz covered it. See: How Ken Fisher's 'girl's pants' remarks set off an RIA-led tweet firestorm that became a slow-burn PR disaster that remains uncontained For the national media, it was a juicy billionaire comeuppance tale about a rare misstep from the carefully scripted classes. But for us in the RIA world, it was like the collection of evidence of an oft-committed offense that never gets prosecuted. [Had Chalekian not spoken up, few people doubt that we'd still be in that mode.] So we went through the exercise of jumping on Fisher's case to shame him but also as an act of self-flagellation for not acting sooner as enablers. The next act of the Fisher play was to watch with half-horrified, half-guilty pleasure as Fisher lost multi-hundred-million-dollar accounts daily. From around the United States, pensions mostly expressed shock about how Fisher's actions did not align with their values. Whatever. Now that the bleeding has largely stopped, we decided to take stock. We started with Fisher himself, who famously refused to apologize before ... he finally apologized. What was notable, after reading his recent op-ed in his local Camas, Wash. paper, is that he is starting to reel back his apology a little. He is throwing shade on the media, again, and letting us know the asset losses were a rounding error. Some of that Ken Fisher bravado may be intended to assure Fisher employees that they don't need to scan the help-wanted ads. But it's hard to escape the sense that Fisher's street smarts are telling him that the #MeToo moment he sparked is already becoming yesterday's news. We are reverting to the mean where might is right, and apologies are for wusses. Now what?
Ken Fisher has taken to measuring his stature in dollars and cents, and by those accounts, he's managed to come out ahead after his head-on collision last month with the #MeToo movement. But he's still a long way from earning back the respect of his industry.
The "intentions are good," but it's the wrong sermon when the industry doesn't really believe you're sorry, says Kirsten Plonner, New York office-lead, chief of communications, and crisis management expert for Los Angeles, Calif.-based RIA communications consultancy, FiComm.
"The industry just isn't buying it," she says.
Fisher was left fumbling for a public relations strategy following the fallout from his one-on-one "fireside chat" last month with Chip Roame at the Tiburon CEO Summit in San Francisco. He explained his business in terms that can only be described as offensive, misogynistic and objectifying of women.
Between Oct. 8 and Oct. 30, Camas, Wash.-based Fisher Investments lost at least $4 billion in institutional assets as a result of his remarks and the ensuing backlash.
But, apparently, he's decided the best defense is a good offense, even at the risk of still coming off as offensive.
Fisher spokesman John R. Dillard, released the following statement today (Nov. 8) to RIABiz:
"Ken has apologized for inappropriate words used, sexual similes and metaphors in any regard, and for offense taken by anyone whether they understood Ken's intent, which was not to offend, or whether they didn't."
"Ken has acknowledged the mistake and pledged that he will never make that mistake again. To be clear, Ken does not claim to be a 'victim' here. We simply reserve the right to correct inaccurate reporting regarding the context in which the previously-referenced inappropriate words were said."
No material difference
Now that the dust has settled, it's clear Fisher has opted for a limited hangout strategy. He's mixing partial admissions with attacks on the media and no small amount of crowing over the firm's rebound in assets.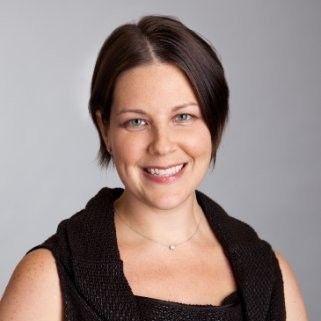 "We have more assets under management today than we did before the headlines began," Fisher writes in a column published by the Camas-Washougal Post-Record. He insists the "headline-grabbing terminations" by institutional money managers made no "material difference" to his business. See: How Ken Fisher's 'girl's pants' remarks set off an RIA-led tweet firestorm that became a slow-burn PR disaster that remains uncontained.
"The 91 percent portion of the firm that's growing more than makes up for the [US institutional] declines cited in media ... [and] some media allegations about the firm are completely false," he writes.
So let's go to the numbers. At the close of September, Fisher Investments managed $112 billion in assets. By Oct. 25 institutional withdrawals topped $3.9 billion, according to Bloomberg.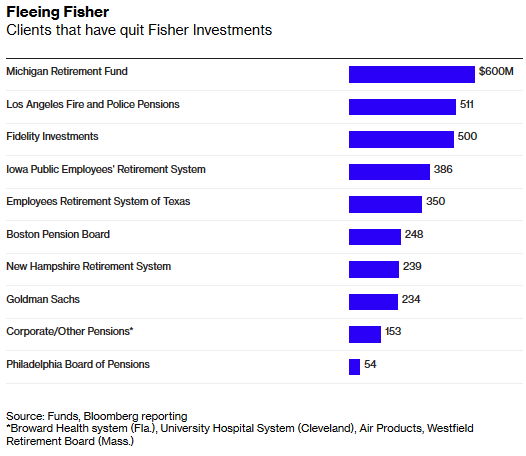 At least 10 institutions washed their hands of firm, including Boston-based Fidelity Investments, NYC's Goldman Sachs and the Michigan Retirement Fund.
Most recently, the Broward Health system in southern Florida pulled $93 million in pension and investment assets.
But the firm's AUM stood at $114 billion on the same date, according to Reuters, or $115 billion, according to Fisher Investments.
Including market appreciation of 3.28%, benchmarked against the S&P 500 (Sept. 31 to Oct. 25), Fisher Investments' assets under management (AUM) surged somewhere between $2.2 billion and $3.2 billion. See: Ken Fisher, the king of RIA marketing, fumbles for PR strategy to curb vulgar summit talk fallout as $900 million in assets walk out the door; Fidelity mulls dropping firm.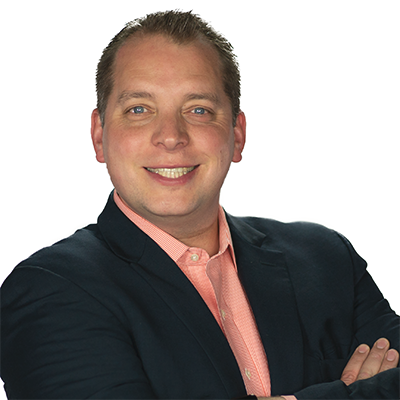 "The withdrawal of several billion dollars ... does not reflect a firm, in our instance, that has any sustainability problem. We continue growing," Fisher wrote. See: Morgan Stanley mega-producer's fate in Oregon may become #MeToo movement litmus test on Wall Street after New York Times report.
#MeToo credentials
Alongside the piece he penned for his local newspaper, Fisher just bankrolled a new female-fronted advertising campaign, spearheaded by full-page advertisements in the Wall Street Journal and the Dallas Morning News.
Titled "You Heard Their Story. Now Hear Ours," the advertisements highlight Fisher Investments #MeToo credentials as an employer, including the fact that it employs 800 women, "with women leading 63% of employees."
In his op-ed, Fisher adds that "85% of its total firm-wide employee base reports to executive vice presidents who are women, people of color and/or identify as a member of the LGBTQ community." See: Why Ken Fisher still plans to work a 60-hour week despite handing off CEO role to 'badass'
But 800 amounts to just 20% of the 4,000-plus Fisher employees. Added to that is Fisher's "we're alright Jack" asset message. Moreover, the firm's insistence that it's been mischaracterized -- and its progressive credo ignored -- has provoked renewed backlash.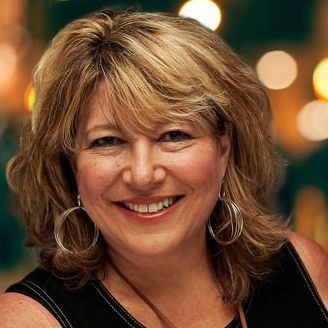 "Using women as defenders, as opposed to deploying them in proactive, positive storytelling is akin to using them as a human shield," says Joseph Anthony, partner and president for financial services at Ardmore, Pa.-based PR firm, GregoryFCA, via email.
"[The op-ed] was a real opportunity for him to be a leader, to own up and say we're going to change," says Plonner. "He didn't. It's a huge missed opportunity … He over-extended, and the apology got washed out."
"People believe that people don't change ... and the reality is that Ken made disparaging remarks against women [and] they're trying to make women speak out in favor of him. It doesn't feel authentic ... [Fisher's] not showing any change, they're saying, 'We're okay, and you don't know us, or really get us,'" she continues.
"The industry feels it's smoke and mirrors."
Context, context
That said, the fact that the op-ed was addressed to Fisher employees and the Camas community has been tossed aside as an inconvenient truth by commentators, said one public relations source, speaking on a not-for-attribution basis.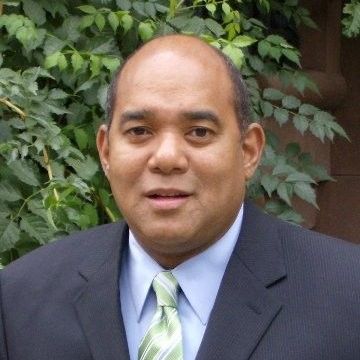 "Criticism of the letter to the community misses the context," the source states.
It was meant to counter media coverage that implied the decision of a few public pension plans posed "a material threat to Fisher Investments."
But Plonner says the message was "misguided."
Fisher has fundamentally misunderstood the situation by trying to emphasize the business case, and he's failed to realize that -- for the time being -- whoever he thinks he's talking to, everybody is listening, she explains.
"He was talking to his business, telling them don't worry, we're fine; our assets are fine; your jobs are fine; the community is okay; we're not going anywhere and everything's okay …he needed to say [to the industry at-large] I hear you and I'm sorry and we're going to make this right."
Disconnected
"[It] looks tremendously defensive ... It holds out those women at his firm as somehow being able to nullify his remarks," says April Rudin, founder and CEO of New Jersey-based media consultancy, the Rudin Group in a Nov. 1 article on ThinkAdvisor.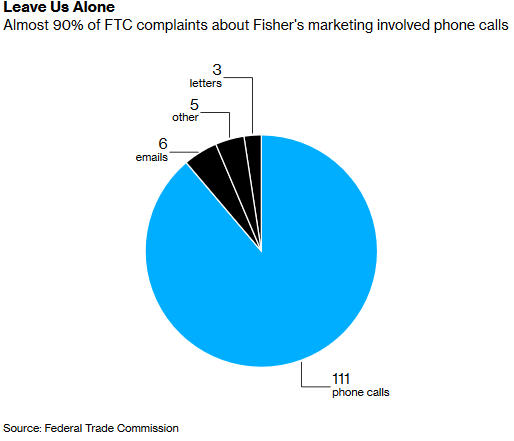 "It seems completely disconnected from the matter at hand ... [and Fisher] is digging in his heels and solidifying his reputation as someone who is unable to hear women's concerns," she adds.
Dillard, Fisher's senior vice president and director for global relations, however, lauds the intention of the ad campaign.
"Over the past few weeks, numerous women at Fisher expressed their desire to share their stories in reaction to recent, inaccurate media reports," he told Bloomberg.. "[They] were asked if they wanted to participate and were eager."
But it would seem far more sincere if a diverse array of women had been part of the Fisher message from the get-go, rather than just wheeled out as part of a 'look we're feminist' cavalry charge, says Anthony.
"If the firm had used females heavily as spokespeople and faces of the firm, there would be less institutional risk," he argues. "Use them as respected experts as much, or more than, using them in a defensive capacity." See: Sallie Krawcheck defends latte-spending after high-net-worth pivot.
From the outside it just looks like Fisher's throwing money at the problem to make it go away, rather than making any fundamental change, Plonner adds.
"The industry is saying we really think you have a situation to address, and you're not … [but] Fisher's saying 'you don't know us … so we'll let all the women speak up.'"
All women, all the time
Fisher's public relations problems have been compounded because he's been the face of his eponymous firm for so long. It's impossible to separate the two. He just can't pull a ValueJet and simply change the name of the company after a plane crash.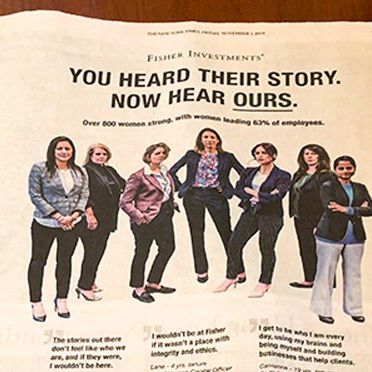 That leaves him little choice but to attempt to paper over his problems with a female-friendly advertising campaign. Fisher Investments also launched a linked website, bearing the subtitle: "Where Strong Women in Finance Deliver Excellent Results for Clients".
This landing page carries six written testimonials by six women and the recorded testimony of six more women, all of which celebrate the "empowering" culture at the firm.
It selectively parses the staffing data, says Anthony.
"[It] mention[s] 800-plus women ... [but there's] zero women on their investment policy committee," he notes.
As the saying goes, no good deed goes unpunished, and Fisher's attempt to make amends has led to even more negative publicity.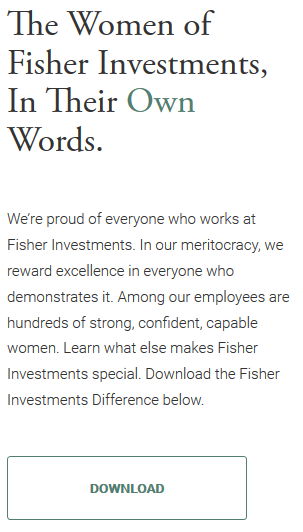 The blowup over Fisher's remarks prompted a Bloomberg report on complaints piling up before the Federal Trade Commission (FTC) over the firm's incessant and aggressive efforts to secure new business.
Marketers called homes, spammed work email and impersonated friends, colleagues and government officials. Many infuriated prospects have complained.
Such complaints drastically increase the likelihood of a formal regulatory investigation, according to Mozelle Thompson, a former FTC commissioner between 1997 and 2004. "It seems [Fisher] would be within the gun sights of the FTC," he told Bloomberg.
"Fisher Investments is in 'all-out-crisis mode' in a battle to save the firm … [and] because of the current context, things like this are going to bubble up," Plonner says.
Perhaps, not surprisingly, a short-blurb on the female empowerment website invites readers to learn about Fisher's "meritocracy" by clicking on a link. They're immediately taken to a lead-generation form that solicits full contact details.
"It's a complete disconnect," says Plonner. "You basically backtrack any progress you made with that individual … [it] doesn't demonstrate change or an authentic desire to show the industry they're listening and care."
First prize, steak knives
Fisher Investments has long marketed itself as a say-it-like-it-is, RIA-cum-asset-manager for the mass affluent who prefer a company that speaks their language. Its aggressive lead-generation is part and parcel of such an approach.
Nor has Fisher ever shied away from his moniker as the "king of junk mail."
Fisher Investments spends just under $70 million a year -- or 6% of its budget -- on advertising, according to London-based data and consultancy firm, Kantar.
This makes it the 12th biggest spender on advertisements in the US financial services industry. See: Peter Mallouk's Creative Planning launches national TV advertising to challenge wirehouses but will it work?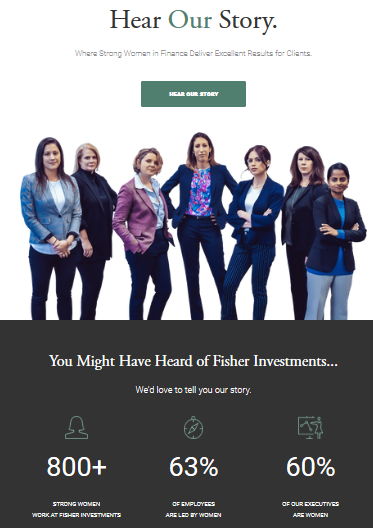 "If your reputation limits you from growth, even 10 years from now, it's about a lot more than short-term assets ... They've created a vulnerability for their business that makes it that much easier for investors or partners to walk," Plonner explains.
"It's a reputational issue that's going to reverberate if they don't gain control ... It takes years to build trust, and a moment to break it down … and if you fall short in any step of the way, that trust won't materialize ... People will never forget this."
But the firm insists it's the media that's fumbled the message. Dillard blamed the PR firestorm on a "disingenuous and distorted rendering of [Fisher's] remarks." The media junked the spirit of fairness in favor of a punchy narrative, he adds, via email.
"Ken's sincere apology, and his willingness to address the bigger issues raised by those comments do not preclude him from defending himself against the continued mischaracterization of his remarks," he wrote.
"Any fair account of those remarks would acknowledge that Ken used the language he did to underscore how some advisors and brokers behave in pushing their services on prospective clients," Dillard continues.
"Given most people's privacy about their financial life, aggressive sales pitches are the equivalent of a crude come-on in a bar. His point was, that's no way for a financial advisor to behave."
---
---
Ron Gillis
November 10, 2019 — 2:16 AM
What a farce that this indiscreet expression by Fisher has been kept alive by the competition in order to virtue signal and pick up some clients .
SAM HART
November 10, 2019 — 12:40 AM
Can the leopard change his spots?
Lucid Man
November 9, 2019 — 5:11 AM
Oh Ken, this will only lead to more assets leaving his firm. What a completely oblivious and ego driven fool!
N S C
November 12, 2019 — 8:00 PM
As a client, to Ken...move on ! There is money to be made and you are the man for the job. 20 years and still with you. Keep the returns coming!
Fitz C
November 11, 2019 — 7:22 AM
Haha OK Ken. What a joke. People were right to take their business elsewhere.
Nick Gromicko
November 11, 2019 — 6:11 AM
Treating women like children who will cry if they hear an analogy between trying to get a client and trying to get laid or whatever Ken said... is what's sexist. "Oooh, oooh, don't say anything in front of women that you'd say in front of men because women are like children and we have to protect their little ears." That's sexist!
Jeff Spears
November 10, 2019 — 5:25 PM
We all have a history and a bias. The only way to prove our opinions is to walk the talk. That will help us move from the second place steak knives to an Eldorado. If we are not careful we will end up in third place. Put that coffee down Ken.
Ed Lazear
January 23, 2020 — 2:44 PM
N S C, enjoy those returns that are half the return of the S&P500 pal! If you've been drawing on your accounts, your real return is probably flat or negative. "Keep the returns coming." Guffaw!