Walt Bettinger: I don't know that I'd go so far as to say that we're committed to letting anyone and anything on to our platform without regard to the economic implication.
Brooke's Note: Schwab's OneSource has long been Chuck Schwab's masterpiece among his innovations at his eponymous broker-dealer. He was able to take the (now) 8,000 RIAs who custody at Schwab Advisor Services and dangle them in front of thousands of mutual fund companies. The fund companies quickly fell in line -- listing their funds at whatever price Schwab chose to charge. Not that the RIAs were complaining and that's what made it a Rembrandt of early ecommerce. See: Schwab will take a machete to Schwab Private Client hyper-fee fund holdings but still steer assets to high-margin OneSource, ADV saysIt gave them the chance to buy mutual funds on behalf of investors from free -- or so it seemed. The Achilles heel of OneSource, long-term, was that ETFs cannibalized mutual funds by doing more for less. See: Charles Schwab & Co.'s vertical play to monopolize ETF market -- to be its low-cost maker, distributor and manager -- diesels ahead as ETF OneSource grows againPresented with such a quantum improvement, advisors were not always willing to look the other way on passing along the extra 40 basis points to clients -- especially as commissions on ETF transactions plummeted to $4.95. Mutual fund commissions on Schwab's transaction-fee platform remained at $49.95. But now Schwab's battle strategy on fee compression is to lean into it by beating competitors to zero. See: Why ETF sponsors are ponying up big fees to get on Schwab's ETF OneSource in a bid for access to ticket-averse RIAsWhat Chuck has yet to reveal is just how he plans to replace all those lost revenues but ruthless cost-cutting is apparently one way to plug the dike. We know what rolls downhill and the smallest funds seem to be the ones bearing the brunt of change. They're just not clear what Schwab really gains from the approach it's taking and they know they are taking losses.
Charles Schwab & Co. ignited a furor among small and midsize mutual fund companies by putting the squeeze on critical free data it provides to funds to identify top-clients, track fund performance and measure RIA demand.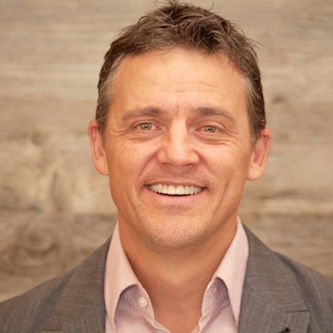 The San Francisco broker-dealer took the action as part of a radical restructuring of OneSource, its zero-commission mutual fund supermarket, into four service tiers. Small and midsize funds in tiers three and four are restricted from data that fund firms claim to be mission critical.
Fund companies need trading data to measure asset-flows, track market trends for product development, to organize their RIA marketing and even to calculate pay for their wholesaling staff.
For decades Schwab supplied mutual fund vendors on OneSource a daily download on asset flows down to the RIA branch-level.
Schwab's data squeeze -- at a time it sacrificed about $400 million of annual commission income -- is likely a harbinger of a trend that analysts say is likely to sweep the industry -- making asset managers pay for free data.
Schwab has yet to reveal if it plans to charge for the data,.
Up next..data fees?
"Given the recent price changes that custody players have implemented, we do expect those firms to start charging asset managers for access to distribution data and analytics," says Alois Pirker, research director at Boston-based consultancy, the Aite Group, via email.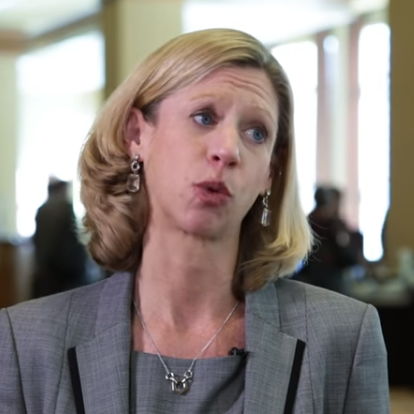 In fact, fund firm principals say they would rather pay for it than simply being cut off if it comes to that.
Schwab is "driving for a higher percentage of what we might receive shared from asset managers," he said. "I don't know that I'd go so far as to say that we're committed to letting anyone and anything on to our platform without regard to the economic implications," he added.
RIABiz contacted Schwab for comment, but received no response.
Only one of nine funds contacted was willing to speak on the record - for fear Schwab could further undercut them. Others spoke but ask to remain anonymous in order to speak candidly.
No leverage
Schwab initially broke the news in a late Aug. email, informing fund managers that OneSource was "evolving" its approach to the "services offered to mutual fund providers."
OneSource is the go-between for fund firms and investors/RIAs for about $300 billion of mutual assets on which it charges a list price of 40 basis points. (Legacy customers may pay 35 basis points or less.)
The blindsiding move to cut off data from small managers is a mean-spirited power-play, according to Samuel Adams, CEO of Sausalito, Calif.-based ESG asset manager Vert Asset Management.
"People are furious ... [and] other than cynical reasons like collecting more revenues, I can't think of any good reason why Schwab would do it," he says.
Adding insult to injury, Adams adds, are the "weasel words" Schwab used to try to make its actions seem benign.
The language of the letter (see below) from Heather Fischer, vice president of mutual fund and ETF platforms at Schwab, was a sea of acronyms.
"Certain investor information including advisor details will be replaced with a newly issued LOACTN number...We will no longer provide DSA/DFP file delivery to your firm or a third-party aggregator acting on your behalf." (When editors put LOACTN into Google, they were told they misspelled "location.")
Schwab's technocratic coldness may reflect its own frustration at watching its own market power erode as model portfolios replace mutual funds, according to Tim Welsh, former director marketing for Schwab Institutional who is now president of Nexus Strategy.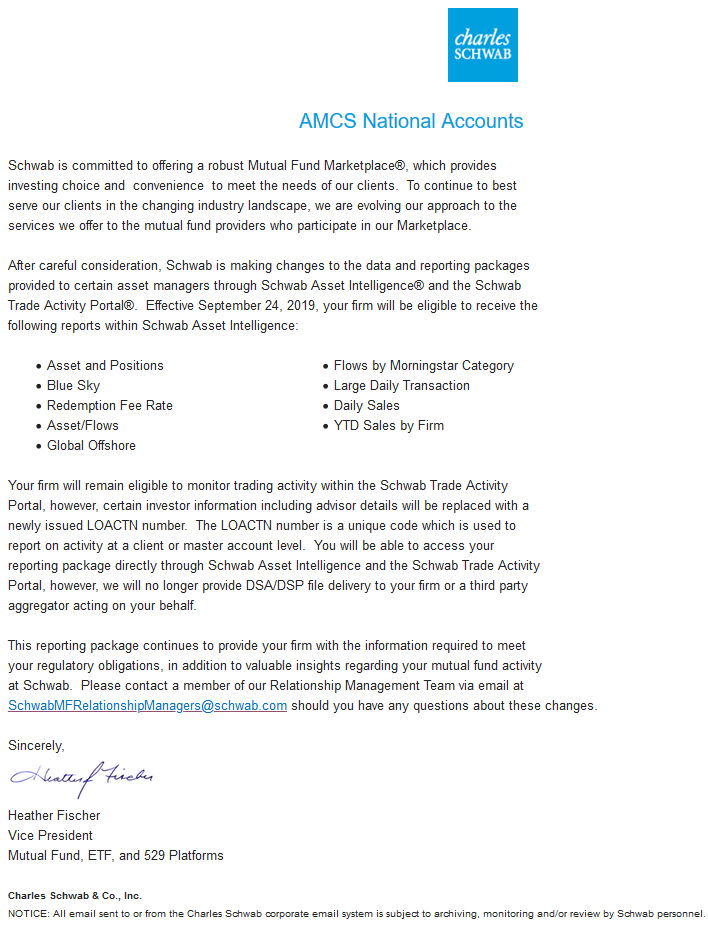 "'Good bye yellow brick road' for the custodians as their position of distribution power gets a bit less important and other distribution channels, such as the model marketplaces and tech pipes from Orion, Black Diamond and Tamarac extract their due," he says.
Mutual funds, smaller ones in particular, will experience real dislocation -- and for some, a sense of deep betrayal.
"How am I supposed to service my clients?", asks one mutual fund marketing executive, who asked not to be named.
'Silly' business
"Schwab's answer was if the RIA wants to talk, they'll find you, but this is silly, and I've no way to compensate my team. I can't even count my fees as I've zero idea who's putting money in, or taking money out."
A $2 billion AUM mutual fund owner discovered the full extent of the reporting changes during a terse phone call with a Schwab staffer.
"They gave me the courtesy call as I'm big enough to matter," the source explains in an RIABiz interview. "But Schwab just said we're going to a tier structure, you're tier three, tough luck."
Adams received no such courtesy, however. One day he logged in "and all of a sudden" his access to reporting data had vanished.
"We don't have a lot of leverage; they're the shop floor, and we want to be on their shelves," he says.
Dwindling margins
Now, all mutual funds on Schwab's OneSource platform are divided into four tiers, and reporting data has been severely restricted to tiers three and four.
Tier three and four funds also no longer have access to their own relationship manager and must direct questions to a pooled team of Schwab representatives.
The service downgrades might seem harsh but the dwindling margins of asset management may have forced Schwab's hand, says Dennis Gallant, senior analyst at the Aite Group. Gallant got his head in financial services working on the distribution side of the index-linked fund business.
"Every firm is looking to limit [fund numbers] ... [so] Schwab's following the same route ... leverage the best relationships they have ... [and it's] saying 'we might be walking away from certain levels of revenue, but we're going to need to walk away [eventually]'."
But the fund owners counter that Schwab is gratuitous in its callous disregard for the effects of its changes.
Firms that do not meet the as yet undefined asset minimum criteria were left "flying blind," "embarrassed," and "hung out to dry," according to fund industry executives.
One frustrated director at a mutual fund with an estimated $2 billion under management described the industry's current sentiment toward Schwab as "bat-shit crazy."
Schwab has betrayed the industry that effectively built it, the source laments. "It's sad ... now they're just going to turn into a big fund-shop ... [and] think of the small-cap asset manager that's just doing small-cap; they can't get big enough ... they're being totally penalized."
Tier tears
Two factors will determine a company's tier-- the total value of assets under a fund's management (AUM), and the average asset-based fee it pays to Schwab, which custodies $3.77 trillion.
There are also three tie-breaking "qualitative considerations," namely a fund company's overall "relationship" with Schwab; the "trajectory" of that relationship and "additional value" generated from "thought leadership and content".
But funds that do most of their business on Schwab's transaction fee (TF) platform, as against its no-transaction-fee (NTF) platform are likely to be placed in tiers three and four. Schwab charges $49.95 to buy a mutual fund on its TF platform, and $75 if a person helps.
Simply put, they're less lucrative for Schwab. TF transactions wield just 10 basis points (bps); whereas NTF transactions produce 40 bps.
Yet, according to the the mutual fund executives quoted in this article, offers to pay 40 bps on TF assets have fallen on deaf ears.
One source told RIABiz that Schwab's current stance is that there's a "working group thinking about the offer, [but] there's no time-frame for [a response]".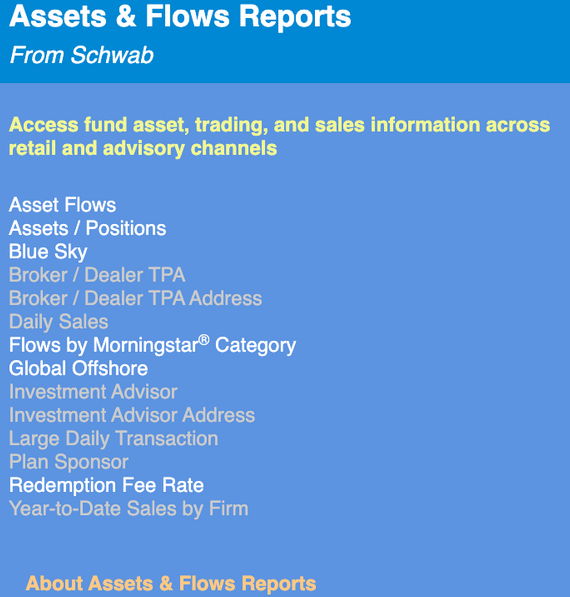 "If Schwab just said you need to pay us X amount we'd essentially have no choice ... I'd do anything it takes to get my reporting back ... but they haven't given us an option," the source adds.
The problem is that asset managers have scant leverage over Schwab, says Adams. "We're the product, and we need Amazon."
Ultimately, Schwab is unlikely to turn down the opportunity to bring in fresh revenues, especially with the impact of zero commissions on the firm's balance sheet, says Alex Potts, chairman for advisor services at San Jose, Calif.-based TAMP, Loring Ward, via email.
"All funds will have to pay their way … [and] the other custodians all have [their own] way to extract fees for the right to custody funds there."
Welsh agrees in an emailed response.
"The entire value chain of advice is being re-written in real time, so everyone at the middle manager level at the custodians are refreshing their linked in profiles- outlook not good!" he says. "Those gate keepers, who reveled in their position, now have no position at all and no one likes them."
Squeeze play
One mutual fund exec, speaking anonymously, says Schwab's been putting the squeeze on small-to-midsize mutual fund companies "for years."
For example, Schwab pressured niche fund companies to steer clear of selling TF funds to Schwab's retail reps, because they typically use the more lucrative [for Schwab] NTF funds sold by larger asset managers like Franklin Templeton and American Funds, the source says.
"But if we don't play in that space, how are supposed to have a business that's diversified for OneSource?" the source asks.
That said, the fears expressed that mutual funds will be unable to do business without regaining in-depth reporting from Schwab are exaggerated, says Nicholas Gerber, CEO of San Clemente, Calif.-based private equity firm, Concierge Technologies. Gerber spent almost 20 years as a portfolio manager for mutual funds.
In fact, OneSource has been dying a quiet death for years as ETFs gained in popularity.
"ETFs don't get this information ... [so] fund companies will find a way around this block," Gerber says.
| | | |
| --- | --- | --- |
| A screengrab of page one of Schwab's new "reporting eligibility" (click to enlarge). | A screengrab of page two of Schwab's new "reporting eligibility" (click to enlarge). | A screengrab of page three of Schwab's new "reporting eligibility" (click to enlarge). |
If they don't, they'll hit the wall, so it's a case of natural selection at work, says Gallant.
"For many firms it's [now] about how do [they] get access … do they have to make an acquisition in order to get in … [or] do they need to be acquired … not just for product breadth but for access … [so] the number of asset managers will continue to shrink."
Little tigers got teeth
Nor are funds as toothless as they seem to think, says Gerber.
"I know some firms [today are] working to disrupt the exchange and settlement space, allowing people to trade directly. This will [also] free up the information Schwab is hoarding," he adds.
Indeed, although that kind of democratization of fund distribution is a "long way" from becoming a reality, Schwab's harsh actions could eventually come back to bite it in the rear, says Adams.
"Tesla is disruptive to the automotive industry for a lot of reasons, but one people don't talk about is the threat to the dealership model. Why do you need dealers ... technology could eventually replace them ... and, so at some extreme level, why would you need Schwab?"
---
---
---
BKD
November 6, 2019 — 2:10 AM
Thank you! I've been watching and waiting for someone to write an article about this disruptive action taken by Schwab, but knew most asset managers would not want to go on the record for fear of any form of retaliation. When asked about the frequency for reviewing assets and bps as assets grow, Schwab said 'probably once a year'. Asked about a data pack in the future, no plans. This cripples the small-to-medium sized funds who rely on the platform and used the data transparency to drive and support their marketing efforts.
PS
November 4, 2019 — 4:51 PM
The key issue here is the potential of linking payments data with access to be on the firm platform available to investors. Hopefully Schwab does not play this game. Wirehouses will deny it but they put pressure on managers to buy data services in a pay to play arrangement. Managers like Vanguard refuse this but subpar managers desperate for distribution might write the check.
GW
November 4, 2019 — 6:34 PM
I don't think this should be a surprise to anyone who has been close to Schwab's product area the last 2 years. I also don't think there should be any surprise when Schwab does start going overtly "pay to play" for data. There are few other places to look for revenue replacement given their "strategy". Mutual funds have historically provided a disproportionate share of over firm top line and, given the sheer scale, will again be targeted to carry the freight. It will be interesting to see how they respond to investor demand for funds that don't fall into their core offer. Historically, this has been a pain point and it seems like it will become more of an issue, both in terms of "client experience" and human capital cost.
James Edwards
November 4, 2019 — 4:09 PM
Finally, no more cold(warm) calls from wholesalers just because we bought their funds. I know how and where to find them if I need information beyond what I used to buy the fund. The deluge of stale data and time wasting phone calls can cease.
Dan Doyle
November 3, 2019 — 12:35 PM
Different than SCHW, dealerships provide an incredible amount of value to comsumers. Good luck scheduling service, getting a part, or expressing a complaint to TSLA. The buying process needs improvement, but dealers add underappreciated value to consumers. Manufacturers get the value of standby buyers, ease of delivery, and a partner to focus on low margin sales & service. OEMs need dealerships. SCHW is rearranging the shelves, but still needs some base inventory.