Tim Hockey: Nobody wants it to happen on their watch well it did on my watch.
Brooke's Note: The unintentional consequences of zero commissions will play out for years. TD took a big hit and its CEO gamely admitted the damage, but then made a case for why ripping off the bandaid now makes sense -- even if it inflames his personal wounds as he plans to limp out the door in February.
Charles Schwab & Co.'s zero-cost trading devastated TD Ameritrade, but simplified its CEO search by putting higher quality candidates in the pool, said outgoing TD CEO Tim Hockey on an Oct. 21 fiscal year-end call.
Schwab's price cuts took effect on Oct. 7. E*Trade followed the same day; TD went live on Oct. 3.
"Yes, it was very painful and the revenue give-up wasn't helpful at all," Hockey told analysts.
But the timing was better -- or less bad--than imagined. Most of those TD losses come on the retail side that derives revenues from commissions. The RIA business has more resilient fee-based revenue.
What also got easier is making plans for RIAs now that rock bottom is established.
"It's actually a bit liberating in terms of really trying to understand where we can create value for clients and then potentially charge for it," he said.
Strategic center
That liberty includes removing any restraint for making RIA clients a central part of the larger strategy -- something Hockey did a 180-degree turn on after planning to do wealth management in branches, then stopping. See: TD Ameritrade's board suddenly pushes out Tim Hockey after his big misread of RIAs; Tom Bradley name-dropped as successor
"[RIA custody] always been a very strong growth business for us," Hockey said. "But as we, again segment out those customers and the RIAs we see that those high net worth customers are particularly valuable to us."
Wirehouse brokers are handcuffed with models that make zero commissions almost impossible to live with. The chances of attracting more RIAs also just improved, according to Steve Boyle, chief financial officer of TD Ameritrade.
"We think there'll be more breakaway brokers potentially here in this environment and more people rethinking things tends to get them to think about the independent model, and we think that that's very good for our institutional business."
It also gives Tom Nally, president of TD Ameritrade Institutional, the leverage he was seeking to better serve RIAs who serve ultra-high-net-worth clients.
Hockey invoked the success of his RIA business head and said TD will fulfill his wish list of RIA service improvements.
"Tom's business as we know has been growing at huge rates, but there were some offerings on the family office side that our clients with larger books are interested in having like donor-advised funds. This is something that we're working on and should have out relatively soon."
TD also expects to give a higher priority to other high-net-worth and ultra-high-net-worth goodies, like charitable giving, trust accounting and cash management capabilities.
"All of those things that are helpful to higher net worth clients and they've been asking for for a while and those are important, too."
Clean slate
Meanwhile, Hockey has been left to bear the brunt of earnings flak from zeroing out commissions.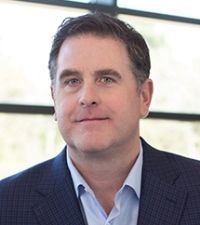 A month ago, TD's shares hovered at $49. Now, they stand at about $38 -- a $5 billion, or 20%, haircut on its market capitalization. See: After Vanguard instigated commission war in June, Charles 'Chuck' Schwab steps up to challenge in brilliant counterstroke that paints bull's eye on custody rivals in zero-sum showdown
"Nobody wants it to happen on their watch; well, it did on my watch," Hockey said. "But I can tell you that's now gone away. So having a new CEO come in, I think just made it easier to attract them."
Hockey's goose was cooked in July; he's set to depart in February. Even he can see the silver lining in that—for the next CEO, who can start with a clean slate. See: Tim Hockey leaves baffled analysts (and everyone else) probing for answers to explain abrupt departure plan as TD Ameritrade CEO; It's about... nothing!
"There are candidates being considered. I can tell you that the move to zero has absolutely improved the opportunity to get a good quality CEO in here," he says.
Hockey acknowledged that "the world changed" in October, but told analysts he intended to stay in the job "swinging with every breath I have" until his last day.
Flat feet
He also acknowledged that TD was caught flat-footed when Schwab pulled the trigger on zero commissions and scrambled to re-prioritize its initiatives.
"When the announcement came out and we made the decision to go to zero, the first thing we did was we got the team together, the senior executives team and took a look at our strategy and then at our priorities for 2020 and started to re-prioritize those in light of the new environment," he explained.
"And so many of these initiatives were underway some of them were a little further out, simply because we thought they were not as important in the environment we used to be in."
---
---
Mentioned in this article:
---
---
---
White Board Brilliance
October 28, 2019 — 2:09 PM
I'd say Steve Sanduski's assertion is embarrassingly simple and serves only to cause one to question his motivations and thin corporate experience. Lets hope Mr Sanduski finds a way to delete his embarrassing post before more folks publicly laugh at him. Good luck!
Ivory Tower
October 24, 2019 — 6:51 PM
Well said from the cheap seats and luxury of 20/20 hindsight vision, duh. What are you trying to accomplish with your post?
Steve Sanduski
October 23, 2019 — 9:09 PM
The fact that, "TD was caught flat-footed when Schwab pulled the trigger on zero commissions" is shocking. The move to zero commissions has been telegraphed for years but TD didn't diversify their revenue enough and was caught with about 28% of their revenue coming from trading commissions on the day Schwab announced free trading. Schwab's comparable figure was in the mid-single digits. A clear example where strategic planning helped Schwab but lack of it hurt TD. Every corporate entity and advisory firm should do an annual planning meeting with quarterly updates and two questions you should always ask is, "What trends are moving against us?" and "What could a competitor do that would be painful to us?" If TD asked those questions, they'd clearly see the trend was toward zero (Robinhood) and a competitor (Schwab) could move to $0 and not suffer nearly the impact as its competitors.