Andy Rachleff is staying the course on a minimum viable product philosophy that has benefits -- and embarrassments.
Brooke's Note: In reading the booked "Zucked" about Facebook's rise -- and then giant embarrassment at being used by Russia to interfere with our national election -- there is much talk about CEO Mark Zuckerberg's adherence to the move-fast, break-stuff modus operandi. It no doubt helped make Facebook far surpass its stretch goal of a billion users. But until I read the book, I didn't know about the credo had an unspoken proviso-- that it works best in an unregulated industry. So Andy Rachleff's determination to do it under the IRS and SEC watch gets interesting. With a series of screw-ups that are at the least embarrassing, you could say Wealthfront's mixology ain't workin'. But given that Wealthfront is at least doing OK as it tries to invent itself and grow enough to keep its VC investors from despair, maybe you could say, for now, it is working well enough and that pride, not technical or tactical blunders, cometh before the fall.
Wealthfront's "move fast and break things" business model broke things, again, forcing the firm to apologize to clients for bungling tax data -- a misstep that could lead to higher tax bills, potential fines and lawyers scratching their heads over liability.
It's the latest in a series of pratfalls made by the firm as a result of its belief in a minimum viable product approach to business. In other words, launch the product then work out the kinks later. See: Andy Rachleff lambasted competition for timid cash account offerings, but eats his own words with a pull-back to a middling 2.32% rate after Fed cut.
"Wealthfront has taken pride in ramping up its revenues, rolling out new and purportedly revolutionary services and products, and it's all happening so very, very quickly much of what's happening may not be getting vetted as well as it should," says attorney Bill Singer, an outspoken regulatory critic and writer of the Broke and Broker legal blog, via email.
The Redwood City, Calif., robo-advisor sent out a curt email to clients on Sept. 5, detailing its failure to accurately report tax information in 1099 forms for 2017.
Wealthfront failed to respond to several requests for comment. It's unknown how many of its 200,000-plus users were hit by its reporting error. But since the issue surrounds cost-basis tracking -- measuring the purchase price, adjusted for stock splits, dividends and return of capital distributions -- those with tax-deferred accounts like IRAs should be unaffected. See: Fidelity delivers a white paper and a warning to RIAs regarding new cost-basis rules.
PR nightmare or bonanza?
Beyond the problem itself, however, Wealthfront's latest mishap could turn out to be a public relations "nightmare," says Mac Bartine, CEO of Knoxville, Tenn.-based robo-compliance vendor, SmartRIA, via email. See: Oisin's Bits: Pre- VC raise SmartRIA is winning an RIA a day.
"Their entire business model is automation and efficiency, so I imagine their team isn't of a size to deal with 200,000 customers with tax questions and concerns," he explains.
"This is the type of event that can require a personal interaction as people work to understand how this impacts them, and if Wealthfront doesn't step up ... they could lose a lot of trust and potentially a significant amount of business ... this could get rough." See: Your public relations horror story: It's not as grim as you think.
"[It will] either be a public relations disaster or bonanza," Singer agrees.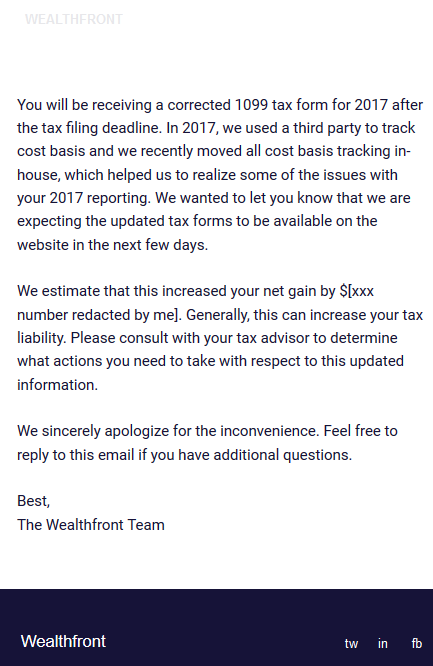 "If Wealthfront throws its customers to the curb … that could prompt account closures and a reputational nightmare; if it covers all reasonable losses, then it may instill confidence in its business and brand."
But at no point has Wealthfront offered to remedy any losses accrued by clients forced to refile a two-year old return--be they fines, increased taxes or the cost of tax advice--according to correspondence seen by RIABiz. See: Talking taxes: Why advisors need two approaches to shatter two counterproductive client attitudes.
Quelle surprise, says an RIA consultancy source, who is also a Wealthfront client, speaking on condition of anonymity, via email.
"Most firms wouldn't make this mistake, and if they did, they'd cover interest, penalties and refiling costs, [but] obviously Wealthfront can't afford to offer that, because they'd be bankrupt ... given revenues of approximately $50 million."
The source's calculations are based on Wealthfront earning an estimated 25 basis points on the roughly $20 billion in assets it manages, making no distinction between cash and investment assets, excluding operating expenses. See: Betterment paints it black in robo retail, making it a 'real company,' with JP Morgan and Bank of America on its new whiteboard hit list.
"They screwed up, and these are the same guys who negative consented clients into a proprietary product that was double the cost of their core offer. I was seething about that," the source adds.
Passing the buck
As a result of having to refile updated tax information with the IRS after the 2017 deadline passed, Wealthfront clients may well face fines, an increased tax bill, and the roughly $400 cost of hiring a tax consultant. See: Fidelity study: Breakaway RIAs could pocket millions in after-tax profits.
Nevertheless, lawyers doubt Wealthfront will find itself in the dock.
Indeed, both Singer and Ari Sonneberg, an ERISA, employee benefits and executive compensation attorney with Boston-based law firm Wagner Law Group agree that small print and IRS regulations will save the firm's bacon. See: As SEC's 'zero tolerance' era for RIAs commences post-DOL, a regulatory law firm makes anticipatory hires.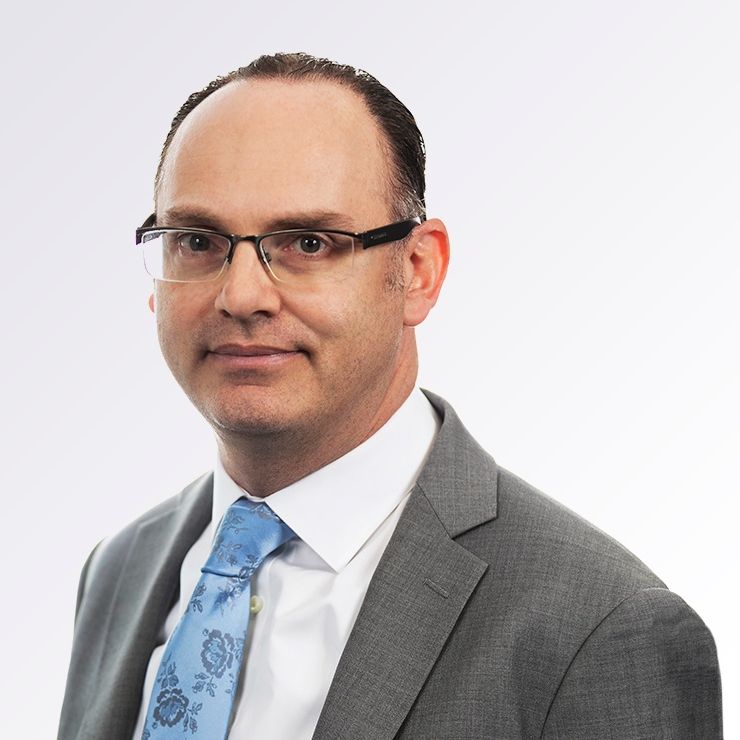 "It's questionable whether there is even a case to be made," says Sonneberg, via email. "A taxpayer's responsibility for reporting income is independent of receiving a [correct] 1099 … [so] a winning a lawsuit here would be an up-hill battle."
The IRS insists that cost-basis tracking is the responsibility of the individual taxpayer, not the data-provider, custodian, or clearing-house. See: IRS alleviates suffering of RIAs who use fee-based annuities by ending the need for an excruciating tax conversation that brought their own fees into focus.
The IRS web-page on cost-basis reporting states: "You are required to properly apply the Internal Revenue Code and Income Tax Regulations in completing your tax return."
But Singer says if the IRS decides to bear its teeth and come down hard on Wealthfront's clients, the courts could then decide Wealthfront itself has to answer for the mistakes.
Terms of Service and "buried" disclaimers are likely to protect Wealthfront, but the delivery of 1099 data that's not "timely" is problematic, he argues. See: How vendors fail RIAs -- and themselves in the bargain -- by insulting RIA intelligence.
"[Moreover], where Wealthfront may have more concrete exposure is if its customers can demonstrate that they had to pay IRS penalties for any underpaid taxes and/or needed to retain a tax lawyer and pay legal fees."
What's not in doubt is this is an absolute pain in the rear, says Bill Winterberg, principal of FPPad, a technology consultancy in Atlanta. "At the very least, customers will need to update the cost basis information reported in their tax return and file an amended return."
A pain indeed, says the RIA consultant quoted in this article. "I sent a polite enquiry asking who to send the CPA, interest and penalties bill to ... Strangely, I have not heard back."
Pointing fingers
Wealthfront admits it had problems with IRS 1099 tax forms -- used to report earned income -- but lays the blame for the problem firmly at the door of an unnamed third-party that failed to accurately track cost-basis.
Wealthfront says the error will not occur again now that it has moved such tracking in-house. See: A 'perp walk' is still preferred but oddly unified SEC and FINRA signal that wild west days are over for robo-advisors and blockchain coins.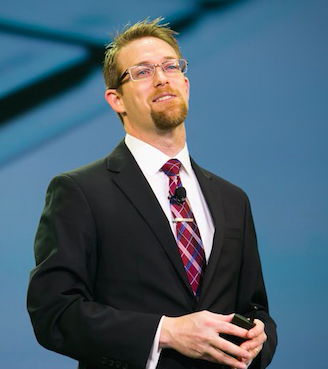 Since the issue dates back to reporting data from 2017, however, analysts were quick to identify the likely cause; information was lost in the cloud as a result of Wealthfront's decision to drop Dallas-based Apex Clearing as its clearing-house in favor of an omnibus account at Minneapolis-based RBC Correspondent Services.
RBC did not respond to a request for comment, but an Apex spokeswoman provided RIABiz with a brief statement declaring that the firm "has no knowledge of the issues Wealthfront experienced with its 2017 tax forms." See: Wealthfront nixes Apex Clearing and explains it as step in ridding 'semi-manual processes and disjointed systems'.
The problem was likely a result of the fact that Wealthfront was swapping one clearing-house for another while also revamping the entire way it managed reporting, says a financial technology software consultant, who asks to remain anonymous in order to speak candidly, via email.
"The changeover required Wealthfront to get to grips with RBC having one giant master account, where Wealthfront has to remember who owns what and RBC just handles it in bulk," the source explains.
"Since Apex never had a similar problem before, either Wealthfront had issues storing data, or there was a problem with the way data was transferred in the changeover."
Apex uses an ACATS transfer process -- which is supposed to record tax lots -- that it developed in concert with the aggregator Quovo, which was acquired by San Francisco, Calif.-based Plaid in Jan. 2019. See: Quovo is developing an ACATS rooter process with Apex Clearing as first to sign on.
But now that third-parties are mostly out of the picture, any praise or opprobrium will be Wealthfront's alone, says Winterberg.
"[By] choosing to defer cost-basis tracking … Wealthfront had no control over the accuracy of such reporting," he says. "Going forward, we'll see if reporting corrections are avoided now [it's] wholly responsible."
Trepidation
Wealthfront's seeming silence on the matter of reimbursing clients contrasts with the actions of San Francisco-based lender and cash account vendor SoFi. See: Wealthfront adds staggering $1 billion to its robo-bank in 'less than a month', but critics say it's treading the line, again, on possible conflicts of interest
In late September, SoFi found itself in similar straights. The lender revealed that it inadvertently handed 38% (10,000, according to the Wall Street Journal) of its 26,500 clients with an increased capital-gains tax bill. Soon after the firm announced fee-waivers to cover any costs its clients incur as a result.
The difference is night and day, says an executive at one rival bank, via email, who prefers to remain anonymous in order to speak candidly. See: As Acorns grapples with monetizing 1.1 million micro-accounts, the laid-back LA robo-advisor brings Wealthfront's former chief exec onto its board.
"SoFi's announcement must have been received with trepidation at Weathfront … [since its comparable] message was somewhat sterile," the source explains.
"I'd have expected a little more empathy from Wealthfront, and at least some sort of offer to help, whether its paying the late [tax] fee, waiving fees, or encouraging you to see a tax advisor ... that's not going to be cheap."
Mishaps and missteps
Wealthfront's string of embarrassments began in 2018 when the robo moved -- as a default choice -- a proportion of its clients' assets into an active management fund, Risk Parity, that was widely slammed for high-costs.
The good news is that Wealthfront lowered the fees. But then the fund performed poorly. See: No sooner does hedge fund take big Wealthfront stake than the robo pivots toward becoming one
The same year, the firm paid a $250,000 fine after federal regulators charged that Wealthfront broke promises to investors about the ability to deliver on tax-loss harvesting. See: SEC clobbers Wealthfront on multiple alleged offenses; settles case with 'cease and desist' order, $250,000 fine
"Wealthfront disclosed to clients employing its tax-loss harvesting strategy that it would monitor all client accounts for any transactions that might trigger a wash sale – which can diminish the benefits of the harvesting strategy – but failed to do so," the Securities and Exchange Commission stated in a release.
More recently Wealthfront miffed a customer of its Feb. 2019-launched cash accounts when he was denied a cash transfer. See: Wealthfront busts through $20 billion mark with its 'break things but make it happen' approach, but it's bedeviled by details when it comes to customers
Ultimately these problems mount-up, says Winterberg.
"Customers may be willing to forgive Wealthfront for the inconvenience for one tax year, but if this problem occurs a second time … [they] may be motivated to move their accounts … to companies that have a reputation for accurate and timely tax reporting."
---
Related Moves
December 31, 2020 – 4:37 AM
---
August 14, 2021 – 2:20 AM
---
---
---
Mentioned in this article:
FPPad.com
Consulting Firm
Top Executive: Bill Winterberg
Wealthfront
Portfolio Management System
Top Executive: Andy Rachleff
---
---
---
Brian Murphy
October 19, 2019 — 7:50 PM
Another stain on the house of Wealthfront, but the bigger problem is that they don't have a service that is economically viable - regardless. Robo's spend a lot of time defending high customer acquisition costs in the name of future revenue expansion (higher share of wallet) through I guess proprietary products, high-yield money market funds, etc. But if you turn it around, high CAC is actually telling us that the service itself isn't differentiated enough from others to by adopted at a lower cost by clients - basically poor product/market fit. This whole industry has been thinking about the next generation personal finance service offerings in a very short-sighted way for too long and far too many $s spent. We need to go back to first principles and rethink what it is we're trying to provide our clients...after all, Wealthfront and Betterment investment services really are little more than "target date" funds with added complexity and an account wrapper. Silly, really.
Jeff Spears
October 19, 2019 — 12:39 PM
Tech business practices don't mesh with FINRA and the SEC. That can be an expensive lesson