Neesha Hathi says Schwab micro-arranged how its engineers work.
Brooke's Note: The waitress is practicing politics as the businessman slowly gets... You know the rest. In RIA land, the corporations are playing small ball and the digital dudes are trying to play grown-up. We get it. It should be healthy. But after years of these firms drinking the kool-aid at the far poles of this spectrum, let's hope that the play toward the middle doesn't get overblown so that everybody's the jack of all trades and the master...You know the rest. [And, yes, Graham serving as reporter of this RIABiz article is as conflicted as it appears. That said, Keith Girard and I mercilessly scrubbed it of anything soft and cuddly and Graham writes as if he shouldn't be pigeonholed as a shameless marketing guy in the first place. We thank him greatly for covering New York when the rest of us were nowhere near there -- and getting a pile of great information.]
Noah Kerner is a Los Angeles robo co-founder who stole the show in Manhattan last week at an event that was seemingly made for all-startup, all-corporate and all-over-the-place guys like him.
The CEO of Acorns was a keynote speaker and a conference mascot of sorts at Source Media's InVest Conference, which has won pole position as the hottest ticket in the business in terms of showcasing human advice digitized and vice-versa.
Michael Kitces' panel was the highest profile of this conference. Envestnet President Estee Jimerson, Hollie Fagan, head of RIA distribution at BlackRock, Kunal Kapoor, CEO of Morningstar, and Natalie Wolfsen, executive vice president at Assetmark, were seated at the table.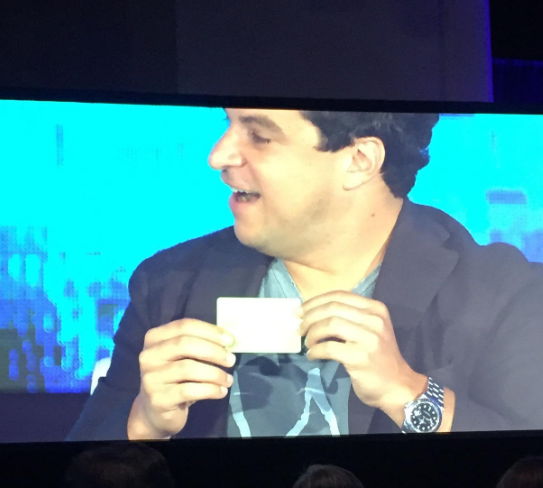 Kitces Socratically tackled the marvelous ambivalence of digitized advice in a discussion about how model portfolios are beginning to win the day in the melee of hybrid digital vigor -- or is it bifurcated psychosis? More on this later. See: As Acorns grapples with monetizing 1.1 million micro-accounts, the laid-back LA robo-advisor brings Wealthfront's former chief exec onto its board
Duality of financial advice
Kerner perfectly occupies the duality of financial advice these days. He is truly democratizing investing for a soon-to-be 5-million, young debt-junkies, by counting major credit cards as key partners, which makes a mockery of the idea that a startup has to have high client-acquisition costs.
Yet, his spare-change investing scheme--helping customers put aside cash by persuading them to round up purchases--may never turn a profit, even as it racks up glittering partnerships. Beside VISA, partners include Apple, Walmart, Disney, Nike and a slew of other top consumer brands.
More recently, a press release went out about BlackRock partnering with Acorns -- as an investor and potential collaborator. See: Mindful of 'Snapchat' dynamic, BlackRock takes big Acorns stake after the micro-robo wins 2.2 million investors in 12 months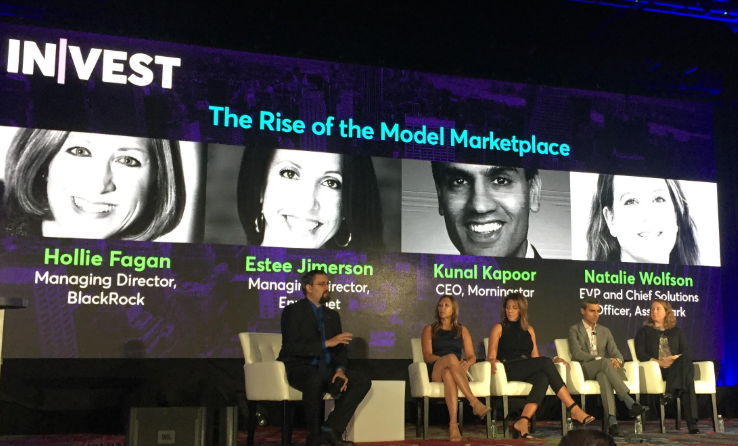 Kerner let the crowd know he, simultaneously and honestly, comes by his job as best friend of "The Man" and of the little guy. His dad was a pioneer before him. "My father was the first corporate social governance employee at Bankers Trust," he noted.
Blackrock, a recent investor in Acorns' latest D series round, was cited as a company Acorns vetted to make sure there were shared cultural values.
"I don't have an aversion to financial services, but I do have an aversion to profit over people," he added.
When an interviewer, Sebastian Covey. asked if Acorns is more focused on doing good, or being a financial juggernaut, Kerner wryly replied "both."
Then he continued: "Changing brand ideas are happening quickly. What do companies stand for? Do they have purpose and are they conscientious?"
One new Acorns innovation, "Spend," is a checking account, a retirement account and digital banking account (including a swanky Tungsten metal debit card), that has already reached 170,000 preorders. Up to 10% of the purchase on that card will be sent to the investment account. The simple brilliance is it doesn't require people to change their spending behaviors to save--all at a cost of $3 per month. A year after Acorns gets outed, Betterment faces its juvenile past with 2018 FINRA settlement over 2014 infraction
Kerner openly admited, "I am perennially scared of overwhelming our customers, its' one of the things that keeps me up at night. Our fundamental product strategy is to make big decisions small, and overwhelming our customers would be the death of Acorns."
In the end, Kerner more than anything, came across as honest and real when stating things like, "Don't try to reinvent behavior. People advise you skip drinking coffee. That's hard to do. There is no f*cking way you could get me to skip this coffee," he said, gesturing to the cup in his hand.
Model Markeplace
Kitces, introduced as the Justin Timberlake of Wealth Management, asked each of his panelists to weigh in on the "Rise of the Model Marketplace".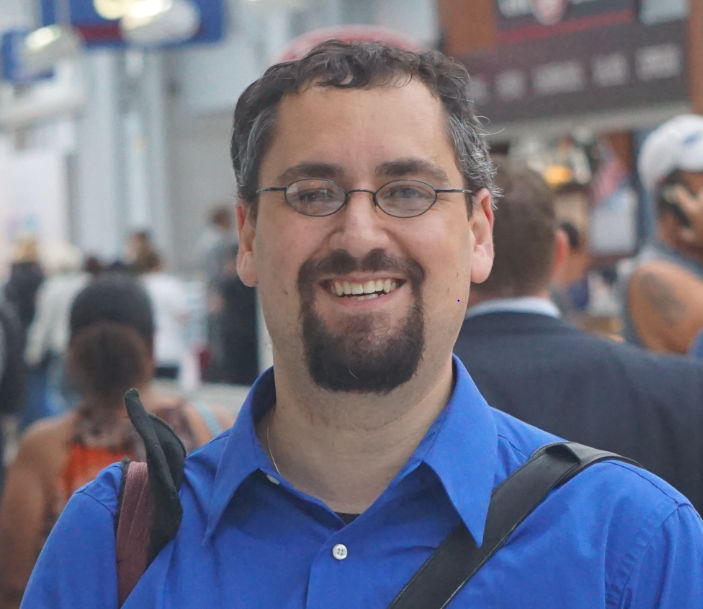 Jimerson took the first dance by defining the model marketplace as access with retained sole fiduciary responsibility. Many people describe model portfolios as rough drafts of portfolios that can be used in their entirety, or edited by advisors to meet specific client needs and make proprietary.
Kitces accentuated the positives: This "phenomenon--enabled by technology--of rebalancing software allows" an advisor to "pick the model and go."
When asked specifically to identify the advisor target, Jimerson pointed to practices that had reached a certain size and had to decide to remain static or bring in other people to grow.
"Bringing the entire book might be too much, at first; they start with models and replicate. That ends up giving them a way-station, which then allows more holistic management and a focus on planning."
Picking up the idea of a "waypoint," Kitces asked Natalie Wolfsen "why should I give it all to you?"
"Typically it revolves around fees to bring the costs down," she said. "The real issue, or sticking point, is the due-diligence, full-service TAMP, curated by using a Brinker or third party. Selecting solutions and managing them over time allows RIA's to serve more efficiently."
The conversation drifted toward the evolution of technology-driven distribution models and how much they cost. Kitces questioned the need for execution technology, moving forward, with the advisor owning more of the food chain relative to the asset managers.
Kunal Kapoor, as he would stress a couple times from the dais, bemoaned that the true cost to the end investor is muddled, and needs to change.
"There is no distribution as an all-in cost. The investor is likely to see the advisory fee, but not everything along the chain."
Moving Forward
Both Kapoor and Wolfsen agreed that scale for asset managers would be key moving forward.
"Asset Managers need brand awareness and distribution to make your model shine - even if not in a model marketplace, the advisor has to have some trust and belief in a crowded space," said Wolfsen.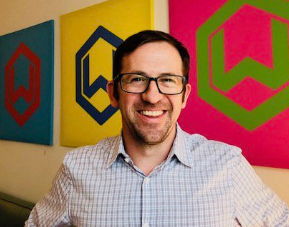 Kitces asked about the benefits and risks of the rep-as-porfolio-manager (RPM) model, to which Natalie Wolfsen replied: "Tax first, performance certainly," which led Kapoor to respond, "caveat there."
"If they don't trade too much…the dirty secret is the returns underperform published returns. Home offices are never happy with Rep as PM. There are benefits, yes, but not sure if they are being captured. Is the investor getting a good deal or not?" he said.
Jimerson agreed stating that "…the client has smoother ride when being managed by professional vs RPM".
Finally, in response to Kitces question about adoption flows, and later advisors using technology to update their business, Kapoor responded: "With RIA's you are seeing it at some level, who have internal team doing that. I hired a CFA who talks to our clients…so [we] use our software to present a case as opposed to building a case."
Jimerson noted that "[they] pick up steam as they move to retirement and selling the business."
The entire panel agreed on the trend of advisors moving away from asset management. "Cerulli recently noted that 80% of advisors use some type of model (RPM, Home office, BlackRock) but IBDs and RIAs don't have the home offices. Playing in the tech space, that's what scales the business, not investing resources to CFA's," said BlackRock's Holly Fagan.
And then later, "what we find with adoption they are going to use RiskAlyze or Orion, that is the model marketplace they are going to rely on. If I custody at TD, maybe their Model Marketplace. We as asset managers need to be agnostic...RIAs custody at different places…so the intermediary is the technology."
This brought the panel to the last, but potentially most interesting observation--the blurring of lines between asset management firms and advisors.
Kapoor finished it off by stating: "Does this give larger RIAs the opportunity to hop into asset management? The technology can be a low-cost distribution solution. Asset managers and advisor lines will continue to blur."
The Boss
If Kitces is Timberlake, then Ron Carson, CEO and founder of Carson Group, might be The Boss, a born showman who operates with a level of energy that should be plugged into the power grid.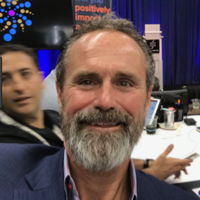 On a panel titled "Will A Hybrid Make You Happy?" Martin Debeer, CEO of BrightPlan, Eduardo Queen, head of digital for Wells Fargo Advisors, and Angela Pecoraro, CEO of Advicent, predicted the future of advice.
Carson quantifies the, heretofore, unquantifiable. "What we have done is capture the planning alpha so a client can see over the term of a relationship what happened. It's a timeline of what the advisor decisions were, or VOR (Value of Relationship)", he said, defining, essentially, a historical log of the advisors decisions.
"Advisors don't get the credit and often the best decisions become clients' decisions," he added.
Queen followed up with the statistic that "only about 10% of our customers are looking for a fully automated investing experience. But more than 70% want a combination of digital and human investment tools. The basic question is what do our clients, and next generation clients, want? A digital-only solution was not going to please the majority of them," he said.
Then things got interesting when Carson made everyone sit up straighter in their seats calling the BD model "Broken-Dealers" and "dinosaurs." He described his experience with "a large IBD that couldn't get the pieces to work together; it was like changing engines in flight."
Queen responded: "The core business you call a dinosaur--and I'm not getting to that debate--but you can't change what it is, a relationship business. We need to modernize and embed and augment. As tech disruption comes in, we need to defend our value."
When asked about where the industry is going, Pecoraro stated that measurement will "not be defined in wealth, or age, but persona-based" and later added: "Data is the new currency. Those who collect and understand the data will win. How can they leverage and use that to help clients live a more fruitful life?"
Re-inventing Investing
In the vein of reinventing how to reinvent yourself, Mike Sha, CEO of SigFig, discussed the "The Death of Robo" -- perhaps a journalist's flourish -- as it actually turned out to be more about the evolution of robo-advisors.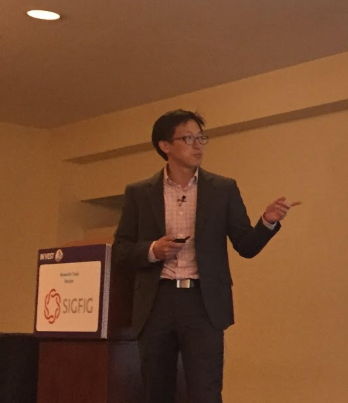 His own firm threw in the towel on disrupting from the ground up in B2C fashion, but has found its stride "intraprenuerially" as the digital guts of wirehouses like Wells Fargo and UBS. See: Mike Sha's robo-advisor faced tough choices until two wirehouses offered unique partnerships -- and maybe a new business model to boot
Sha began this discussion talking about his background in a family of entrepreneurs. He recalls calling Vanguard for his parents to collect daily NAV prices, before attending college and starting his career at Amazon in 2000.
"Don't think investors stay in their swim lanes – it's not binary, digital versus yourself, non-digital," he explained. Sha then showed two slides on the age distribution of SigFig's clients. The median age is mid- to late-40's, while the AUM skewed to people in their mid-60's.
Sha figured that the robo industry is still in the "early adopter phase, which will go on for the next 10 years, since investment needs are not being served. It's a land grab to capture the wealth opportunity," he said.
Sha also cited a fascinating case study on an early email campaign SigFig ran with a bank. "The conversion rate wasn't as high as we thought; people would open the email, but not do anything with it. Turns out, they were printing out emails and walking into branches."
He went further with his banking prediction stating: "Schwab and Fidelity moved into banking, but I think it's more likely traditional banks will keep their stuff. Just keep serving the customers you have, and who already work with you, and just make it easy for them."
He backed that statement with a slide that showed banks outrank asset managers on trust 45% to 42%.
Sha summed up with three points:
First, growth, using ETF's as an example of an industry 10 years ahead of robos. "It is a better way to manage money, individuals picking stocks, better outcomes - money will follow quality solutions."
Second, the opportunity to have impact across an organization – hinting at a potential move to the 401k market?
And third, a richer client experience due to goals and outcomes. This is not to say advice and planning are going anywhere, "where they can continue to add value, we are strange beasts and make bad decisions, and we need coaches".
Afterward, since UBS is SigFig's signature investor, I asked why most of his presentation seemed to focus on banks versus wealth managers.
Sha again betrayed his journalistic instincts: "Everyone would be talking about wealth management, and I just wanted to create a more interesting and thought provoking presentation."
Counter revolution
Neesha Hathi, czar of digital investing at Schwab, allowed that startups are trying to get more corporate. But Schwab--at one level--is racing in the other direction. Haathi described a new, agile development program within Schwab to redefine how it develops software in teams and how the firm started two "labs."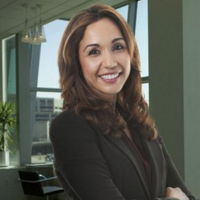 Schwab announced the creation of digital hubs that act as labs in May and began experimenting with cross-pollination between the larger organization and the labs, according to Haathi. Three will be "Innovation accelerators," and three others will be "journey accelerators."
The innovation groups are typically eight to 12 people working on a 12-week timeline to implement a new process or technology. Journey groups are more like 50 to 100 people tasked with changing a client process.
This rejiggering is across both Investor Services and Advisor Services at Schwab, namely retail and RIA custody.
"Our business is pretty simple; we follow what clients want to liberate and innovate new products and services capabilities," she said.
Yet Schwab's efforts to help advisors with technology have been complicated. Schwab has struggled to get its software, PortfolioCenter, into the cloud. And it mothballed its integration platform, Schwab Intelligent Integration.
RIA will likely embrace the new approach if it yields better outcomes.
Schwab's goal is to launch new ideas as rapidly as possible. Innovation teams will be rotated, although exactly how that will take place is still on the drawing board, she noted.
The company envisions as many as 450 digital teams once the program is in full swing. They'll expedite design and delivery from hours to seconds. It will bring together stakeholders from across company and institutionalize development to get better outcomes, faster.
Source Media did a nice job with sessions like "Tell me what I don't know", a demo competition featuring many of the largest wealth management technologies.
Conference Chair Sebastian Dovey, a former Institutional Investor managing editor, used anagrams for each speaker and panelist and the conference set up demo kiosks right in the main ballroom.
On my flight to New York to attend InVest, I was seated next to the president of a state CPA chapter. An affable character, though ironically not a CPA, we discussed financial planning and the opportunities that offered CPA's, mostly based on a white paper by independent broker-dealer First Global that we had both read.
I mentioned the declining numbers of advisors, and the remuneration that might present for his constituents.
His TurboTax response was "Good, technology is going to replace accounting in the next decade, if not before, so we better start evolving."
---
Related Moves
January 12, 2022 – 3:13 AM
---
---
October 5, 2018 – 6:05 PM
---
---
Mentioned in this article:
Kitces.com
Consulting Firm
Top Executive: Michael Kitces
---
---
---