Allison Felix proved herself the old-fashioned way to create a very modern result.
Brooke's Note: Back when RIABiz got started, we put a big emphasis on debriefing breakaway brokers who became RIAs. There are lots of good stories but none is better than Steve Cassaday's. See: A breakaway story, old-school style Since his "old-school" breakaway, we haven't crossed paths, until now. I was pleased to see how he was putting a very new-school succession plan in place. Of course, overnight successes like having a bright-light 40 year-old woman -- who makes you technically obsolete in the best sense -- doesn't happen by magic. It began with a wise hire of her 17 years ago and a steady nurturing along the way.
Completing a wild nine-year process, Allison Felix is now the president of Cassaday & Company, Inc. -- and its newest stakeholder. She joins an elite club. Only 16% of wealth management partners are female. [She isn't technically a partner because Cassaday is a corporation.]
Aside from adding the title and duties, the $2.7-billion RIA anointed the 40-year-old COO as the named successor to her boss, Steve Cassaday, 62. He has no plans to leave, but is determined to relieve any worry from the mere possibility.
Death be not...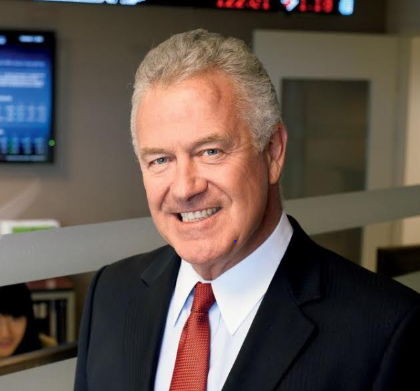 "I'll die at my desk, but I do want to make myself obsolete," he says. In the meantime, he is excited to have day-to-day CEO duties lifted, so he can concentrate on rain-making, vision and strategy.
The move was sparked in part by peer pressure. Cassaday, recognized by Barron's as its number one advisor in Virginia, says fellow advisors ask him at Barron's events about his succession plan. He wanted to be able to say it was fully in place. For big-time advisors, it's become that final marker of success.
In ascending to the role, Felix becomes one of tiny handful of women to hold so much power at such a large RIA. But she also paid more dues. Felix came to Cassaday at age 23 to serve as Steve Cassaday's assistant then rose through the ranks.
Felix joins current Cassaday principals Christopher Krell, Justin Harris, and Christopher Young as shareholders of the firm. Those men became part of an initial succession plan put in place in the wake of Barry Glassman's departure back in 2009 -- a real setback, at the time.
Glassman's firm-within-a-firm at Cassaday amounted to about $300 million. Both RIAs held assets at Royal Alliance, a firm better known for classic IBD reps. See: New RIA with a Royal touch The firm has 50 advisors and support personnel.
Since then assets have tripled at Cassaday. Glassman Wealth Services also [more than] tripled to $1.1 billion.
Well-schooled
It was in 2009 that Cassaday saw where Felix could go but sent her to nearby George Mason University to get her MBA. Cassaday paid half her tuition. She graduated at the top of her class and spoke at commencement in 2011.
Felix joined Cassaday & Company, Inc. as an executive assistant in 2001. Upon acquiring her MBA, she became the firm's first COO. She'd previously served as director of business management.
As a 17-year veteran of the organization, Felix has overseen the formation of the firm's leadership team, the establishment of a formal succession plan, the founding of several service departments, and the creation of a client advisory board.
---
---