News, Vision & Voice for the Advisory Community
Ritholtz Wealth's Josh Brown hires estimable Blair duQuesnay, a reformed UBS broker who brings her own online presence
June 8, 2018 — 2:37 AM UTC by Brooke Southall
Brooke's Note: I recall a time when every headline in the financial advisory trade press seemed to contain the words "social media." Suddenly everyone was an expert about how you could hang out with friends online and jot thoughts in a public diary and -- presto -- you'd be winning new client assets. In retrospect, the experts were right. The advisors I know who developed a blogging and tweeting habit succeeded beyond expectation. And yet, you no longer hear so much about social media. That is because so few advisors either have the ability, the desire or the belief to dig in and do it. But for Josh Brown the momentum never died and now, by hiring Blair duQuesnay, you might even say he is rolling up bloggers. I think it's exciting. See: The RIABiz top 10 industry blogs -- and which bloggers they recommend. It is still early innings of the reinvention of the RIA business but also of RIA publishing as the legacy magazines shrink page counts. This hire builds strength, consolidates gains and creates synergies on both the publishing model and RIA business model fronts. See: Ritholtz Wealth's Josh Brown kvells over 'triple threat' Big Easy hire
Josh "Downtown" Brown just scored the hardest of uptown gets in the RIA business -- the hire of a hyper-talented young female financial advisor with a work/life balance and mad blogging and tweeting skills on a par with his own. See: Josh Brown and Barry Ritholtz, masters of the financial Twitter/blogging universe, launch a robo effort to monetize their followers.
The CEO of Ritholz Wealth Management LLC, who also answers to The Reformed Broker, nabbed Blair duQuesnay, a 36-year-old mother and former breakaway UBS broker on Wall Street.
"We're going to build a blog for her," he says. "She has the potential to build a great audience. She's got a really unique voice."
In winning over the millennial from several states away -- Louisiana, where she will remain -- Brown also used duQuesnay's desire to more fully pursue her destiny projecting that voice.
Blog, speak, tweet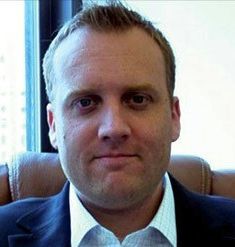 Still, duQuesnay, like Brown, paid her dues on Wall Street. She was at UBS from 2004 to 2009 as a researcher educating brokers about fee-based products. 
Most recently, duQuesnay was principal and chief investment officer at ThirtyNorth Investments LLC, a New Orleans-based firm with more than $152 million of AUM. In 2015, she was spotlighted as one of InvestmentNews' "40 Under 40" advisors. 
"Blair and I have been friends for years and I am so excited to be adding her expertise to our team," Brown writes in a statement. "She's chaired her previous firm's investment committee, created portfolio strategies and contributed to the research about the impact of women on corporate boards."
Diversity added
But nothing speaks to the dedication toward women in finance like hiring a woman. "I clearly added diversity," Brown says in an interview. 
Graduating from the University of Georgia in Athens in 2004, duQuesnay moved to New York to do an internship with Smith Barney before moving to UBS.
Becoming disillusioned with the wirehouse model -- "I believe the industry is set up to fail for clients," she told RIABiz in a 2012 profile -- she joined a New York RIA before returning to New Orleans. There, she co-founded an RIA geared to young professionals like herself with another wirehouse escapee. See: Next-gen advisor breaks the standard RIA mold to grow with her young clientele -- many with $100,000 or less of assets.
Old ties
Yet apparently there was a New York affinity that was still readily apparent to the outside observer. When Josh Brown initially announced that he had inked a female advisor to work for Ritholtz, everyone who guessed the identity named duQuesnay.
"That was really scary," he says. "That was really eye-opening."
What the correct guessers couldn't have known: duQuesnay was part of the UBS team that served -- back in the day -- as the advisor to Barry Ritholtz.
---
---
Share your thoughts and opinions with the author or other readers.
Bill Winterberg said:
June 15, 2018 — 1:53 PM UTC
Bill Winterberg said:
June 15, 2018 — 7:06 PM UTC
Harrison said:
June 22, 2018 — 1:15 PM UTC
---
---