Aaron Schumm: [We want] to work with advisors versus displacing them.
Brooke's Note: It's never enough to invent software. You also have to make it fit into the business world and win accounts for its users that pay the freight. Aaron Schumm knows that in spades, which is why his Vestwell startup keeps making news in the RIA business. The startup truly exists at an intersection of all that is hot in the RIA business -- the post-DOL rule 401(k) business, the automation of micro-accounts and the involvement of human RIAs. Here, he adds a pike half twist by acquiring investor accounts at low cost and in high volume by mating with payroll services where apps have already done the work of boll-weeviilng into the personal finances of paycheck investors.
Call it Acorns for 401(k) greenhorns with payroll software.
Vestwell Holdings Inc. is now selling its turnkey 401(k) services directly to payroll providers, tapping into a market where 90% of employees don't have a retirement plan because their firms are so tiny.
The New York-based startup's success will depend, in part, on how effectively financial advisors win over plan sponsors. See: Vestwell jets ahead and adds pilots on the fly to keep startup on course.
It works because payroll providers have an incentive to try to reach small and micro-markets -- even as a loss leader, says Nathan Fisher, founder and executive vice president of RIA giant Fisher Investments Inc.'s 401(k) Solutions.
"I don't see robo-advisors being interested in a micro-firm with five employees … [but] payroll providers might take that firm right now because it can grow and need more payroll services," he says via email.
Acorns Advisers LLC, the Irvine, Calif.-based robo-advisor, is another example of a firm that targets micro-assets. It wins accounts, albeit retail assets, by simply going after the ones nobody wants because the economics of acquiring and servicing them don't add up. See: As Acorns grapples with monetizing 1.1 million micro-accounts, the laid-back LA robo-advisor brings Wealthfront's former chief exec onto its board.
But if the acquisition cost is rock-bottom so are the servicing costs, which become more minuscule by the algorithmic day. If Acorns investors grow, as planned, into oak trees, it may all work out.
The 5.6% factor
In this HR-robo symbiosis, the payroll provider becomes a Vestwell reseller and the advisor fills in the gap as intermediary between the payroll firm and employers, says Vestwell founder and CEO Aaron Schumm.
"A lot of advisors are working with clients that use [firms like] Namely as a payroll provider so it's an easy win for them," he says. "They can go in and say, 'here's a 401(k) company tightly integrated with them … [and] your admin burden [will be] really light.'"
This partnership means that Namely's clients can use a single sign-on for its HR and Vestwell's retirement software. Additionally, data entry is fully automated.
"Big vendors have a ton of money behind them to further develop their payroll and 401(k) platforms," says Aaron Pottichen, president CLS Partners, an Austin,
Texas-based retirement-savings-focused RIA with close to $300 million in assets under management.
"This deal makes Namely and Vestwell more competitive with the big boys of payroll like APD, Paychex and even Fidelity," he says, via email.
Momentum has picked up since then, says Schumm. "Currently, we are signing at least one RIA every other day. We have signed 15 in the last 29 days."
Bigfoot rivals
The potentially vast market of small-to-medium-sized employers that firms like Namely administer has, however, attracted bigger players than just robo-startups in a 401(k) market with upwards of $7 trillion assets and counting.
Case in point: In February, HR software giant ADP LLC of Roseland N.J. struck a partnership with and Silicon Valley-based Financial Engines Inc., bringing $169-billion AUM Financial Engine's robo-hybrid to the lower end of the market, including its 66,000 employer plans and the 1.7-million plan participants serviced by ADP. See: Power Player: Larry Raffone is racing to 'lock up' the 401(k) market by taking its robo head start and combining it with a semi-national RIA.
"This is the next evolution for us," Financial Engines' chief operating officer John Bunch told Pensions & Investments in February. "[We're] bringing that expertise down-market into a place we think is underserved."
Meanwhile, Boston-based Fidelity Investments Inc., which has $1.64 trillion of defined contribution assets, has long leveraged payroll connections.
"Fidelity's payroll and defined contribution products such as 401(k) have had tight integration for years," says a spokeswoman for the firm. See: Why exactly Fidelity chose 2018 to levy visible .05% 401(k) surcharge on Vanguard funds.
Payroll integration by the numbers
Vestwell plans to use payroll partnerships as a conversation-starter for its advisors to reach out to firms without 401(k) plans. Payroll firms, after all, know what financial technology companies don't: how to engage small businesses using their software.
But a lack of modern 401(k) software isn't what's stopped 90% of the 5.6 million small firms in the United States without retirement plans from offering them, says Fisher.
"Will adding 360 [two-way integration] cause employers to offer retirement plans when they previously didn't? No. I guarantee you they've had three calls in the last year saying hey we can give you 360 integration." See: Betterment adds 50 firms to its new 401(k) plan -- and IBM and Marcia Wagner connections.
Indeed, "advanced" payroll integration is not a new concept -- Camas, Wash.-based Fisher Investments answers questions on the topic so often it came up with an infographic to explain it.
But there is merit to targeting payroll firms as prospective clients if you want to reach small-to-micro employers, says Fisher.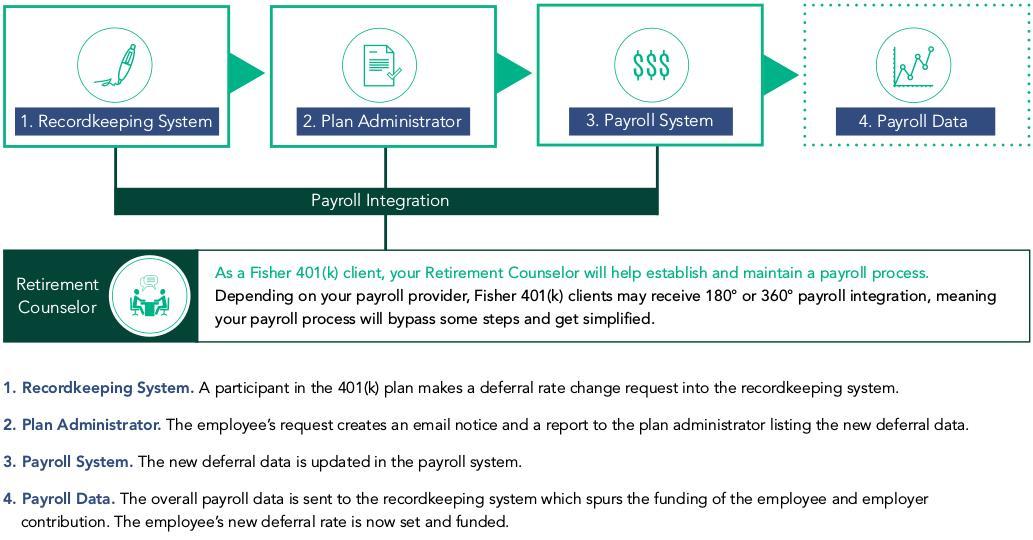 "As you get to smaller and smaller firms, payroll integration becomes more and more attractive. [This is why] payroll providers are the dominant providers in the small 401(k) space."
The first Namely clients go live next month, and Vestwell also has a payroll partnership with Bamboo HR LLC in Lindon, Utah that will be up and running soon after.
Fisher, however, takes issue with the underlying premise that payroll automation is good for everyone.
"A smaller client that does a good job keeping their payroll accurate but lacks the capacity to coordinate between multiple systems can benefit, but it's a really bad idea for an employer who doesn't do a great job keeping the payroll up to date -- then it's just garbage-in, garbage-out."
Fisher continues. "Not every client needs a 360 integration. For companies that grow through acquisition, they might have five different payroll systems. How does 360 even work there?" See: Wealthfront's advice is now an employee benefit for Google employees' non-401(k) savings.
Finer points
With offices in lower Manhattan, Namely has a staff of 450. It has 1,000 employers with 175,000 employees as clients, and is backed by $157 million in VC funding, including Bay Area's Sequoia Capital Operations LLC and Scale Venture Partners. See: Unknown San Francisco 401(k) robo with famous backers gets $11 million more in VC funding -- and an interesting brand.
The Vestwell-Namely is revenue positive for all parties, says Schumm, although Namely will not receive any referral fees, given his firm's fiduciary obligations.
"Namely makes money out of this via a technology-offering arrangement, but the additional level of service is a large draw."
Near the end of March, Vestwell announced two new executive hires and the appointment of former Pyramis and New York Life CEO Drew Lawton to its advisory board.
In February, Vestwell partnered with Riskalyze Inc., an Auburn, Calif.-based risk-management leader and TAMP-style manager marketplace curator,as its exclusive retirement program, thereby putting its product in front of more than 22,000 advisors. See: What Aaron Klein's board pick of Lori Hardwick tells about Riskalyze's next big hurdle.
More recently, Vestwell signed a similar arrangement with Keith Gregg and Derek Bruton's startup, Chalice Wealth Partners. Derek Bruton joins Keith Gregg as Chalice Wealth Partners makes urgent Dynasty-lite bid bolstered by $4.5 million and Aaron Schumm.
In addition to providing 401(k) and 403(b) services, Vestwell operates as a 3(38) investment manager; a 3(21) fiduciary advisor that "can give advice but not make recommendations"; manages 3(16) fiduciary duties by ensuring fees are aligned and that 5500 tax reporting is in place; and acts as a third-party administrator. Form 5500 is used to file an employee benefit plan's annual information return with the Department of Labor. See: Morningstar makes tough choice in shedding a 'fiduciary' division -- perhaps to avoid a conflict
---
---
Mentioned in this article:
---
---
---
Garrett
Yes, there are significant payroll differences for companies with 0-50 employees, 50-100 employees, and 100+ employees, but I really think a lot of times, they're overblown. I use and recommend AMS Payroll because it has the software tech, modular products, and price points that are attractive to small and medium-sized employers. <a href="https://www.1099-etc.com/" rel="nofollow">https://www.1099-etc.com/</a>