Lori Hardwick: Can Riskalyze play well with the home office? Not just allowing them to be on the shelf but really getting that home office to work with them.
Brooke's Note: When high tensile entrepreneurs with no extra time on their hands forge pacts under any guise, have a look at what is under the hood of the arrangement. The directorship pact between Lori Hardwick and Aaron Klein fits that category. More on Lori's venture in days to come to convince you just how fortunate Klein is to grab her.
Lori Hardwick and Aaron Klein forged a partnership that keeps both entrepreneurs clacking on track.
The president and co-founder of AI Labs Inc., Hardwick, 48, is now the first outside board member to join Riskalyze Inc., the Auburn, Calif.-based software company of which Klein is CEO and co-founder. See: Riskalyze tromps onto Envestnet turf by signing $20-billion, 975-advisor account with its robo-manager.
Hardwick comes joins the board a year after founding her startup, two years after joining Jersey City, N.J.-based Pershing LLC as chief operating officer after ending her 16-year career at Chicago-based Envestnet Inc.
Klein's had another objective: leveraging the connective tissue that made her previous two employers powerhouses in the advice business.
"The thing I love about Lori is the depth of her industry relationships." writes Klein in an email. "[Hardwick's] extensive relationships with industry leaders and her deep grasp of the issues facing our institutional customers will be invaluable on the board."
Risk's rewards
Hardwick puts a finer point on what Klein is getting at -- that the quality of Riskalyze's B2B relations with IBDs and custodians that provide access to advisors isn't nearly as fully established as Riskalyze's B2C relations with advisors.
But what their custodians and independent broker-dealers think and what commerce allow is very much another. Both Hardwick's former employers are the ultimate B2B companies -- with comprehensive deals with broker-dealers.
"Most Riskalyze growth has been from the ground up but sometimes that advisor interest is not all that welcome," she says. "Can Riskalyze play well with the home office? Not just allowing them to be on the shelf but really getting that home office to work with them."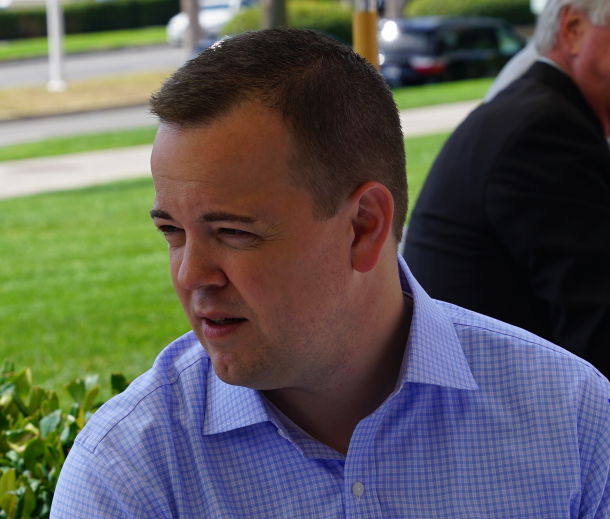 Riskalyze's big innovation was to create a lingua franca of risk by assigning a hard number to it. The "risk number" has achieved such popularity that 25% of its business comes from a robo-platform that uses it. See: How Aaron Klein plans to make Riskalyze the epicenter of the RIA business with $20 million of fresh private equity money.
The trick to creating that sort of B2B kismet for Riskalyze is knowing the IBD gatekeepers, their reps and the nature of how such agreements get constructed and negotiated, Hardwick adds.
"Riskalyze has enjoyed a groundswell of interest and resulting new business from the advisors themselves," she says. "But as we continue to grow, we will need support at the executive headquarters level."
'Straight shooter'
Hardwick brings other intangibles that go beyond the X's and O's of contract negotiations and names on a Rolodex, Klein says.
"[I love] her willingness to always be a straight shooter, and her entrepreneurial drive. When we met, I knew I wanted her to be a part of the next phase of Riskalyze's growth." See: Completing matriarchal coup, Pershing raids Envestnet's top drawer to grab Lori Hardwick, whom many thought unpoachable..
Hardwick says Klein and his team grilled her relentlessly on their first meeting. "It wasn't easy. It was really intense."
Cross-population
There is also a chance that Riskalyze and AI Labs will also enter into informal business dealings. AI Labs is essentially a play to put advisors with different custodians and technology providers onto a single portal -- a sort of dashboard of dashboards.
"[AI Labs] are not integrated yet with Riskalyze," says Hardwick, demonstrating the benefits of good connections, "[but] I'm quite sure they will be one of the component options in the future …. We've already received a few requests from clients."
"We're really impressed with the vision that Lori and her co-founder Mike have at AI Labs," says Klein. "Trying to help big institutions bring their technology together is a big part of our vision, and we're excited about the partnership we're developing to integrate Riskalyze with their product."
For Hardwick, it's like old times.
"I remember those days during my time at Envestnet," she says. "and I know there is a lot of value I can bring to the board given some of the parallels that I can see from my past experiences of growing a firm like this."
---
---
Mentioned in this article:
Riskalyze
Tech: Other
Top Executive: Aaron Klein
---
---
---
Carl S.
Riskalyze is an overpriced and not that important nor valuable piece of the FinTech pie. There are plenty of other choices that integrate better, have better portfolio details and will offer more to the advisor. Best of luck to Lori but not sure why she would go here or partner with Aaron who is a little untrustworthy. Trust in this business is a foundation and when it is lacking, all else does not matter.