News, Vision & Voice for the Advisory Community
His $2.6-trillion unit's 2017 asset growth includes big adds from AssetMark, Sepio, Carson Group and Principal Securities
March 23, 2018 — 3:19 AM UTC by Brooke Southall
Brooke's Note: When Fidelity Investments published its annual report, it provided a rare public glimpse into a very private company. Sure, the company left out many key details but this time around it provided a bunch of great ones, too. The result was three articles. One by Lisa Shidler about its $280 billion of new 401(k) assets. Fidelity's bet on ultra-compliance with the DOL rule pays off big as 401(k) assets jump stunning $280 billion in 2017 One by James Picerno about all the nuance in its asset management business. Fidelity Investments makes unlikely turnaround as active equity manager but is it taking on too much risk? Now this third one looks at the business that services RIAs and independent broker-dealers among a host of intermediaries. Fidelity Institutional. It has a particularly RIA feel to it because Mike Durbin, formerly the unit's chief from 2009 to 2015, recently became president. Power has not gone to Durbin's head nor has his disarming candor lessened. He describes how its is quite literally the best of times at Fidelity Institutional as both the stock market and the appetite for independent advice fill Fidelity's sails and drive record new assets. But he allows that his company is channeling its inner Andrew Grove who as CEO of Intel was famously quoted saying: Only the paranoid survive. It's another way of saying that staying in place is death. There are signs that Fideity is seeking new ways of providing value and getting paid for it.
Mike Durbin became president of Fidelity Institutional in October and now he can report that the $2.6-trillion unit added $120 billion in 2017 -- its fourth consecutive year of adding $100 billion or more.
FI contains Fidelity Clearing & Custody Solutions, which is made up of both the RIA and clearing businesses. Those assets are not broken out but Fidelity offered up details on some of the wins that lent it the increase in assets. Fidelity did provide the total assets in its family office unit, a part of the RIA unit. It has $134 billion of assets, up from $107 billion a year ago and $15.6 billion in 2009. Those assets represent the accounts of 400 ultrahigh net worth families. See: After years of work to gain parity with Schwab RIA custody, Fidelity is ready to show fruits of its $250 million move to gain an edge.
FI also counts Fidelity Capital Markets, and Fidelity Institutional Asset Management among its subdivisions.
Even bigger amounts came from AssetMark Inc. of Concord, Mass., $5.3 billion and Principal Securities in Des Moines, Iowa-- a staggering $11.3 billion. Fidelity also consolidated assets of Philadelphia-based Lincoln Financial Network and MetLife Inc. in New York up its absorption by MassMutual in Springfield, Ill. Fidelity also landed HD Vest Inc. in Irving, Texas, a big IBD that formerly used Wells Fargo's First Clearing for trades.  How a Schwabian picture is emerging as Bob Oros joins John Clendening as chief of 4,500 underachieving HD Vest reps
No bluff Durbin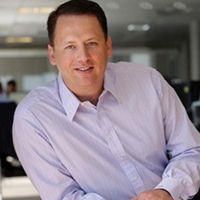 Durbin, 50, is philosophical about the ocean currents of growth.
"We're enjoying the same rising tide" as the rest of the advice industry, he says. "But I've never seen us more strategically anxious."
The anxiety is born of everything from "secular headwinds" like the ongoing shift to passive investing, to the onslaught of startups intent on disruption and regulatory changes.
"We have to navigate it not just for advisors but for our clients," Durbin adds. See: Fidelity Investments makes unlikely turnaround as active equity manager but is it taking on too much risk?.
The forthright approach of the Fidelity executive admitting concern -- has been his trademark. 'No BS' Mike Durbin leapfrogs up the Fidelity Investments ladder but can he serve RIAs, eMoney and Abby?
Fidelity continues to operate and report assets based on the "blurring" of the value provided by IBD reps and RIAs, Durbin adds.
At long last, Robo
But the blurring by brokers also goes on at wirehouses and Fidelity's startegic anxiety will need to extend to them, according Shirl Penney, CEO of Dynasty Financial Partners LLC.
"It's not like these firms are going to sit back and let Fidelity and Schwab pick their pockets," he says. 
Durbin allows that competition from one custodial competitor has been tougher to compete with on price because that, ahem, competitor owns a bank at a time when rates are favorable to them.
Yet, Durbin believes that not having a bank can be a strategic advantage.  It allows Fidelity to offer advisors access to a range of banks like U.S. Bank and Goldman Sachs that provide access to securities-based, non-purpose loans. 
That said, he continues to emphasize Fidelity's strength in providing trade execution and the company says it saved clients $230 million in 2017.
Fidelity claims $14.10 on average for a 1,000-share equity order and assigns the industry only $2.30 on average.
Another highlight for Durbin to boast about: Fidelity is finally getting solidly in the B2B robo game with 25 clients on board and 150 in the "pipeline" for AMP. eMoney -- with an immense Fidelity presence -- pulls out stops to debut RIA robo AMP, which shared buzz bandwidth with Envestnet M&A. 
eMoney
Durbin attributes the traction to the predilection of banks for a planning-oriented approach that eMoney provides and deep integrations that can be facilitated through National Financial, the Fidelity clearing business.
Durbin was formerly CEO of eMoney.  Mike Durbin gets right to work as eMoney CEO with MoneyGuidePro coopetition deal -- even though he's 'interim'
---
---
Share your thoughts and opinions with the author or other readers.
---