News, Vision & Voice for the Advisory Community
Aaron Klein's Autopilot takes aim at 65% of advisors who find TAMPs are both expensive and too much abdication of portfolio management customization
February 6, 2018 — 10:26 PM by Brooke Southall
Brooke's Note: Until now hybrid IBD/IAR reps had to make a hard decision about whether to embrace a TAMP relationship or not -- and each model had big potential drawbacks. Using a TAMP is a huge scale advantage and a huge compliance advantage. But TAMPs reduce the advisor's role considerably to more of an account rep. The insult to injury is that it builds in layers of cost that make the advisor's fee-overlay all the more onerous. This article is about Riskalyze winning a big IBD/RIA account based on its ability to deliver professional money management, allow the advisors to tailor to taste, do it cheaply and do it easily. People I interviewed say it surely represents a new competitive threat to Envestnet and the TAMPs but mostly it threatens the tens of thousands of reps who still try to compete as a self-CIO. The interesting subplot here is what Riskalyze is doing to make this all seem so palatable. It seems to get back to its original product -- the risk number. The broker-dealer execs love that all the moving parts -- and the conversation about them -- can be reduced to matching numbers to numbers. It's a middle way and for a certain kind of advisors -- a better way at a better price. See: How Aaron Klein plans to make Riskalyze the epicenter of the RIA business with $20 million of fresh private equity money.
Riskalyze is making news by inventing a third way for financial advisors to invest -- and potentially solving an intractable problem for independent broker-dealers.
The Auburn, Calif.-based software company is selling robotics that gives IBD executives hope that for the first time the 65%-plus of advisors who insist on serving as their own chief investment officer won't sacrifice the ability to scale their practices.
The idea is that Riskalyze has fashioned a way -- by chopping out middleman costs and allowing a higher level of input without more work -- to entice these advisors to finally outsource a vital chunk of the manager-of-managers portfolio management process.
The evolution of this half-TAMP concept is at the heart of Riskalyze's sweeping deal with two IBDs and a corporate RIA in Ann Arbor, Mich., Sigma Financial Corp. and Parkland Securities that combine to serve 975 advisors with $20 billion of advised assets.
'Pipe dream'
"In this area, Riskalyze has created its own partner store," says Tony Bacarella, director of case planning at Sigma/Parkland. "All the cool ideas [like this one] didn't work in the real world. I would have told you it was a pipe dream." How Aaron Klein plans to make Riskalyze the epicenter of the RIA business with $20 million of fresh private equity money
What many advisors balk at from the TAMP is how it's priced, Bacarella adds. "If an advisor wants to use three managers, each one has its own [fixed] fee. You're not hitting fee breakpoints. Riskalyze is providing all these managers so there's no stacking of costs."
Envestnet declined to comment on the way its TAMP and manager platform stack up to Riskalyze. 
The Chicago-based firm chose instead to emphasize that its advisors, too, can use Riskalyze's core risk analysis capability.
"We are excited about the integration between Envestnet and Riskalyze — giving our clients the flexibility to leverage their advanced risk measurement tools. We look forward to continuing to deepen that integration," says Aaron Bauer, executive managing director of strategic development at Envestnet.
Scale and surgery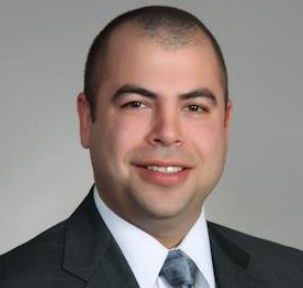 Aaron Klein, CEO of Riskalyze, is reluctant to say that his firm competes with Envestnet but adds that his investing platform is cheaper and more versatile.
"We're shifting from scale to surgeon," he says. "You can grab BlackRock models and build models out of ETFs and stocks and then use the risk number to make sure it stays at the right level of risk." See: Two firms that have love-hate relationships with RIAs draft their harshest critics to serve as consiglieres.
What makes the effort cheaper is linking advisors directly to model portfolios of managers. What makes it scalable are the risk numbers. When the portfolios risk number diverges from the number indicative of the investor's risk appetite, a rebalancing alert is triggered that the advisor can act on. And advisors can easily document their basis for recommendations.
The shift is bigger for Riskalyze in terms of how it defines its value proposition. Until two years ago, it was add-on widget that cleverly manifests risk-level in terms of a very specific number and the robo was a gleam in the eye. "It was zero and zero," Klein says.
High adoption
Now the widget-using robo represents 25% of the Riskalyze revenue and 33% of its employee headcount.
Autopilot had a long gestation period at Sigma/Parkland. "We've had advisors using it for 18 months and we were getting such positive feedback," says Bacarella. "We had 12 events and Riskalyze came up. They said the missing part of [advisor-as-portfolio-manager] was making that scalable."
Now his IBD has 500 out of nearly 1,000 reps signed up. What makes adoption easy, Bacarella adds, is that the advisors already have RIA custody at Fidelity making the pivot very simple.
"A TAMP-using advisor needs to make a business decision to charge commissions or have two custodians."
---
Related Moves

The co-founder went to the Tiburon CEO Summit in April and came away with four big consulting gigs that morphed into a new career
---
---
Mentioned in this article:
Riskalyze
Compliance Expert
Top Executive: Aaron Klein
---
---
Share your thoughts and opinions with the author or other readers.
David Aferiat said:
February 7, 2018 — 12:28 PM
---
---