Tim Hockey: In the industry, retail has a higher return on client assets on a higher revenue base. But both businesses have a strong operating margin.
Brooke's Note: Virtually every RIA custodian is a B2B company behind the scenes and a retail firm for all the world to see (even Pershing Advisor Solutions is pretty closely tied to a big bank.) But TD Ameritrade finds itself in the more unusual position of depending on RIAs for virtually all its new net assets, particularly from high-net-worth investors. TD management is pretty explicit about wanting retail to catch up to institutional and they are well within their rights. But RIAs are well within not only their rights but within their position of authority as bringers home of the bacon to ask: How is that going to work? What do we get?
TD Ameritrade Holding kicked off its national RIA conference yesterday in Orlando, Fla. with an RIA problem -- too many of them growing too much.
The problem posed by the 6,000 RIAs -- including a handful of meteoric successes like Ric Edelman and Peter Mallouk -- for the Omaha, Neb.-based broker-dealer and asset custodian -- is the one of the house painter who paints one wall. It shines so much whiter, making the others look drab.
RIAs now account for fewer than half of TD's assets -- about $495 billion -- but that side of the business attracts about 80% of its net asset flows each year. TD has about $1.1 trillion -- including $270 billion of Scottrade assets. The Scottrade purchase also involved the switching out of retail chiefs as Tom Bradley got unseated by Scottrade's Peter deSilva. See: A look inside the agonizing decision to cut Tom Bradley from TD Ameritrade and what doesn't seem to add up. Tom Nally remains head of RIA custody in Fort Worth, Texas where he annually cranks out eye-popping growth metrics. See: Tim Hockey invites channel-conflict question before TD Ameritrade's RIAs, sets good tone at LINC conference
"The largest determinant is the integration with Scottrade," said Hockey to Wall Street analysts in TD's July earnings call. "… Combining our forces and obviously hugely increasing our branch network … that's largely targeted towards a retail offering. The combination of our additional investments in new technologies … will be helpful, making it easier for our clients to do business with us, as well as larger distribution being a focus."
Great shift
Summing it all up, Hockey made a bold prediction: "I think there's going to be a great shift." TD Ameritrade CEO sees RIA custody competitors adjusting to his killer strategy -- even as he whips his in-house RIA into shape.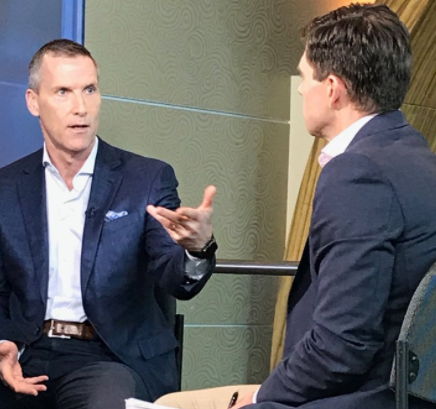 There's a reason a CEO would seek such a shift, says Tim Welsh, CEO of Nexus Strategy LLC,
"You don't want to be lopsided on one side of the business, you want both [sides] to perform equally," he says. "If you have the opportunity to prop up one business through commentary, it makes sense to do that."
But TD spokesperson Joseph Giannone denied that retail was the beneficiary of most-favored status by the CEO. "We are not managing revenue splits," he told RIABiz. "We are investing to grow both sides of the business."
That said, Hockey said to analysts that retail assets yield higher profit margins to TD than do RIA assets in custody.
"In the industry, retail has a higher return on client assets on a higher revenue base," he explained, "but both businesses have a strong operating margin."
One analyst RIABiz spoke to off the record remarked, however, that Hockey's consistent emphasis on retail growth goes beyond margins to the tenuous nature of the RIA custodian relationship -- and the question of who is really in the driver's seat.
"RIAs can be fickle and those results could slow," the analyst told RIABiz. "TD probably doesn't want to tie its future success too tightly to RIA inflows."
RIA using TD Ameritrade enjoyed an unprecedented run where former CEO Fred Tomczyk and Tom Bradley framed TD's institutional business as the wealth management offering -- end of story -- of the retail business. The "shift" away from that working philosophy has RIAs in a vigilant good news/ bad news state.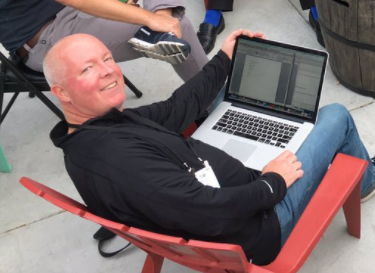 "The fact that TD Ameritrade had a good quarter for RIAs while they just spent $4 billion to buy a giant retail business, says at the least that they are still interested in growing both channels," suggests Michael Kitces, the writer behind the Nerd's Eye View blog, and co-founder of the "Which means these channel conflicts aren't going away any time soon." What an RIA should make of Wall Street Journal's expose of how Schwab, Fidelity and TD Ameritrade's advice machines steer client assets
Kitces engaged in a pitched battle last fall with TD Ameritrade after it removed many of the ETFs used by the advisors in his XY Planning Network. See: TD Ameritrade angers RIAs who feel 'blindsided' after TD Ameritrade's actions prompt the departure of all Vanguard and some iShares ETFs from its NTF platform.
"We don't break out separately the retail versus institutional profitability," says Hockey. "[But] we expect probably at some point in the future that we will disclose those numbers."
Schwab, which has a total of $1.55 trillion in its RIA business and $1.81 trillion in retail, a 46/54 split on $3.36 trillion in AUM, brought in $231.1 billion in net new assets in 2017. $123.7 billion of this figure, or 53%, can be attributed to retail, and $109.4 billion, or 47% is derived from RIAs. See: What an RIA should make of Wall Street Journal's expose of how Schwab, Fidelity and TD Ameritrade's advice machines steer client assets.
Schwab balance
"You can also see the growth for each of those business lines," explained Schwab spokesperson Robert Farmer. "With net new assets for Advisor Services and retail rising 59% and 57%, respectively, year-over-year. Advisor Services growth included a mix of new firms joining our platform from wirehouses and IBDs, as well as strong growth of existing client relationships." See: Schwab launches biggest RIA-targeted price war in years -- but TD and Pershing say they won't play along.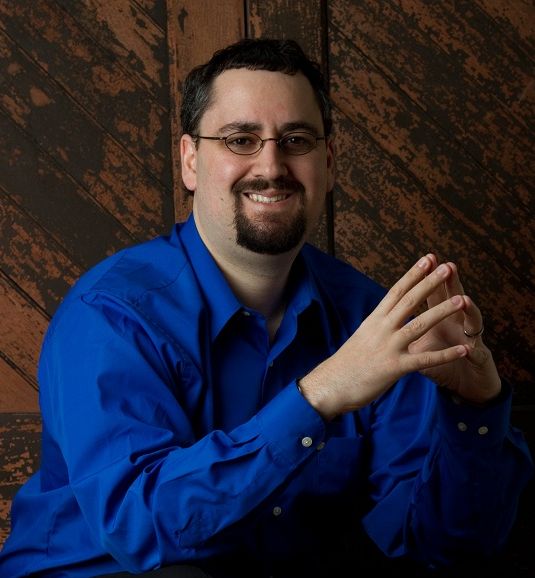 A direct comparison of TD's figures and Schwab's adds credence to Welsh's suggestion that TD lacks balance. Although 55%, or $605 billion of TD's assets, are in retail, with just under 30% of that figure a result of the Scottrade acquisition, should TD's growth trajectory continue along 2017 lines, it will take just two-and-a-half years for its total RIA assets to once again outstrip those of its retail channel.
That said, 55% of TD's total assets are currently retail based, according to Steve Boyle, TD Ameritrade's chief financial officer. With over $1.1 trillion in assets under management, this means that RIAs account for approximately $495 billion of the total assets at TD.
Significant as this is, that figure is also somewhat misleading. Strip away Scottrade's $170 billion retail assets at the time of their acquisition of and TD's 'own' retail assets would stand at $435 billion, 47% of the total. Yet, whichever figure you choose, that still means that between 47% and 55% of TD's assets are producing just 20% of their growth.
Of course, "RIAs" are not a monolith and many of them are carrying far more of the asset gathering load than others.
"The existing advisors themselves are growing like gangbusters," says Welsh, who is quick to place organic RIA growth front and center at TD's success. "They're winning in the marketplace and those huge billion-dollar [RIA] firms, they're driving the bus. They're the ones bringing in hundreds of millions of net new assets."
RIA asset power magnets
Behind that wheel are RIA giants like Peter Mallouk's Kansas-based Creative Planning Inc., which has over $28 billion in assets under management and Ric Edelman's Virginia-based Edelman Financial Services LLC, with an AUM of $21 billion. See: TD Ameritrade calms the RIA Twitter storm but not questions about the spreads on the ETFs replacing the super-liquid Vanguard and Core iShares. Edelman shared a stage with Hockey at a previous LINC conference.
In 2013, Edelman had AUM of $10 billion; Creative Planning had $6 billion. In just five years, their combined AUM almost tripled, bringing in an extra $30 billion to TD. This $46 billion in assets managed by Edelman and Creative Planning constitutes a whopping ballpark 4% of the $1.1 trillion of assets under custody at TD. Though Mallouk historically sent big flows of assets to TD, more recently new flows head to Schwab.
Welsh says it's important that both channels be self-sustaining and in good fiscal health.
"TD needs to have a [more] balanced revenue stream, [and not] be dependent on one versus the other. TD has a brand that resonates in the advisory world, as well as in the retail investor world, so you want to maximize your brand on both sides of the fence." See: TD Ameritrade is 'gathering feedback' after Michael Kitces's blogged overture for RIA collective bargaining on wholesale ETF line-up shift.
This imbalance is, however, not new. As far back as January 2007, then CEO Joe Moglia expressed TD's reluctance to break down net new assets into retail and RIA channels, And, in January 2013, Tomczyk highlighted TD's dependency on RIAs for growth.
Cannabis, blockchain ... and RIAs
"Institutional should grow at two times the rate of retail," said Tomczyk. "Historically, we said that would drive you a number of 50-50. Today that would drive 60% institutional, 40% retail, if the institutional was hitting on double the retail rate. Right now it's probably a little higher on the institutional side."
Neither Welsh nor Kitces believe, however, that TD ought to rein in its increased focus on retail.
"It's a natural progression for TD in their evolution," says Welsh. "They really need to focus on managed money and they haven't historically had a very big managed account platform like a Schwab or a Fidelity, so their core offering all along has always been a referral to an independent RIA. It makes sense that they're really moving toward trying to right the economic ship with trading costs going to zero."
TD ended the first quarter of 2018 with $26.5 billion in net new assets. As 80% of this figure came from institutional growth, this means that TD on-boarded $21.2 billion from RIAs, but Hockey persists in discussing RIAs and retail in inverse proportion to their growth rates. Blockchain, crypto-currencies, and cannabis related securities, it appears, trump RIA success.
"New business on the retail side is doing well, with record levels of new accounts ... growth among investors under 35 is up considerably, up 72% from last year," Hockey said, long before mentioning TD's RIA-backed growth. "[There] is increased interest in cannabis and blockchain-related securities, as well as cryptocurrencies in general." See: Mike Alfred also exits BrightScope to follow brother Ryan into cryptocurrency sphere.
---
---
Mentioned in this article:
---
---
---
Stephen Winks
February 3, 2018 — 6:36 PM
The observation that "retail transactions is a higher margin business than "institutional advisory" services which is where 755 of the asset growth is occurring. It is a temporary assessment in an industry which is going through transformational innovation from transactions to fee for service. If you are an advisor or custodian you must skate toward where the puck is going, not where it is. Harvard's Clayton Christensen (Innovators Dilemma) tells us that the most common mistake made by industries faced with disruptive innovation if looking at innovation in the context of its existing business model when a new business model is in order. So, what will the new business model look like? The unstoppable move to expert fiduciary standing (responding to the investors best interest) in advisory services will materially impact the financial services business as we know it, thus asset growth will continue in favor of RIAs and the margins will follow as well. Here is why. (1) As we move to expert fiduciary standing, advisors and those which serve them will move to a zero trading cost environment as our top fiduciaries (private trust companies, institutional investors, etc.) are presently serving their clients. Given the White House Council of Economic Advisors finding that 40% of the investor's earnings on their retirement savings is lost to brokerage fees, commissions and administrative cost--it is essential that conflict of interest be resolved to assure expert fiduciary standing of the broker in rendering advice. (2) The use of expensive packaged products which do not facilitate real-time client holdings data, does not allow continuous, comprehensive, counsel essential for fiduciary duty and professional standing in advisory services. (3) Most importantly, fintech innovation and the digitization of investment products around hundreds of data points streamlines cost to the point of investment portfolios being free. The sum total of these innovations is the investor pays far less for a far superior level of counsel, while giving the advisor afar higher level of counsel. Essential portion of the 40% of investor earnings on retirement savings which is lost to brokerage fees, commissions and administrative cost is translated into better RIA compensation. This positions the RIA as the value added , not the b/d. Thus, the old outdated brokerage business model can not be extrapolated into the future, RIAs like CapTrust, Edelman, Savant, etc. will lead the charge which will lead the entire industry into a renaissance in expert advisory services. SCW...