Tim Hockey goes to Florida with an RIA 'problem' that's not RIAs
The TD Ameritrade CEO relies on 6,000 registered investment advisors for 80% of growth -- skewed by big, big 'bus drivers' like Ric Edelman and Ron Carson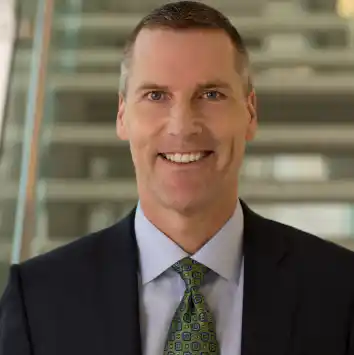 Tim Hockey: In the industry, retail has a higher return on client assets on a higher revenue base. But both businesses have a strong operating margin.
---
---
Mentioned in this article:
---
---
---
Stephen Winks
February 3, 2018 — 6:36 PM
The observation that "retail transactions is a higher margin business than "institutional advisory" services which is where 755 of the asset growth is occurring. It is a temporary assessment in an industry which is going through transformational innovation from transactions to fee for service. If you are an advisor or custodian you must skate toward where the puck is going, not where it is. Harvard's Clayton Christensen (Innovators Dilemma) tells us that the most common mistake made by industries faced with disruptive innovation if looking at innovation in the context of its existing business model when a new business model is in order. So, what will the new business model look like? The unstoppable move to expert fiduciary standing (responding to the investors best interest) in advisory services will materially impact the financial services business as we know it, thus asset growth will continue in favor of RIAs and the margins will follow as well. Here is why. (1) As we move to expert fiduciary standing, advisors and those which serve them will move to a zero trading cost environment as our top fiduciaries (private trust companies, institutional investors, etc.) are presently serving their clients. Given the White House Council of Economic Advisors finding that 40% of the investor's earnings on their retirement savings is lost to brokerage fees, commissions and administrative cost--it is essential that conflict of interest be resolved to assure expert fiduciary standing of the broker in rendering advice. (2) The use of expensive packaged products which do not facilitate real-time client holdings data, does not allow continuous, comprehensive, counsel essential for fiduciary duty and professional standing in advisory services. (3) Most importantly, fintech innovation and the digitization of investment products around hundreds of data points streamlines cost to the point of investment portfolios being free. The sum total of these innovations is the investor pays far less for a far superior level of counsel, while giving the advisor afar higher level of counsel. Essential portion of the 40% of investor earnings on retirement savings which is lost to brokerage fees, commissions and administrative cost is translated into better RIA compensation. This positions the RIA as the value added , not the b/d. Thus, the old outdated brokerage business model can not be extrapolated into the future, RIAs like CapTrust, Edelman, Savant, etc. will lead the charge which will lead the entire industry into a renaissance in expert advisory services. SCW...