Mark Hurley's lawsuit references his "secret sauce" and how he got overtly tossed.
Brooke's Note: The presumption of outsiders regarding Hurley v. Howard (Milstein) is that it represents a titanic clash of egos. In his new lawsuit, Hurley presents lots of real information to parse but the subtext, too, is unmistakable: Hurley is irreplaceable and replacing him is therefore a breach in a fiduciary context. Hurley's suit alternately refers to him as a "'prophetic' thought leader" and an embodiment of "secret sauce" in putting together a series of intricate private equity mini-deals with RIAs who need cash to fund successions. He even provides a supporting quotation from an unnamed " leading industry figure" in the first several paragraphs of the complaint. "They're not many Mark Hurleys out there. I know my universe really well and I know nothing about [defendants]. We count on Mark Hurley and look forward to continue counting on him." But while the suit may be much about estimable ego, it is also about a sizable chunk of cash. This article takes a good stab at better understanding the finances that inflame this legal fallout. Not that the two factors can't intertwine. A charismatic CEO/owner is bound to take any attempt to assign a number to his creation very personally.
Mark Hurley claims he may never again work in the RIA lending business after his former bosses sabotaged the valuation of his former company to the tune of about $200 million, according to a new lawsuit he filed against board members of Emigrant Bank, Friday (Dec. 7) in Dallas County District Court.
The former CEO of Fiduciary Network's suit asks "EB Safe et al" for $150 million to compensate for his share of the allegedly illegal valuation reduction and for destroying his ability to earn a living going forward.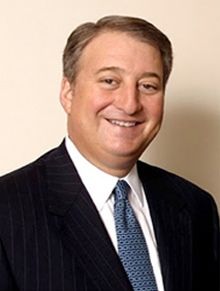 "Insidiously, defendants also sought to erode the industry-leading reputation and relationships Hurley had cultivated, thereby preventing Hurley from competing with FN after his exit," the complaint states.
Never again
It adds: "Fearing that Hurley would depart and compete with FN (thereby damaging the value of their investment), defendant resolved to sabotage Hurley's standing in the industry and ensure he would 'never be able to raise capital again.'"
Emigrant Bank's scheme to allegedly wreck Hurley and his firm are detailed in a 44-page complaint and 700 pages of exhibits and appendices. The New York Post today posted its more salacious aspects in an article. See: Milstein heir dished divorce dirt on business rival: suit
The Post story focused on New York billionaire Howard Milstein's alleged effort to exploit acrimony surrounding Hurley's divorce to pressure Hurley into accepting a bargain basement price for his part of the business.
The complaint says Milstein went so far as to place tails on Hurley and his lieutenants in Dallas to collect dirt.
"They threatened FN's founder, its investment banker, and its highest-bidding potential acquirer with lawsuits and reputational damage. They hired private investigators to stalk FN's executives," according to the complaint.
Milstein is chairman, president and CEO of New York Private Bank & Trust and its operating bank, Emigrant Bank (the country's largest privately owned, family-run bank).
He also chairs and operates the Milstein family's real estate companies, including Milstein Properties, Milford Management, and Milstein Brothers Real Estate. Howard is founding Chairman of the merchant bank FriedbergMilstein, according to his charitable foundation.
Secret sauce
"The petition describes Hurley as having that "secret sauce" that gave the business a competitive edge," writes Law360. (Note: subscription required) "Emigrant Bank, and an entity it controlled, EB Safe LLC, are described as acting "insidiously," "rashly" and utilizing "scorched-earth" tactics."
Emigrant was able to buy Fiduciary Network for less than a $120 million valuation, according to sources. It only needed to buy 25% because it already owned 75%. So Emigrant Bank likely bought out Hurley for about $30 million. A provision requiring Emigrant to out pay the high bidder by 10% gave Hurley perhaps an additional $3 million.
Hurley's suit suggests the valuation should have been more like $320 million. That would have yielded him an additional $50 million. Evercore attracted 23 bids in July. Part of the contention that Fiduciary Network merited a higher valuation is that a third party valued Fiduciary Network at $160 million back in 2011 when it was a smaller firm with only about 20% as much cash flow.
The complaint relies on the IPO and post-IPO valuation of Focus Financial. Focus Financial shares soar after Rudy Adolf pumps the pipeline and stiff-arms analyst who presses him on a Focus sore point--organic growth, or lack thereof
"During the course of defendants' gamesmanship, the RIA-investment sector that Hurley pioneered had become red-hot, with competitors of comparable size and quality commanding enterprise valuations between 18 and 39 times EBITDA, substantially higher than even only a couple of years earlier. Given a projected long-term run rate 2018 EBITDA of $27 million," the complaint reads. "FN, but for defendants' disruptive machinations, should have attracted bids from potential acquirers of at least $318 million (reflecting enterprise value of $486 million less long-term debt of $168 million) and
likely substantially more. "
Hurley was fairly public about his frustration with RIA owners in the M&A market. He told RIABiz in 2015: "You're not going to be dead when you sell your business but you are on the next phase of your life. I assure if you don't plan ahead, when you sell your business you will freak out. That's why we see these weird behaviors and guys freaking out over small things. It's idiocy and people need to calm down and take a Valium."
Valuation questioned
In the suit Hurley zeroed in on a letter-to-the-editor published in RIABiz. It was written on Emigrant Bank's behalf by Fiduciary Network Board Member Barry Friedberg. See: In letter to the editor Emigrant Bank finance chair calls out Mark Hurley for bad faith, improbable claims
That letter addressed the valuation issue head on:
"In November 2016, we estimated that the auction value of Fiduciary Network was $70-million to $80-million. This represented more than a 50% premium to the book value of the loan portfolio, the yield of which was sensitive to changes in the public securities market. This would have valued management's ownership at $18-million to $20-million. We offered to pay to management the bank's call option price of $24million to $25 million at that time and told Mr. Hurley that we were prepared to pay that premium to avoid legal, investment banking, and break up fees."
But Hurley asserted in the suit that the valuation was way, way off and became a sort of self-fulfilling prophesy, which damaged him.
"Hilco appraised Emigrant's 49% investment in FN at $70 million, or astonishingly, about 40 times cash flow.," the complaint reads. "Under that methodology, 100% of FN (which had about $5 million of EBITDA at that point in time) would have been valued at nearly $160 million ... Applying the same methodology to FN's current run rate EBITDA of approximately $27 million (and deducting for debt) would value the Company at $912 million."
In the letter, Emigrant Bank alleged that it was Hurley who was being sneaky and unfaithful to the business relationship.
"Hurley was in the market with a brochure we knew nothing about, trying to sell the bank's 75% ownership position.," the letter reads. "He apparently deliberately concealed the brochure and the details of this effort (any information he did give us was misleading and deceptive when compared to what he actually was doing)."
"Mr. Hurley's allegations are completely false and defamatory. His complaint is nothing more than a series of baseless — and at times bizarre — allegations, most of which have little to do with the transaction in question. We have no doubt the court will agree once all the facts are presented," Haggarty told Law360.
'Unlawful seizure?'
William A. Brewer III, partner with Brewer Attorneys & Counselors. and lead attorney for Hurley, told Law360 in an email that "defendants engaged in a calculated, scorched-earth campaign to unlawfully seize control of Fiduciary Network."
"Defendants' actions, we allege, intentionally depressed the value of Fiduciary Network, allowing them to acquire it at a bargain-basement price and, ultimately, gain profits to which they were not entitled."
Hurley did not respond to requests for comment placed to his LinkedIn account.
The case is Mark P. Hurley et al. v. EB Safe et al., case number DC-18-18351, in the District Court of Dallas County, Texas.

---
Related Moves
November 22, 2018 – 12:07 AM
---
---
---
Courtland Kellerman
December 12, 2018 — 10:31 PM
Wow This has rhymes and shades of other founder CEO replacement storylines Hoping not to see this spiral and devolve into "Bill Gross / PIMCO" P:-
Jeff Spears
December 12, 2018 — 10:41 PM
Hurley lives up to his reputation as the ONLY person who can fill every cell of a spreadsheet.