Brooke Southall asks questions of Andrew Salesky of Schwab, Christina Townsend of Pershing, Greg Vigrass of Folio Institutional and Chris Fesler of Apex Clearing.
Brooke's Note: This article has a self-serving aspect; I moderated one of the panels. But it's not totally disingenuous. In|Vest West was produced by SourceMedia, the same company that publishes Financial Planning, an RIABiz competitor. I've been a fan of In|Vest since it was founded. It captures with flair the more robo-advisory side of financial software in a way that T3 captures RIA software -- a fun niche. I was asked to moderate the RIA custody panel -- a topic I like. That it was 12 miles from my home clinched the deal. All four panelists said interesting things, but Schwab's Andrew Salesky made most of the news by taking a 2018 contrarian view on APIs. He also gave a little insight into what is happening with PortfolioConnect after it gained prominence back in September as Schwab's free and simple performance reporting software. Hint: Free and simple sells.
The big PortfolioCenter concession that Schwab Advisor Services revealed in September may be less of a concession than originally conceded, its top RIA technology executive said at conference in San Francisco last week. See: After dream of cloud-based PortfolioCenter falters, Schwab Advisor Services makes good by showering small RIAs and third-party software vendors with windfalls
You may recall, Schwab said it was abandoning further efforts to pull PortfolioCenter into the cloud. In response to a question, Schwab's Andrew Salesky said the company sees a simpler and cheaper technology future, since the replacement, PortfolioConnect, is attracting interest from big as well as small RIAs.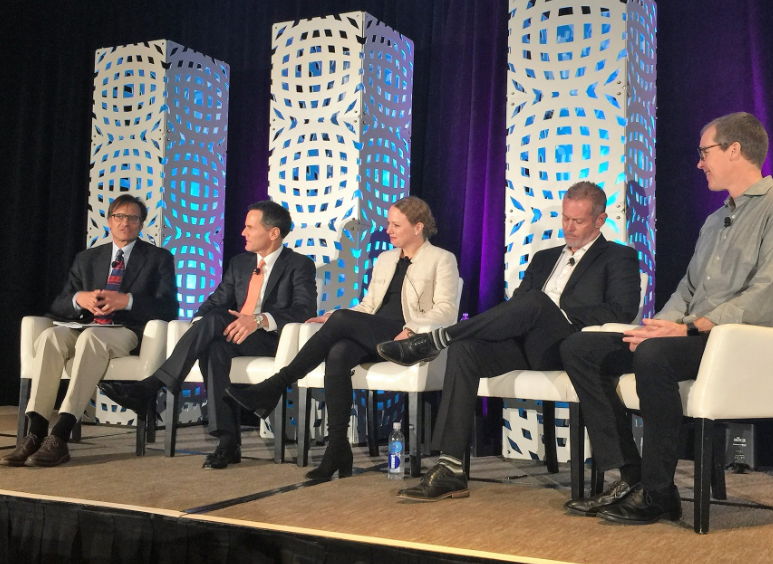 "Larger advisors are showing interest," he says. "They like its simplicity," says Salesky, a 23-year Schwab veteran, former McKinsey & Co. consultant and head of advisor technology solutions at Schwab, since June
The single (Schwab) custodian performance reporting system can also be used for free.
The exchange occurred during the "RIA Custody Battle" session of In|Vest West 2018 at Parc 55. The In|Vest event is in its fourth year, but this was the first held outside New York City. See: An insider reveals turbo-contents of the In|Vest conference in New York, a summit of VCs, robo-founders and big banks
Still anecdotal
Afterward, in a follow-up email, Schwab spokesman, Rob Farmer, who also attended the panel, back-peddled a bit. Interest from larger advisors is still "anecdotal," he replied.
Anecdotal or not, it is certainly plausible, according to Joel Bruckenstein, producer of the T3 technology conferences. Bruckenstein broke the story that Schwab had abandon efforts to have its own multi-custodial, cloud-based performance reporting system.
"Some time ago, when the original product was undertaken, I was told that [a high percentage] of the target audience was single custodian with Schwab," he says. "If that is in fact the case, it makes sense."
About half of PortfolioCenter's 2,300 users had no assets at non-Schwab custodians, according to the company in September.
The reason it makes sense to RIAs is that they are looking for ways to save money and to simplify the way they invest, Bruckenstein adds.
"A large RIA could easily be spending $100,000, $200,000, or more, with one of the third parties, " he says. "It may not be just simplicity. If could be a move away from emphasizing performance, and focusing on planning and other value added services, hence, decreasing the need for very detailed reporting.
Salesky shared the stage with fellow panelists Christina Townsend, Pershing's head of advisory platforms; Greg Vigrass, CEO of Folio Institutional and Chris Fesler, chief technology officer of Apex Clearing.
API vibe
Though the panel members did little to challenge each other's views, there was an exception -- also involving Salesky.
As each player discussed open APIs versus closed software systems, Fesler, Vigrass and Townsend all spoke with some passion about the benefits of erring on the side of a more liberal application of open-source coding.
Salesky was the exception. He expressed Schwab's concern that opening its system to third parties could make it more vulnerable to hackers.
Knowing the pro-API bent of the panel, this moderator asked if anyone would be willing to push back on this viewpoint.
Fesler -- the one engineer on the panel -- already had his hand raised and explained that open APIs need not be viewed as a security threat.
Not entirely following Fesler's view, I emailed him after the panel and asked him to expound on that thought for the article.
"Andrew specifically called out 'open APIs,' without really saying what he meant," he writes. "An API can be called 'open' because it is easy to access, because it uses open standards, or because it provides access to 'open data.' With the Facebook stuff lurking in our minds, 'open data' sounds especially ominous, right now. As custodians, we certainly adhere to open standards when designing APIs — around encryption and security, among other things. But it would be malpractice for a custodian to treat customer data as 'open.'"
Fesler went on to explain why he believes Schwab is no more, or less, secure for eschewing APIs for advisor technology.
"Andrew claimed that by not offering 'open APIs,' Schwab can claim the information security high-ground — the implication being that a custodian having APIs is akin to a bank propping open its vault doors. From an infosec perspective, any system on the network is at risk.
"An API is just an interface presented by a system for other systems to interact with — in the same way a UI is an interface presented by a system for humans to interact with. Infosec-wise, there's nothing special about one or the other: it's all just surface area that can be attacked."
Context elaborated
Context is key in this discussion, says Rob Farmer, a Schwab spokesman.
"Chris and Andrew referred to APIs in different contexts," he writes in response to an email query after the panel.
"When Andrew referred to Open APIs, he was focused on data sharing relationships. This came up in the context of why our Integration strategy seeks to go broad and deep, but is still selective. We are sensitive to counter-party risk," he wrote.
Farmer adds: "As a result, we intend to increase our number of relationships (e.g. Andrew's comment about triple digits by the end of 2019) yet we don't plan to race other custodians to claim the highest number of integration partners. Chris's reference to APIs includes the broader, non-data related APIs. At the end of their exchange on the stage, Andrew acknowledged the reduced risk with these shared functional capabilities."
Vigrass also spiced up the API topic when he said his firm went from building its reputation on its pure plug-and-play model to -- about five years ago -- adding a highly open platform for those firms that desire it.
'Changed our tune'
Pershing's Townsend also expressed the view that her firm was well into making this profound shift toward greater use of APIs. In a follow-up interview, Townsend's boss, Mark Tibergien, CEO of Pershing Advisory Solutions, made no bones about the abrupt shift by his firm.
"We were really proprietary," he says. "Four- to five-years-ago, we changed our tune. We said: We need to be intelligently open, not wide open, to get to market faster."
---
Mentioned in this article:
---
---
---
---