News, Vision & Voice for the Advisory Community
Matthew O'Connor takes the CEO helm of the giant LA-based active manager from Kevin Clifford with conviction not to jam the rudder hard but to be open to new markets
November 2, 2018 — 9:26 PM UTC by James Picerno
Brooke's Note: On the surface, Capital Group sure looks like a candidate to be the next great victim of the innovator's dilemma. It has a giant active funds franchise, American Funds, distributed largely to another threatened species -- IBD reps. Despite a rising tide lifting all boats, we were still shocked to see American Funds floating along at number two ahead of Fidelity -- everyone in fact except Vanguard -- in mutual fund assets. But James Picerno's article shows that Capital Group is doing more than meets the casual eye to compete. First of all, it is winning on the old playing field with good returns, low fees and the scale not to be undercut. It has also, smartly, invaded crosstown rival PIMCO's fixed income turf. There is also a fulsome effort to get to RIAs. Not only does its website have RIAs elevated to one of the Big Three categories but it has made a significant high-level hire from Schwab. Then there's the matter of Capital Group itself gathering RIA AUM; it has a full-on play under way to become a big wealth manager. And there's also some young whizzes working on a more digital Capital Group future, which has very little to show, for now. Our analysts are not optimistic about Capital Group rebounding well after the next downturn. We're less pessimistic.
Capital Group does everything wrong when it comes to following the industry playbook and has had its share of setbacks -- including losing much of its special status with Edward Jones, regulatory adversity and out-sized outflows during the financial crash of 2008-2009.
Yet, the introverted Los Angeles-based mutual fund manager has its American Funds brand right where it wants it -- ranked No. 2 in total net assets, according to Morningstar data as of Sept. 30.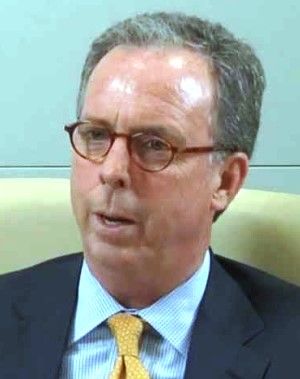 The American comeback in the past decade -- and much of it just in the past four years -- is not part of some big bet that went right. If anything, long-serving American Funds Distributors CEO Kevin Clifford, 63, got even more pious with its low marketing, low fee, low-profile manager and low- product-diversity approach. Fees for U.S. Equity range from 0.28% - 0.51%. 
The power and effectiveness of Capital Group's curmudgeon culture is treated with platinum levels of admiration by Heather Lord, who was poached from Charles Schwab & Co. in 2016 to head American Funds' strategy and innovation.
Five-year mission
"What's on my mind at night is, how do you balance the thoughtfulness that's let this place exist for nine decades — and pivot as many times as it did over that period of time — with the need to move faster over the next three to five years," Lord told the Financial Times in a 2017 article.
Capital Group is still basically a place with all its bets on the most moribund product category -- actively managed mutual funds. So despite its astounding $1.6 trillion of funds, analysts talk about the killer stat as if it needs an asterisk. See: An outflow-plagued American Funds holds its ETF fire until it can resolve the vehicle's front-running exposure, which defies a resolution
(*The company has been diagnosed with the fatal disease of selling no ETFs, no passive funds and having no other business channels to feed it.)
Indeed, it is only when the bull market finally ends that Clifford's track record will become apparent, says Brendan Powers at Boston-based research firm Cerulli Associates.   
"The bull market run has to come to end at some point," and when it does, it will deliver a stress test, he adds.  
The good news is that American Funds, since the crash, now has an anchor to windward -- fixed-income funds and their solid fees of U.S. .22% - .30%. Fixed-income funds tend not to correlate with stock funds, and they often attract inflows that mitigate equity fund outflows.
Fresh leadership
It also has a growing infusion of fresh leadership.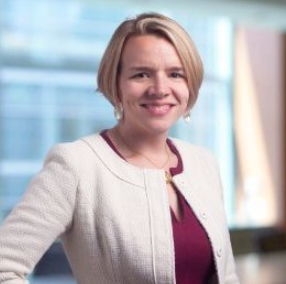 Matthew O'Connor takes the reins of the Capital Group subsidiary this month from Clifford, who brought the massive fund company back from the brink following the financial meltdown. But in a rapidly evolving industry where active managers are melting down already from ETF heat, O'Connor will face even tougher challenges. See: Vanguard Group launches its free-trading super desk of 1,800 ETFs; now only if clients won't abuse the privilege
O'Connor, 47, is a 10-year veteran of the firm, which begs a question:  Can he break away from the company's long-running preference for active management as if it's still 1998 and be a change agent for such things as passive strategies, ETFs, index funds and an RIA-friendly approach?
Capital Group now has an innovation lab called the "emerging technology group," led by former Accenture partner Jeff Roedersheimer, hired after the crash in February 2009, who reports to chief information officer Julie St John. 
As the old saying goes, almost anyone can make money in a rising market. Likewise, firms that live by returns, die by returns. 
But American Funds has one undeniable edge -- the pricing power that comes from massive scale and low overhead.
"Having scale is massive now," notes Powers. "It gives you the ability to price competitively."
The company's ability to attract new investment on a net basis – without the benefit of ETFs or open-end index mutual funds--is enviable. By some accounts, the recovery is a testament to American's brand in an era of widespread assault on all things actively managed.
A combination of factors are at work, according to interviews with industry analysts, wealth managers and Capital Group's Steve Deschenes, director of product management and analytics at the firm.
Key drivers
Key drivers of rising assets at American in recent years include low fees (by active management standards for some share classes); economies of scale; a distinctive use of manager teams that promotes independent thinking; and a bias in structuring performance incentives for managers that favors relatively longer-term horizons.
Recent regulatory changes have also been supportive for active funds, generally, in recent months, notes Todd Rosenbluth, senior director of fund research at NYC research firm CFRA.
In particular, the death of the Department of Labor's (DOL) fiduciary rule earlier this year removes what had been a potential headwind. The rule, which required advisers to act in clients' best interests, boosted the incentive to favor ETFs. The rule's demise in a federal circuit court case in the spring removed a pitfall for American Funds and other active managers, if only on the margins.
"Thankfully for them, the rule didn't get implemented," says Rosenbluth. 
Keeping incentives for American's fund managers aligned with investors remains a staple policy at the firm, and one more reason for explaining the company's success, Deschenes tells RIABiz.  
Clifford has lots of laurels to rest on, from a decade of Lipper Fund Awards to annual rankings on Morningstar's Terrific Funds list.  But almost every new trend has cut against American's business model, from the rise of RIAs, ETFs, robos and the decline of broker-dealers to shifting regulations and plunging fees.
Size and seamanship may not be enough to get American through the next decade, much less the next brutal market downturn. Judging from recent indicators, the sell-off could be just around the corner.
Net inflows into all U.S. mutual funds and exchange-traded funds fell 46% in the first three quarters of 2018 compared with the same period a year-ago, according to Morningstar.
Should the market continue heading south--taking mutual-fund returns with it--American will face challenges, including a wave of redemptions like the one that swamped it during the Great Recession of 2008.
"How do we get comfortable in some areas, taking a little bit more risk and failing fast? We're not a place that does that," Lord says in the Financial Times interview. "And I think to really take advantage of some of the emerging technologies coming available, we've got to be comfortable with that ambiguity [of not knowing what will work]."
Lord knows the science of "comfortable." She earned her doctorate in psychology and applied statistics from Yale University before spending several years at Boston Consulting Group, followed by nearly three years at Schwab, where she was senior vice president of client experience.
 In some ways, it seems even more vulnerable now.
Et tu Edward Jones
Edward Jones, the massive broker dealer, provided a steady tail-wind during the last downturn, because it relied almost exclusively on American funds for its customers. But the relationship has changed, if not soured. 
In July, Edward Jones elevated BlackRock -- notable for its iShares ETFs -- and PGIM Investments to its list of "strategic product partners," a step up from their previous designation as a "preferred partner."  The move put BlackRock and PGIMon par with eight other firms, including American Funds, Franklin Templeton, Hartford and John Hancock. 
Edward Jones spokesman John Boul said the two companies "have the depth and coverage to support future growth at Edward Jones," according to a statement released at the time. 
Jones launched seven proprietary "Bridge Builder" mutual funds in 2013. Since then, the fund inflows have topped powerhouse brands ike Fidelity, BlackRock and American Funds, according to Morningstar.  The funds are sold exclusively through Jones' platform used by 16,000 fee-based financial advisers. 
How much of that money otherwise might have gone to American is unknown. Both companies declined to comment. American Funds' silence on the issue is unsurprising. 
The firm has always been reticent to discuss its business, and it's been almost as adverse to marketing as it has been to embracing market innovations like indexing and ETFs, which is no one's idea of a winning business plan for a fund manager these days. 
Embracing RIAs
But American appears to have embraced one market trend; it's been repackaging its products so they're more palatable to RIAs.
Last year, It started selling its funds through RIA custodians Fidelity, San Francisco-based Charles Schwab & Co., and, more recently, through Omaha, Neb.-based TD Ameritrade.
Parent company Capital also received a regulatory green light to sell "clean shares," which notably remove distribution fees, making them easier to compare with index-linked funds.
"They were quiet about clean shares, but it was a big deal," says Alec Lucas, senior analyst for manager research Morningstar in Chicago. 
Capital is also planning to release a series of new products, from bonds to more fixed-income funds, as well as a collective wrap (CIT) for its target-date funds. The move is designed to boost 401(k) sales, after falling behind Vanguard and Fidelity, both of whom already facilitate wrapping, Timothy Armour, Capital's chairman and CEO, told Barron's in a recent interview.
"A huge push for us in the last few years has been fixed-income. We've doubled our team and our investment results are very strong," Armour said. In part fixed income opportunities arose after cross-town PIMCO's turmoil in the wake of founder, Bill Gross, got pushed out. See: PIMCO's institutionalize-Bill-Gross effort culminates after three years in price hikes tempered by ETF migraines and fee cuts
It's going to have an impact, says Chris Brown of Newton, N.H.-based Sway Research. "[American's] been pulling in a lot of assets without CITs ... [so this] should boost its inflows."
What American won't be doing, however, is stepping into the alternatives market; nor will it buck the market trying to find a formula for active management by using technology to track beta, Armour says. See: Founded in 2017 to produce ultra-beta ETFs, Salt Financial goes full 'meritocratic' in poaching 27 year-old Dow Jones beta hunter -- seriously, beta hunter -- to lead research for volatility tracking ETF roll out.
ETFs: No thanks
Advisors can also forget about ETFs, even though Capital filed for -- and received -- SEC approval to sell them. It's unlikely to happen soon, says Deschenes.
American, like other active managers, has shied away from ETFs because of fears about the market using the required transparency to front-run their trades, according to an August article in Portfolio Adviser.  Front-running involves buying and selling shares ahead of public announcements. Although illegal in some cases, buying, or selling, ahead of an index or fund rebalancing, to profit from signposted trades is not.
American will stick with its open-end mutual fund format until the SEC gives the all-clear for non-transparent ETFs, according to sources at the firm. The chances of that happening, however, are slim to none. The SEC has rejected applications for them for more than a decade. See: Fleet-footed RIAs storm into the active ETF market as fund giants tie pretzel dough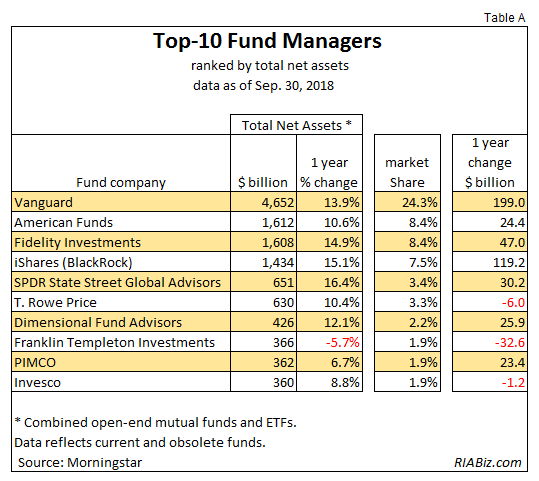 Indeed, as fees continue to trend lower in the face of the ever-rising ETF threat, it will be essential for American to keep using its scale to keep premiums as low as possible -- a fact not lost on Armour. See: Vanguard Group Makes Big Move on RIA Custody by Ending Commissions on 1,700 ETFs in Bid to Become Walmart of Financial Services
If active managers could change the conversation, and get investors to realize what really matters is total returns, it would be a huge win, he says.
"Our average money-management fees across all our funds is about 30 basis points, which is extremely competitive versus index or exchange-traded funds, and much lower than most active," he explains. "[But] the passive index guys have done a masterful job of getting people to think fees [are] the number-one priority."
In terms of cost, American ranks favorably among actively run funds. Its 16 equity funds, for instance, charge an average gross expense ratio of just over 44.9 basis points for the R-3 share class, according to the firm.
In comparison, the average expense ratio for open-ended equity mutual funds available in the wider market stands at 59 basis points, reports Washington, DC trade group the Investment Company Institute (ICI).
That said, although the average equity ETF charged 50 basis points last year, according to the ICI, this figure dropped to 21 basis points for the asset-weighted average, reflecting the influence of the biggest ETF firms, like BlackRock and Vanguard and their low-cost market-busting strategy to ensure ETFs remain the low-cost option of choice.
Another headwind may be looming, too, and not just from the recent return of market volatility. The DOL fiduciary rule looks set to be resurrected by the Securities and Exchange Commission (SEC), if in watered-down form, as early as Fall 2019. See: Posse of top cops from 17 states dresses down SEC, demand same fiduciary standards for broker-dealers and RIAs and cite other 'egregious' deficiencies in proposed son of DOL rule
What form the new SEC rule will take has yet to be clarified.
Economies of scale
Still, American remains the second largest fund provider in the nation, although its in a virtual dead heat with third-place Fidelity Investments, according to Morningstar. Fidelity has $1.6 trillion under management, about the same as American. Vanguard leads with $4.6 trillion under management.
Capital Group's economies of scale are increasingly vital to sustain its competitive edge in pricing funds amid a rising threat from ETFs, where fees continue to trend lower. The same is true of passive products in the open-end world.
"Investors used to chase performance [but] now they're increasingly focused on cost and on index funds ... American is an anomaly," says Rosenbluth.  "The trend has been toward lower cost and passive vehicles."
Given market conditions, American has no room for complacency.  The fund group paid dearly for letting down its guard during the 2008 financial collapse and subsequent 2009 bear market and was wracked by huge negative outflows .
Its performance was notably poor, says Morningstar's Lucas, "[American's funds] disappointed a lot of investors."
Net asset flows were negative for seven years in a row following the crisis. In all, the company suffered $252 billion in redemptions for 2009 through 2016, a figure that would have sunk firms the size of BlackRock, according to fund tracker Morningstar.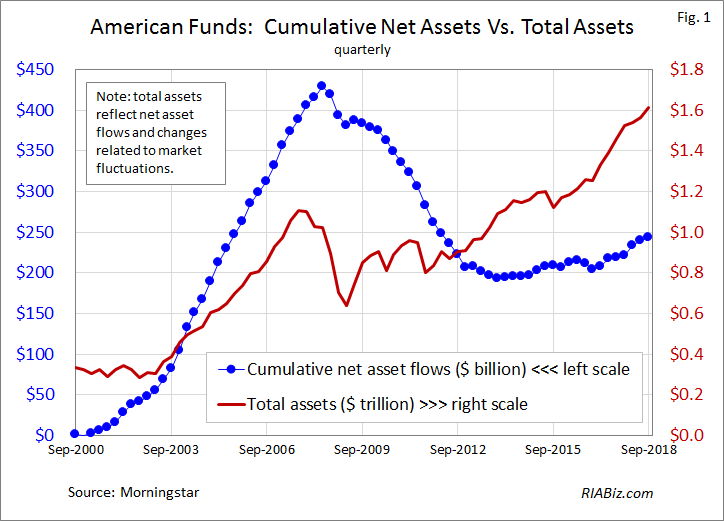 At the time, it wasn't obvious that American was destined to pull out of a potential death spiral. See: An outflow-plagued American Funds holds its ETF fire until it can resolve the vehicle's front-running exposure, which defies a resolution.
But the company was able to ride the nine-year bull market back to financial health. Although Clifford gets credit for the turnaround, the old adage still rings true-- a rising tide floats all boats. (That said, many rivals are sitting on clam flats despite a flood tide.)
American's net flows remain positive. A 1.8% increase in net assets (ignoring market fluctuations) marks the seventh straight quarterly gain. For the year through Q3, the firm's net-asset gain is nearly 11%.  As of this year's third quarter, American has posted positive net flows for all but three of the past 19 quarters and the rise has been unbroken since 2017's Q3.
The net gains and the general upswing in securities markets have lifted American's total net assets to a record $1.61 trillion, as of September 30 – nearly 50% above the previous peak in 2007's third quarter, just ahead of the financial crisis.
Key drivers include low fees (by active management standards for some share classes); economies of scale; a distinctive use of manager teams that promotes independent thinking and a bias in structuring performance incentives for managers that favors relatively longer-term horizons.
Keeping incentives for American's fund managers aligned with investors is one more reason for explaining the company's success, Deschenes tells RIABiz.
"Ninety-nine percent of our assets are run by managers with $1 million or more invested in the fund," he says – a statistic that makes Capital Group an "outlier" he says.
Although there's no formal company policy requiring managers to invest, there's a cultural expectation that managers will buy into their portfolios in a meaningful degree, he adds.
Another edge that Deschenes says is relevant: focusing on longer-term performance results for manager compensation. "We pay our PMs [portfolio managers] on 1-, 3-, 5- and 8-year results, emphasizing 5- and 8-years."
Overall, "it important to have multiple streams of advantages working together to consistently outperform," he says. 
---
---
Share your thoughts and opinions with the author or other readers.
Brian Murphy said:
November 2, 2018 — 11:45 PM UTC
---
---